Sept 2019 Lake Winnipesaukee Report
Supply & Demand
3 more Winnipesaukee waterfront homes sold last month compared to the 12 that sold in July 2019. In August 2018 26 homes had sold in August, so ELEVEN homes less this year than last year. Where only 15 new waterfronts hit the market last month and 15 sold, the new inventory remains at zero from the end of August. Overall YTD, 90 homes have sold on the lake, in 2018 98 homes had sold Jan-Aug. So only a difference of 8 more homes sold last year than this year for Jan-Aug.
An interesting stat on inventory coming on the market. January 2019-August 2019: 167 homes were listed for Lake Winnipesaukee owned waterfront. January 2018-August 2018: 202 homes were listed. That is 35 more homes were listed last year that this year so far!
List to sales price ratio went up so sellers are getting closer to asking as the inventory remains low. There still are 92 waterfront homes available to date on the lake. 23 of these 92 are island properties.
The two listings that closed last month brought the average days on market up, these were both on the same street in Meredith known as Cattle Landing. 124 Cattle Landing which was the highest priced that sold last month for $3,800,000 for new construction built by Lakes Region Design Group. 184 feet of sandy frontage on the lake looking out to The Broads. This was on the market, built as a spec house, for 443 days. The other was 86 Cattle Landing Rd in Meredith for $2,500,000, on the market for 387 days.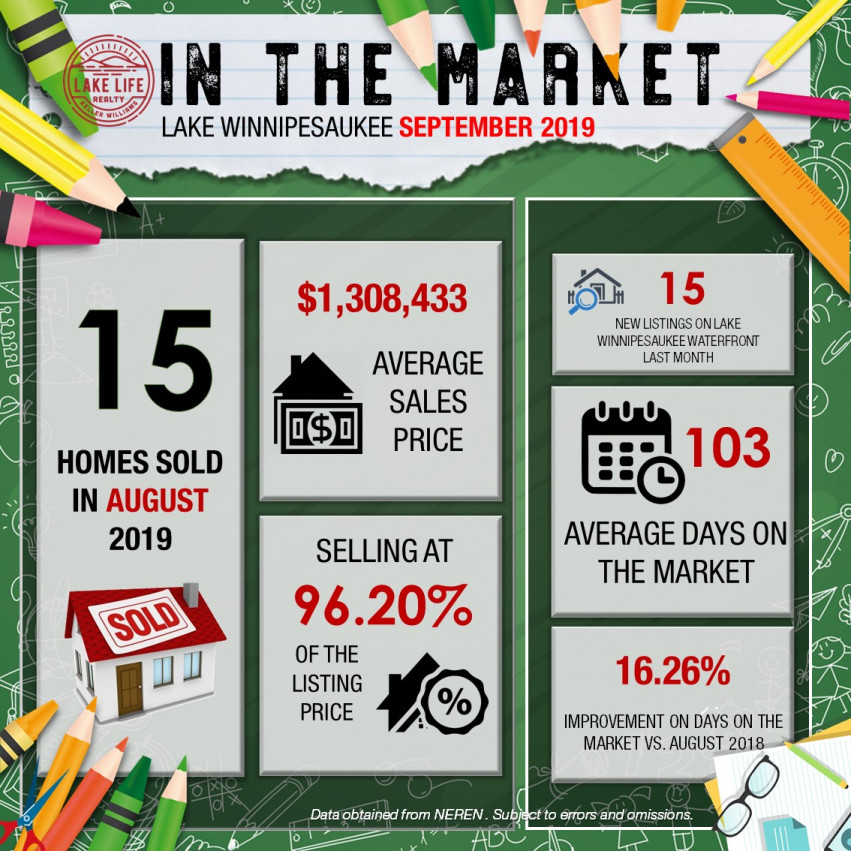 Island Properties...
23 Island properties are currently available on the market when this blog was written. The most expensive being 1 Welcome Island in Meredith. It is the entire island for sale with its home & boathouse. This is one you may have heard about in the news where much of what was developed on the island did not have the proper permits. In many publications it is referred then to Wilcomb Island not "Welcome".
The owner, Robert Brown, agreed to pay a $25,000 fine to settle the case brought against him by the New Hampshire Department of Environmental Services, while the DES has agreed that the structure "as currently built is not causing and has not caused harm to the environment." It is now for sale for $1,890,000. The market shows 90 days on the market but it was on an additional 105 days before taking a "winter-break" off market. Click HERE to view more about this property and HERE is a link to the article on the settlement in the Laconia Daily Sun.
Another entire island for sale is 1 Littlest Mud Island in Wolfeboro or $1,200,000 on for 155 days. This is our team agent's Stephanie Inglis's favorite island on the lake. They planned to put a whole compound on it, had new boathouse plans and more but that all changed! In loon conservation area and is a super level island and close to downtown Wolfeboro (5 min) and calm waters. Get all the views of the Winnie Belle and Mount going by but feel the incredible privacy.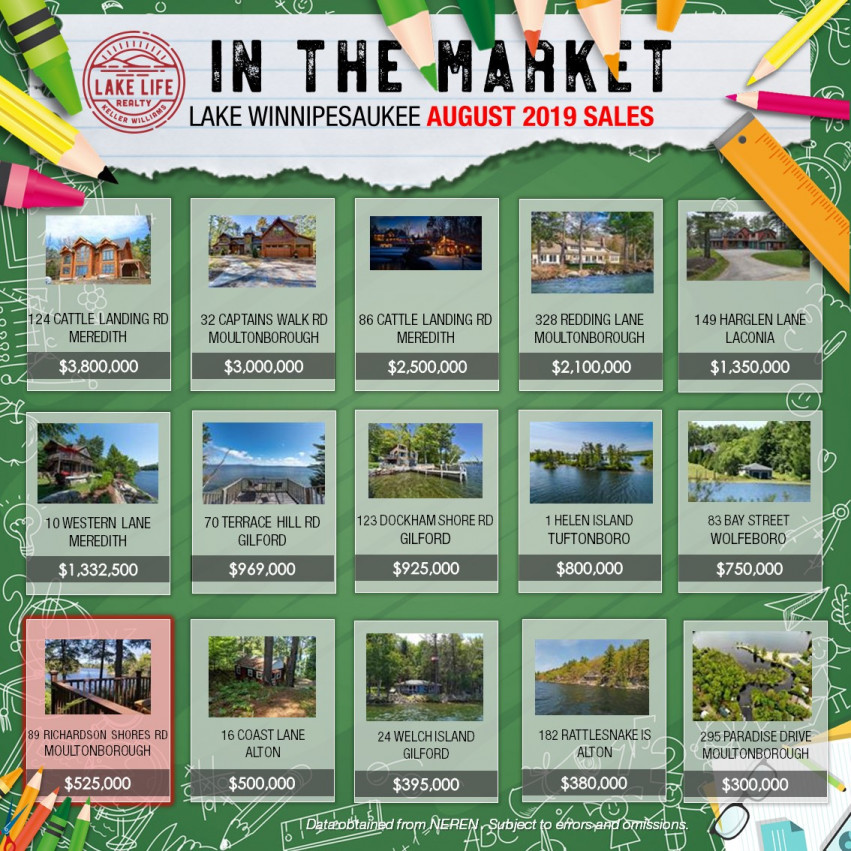 Selling Your Home?
Get your home's value - our custom reports include accurate and up to date information.
Get Home Value