December 2020 Lake Winnipesaukee Report
12 Owned Winnipesaukee Sales
November brought 12 closed properties to the entire lake. TWO of these properties were sold off-market: 15 Alderberry Lane in Moultonborough and 66 Sewall Road in Wolfeboro, this was 3 more closed properties that November 2019's NINE. 230 Edgewater sold as the highest sale. This property is located on Governors Island facing the Weirs, may rumored for years it was Britney Spears' house. This property was asking $4,995,000, the same price they had it listed for in 2018 for 305 days when it didn't sell. This property is a beautiful Skiffington design Adirondack with 4 boat slips and an open air boathouse built into the shoreline.
With 12 properties closing and only 12 new listings having been listed in the same month. There is no new inventory accumulating. We have not seen buyers slow down their searches even into the holiday season. With there being less events and activities this year they have more time to look for properties.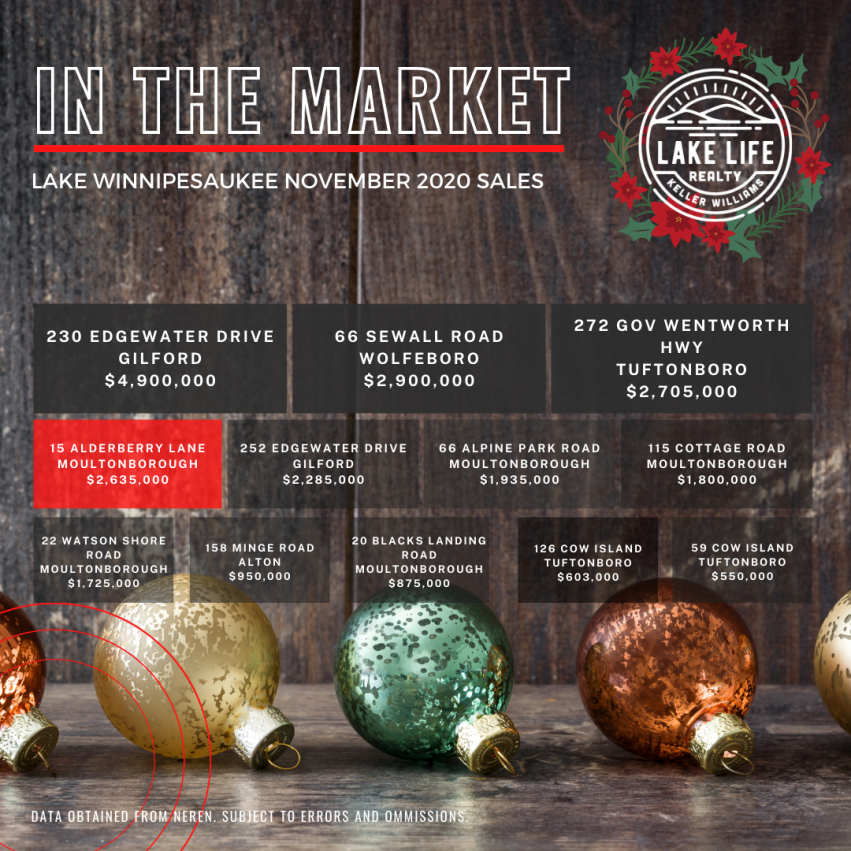 2019 vs 2020
Of the 12 properties that closed, FIVE were under contract in 5 days or less. FOUR of those five sold for over asking with the average over asking amount being $84,275. For the month of all close properties the average list to sales price ratio was 99.29! Almost 100%! Last year same month it was 96.6%. Days on market for Nov. was 57 for an average and 42 for a median, last year it was 257 day average and 154 median.
One point to note as well is that the total sold volume this year for Nov. 2020 was $23,863,000, last year it was $11,915,000. More than double this year than last for the same month and just 3 more units than last, therefore average price points have gone up. Last year average sales price was $1,323,888 versus the almost $2M this year.
Even with the low inventory numbers YTD year over year, there have been 164 sales on Winnipesaukee this year versus the 137 last year YTD with total volume 2020 YTD being $250,903,549 and 2019 YTD being $183,504,299.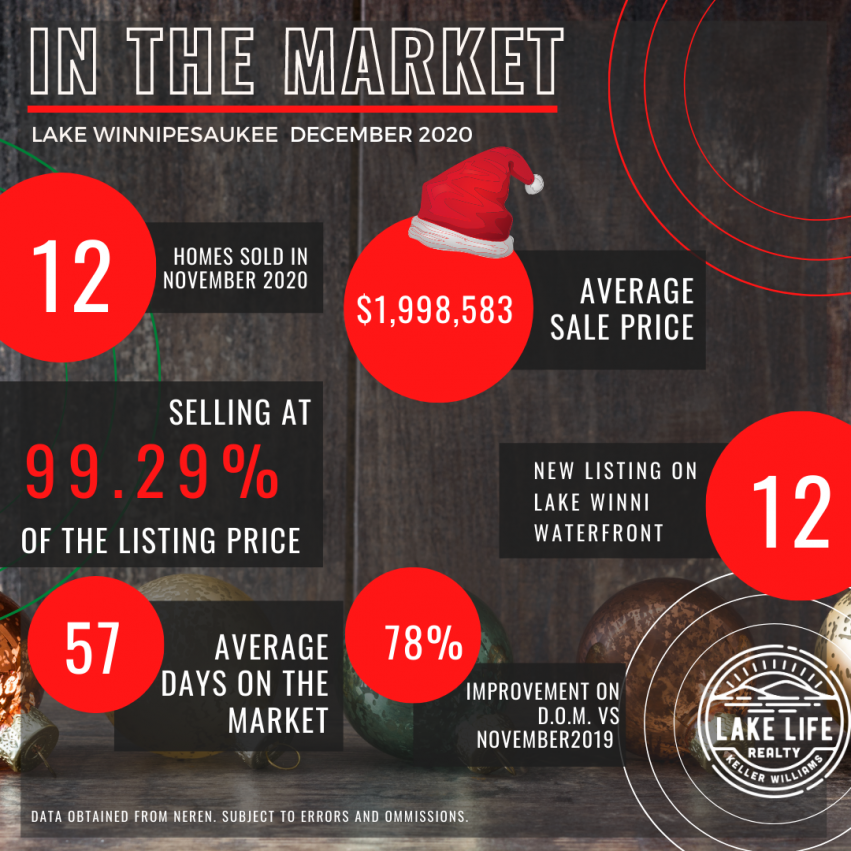 Selling Your Home?
Get your home's value - our custom reports include accurate and up to date information.
Get Home Value