December 2021 Lakes Region Statistical Report
Alton
In November, 9 properties closed in Alton ending the month with a 98.44% list to sale price ratio. Given this market, it's surprising to see the list to sale price ratio was 2.92% higher in November of last year than it was in 2021. With that being said, the year to date ratio is significantly higher this year than last.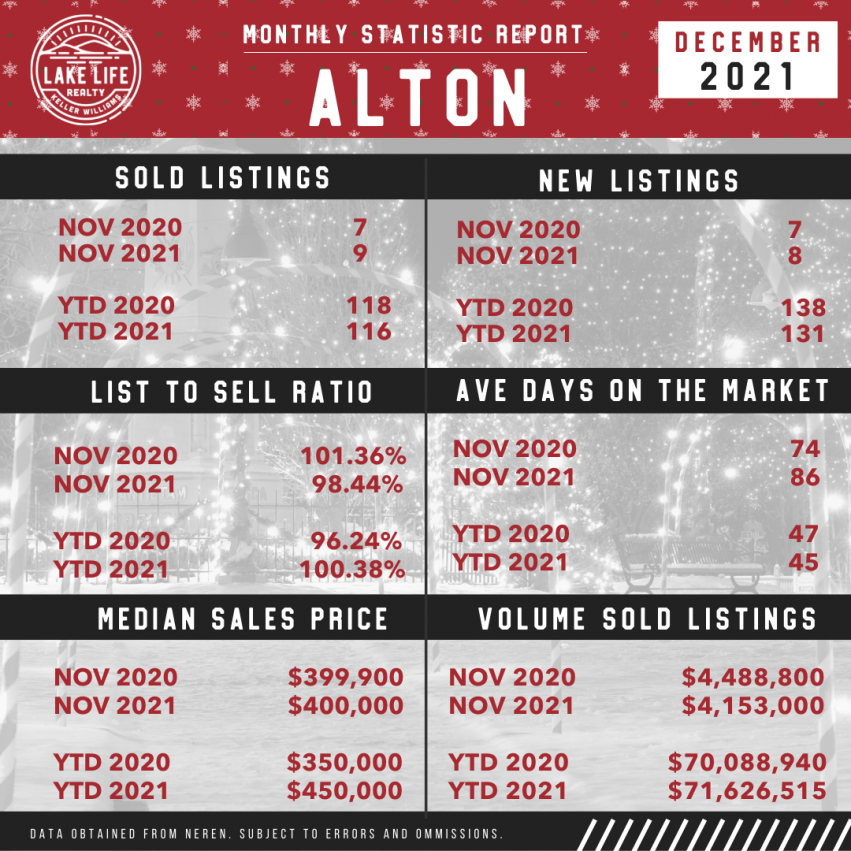 Center Harbor
Just one property sold in Center Harbor last month. Three new listings came on the market, 2 more than November of the previous year. The lowest days on market averages in this report, Center Harbor ended the month with a 6 day average!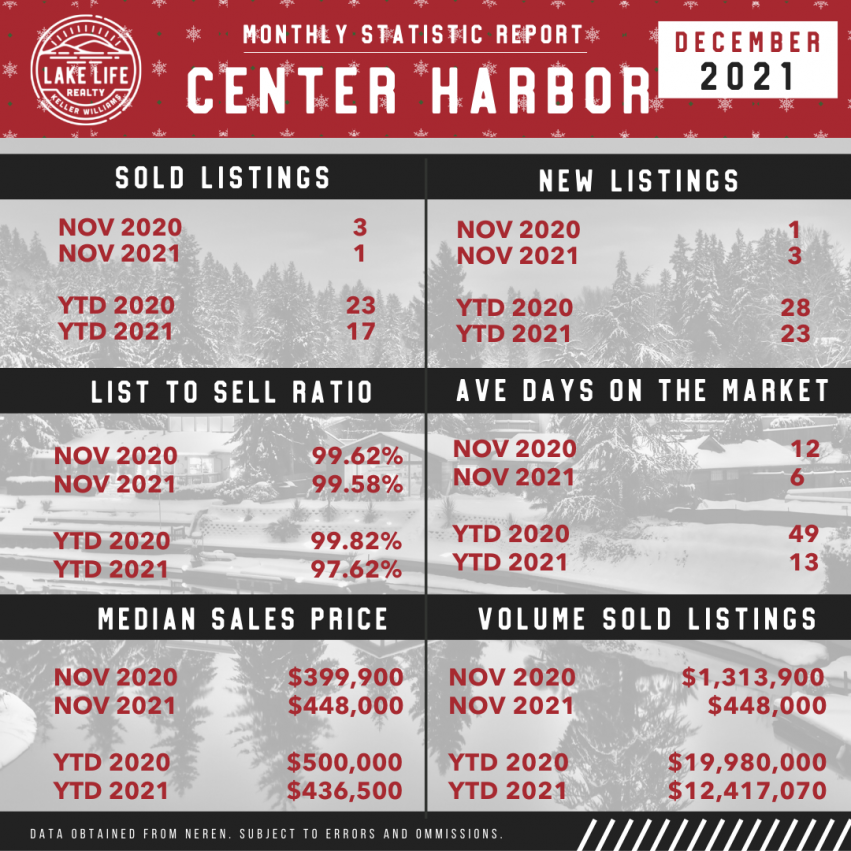 Gilford
Gilford outshined Laconia this month! 23 listings closed in Gilford in November while they 31 NEW properties came on the market- wow! Not far behind, Laconia listed 25 new homes. The volume sold when comparing this year and last, is down about $3M this year but the year to date totals are almost identical!
Of the 23 that closed, we were thrilled to represent the buyers at 57 Terrace Hill Rd that closed for $250,000.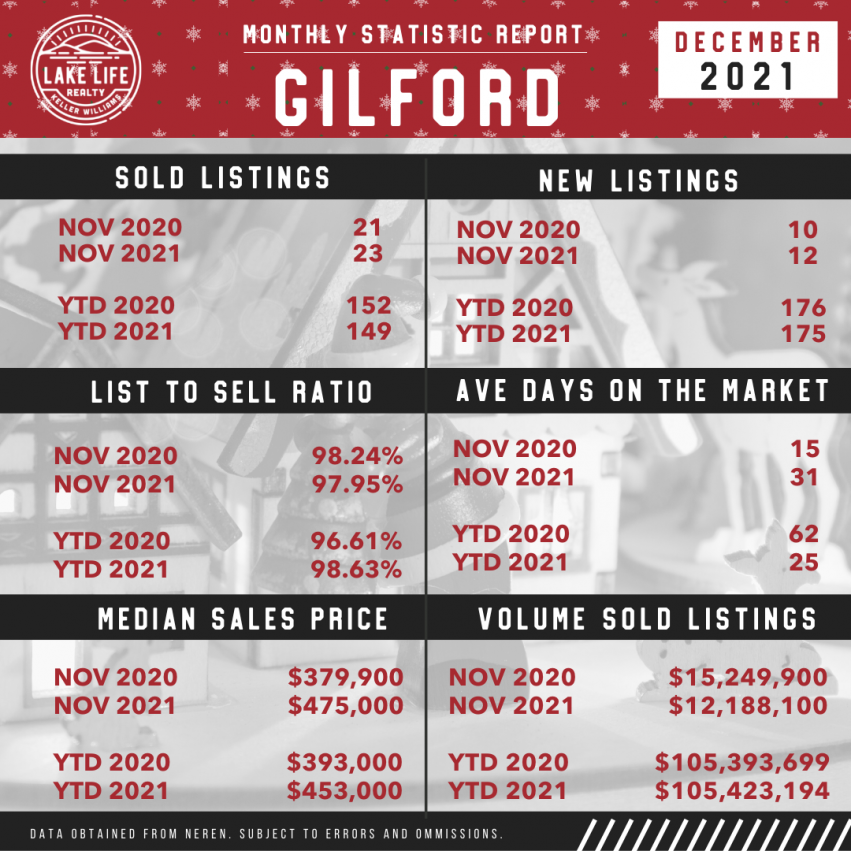 Laconia
Just 2 behind Gilford, Laconia saw 21 listings close last month. The list to sale price ratio was just shy of 100% ending the month with 99.8%, 1.27% higher than it was in November 2020. The days on market average was also one of the lowest with 29 days.
Of the 21 that closed, our team had the luxury of representing the buyers of 77 Webster Ct that closed for $285,000 and the sellers of 170 Hickory Stick that closed for full asking price at $795,000!
Our Current Laconia Inventory:
Meredith
Wow! Meredith had the highest list to sale price ratio in this report ending November with 102.4%! The volume sold in November of this year compared to November of last is a $2+M increase.
15 new listings came on the market while 13 closed. One of the properties to close was 9 Lake Shore Dr a Lake Winnipesaukee waterfront that sold for $825,000 is currently being used as a Lake Life Rentals with dates available for summer!
Our Current Meredith Inventory: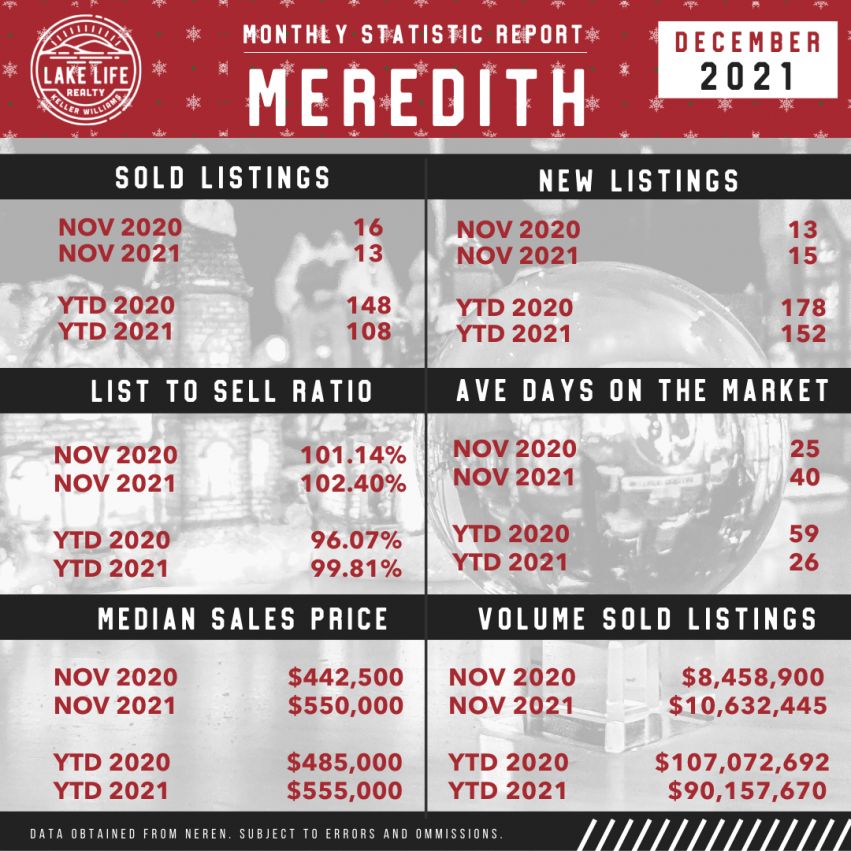 Moultonborough
Just shy of Meredith's, Moultonborough has a list to sale price ratio of 102.23% with median sales price of $382,500. 10 lists both came on the market in November and sold- 10 in and 10 out!
Of the 10 that sold, 3 were represented by agents on our team.
1. 23 Bishop Shore Rd- Lake Kanasatka waterfront that sold for $850,000
2. 7 Lady Slipper Lane- 1.73 acre lot that sold for $5k over the asking price and was under agreement in just 3 days!
3. 519 Old Mountain Rd- Our seller's beautiful home that was under agreement in just 5 days and sold for $30k over asking price!
Our Current Moultonborough Inventory:
42 Lake Shore Dr Unit B3- Lake Winnipesaukee Waterfront Condo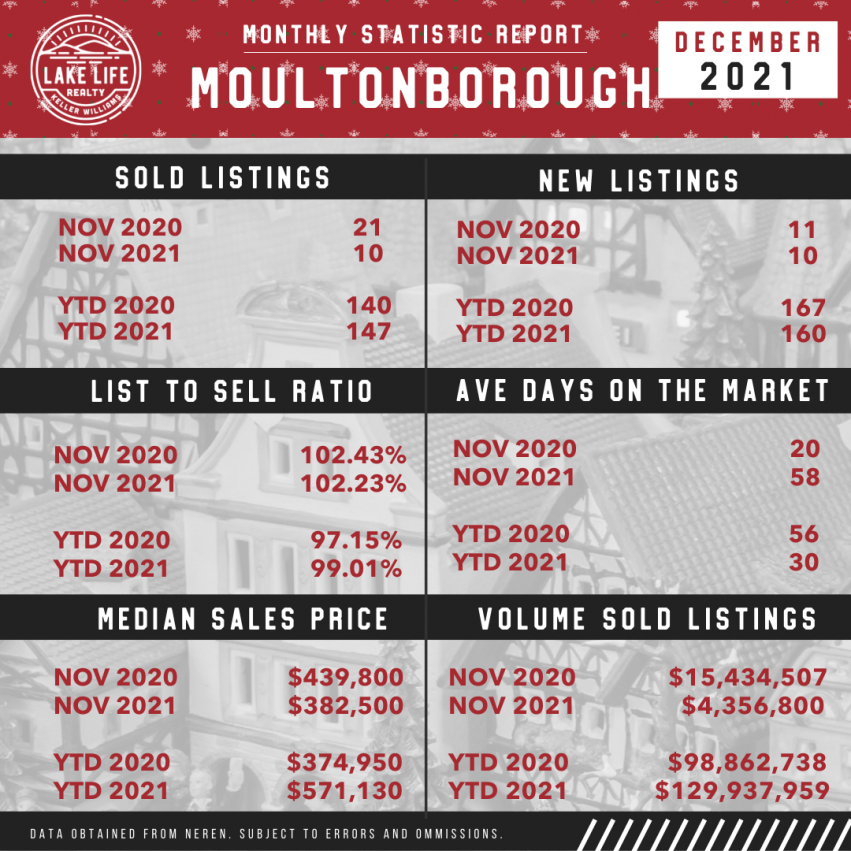 Tuftonboro
Tuftonboro had the lowest to list to sale price ratios in this report ending November with just 87.81%. The volume sold is down more than $4M this November compared to last but the median sales price was up $165k.
Check out Ridge Field Corner- Tuftonboro's newest subdivision with 23 available lots home to luxury to-be-built homes!
Our Current Tuftonboro Inventory:
Wolfeboro
Matching Laconia, Wolfeboro saw 21 listings close in November. Having one of the highest sold properties last month, Wolfeboro also had one of the lowest amounts of new properties come on the market with just 7 listings. High sold, low new!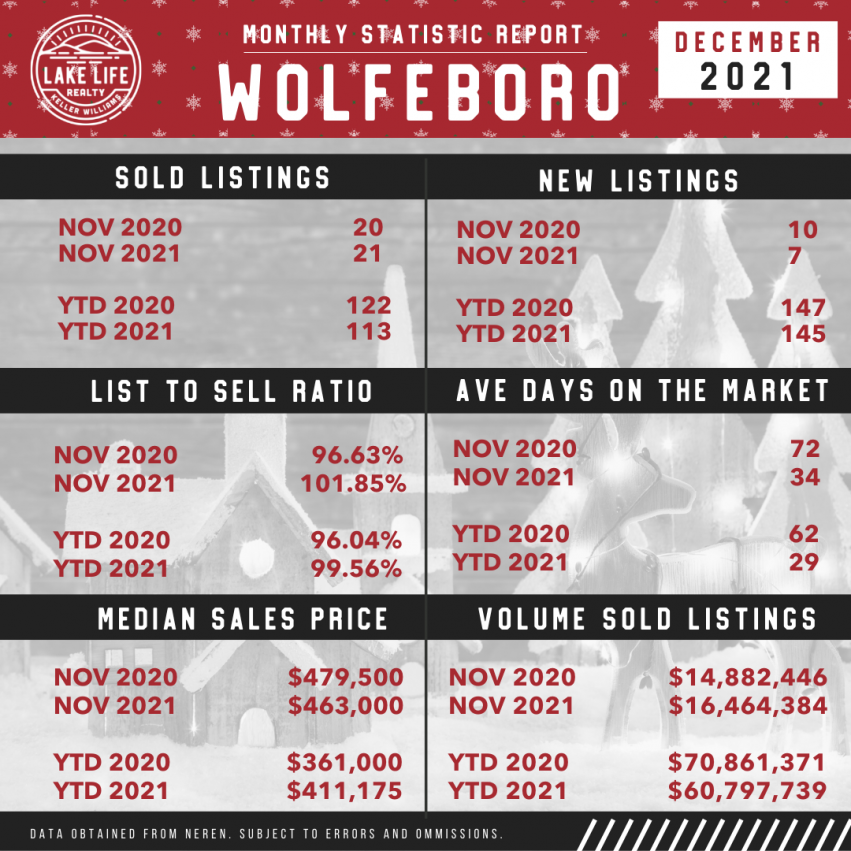 Selling Your Home?
Get your home's value - our custom reports include accurate and up to date information.
Get Home Value