February 2021 Lakes Region Statistical Report
Alton
The amount of new and sold listings are down when comparing January in 2020 and 2021 which went from 7 to 3 sold and 6 to 3 new. However, the list to sale price ratio is higher- over 100% which means properties are selling for more than they were listed for AND they are being sold significantly faster than they did last year, 114 days faster to be exact!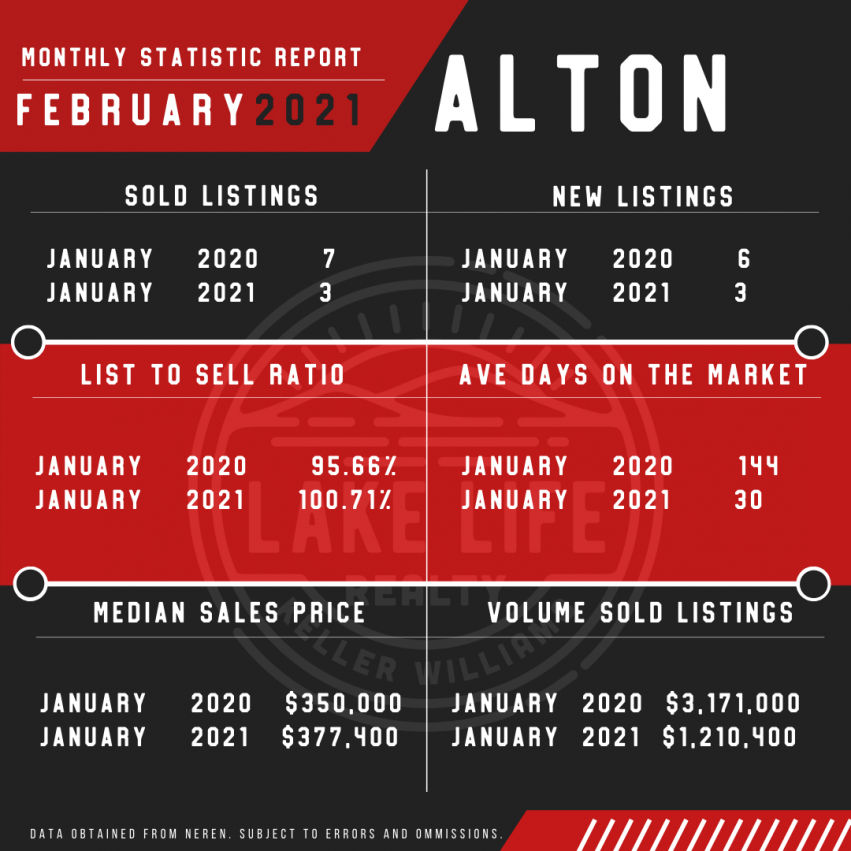 Center Harbor
Only one listing sold in Center Harbor but it closed for $3,800,000 ending the month with a 46 days on market average and a 95.12% list to sell ratio.
Our Center Harbor Inventory:
239 Whittier Hwy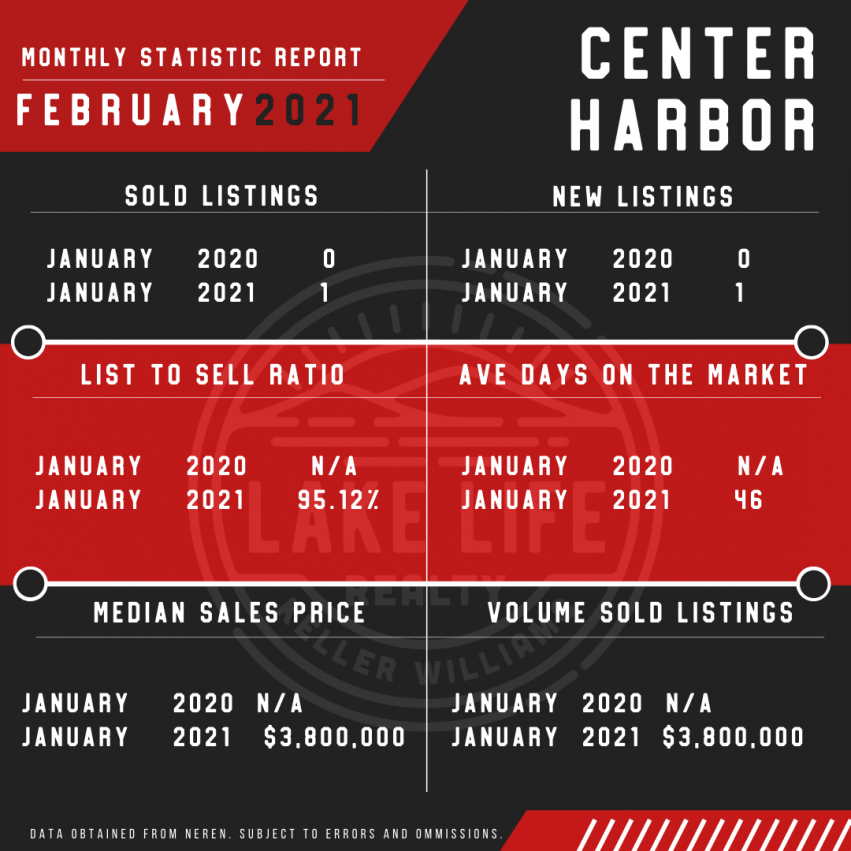 Gilford
In Gilford, there was 1 more sold listing in January of this year than last and the same amount of new listings to hit the market. Six properties closed last month with a list to sell ratio of 101.47% totaling $2.9+ million in sales volume.
One of the properties to close was 303 Old Lake Shore Rd D9 which we had the luxury of representing the buyers.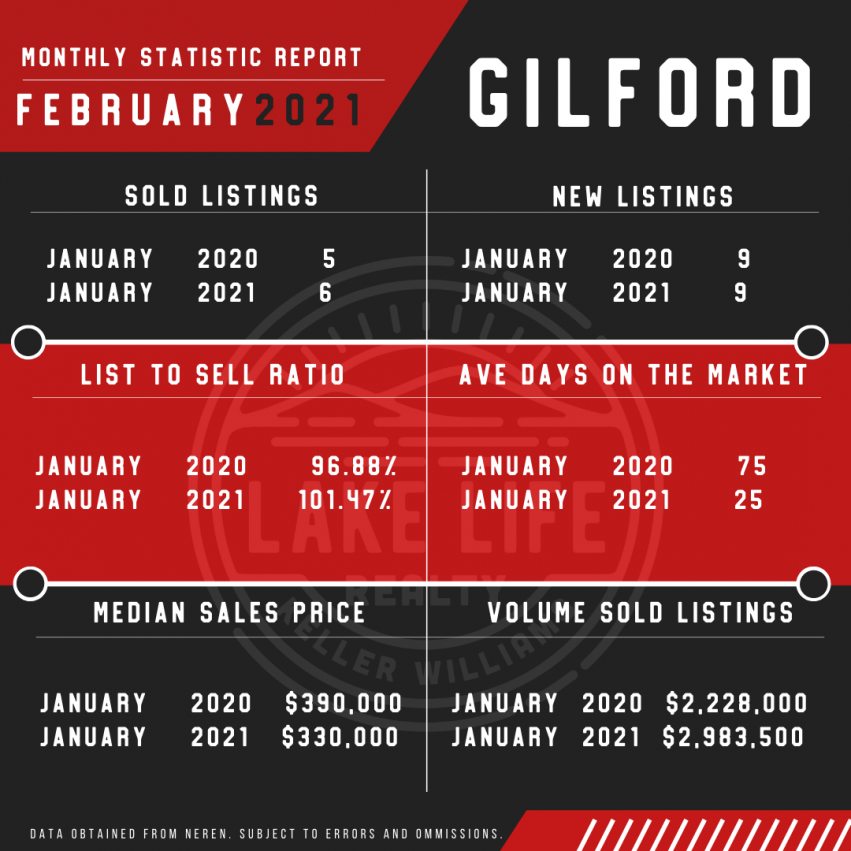 Laconia
The most listings to close in January was in Laconia with a total of 15 sold properties ending the month with one of the lowest days on market averages of just 11 days. Inventory is low and properties are selling fast!
The list to sale price ratio increased 4.52% when comparing January 2020 to 2021 and the average days on market decreased by 69 days!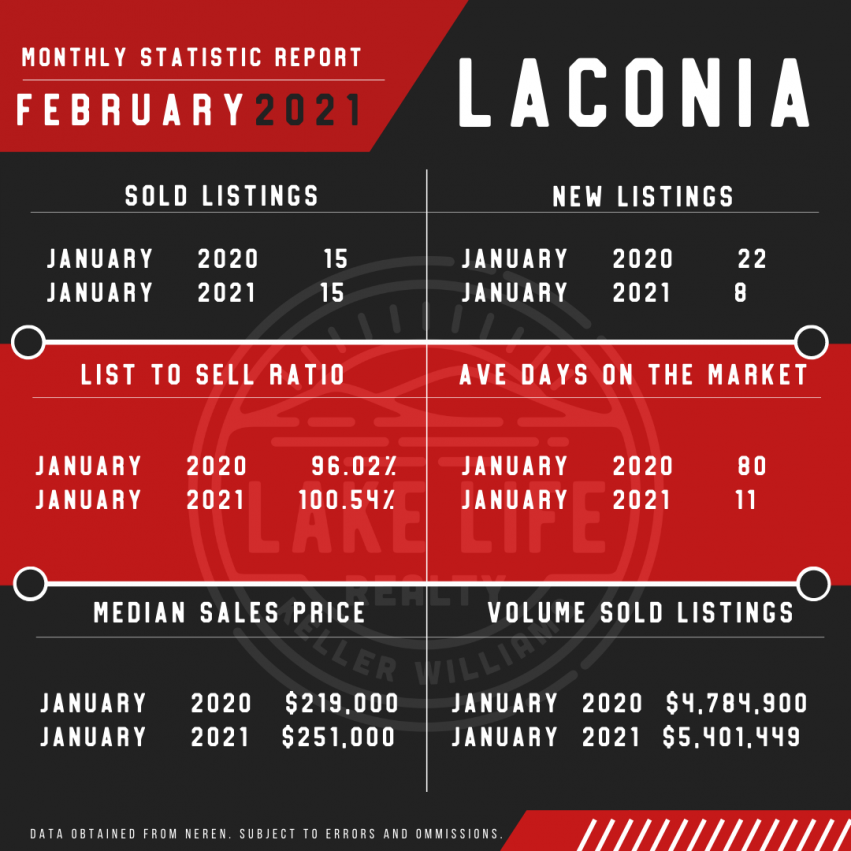 Meredith
Meredith had the 2nd highest amount of sold listings in January with a total of 9 sold properties, 5 more than January of 2020. Meredith also saw an increase of new listings to hit the market with a total of 5 more listings (Jan 2020 vs Jan 2021).
14 new properties came on the market in Meredith last month which was the most for all the towns that surround Lake Winnipesaukee, 3 more than Wolfeboro with the 2nd highest.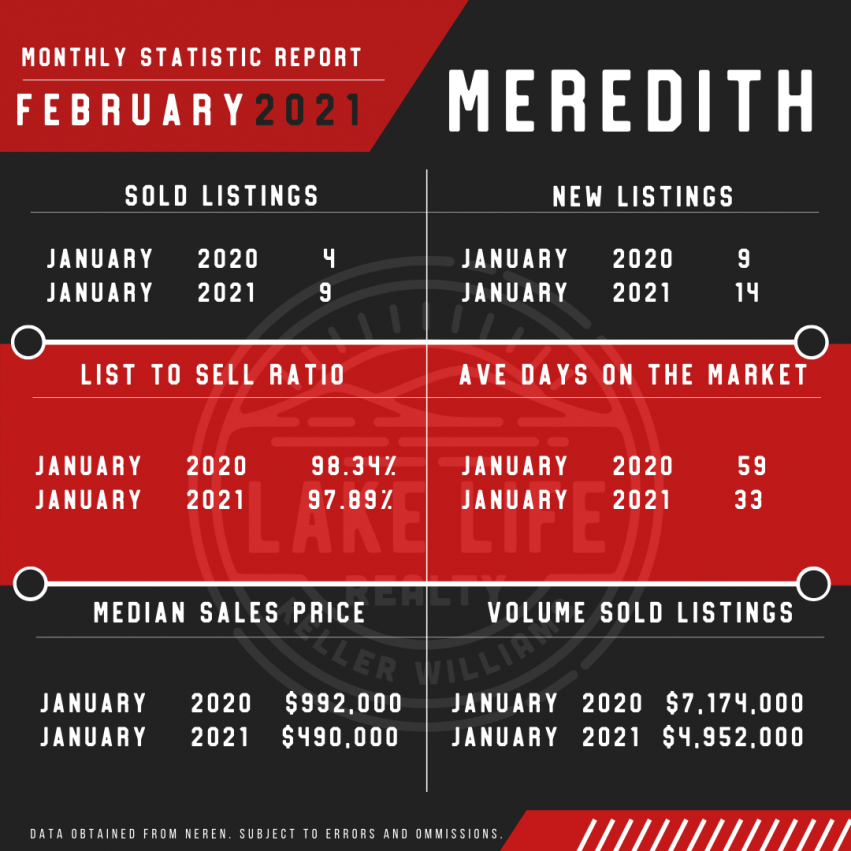 Moultonborough
Moultonborough had one of the highest list to sale price ratios ending January with 101.53% meaning properties are selling for MORE than they were listed for!
Six listings closed, 1 less than January of 2020 and 7 new listings hit the market. Of the 6 that closed, 4 were represented by our team!
85 Far Echo Rd $625,000
6 Gilman Point Rd $600,000
Lot 5 Blackadar Ln $75,000
15 Harbourside Dr $740,000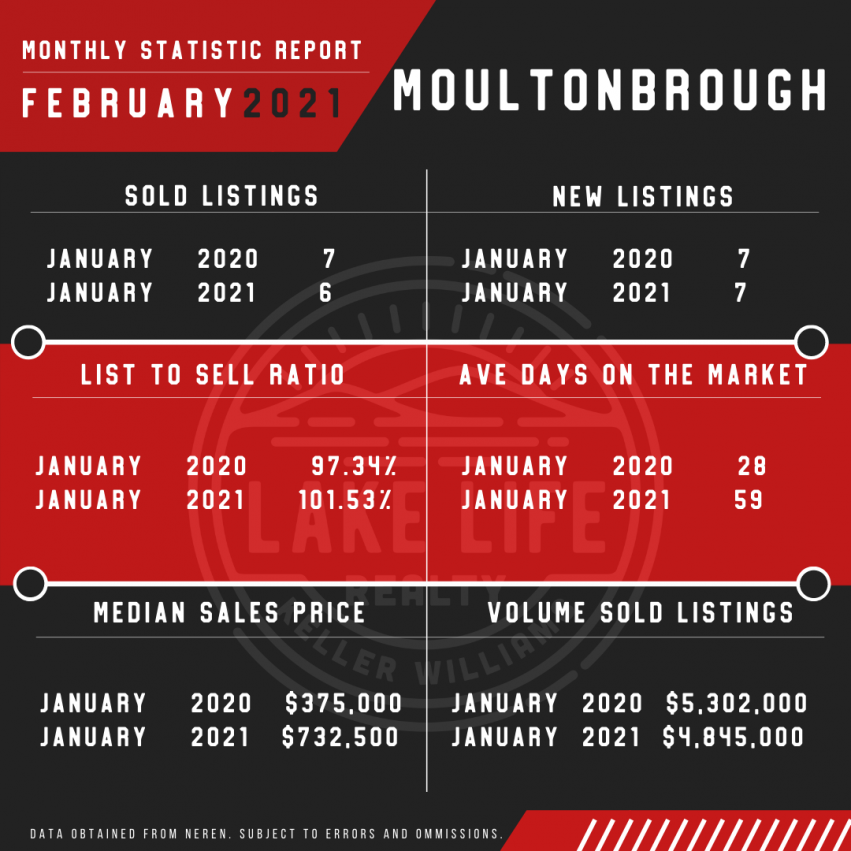 Tuftonboro
105.56% was the highest list to sell price ratio for all the town that surround Lake Winnipesaukee and it happened here in Tuftonboro! That's a 8.35% increase from Jan 2020.
Only 3 listings closed last month in Tuftonboro and 5 new listings hit the market. The days on market average decreased from 120 in Jan 2020 to just 10 days in Jan 2021!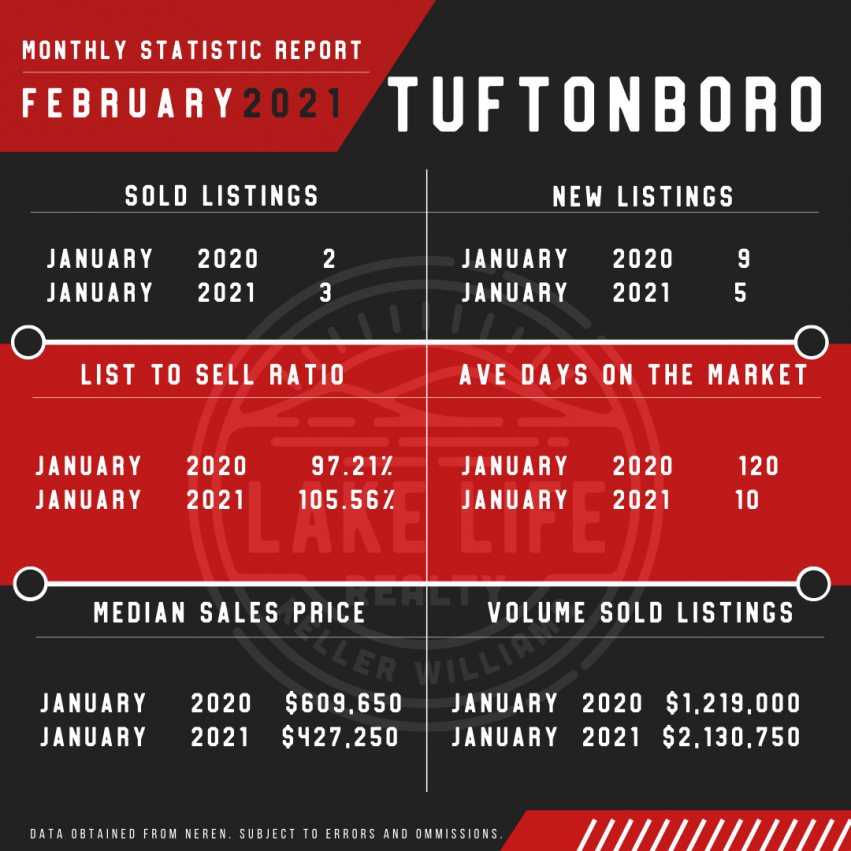 Wolfeboro
For Wolfeboro, numbers are overall better in January 2021 than 2020. The number of sold and new listings increased, the days on market average went down significantly and the volume sold is significantly higher.
6 properties sold in Wolfeboro with a list to sale price ratio of 97.6% while 11 new listings hit the market. One of the properties to go under agreement last month was our listing at Lot 13 Jennifer Circle and expected to close at the end of February.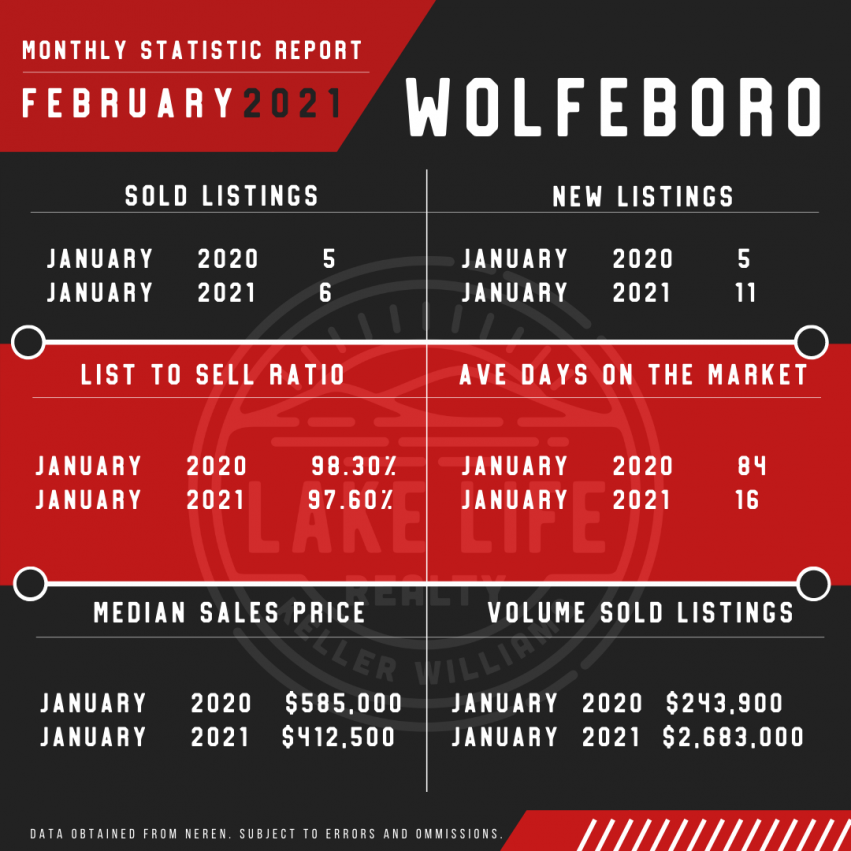 Selling Your Home?
Get your home's value - our custom reports include accurate and up to date information.
Get Home Value