January 2020 Lakes Region Stats Report
Alton
It seems that December was a pretty slow month in comparison to others as reflected in only six properties sold in Alton, only three new listings hit the market and just four went under agreement. With that being said, there were more closed listings in December 2019 than there was in 2018.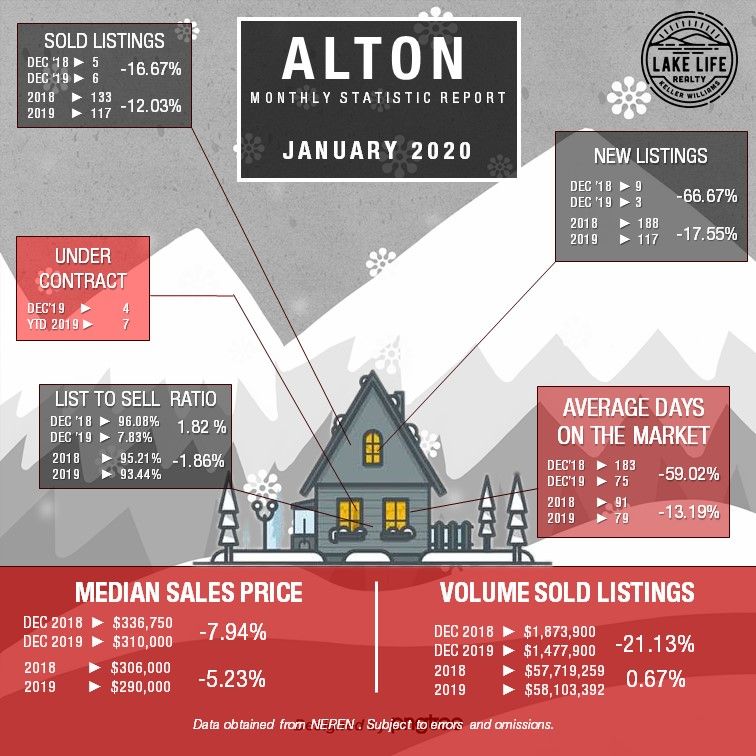 Center Harbor
It was a very quiet month in Center Harbor. Only two properties sold while none went under agreement and zero new listings hit the market. It seems that December of the previous year had very similar numbers. Center Harbor did however have the lowest days on market average with just 25 days!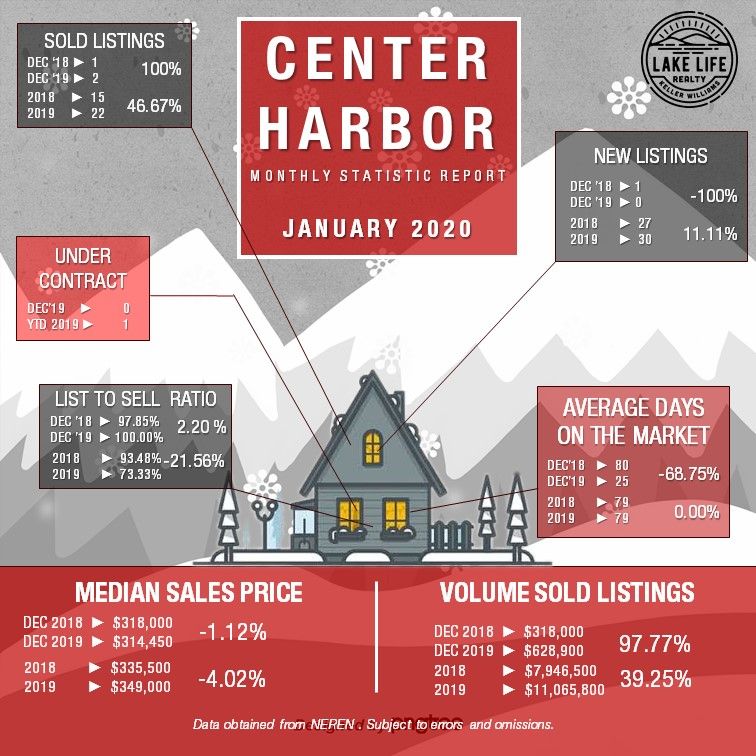 Gilford
Gilford had the second highest amount of closings last month in the Lakes Region with 15 sold listings. The town tied with Tuftonboro for the most new properties to come on the market totally with eight. Four listings went under agreement bringing their average days on market to 48 days, just one day difference from December of the previous year.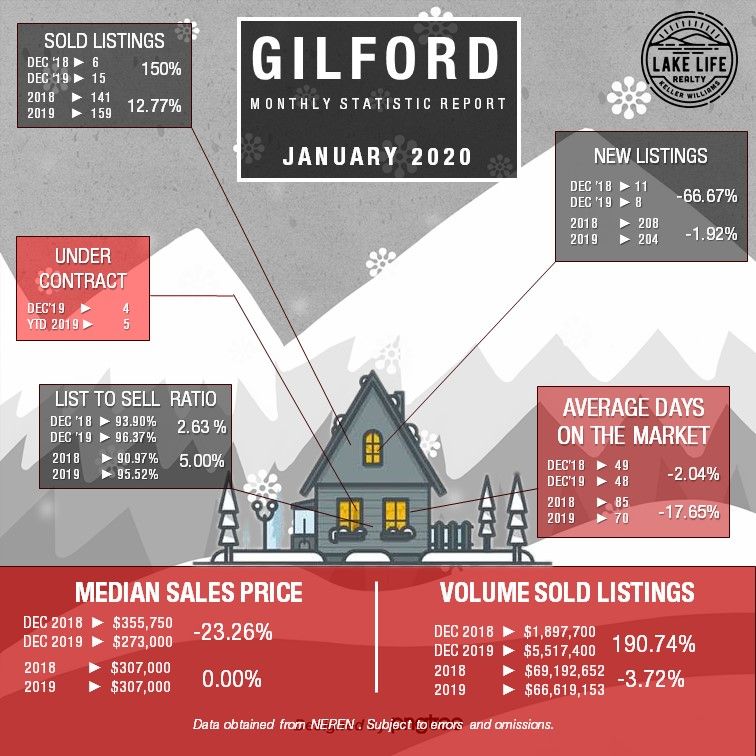 Laconia
Laconia had the most sold listings in the month of December for the towns surrounding Lake Winnipesaukee ending the month with 19 sold properties. Two new listings came on while double that went under agreement. Laconia also had the second lowest days on market average with 35 days, almost half of what it was in December of 2018.
Take a look at our Laconia listing on Prescott Ave!
Welcome to Plummer Point, located on 263 feet of Paugus Bay shoreline on Lake Winnipesauke...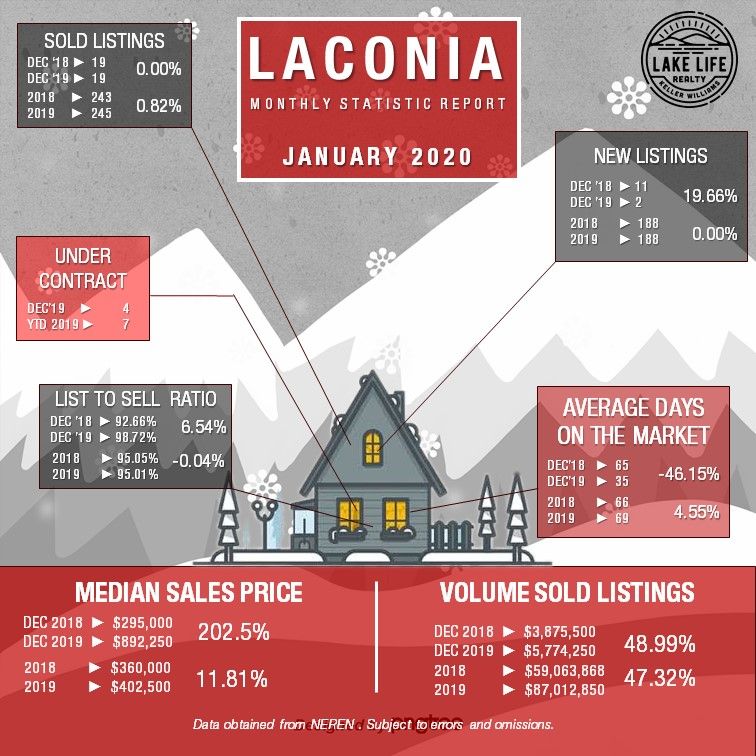 Meredith
In December, Meredith saw seven properties close, two new listings hit the market, and five go under agreement. Meredith and Wolfeboro tied for the most properties to under agreement last month. The average days on market almost double from December 2018 to 2019 going from 32 days to 57.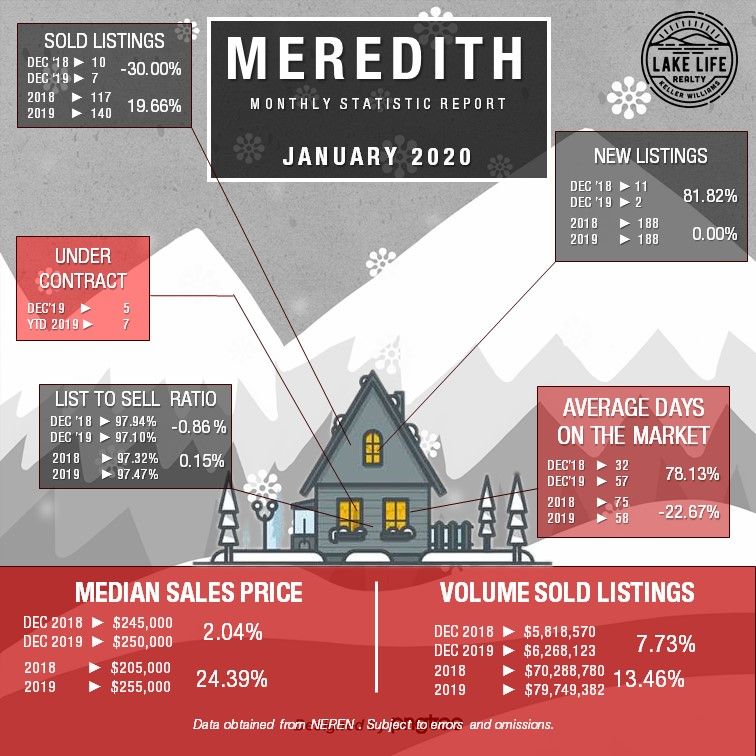 Moultonborough
Eleven sold properties closed in December while only three new listings hit the market. Two properties went under agreement last month bringing the days on market average to 84 days. When comparing December of 2018 to 2019, Moultonborough almost double the amount of sold listings seeing an 83.33% increase.
Looking to build on a beautiful waterfront on Lake Winnipesaukee? Take a look at our listing!
One of few lots available with private waterfront on Lake Winnipesaukee. Think of what you...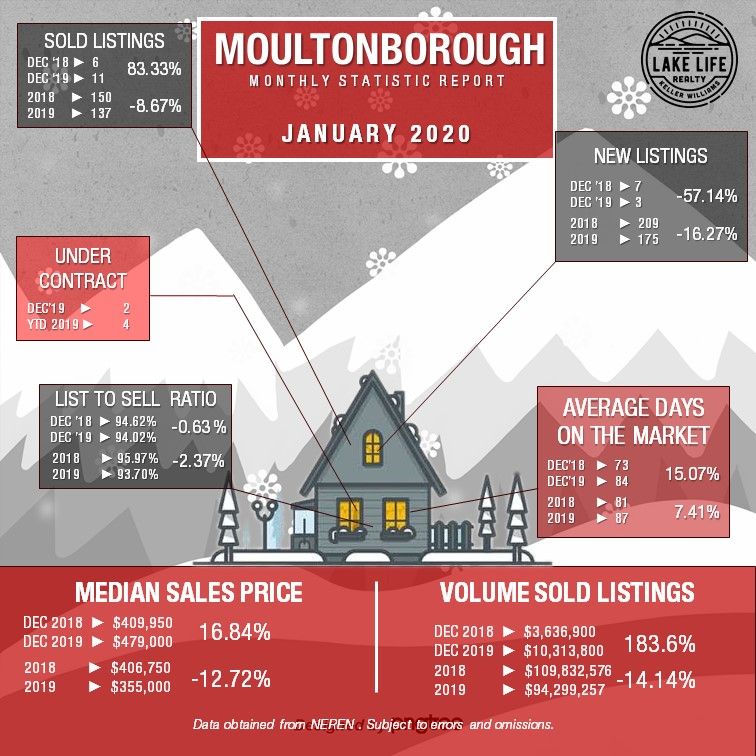 Tuftonboro
Last month Tuftonboro saw four properties close, eight new listings come on the market and two go under agreement. The days on market average is high at 138 days.
Check out our listing in Tuftonboro, a beautiful farmhouse with tons of cleared land.
Own a piece of Tuftonboro history. This farm house has been owned by the same family for o...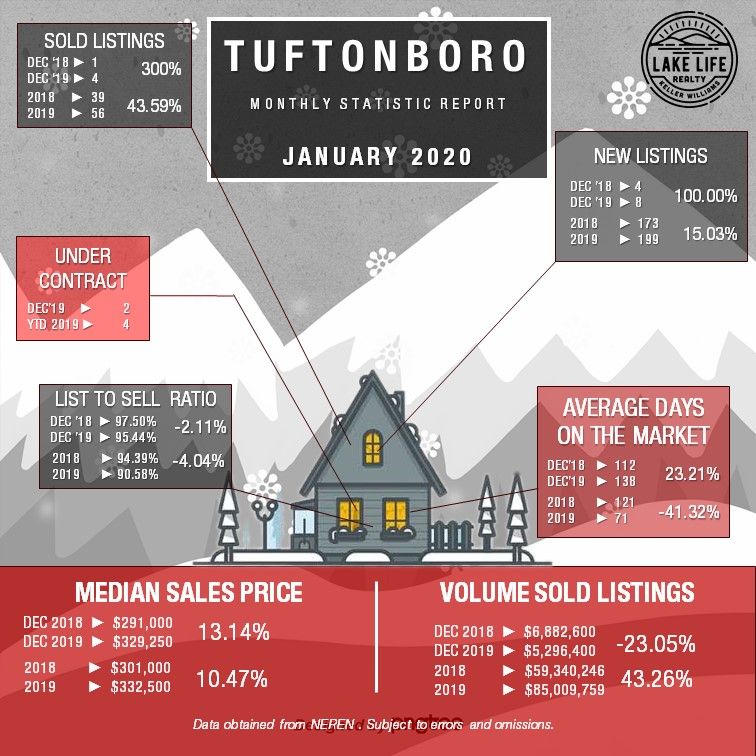 Wolfeboro
Twelve properties closed in Wolfeboro last month, two new listings hit the market and five went under agreement. The same amount of sold listings closed in December of both 2019 and 2018.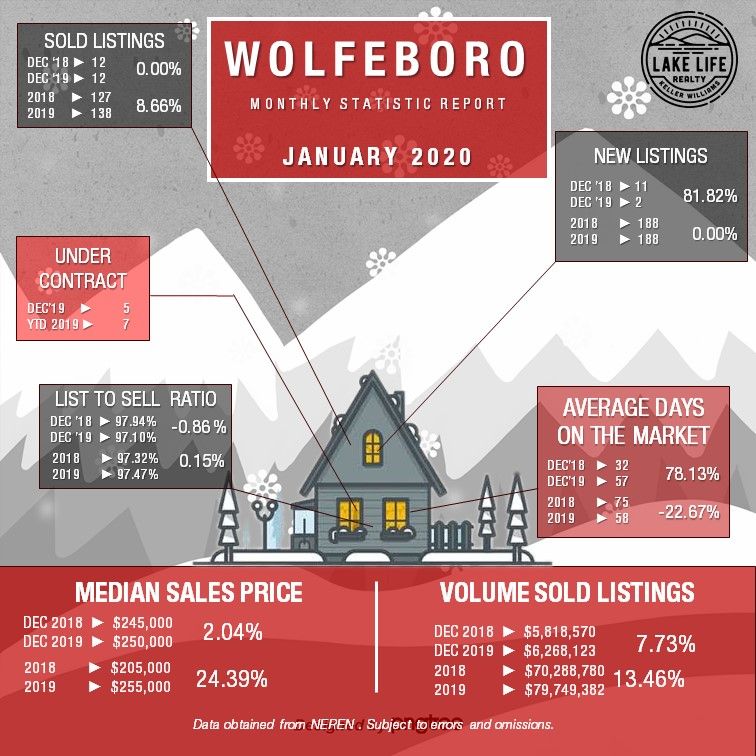 Selling Your Home?
Get your home's value - our custom reports include accurate and up to date information.
Get Home Value