January 2022 Lakes Region Statistical Report
Alton
Wow, it's crazy to think 2022 is here! To end 2021, Alton had 9 listings close in December while 7 new listings came on the market. In comparison, the sold listings were similar with 8 in 2020 and 9 in 2021. The average days on marketing is significantly higher in 2021 with a total of 64 days compared to 15 days in 2020. You will see both the median sales price and volume sold more than double. A $430k+ increase for median sales price and $10.9M+ for volume sold when comparing the month of December in 2020 and 2021.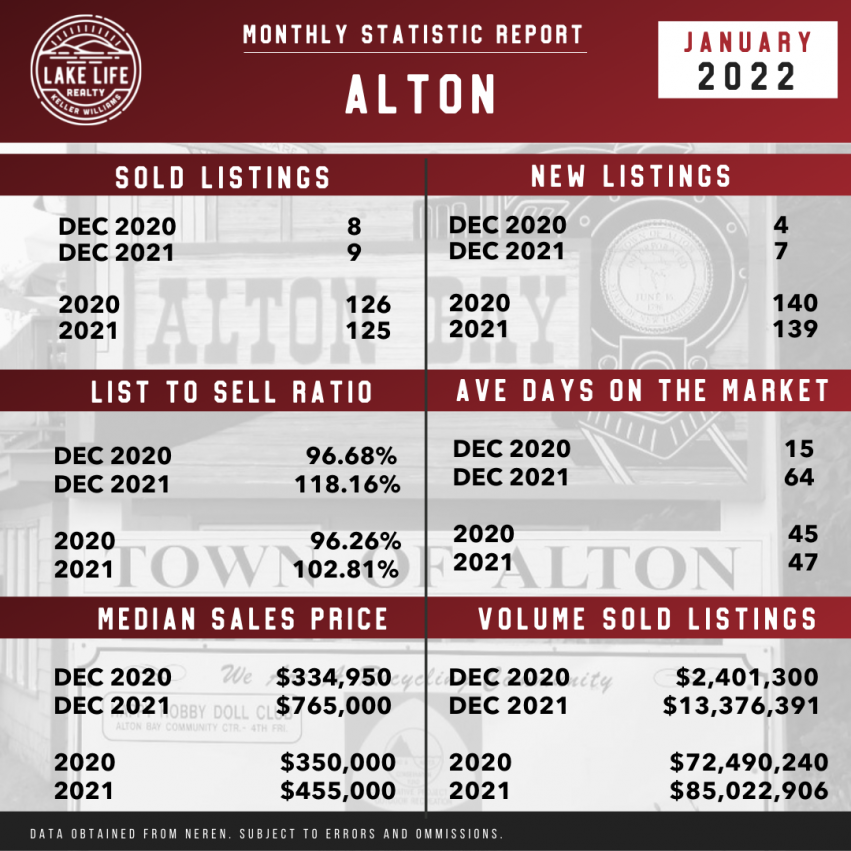 Center Harbor
Center Harbor, along with Alton and Laconia, were the only 3 towns in this report to have list to sale price ratios over 100%. Ending December, Center Harbor saw a 107.2% list to sale price ratio which included just the 2 properties that closed. No new came on the market, and the average days on market was just 7 days- the lowest for the towns surrounding Lake Winnipesaukee.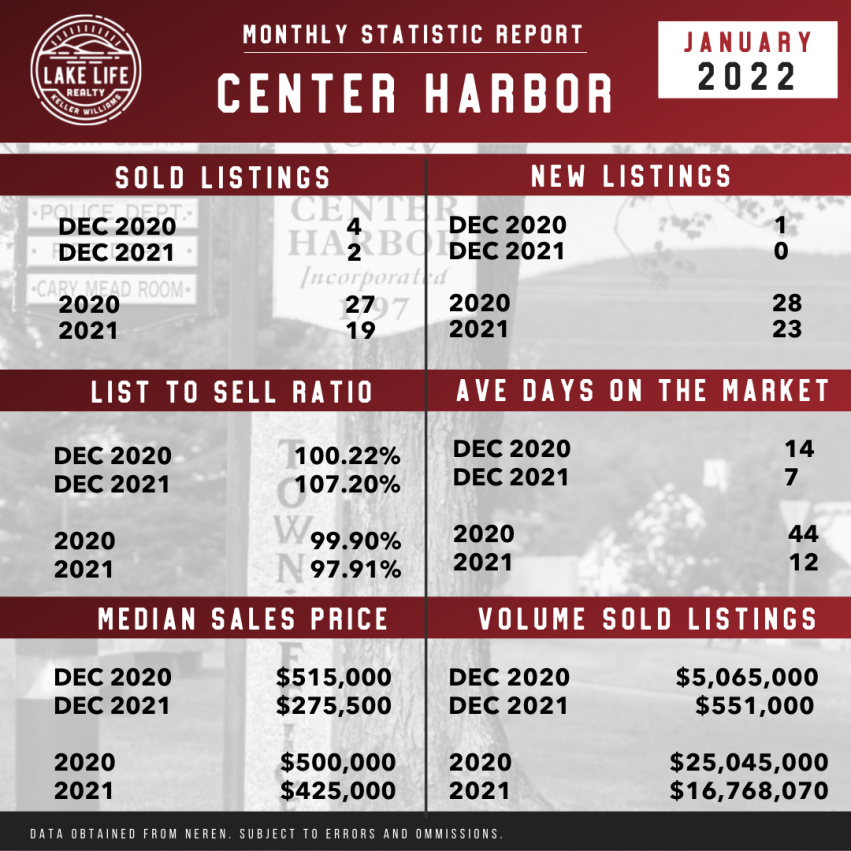 Gilford
Gilford was one of the towns to have the most listings close in December, right behind Laconia and Meredith who tied with 21 sold where Gilford say 13. For sold listings, the December 2020 and 2021 totals are very similar but if you look at new listings, December 2020 saw 11 while December 2021 saw only 3. The inventory continues to remain low across the board.
One of the 12 listings to close was our listing at 2393 Lake Shore Dr Unit 49 that closed for $385,000!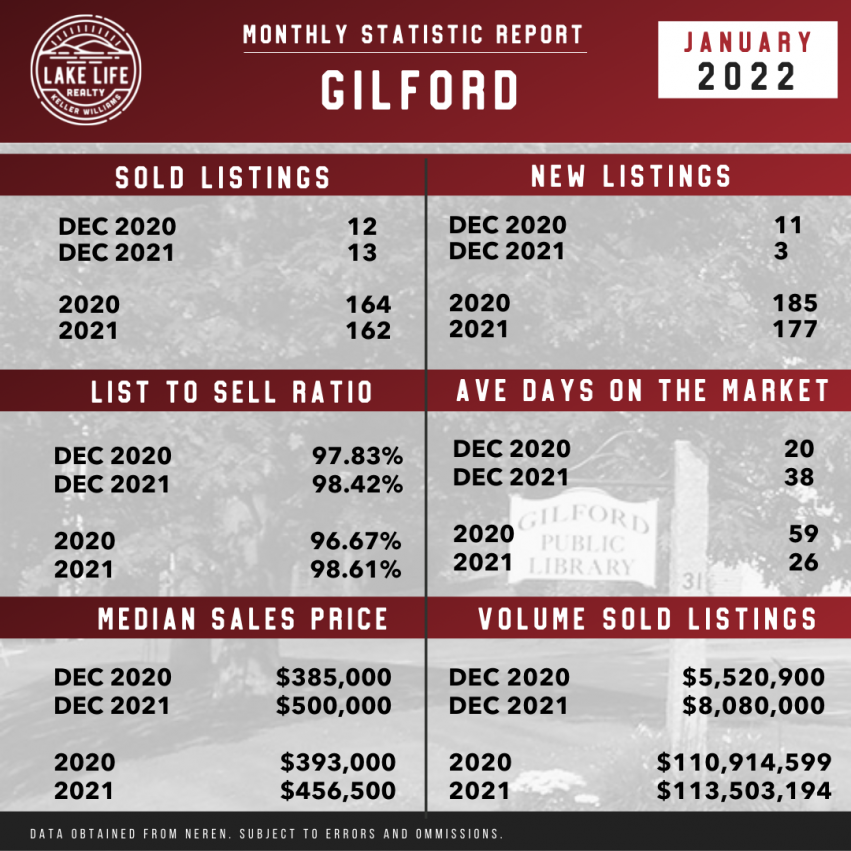 Laconia
Tied with Meredith, Laconia had 21 listings close in December ending the month with a 104.57% list to sale price ratio and a 62 days on market average. Both the sold listing and new listings totals were down compared to December of 2020, 9 less for sold listings and 7 less for new listings. With that being said, inventory is low but they are selling closer to, if not more, than the asking price as reflected in the 104+% list to sale price ratio. Even the overall 2021 list to sale price ratio is over 100%!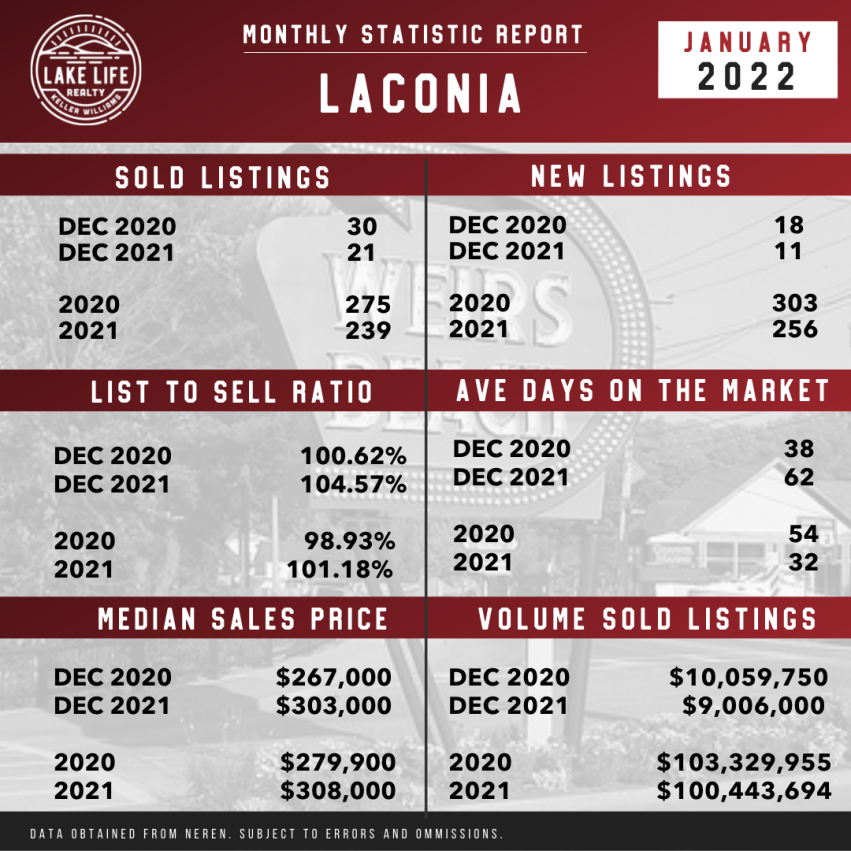 Meredith
Meredith saw 10 more sold listings in December of 2021 than 2020! 21 listings, the most in this report tying with Laconia. 2 of those 21 were represented by our team!
12 Oak Island- we had the luxury of representing the buyers of this transaction that closed for $1,680,000!
The other was our listing at 26 Cummings Cove Rd that sold for $1,400,000!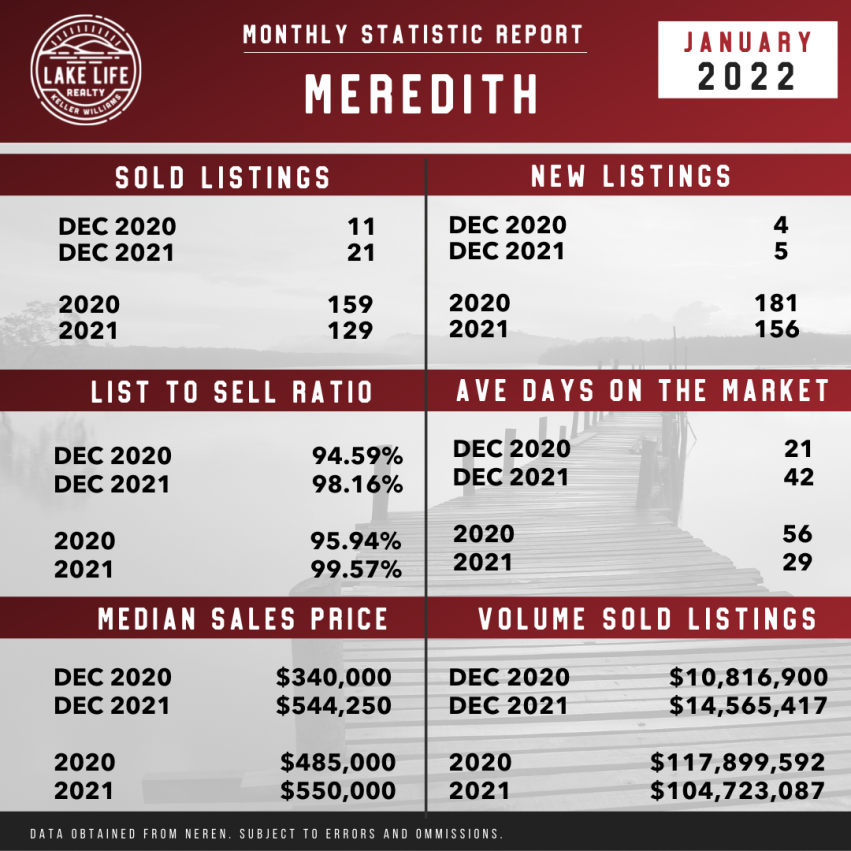 Moultonborough
Just 7 properties closed in December while 2 new came on the market. You'll see that the median sales price from December 2020 to December 2021 increased significantly from $395k to $2.1M!
Of the 7 properties that closed, we represented 3 of them!
47 Lee Rd- We represented the sellers of this property, a home completely renovated and sold for full asking price at $345k.
8 Lady Slipper Ln- We represented the buyer who purchased this piece of land for $63,900.
Lot 1.1 Redding Ln- We represented the buyer of this land purchase as well which closed for $330,000!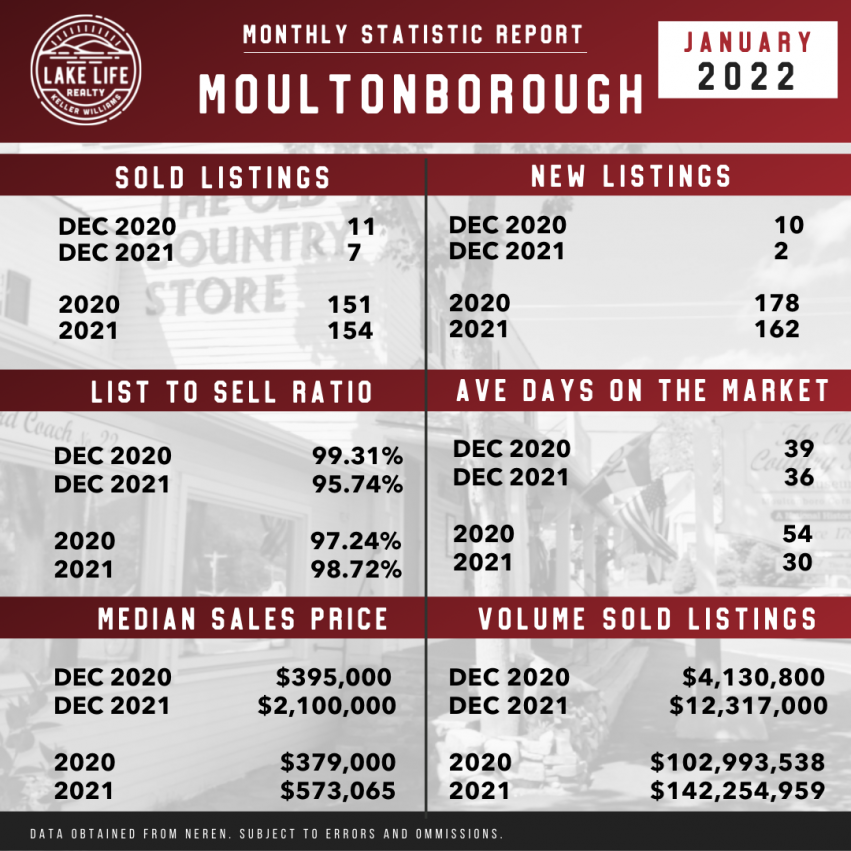 Tuftonboro
7 properties sold in Tuftonboro in December and 3 new properties came on the market. The average list to sale ratio decreased when comparing December 2020 to December 2021 from 97.83% to 95.03%.
Check out Ridge Field Corner- Tuftonboro's newest subdivision with 23 available lots home to luxury to-be-built homes!
Our Current Tuftonboro Inventory: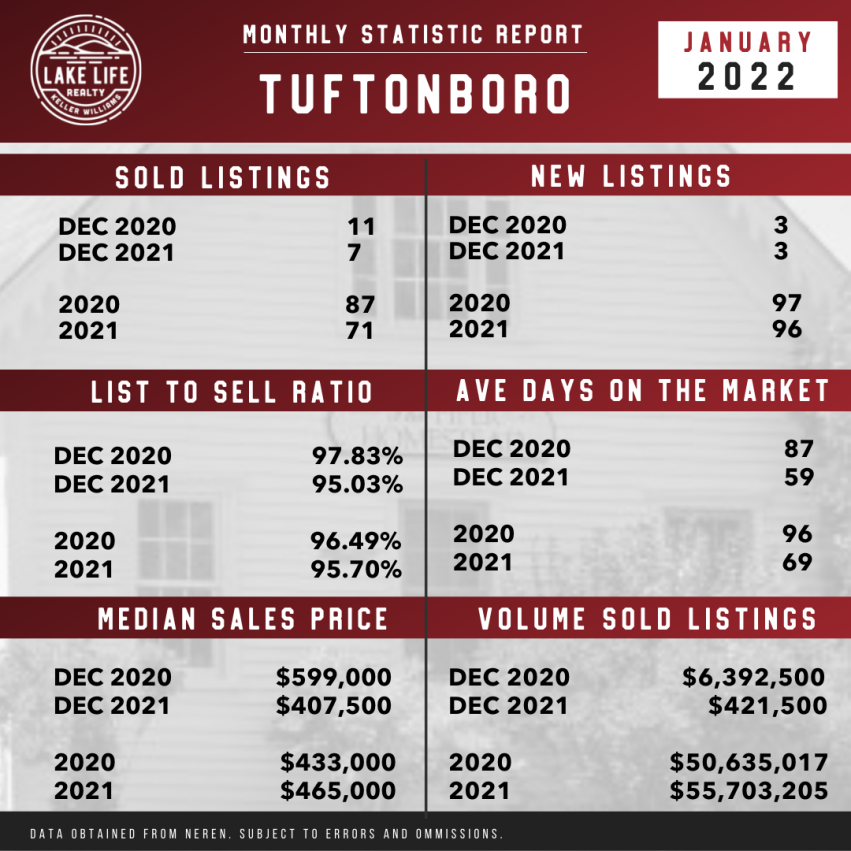 Wolfeboro
A total of 9 properties closed in Wolfeboro in December, only 3 came on the market. The list to sale price ratio was the lowest in the report but the days on market average was one the best. The volume sold in 2020 is significantly higher than it was in December of 2021, as is the overall 2020 vs 2021 volume sold.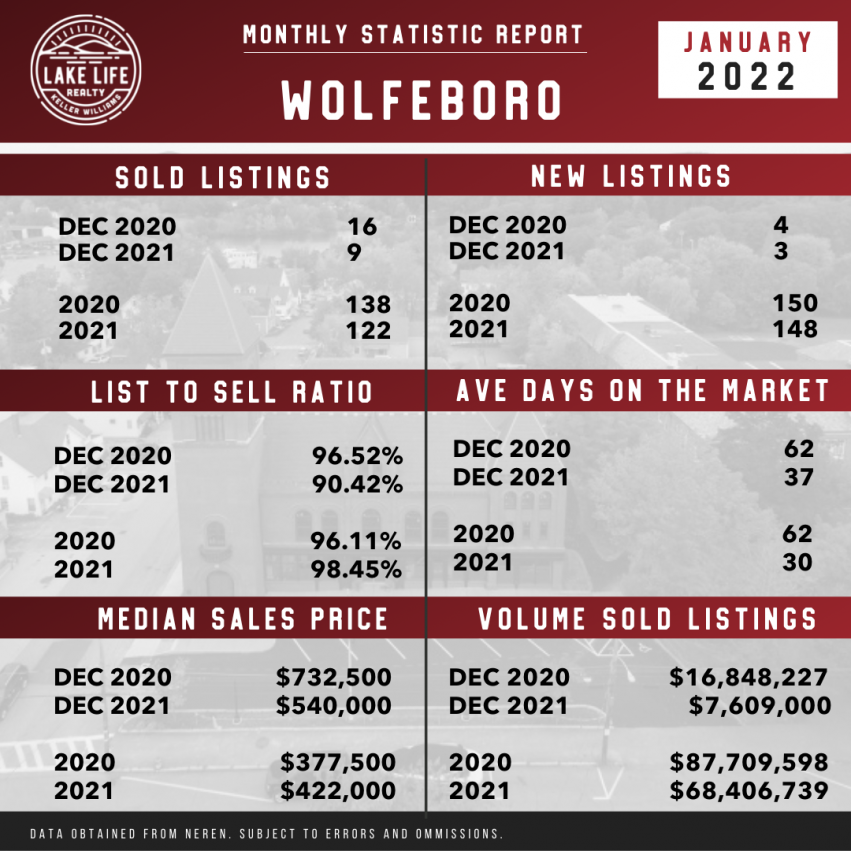 Selling Your Home?
Get your home's value - our custom reports include accurate and up to date information.
Get Home Value