June 2021 Lakes Region Statistical Report
Alton
In May, Alton had 13 listings close ending the month with a 42 days on market average and a near perfect list to sale ratio of 99.83%. When comparing 2020 to 2021 stats in Alton, you will see a significant increase this year in May. Almost double for both sold and new listing in May 2021 vs 2020. The median sales price also more than doubled going from $350k to $675k, what a jump!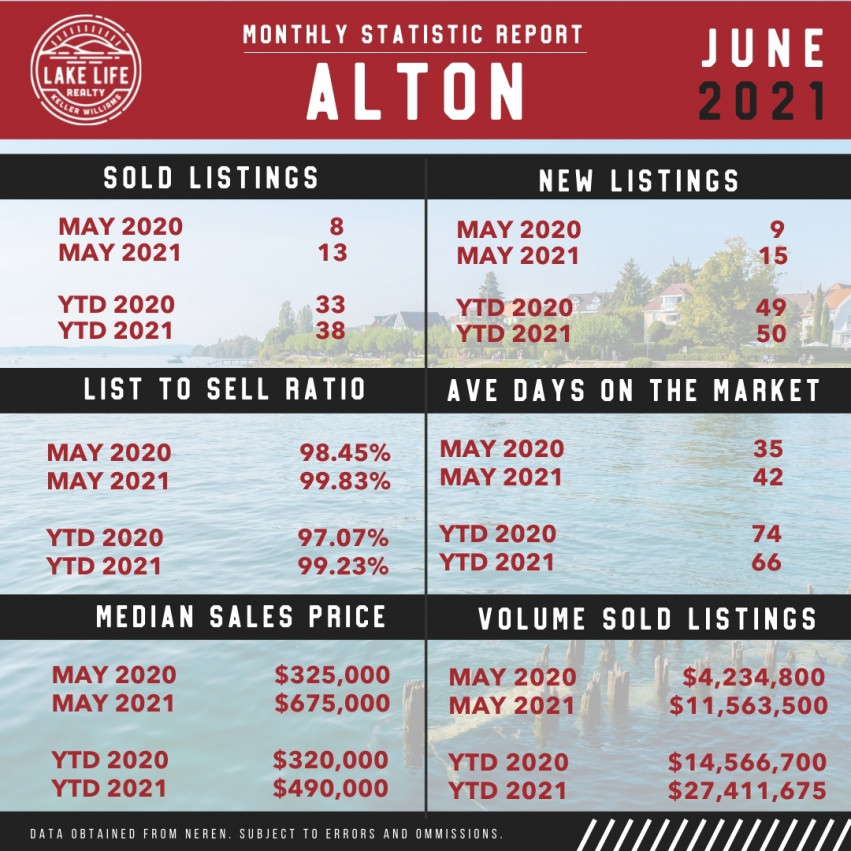 Center Harbor
3 new listings came on the market in Center Harbor last month while just 1 sold. That one property to close was our listing at 239 Whittier Hwy that closed for $750,000 in less than a month's time.
239 Whittier Hwy: Known as the former Butterfield House, this property has 6 bedrooms with 4.5 baths located in the heart of the Lakes Region! We are thrilled for the new buyers to enjoy such a beautiful home with an apartment attached!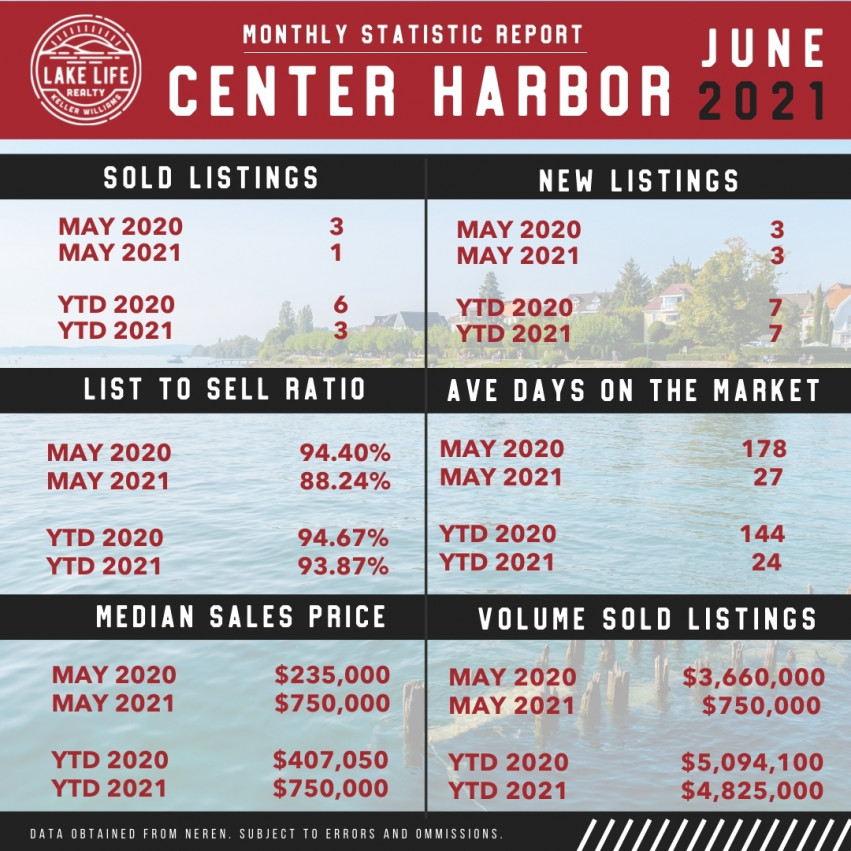 Gilford
In May, a total of 16 properties sold which is just 4 less than Laconia who had the most of all the town surrounding Lake Winnipesaukee. Gilford also tied with Moultonborough for having the 2nd most new listings come on the market with a total of 20.
If you compare May 2020 to 2021 you will see significant improvements, the volume sold tripled going from $5M+ to $17M+ and the average days on market went from 43 to just EIGHT!
Our Current Gilford Inventory:
26 Checkerberry Ln: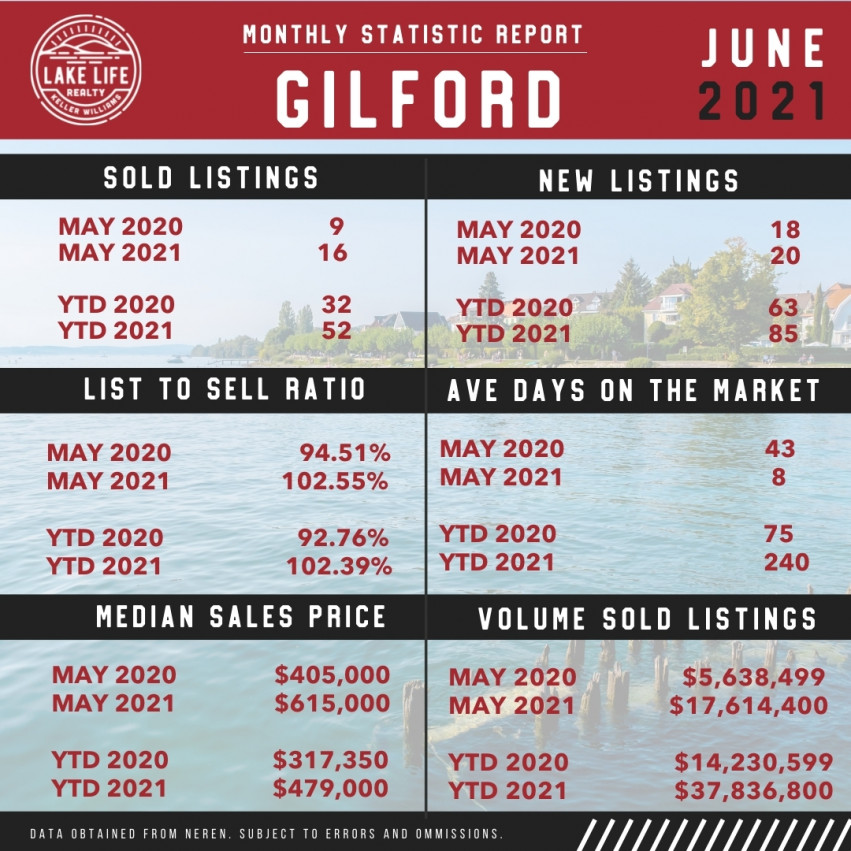 Laconia
Laconia saw the most new listings come on the market in May AND the most sold listings. Of the 20 to close, we are thankful to represent the sellers and buyers of 674 Elm St #18 that closed for $75 OVER asking price and BEFORE it even came on the market! We also represented the sellers of 1164 Weirs Blvd #3 which closed for $12k over asking price and was under agreement in just 4 days.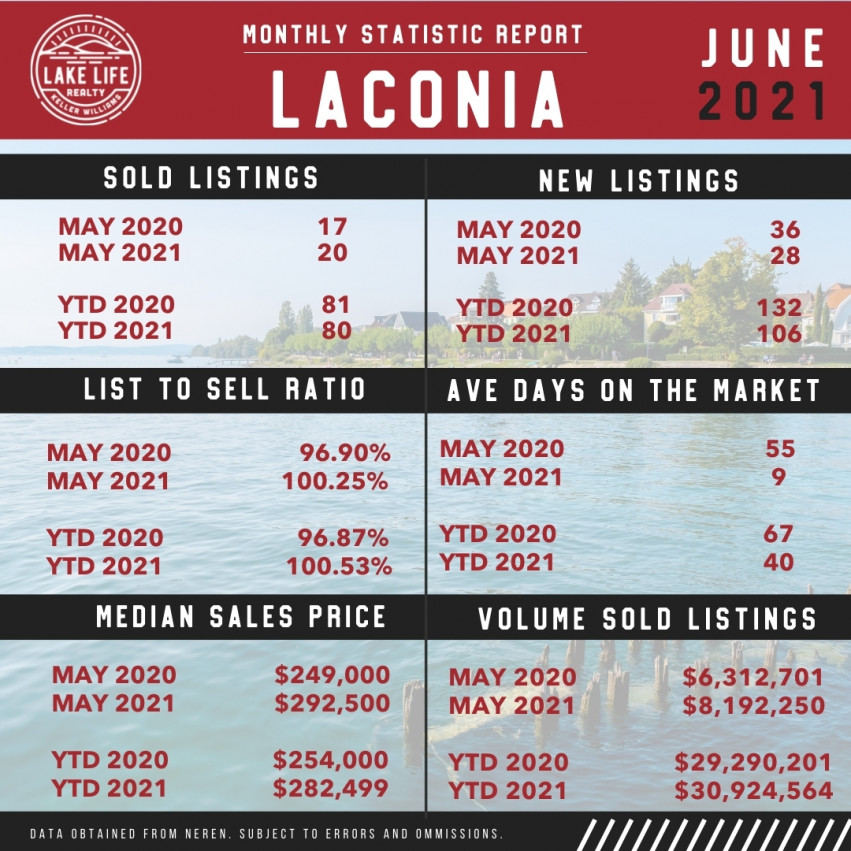 Meredith
Along with Moultonborough, Meredith had 14 listings close in May ending the month with a 104.67% list to sale ratio- the highest of all the towns touching Lake Winni!
Of the 14 homes to close, we represented the sellers of 3 Evergreen Ln which went under agreement in just 6 days for $206K over asking! We also represented the buyers on the purchase of their new home at 4 Winona Shores Rd.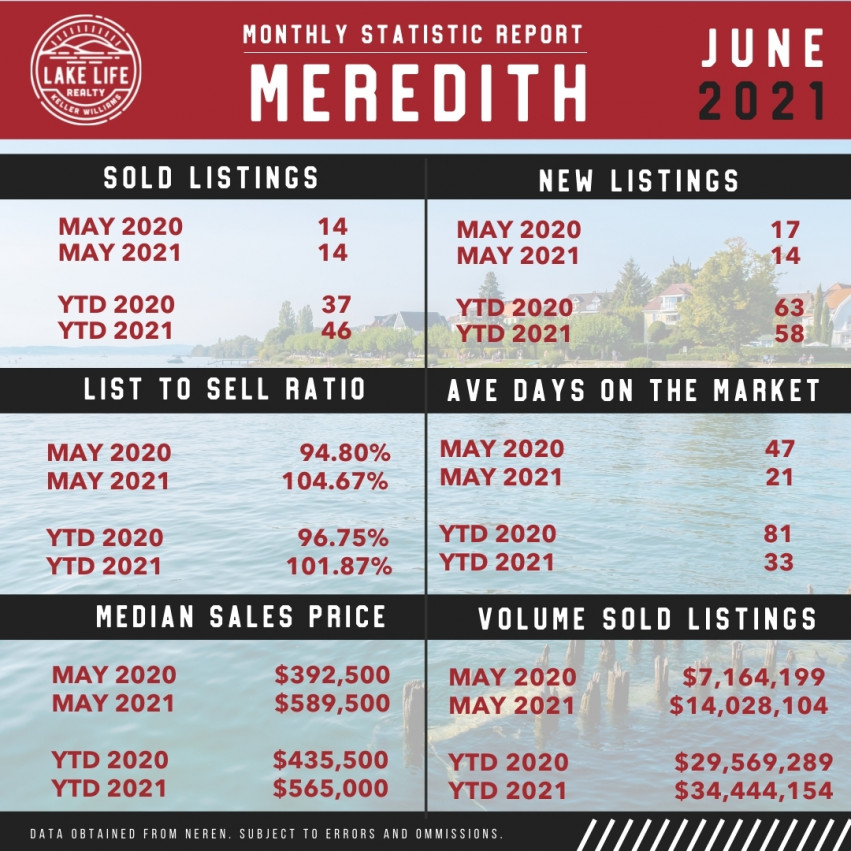 Moultonborough
Moultonborough had one of the highest amount of new listings come on the market last month with a total of 20. An additional 14 closed ending the month with $13+M in closed volume and a 99.9% list to sale price ratio!
Our Current Moultonborough Inventory: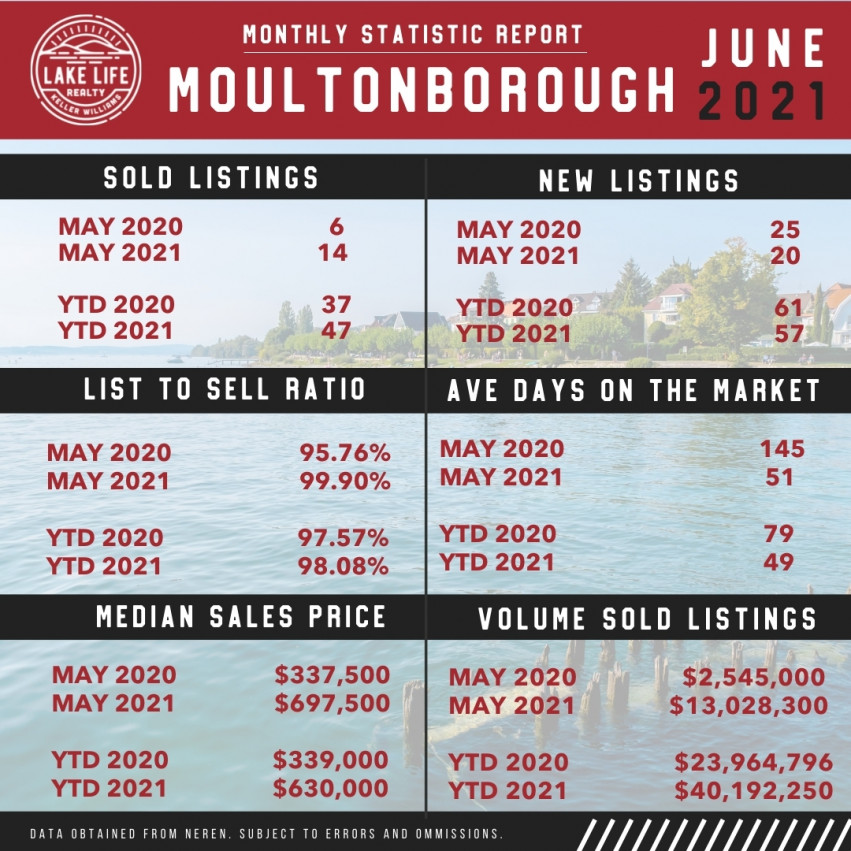 Tuftonboro
Only 7 properties closed in Tuftonboro in the month of May for a total of $5.4+M in sales volume with a list to sale price ratio of 94.04% which was a 1.6% increase in comparison to May 2020.
Tuftonboro had the highest days on market averages of 222 days.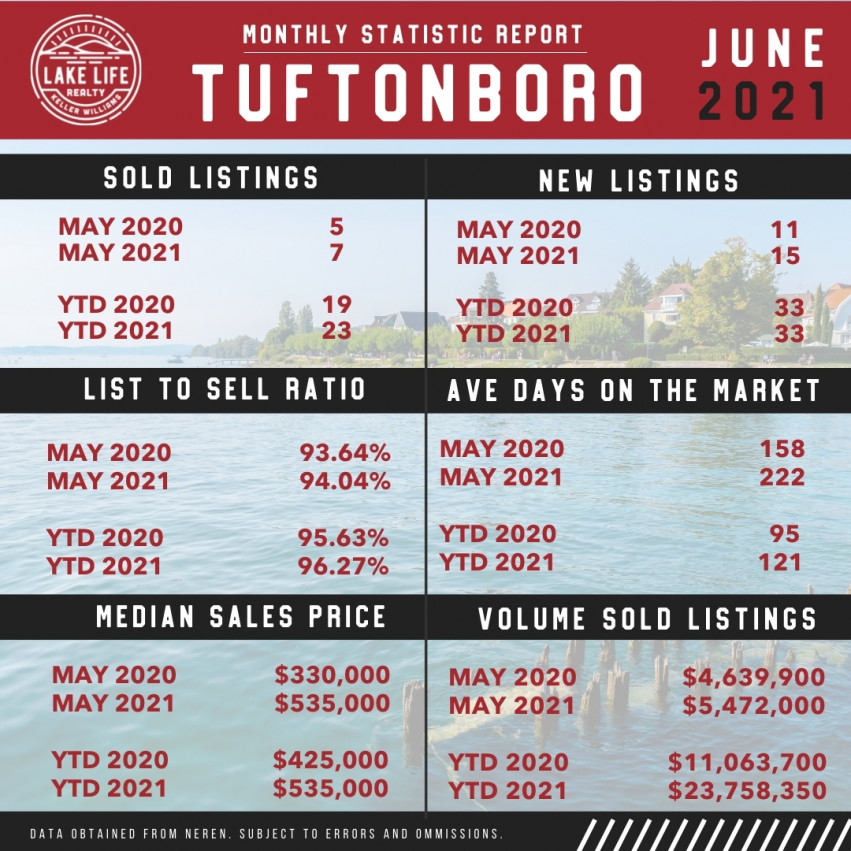 Wolfeboro
Last month, 9 listings sold in Wolfeboro and 13 new listings came on the market. The volume sold quadrupled fro May 2020 to 2021 going from $1+M to over $4M!
Our Current Wolfeboro Inventory: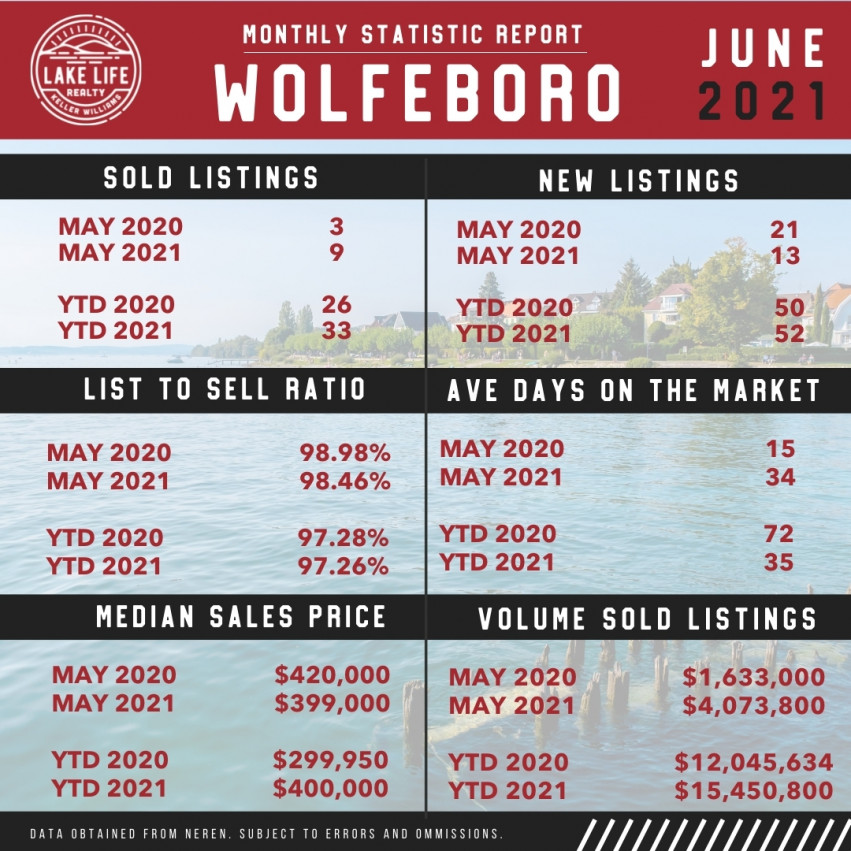 Selling Your Home?
Get your home's value - our custom reports include accurate and up to date information.
Get Home Value