Lake Life Local Events August 9th-15th
Live Entertainment at Boardwalk Bar & Grill August 9th
Monday 5:30pm-8:30pm | Boardwalk Bar & Grill | 45 Endicott St. N
Laconia, NH 03246 United States
Come See Bryan Conway 5:30-8:30 TONIGHT! Great Food, Great Music!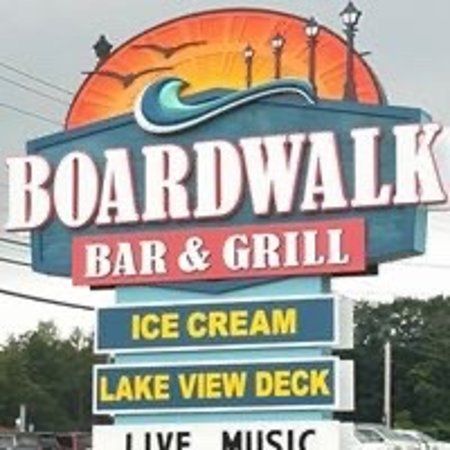 88th Mount Sunapee Craftsmen's Fair August 9th-15th
Monday 10am-5pm | Mount Sunapee Resort | 1398 Rt 103
Newbury, NH 03255 United States
For nine days in August, we invite you to join us for the 88th Annual Craftsmen's Fair! August 7th to the 15th – this year we will be back at the Mount Sunapee Resort in Newbury, NH!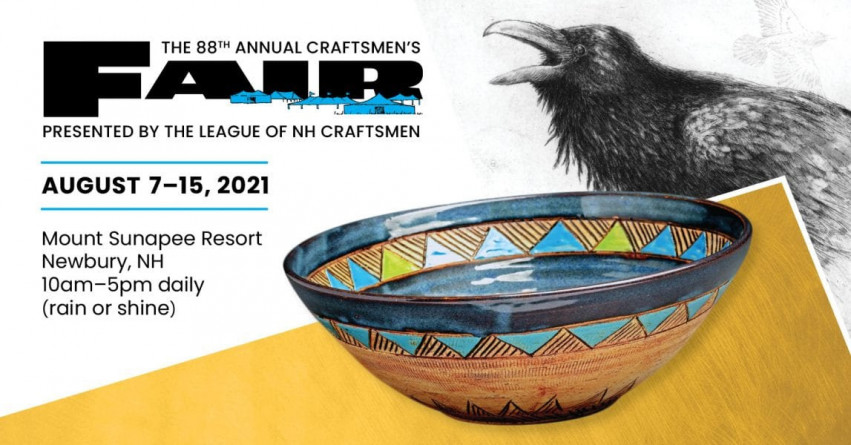 Food Truck Hosted by Lake Life Realty August 10th
Tuesday 11am-2pm | Lake Life Headquarters | 87 Whittier Highway, Moultonborough
Come enjoy some delicious food!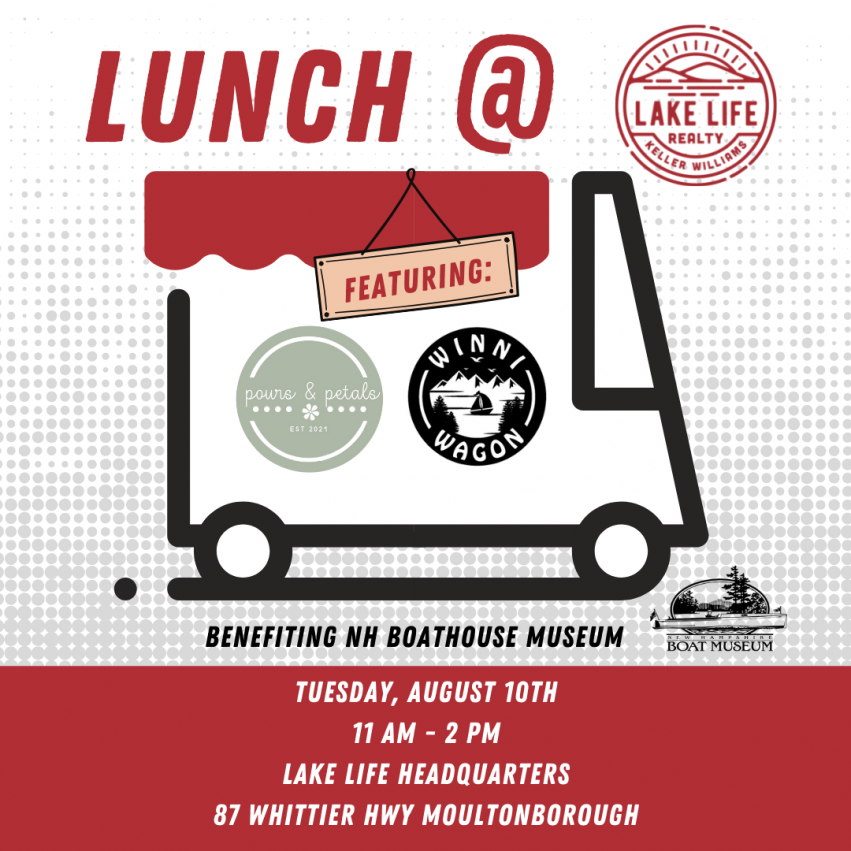 Have to Have a Habitat Day at Squam Lakes Natural Science Center August 10th
Wednesday 9:30am-5pm | Squam Lakes Natural Science Center | 23 Science Center Road, Holderness, NH 03245 United States
Food, water, shelter, space, air, and sun – all living things need the same six things to survive. Their habitat is where they live and find these survival essentials. Visitors will meet some live animal ambassadors at trailside Pop Up Animal Encounters throughout the day and learn about the habitats they call home.
Cost: included with trail admission: $18 for adults and seniors; $13 for youth ages 3-15; free for ages 2 and under and for members.
To purchase tickets for this event, and learn about upcoming programs, and membership go to www.nhnature.org or call 603-968-7194.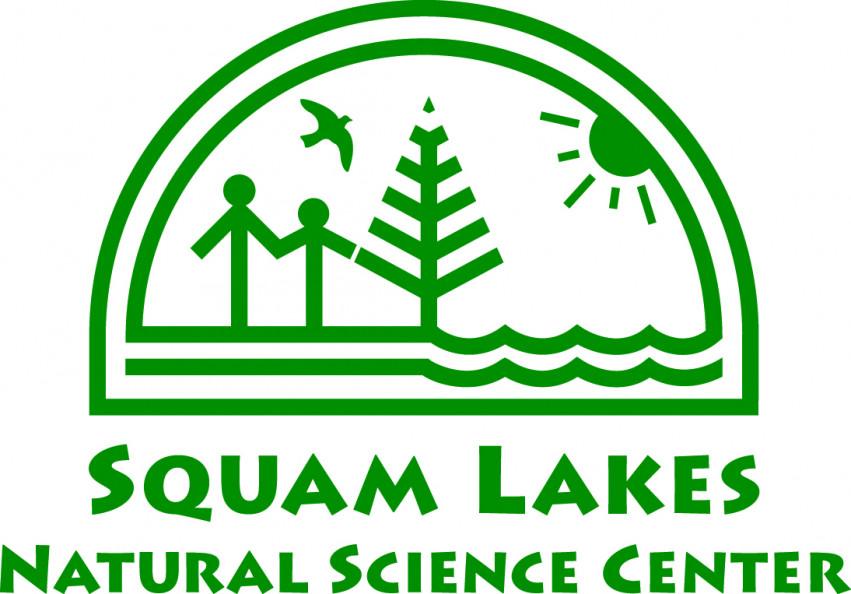 Organic Gardening Monthly Update at Prescott Farm August 10th
Tuesday 6:30pm-8pm | Prescott Farm Environmental Education Center | 928 White Oaks Road, Laconia, NH 03246 United States
Organic Gardening: Monthly Update Throughout the growing season, we will meet monthly to discuss your observations, questions, and tips for the weeks ahead while using the Learning Garden at Prescott Farm as an example.
REGISTER ONLINE Cost: $12 (Free for Members)
Recommended Ages: All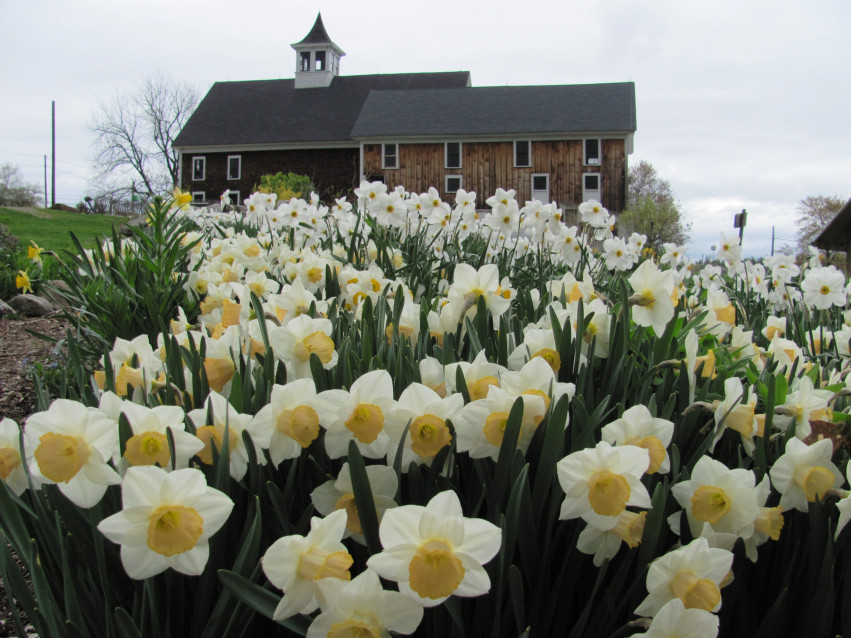 Wine Down Wednesdays at Newfound Lake Inn August 11th
Wednesday 5pm-8:30pm | Newfound Lake Inn | 1030 Mayhew Turnpike
Bridgewater, NH 03222 United States
CoJoin us tonight and every Wednesday for Wine Down Wednesday.
By reservation or call ahead, (603)744-9111.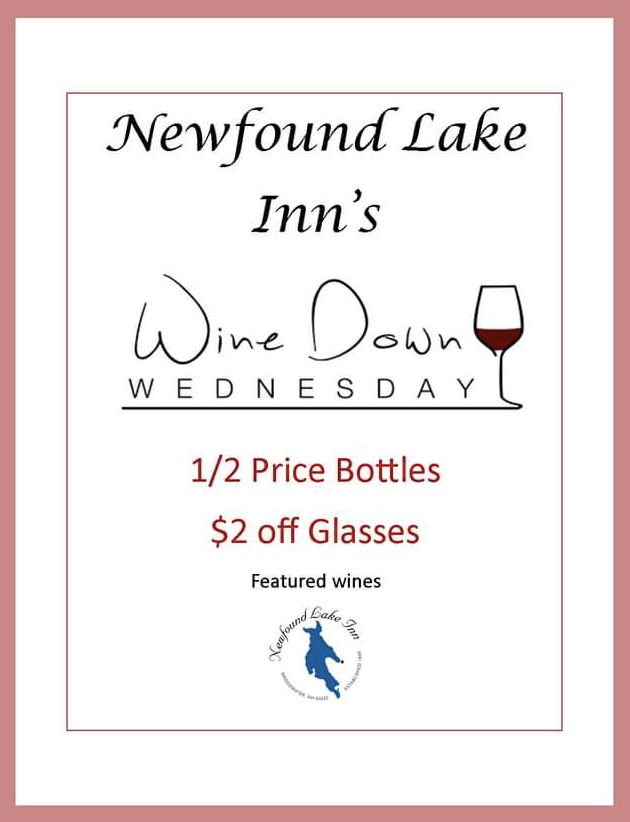 Herbs and Natural Therapies for Stress, Anxiety & Relaxation August 11th
Wednesday 6pm-7:30pm | Prescott Farm Environmental Education Center | 928 White Oaks Road, Laconia, NH 03246 United States
Herbs and Natural Therapies for Stress, Anxiety, & Relaxation Modern society demands are a constant source of overstimulation to your nervous system. This results in "stress" effecting our physical and mental health. In this class you will gain an understanding of what stress does to your body and how to use food, herbs, and other holistic therapies to calm and support your overall health and wellbeing.

Wolfeboro Area Farmers Market August 12th
Thursday 12:30pm-4:30pm | Wolfeboro Farmers Market | 233 South Main Street,
Wolfeboro, NH 03894 United States
Wolfeboro Area Farmers Market Outdoor market held every Thursday May 6 - October 28.
Email: wolf[email protected]
Web: www.wolfeborofarmersmarket.com

Burger & Brew Every Thursday at Nazbar & Grill August 12th
Thursday 5pm-11pm | The Naswa Resort | 1086 Weirs Boulevard,
Laconia, NH 03246 United States
Come in EVERY THURSDAY for our Thursday Burger & Brew Special! 1/2 Price Angus Burger & $3 Bud Light or Coors Light Draft* 5 pm to close.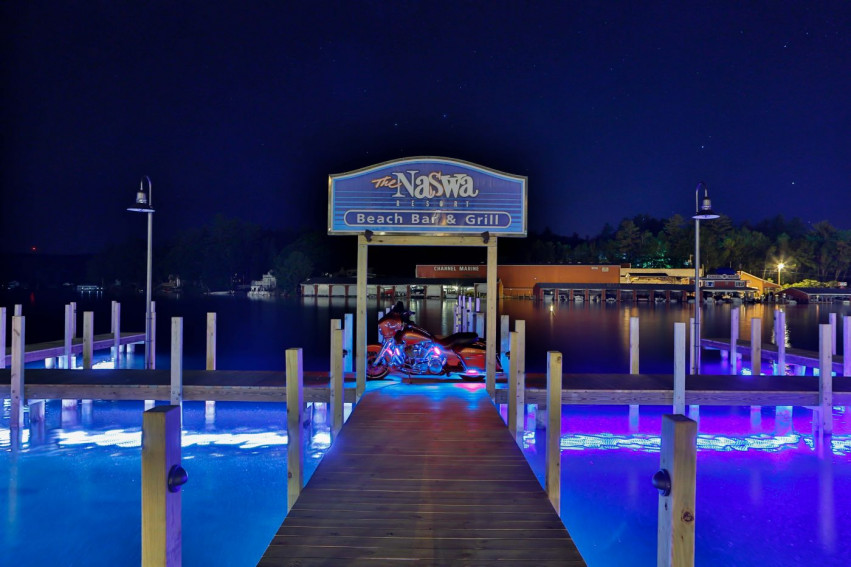 Live Music at Patrick's Pub August 13th
Friday 4pm-6pm | Patrick's Pub & Eatery | 18 Weirs Rd
Gilford, NH 03249 United States
Come and join us for live music with Don Severance at our Roadside Café 4pm-6pm.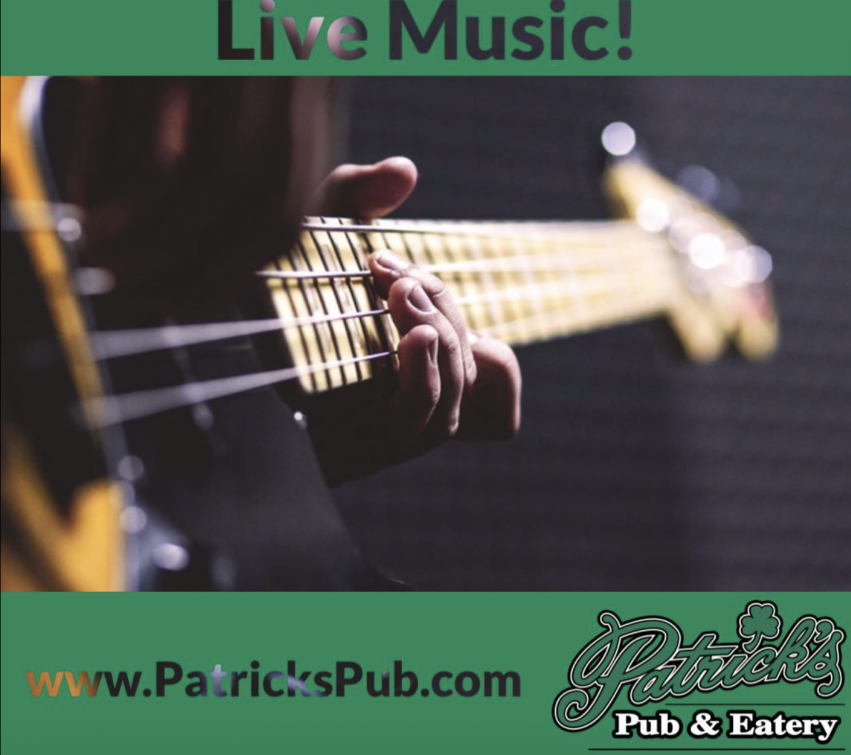 Neil Simon's Dinner Party at The Colonial Theater August 13th-15th
Friday-Sunday 7:30pm-9:30pm | The Colonial Theater | 609 Main St,
Laconia, NH 03246 United States
3 Dates · Aug 13 - Aug 15 The Dinner Party by Neil Simon Powerhouse Theatre Collaborative and Community Players of Concord, NH present The Dinner Party by Neil Simon. Sponsored by Franklin Savings Bank. This farcical play is by the master of comedy, Neil Simon. Five people are invited to dine at a first-rate restaurant in Paris. They do not know who the other guests will be or why they have been invited. Tossed together in a private dining room, they have a sneaking suspicion that this unorthodox dinner party will forever change their lives.
Thank you to our season Sponsor: Spectacle Live! The Dinner Party is part of the Powerhouse Theatre Collaborative Colonial Series sponsored by RE/MAX Bayside and Taylor Community. The Dinner Party is presented by arrangement with Concord Theatricals on behalf of Samuel French, Inc. www.concordtheatricals.com Prior to August 11 $14 students (18 and under) $16 Seniors 65+ $18 adults From August 11 $16 students $18 Seniors $20 adults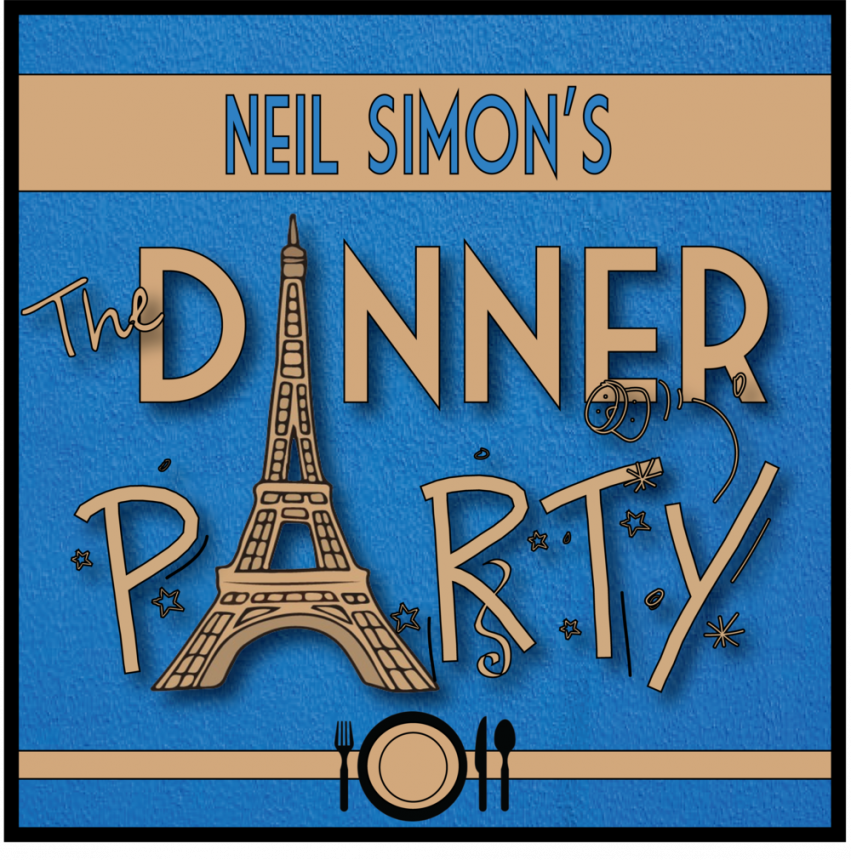 Arts Naturally at Cackleberries Garden and Gift Shop August 14th
Saturday 9am-5pm | Cackleberries Garden Center | 419 Daniel Webster Highway
Meredtih, NH 03253 United States
Cackleberries Garden and Gift Shop located at 419 Daniel Webster Hwy, Meredith, NH will be hosting a special event – "Arts, Naturally", August 14th from 9-5pm. ( Rain Date: August 15th)
Meredith, New Hampshire, located on the shores of Lake Winnipesaukee, is becoming a thriving art destination. During the day's event, some of the best artists in the Lakes Region will be showcasing their work. With over twenty artists displaying paintings, jewelry, art, pottery, and much more.
Please join us, meet the artists, watch them create, and stroll through the beautiful gardens and Antique Shop. This event is supported by the Lakes Center for the Arts.
Admission is free.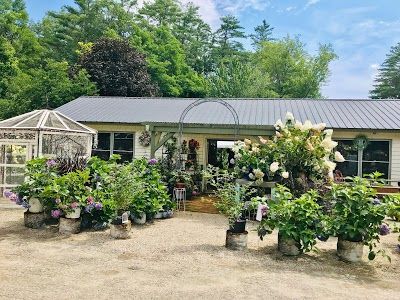 44th Annual Alton Bay Boat Show August 14th
Saturday 9am-12pm | Alton Town Docks | Alton Bay, NH United States
Are you a fan of classic wooden boats? Does spending the morning looking at "woodies" and early fiberglass boats while meeting their owners sound like fun? Then we hope you'll join us at our annual Alton Bay Boat Show, now in its 44th year.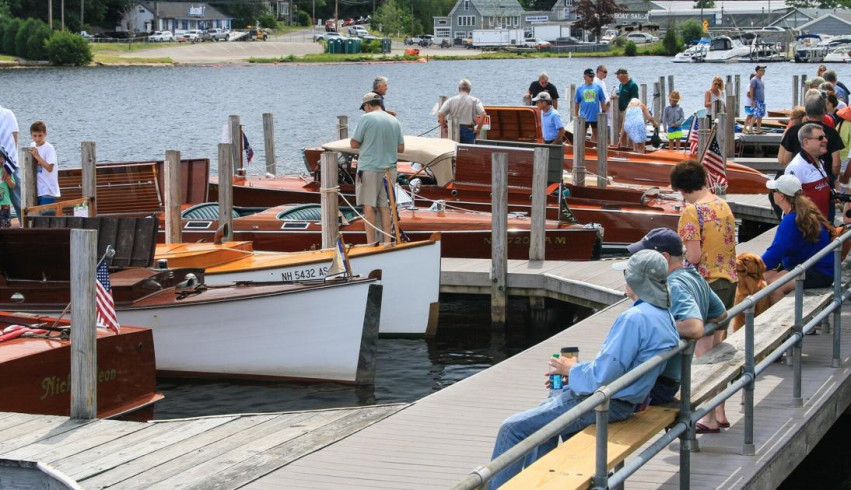 Belknap House Poker Run Fundraiser August 14th
Saturday 9am-11:30am | Belknap House | 200 Cousrt St,
Laconia, NH 03246 United States
Who is up for a game of poker? Play with Belknap House on August 14. Register to win great prizes donated by our local businesses.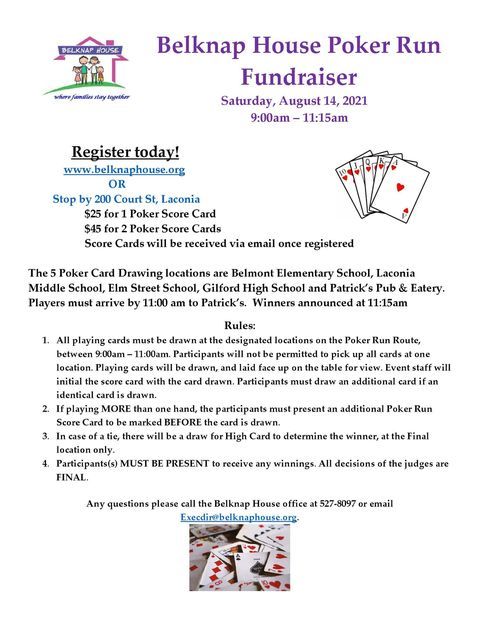 Live Music with Morgan Clark at Panorama Six82 August 15th
Sunday 4pm-7pm | Owl's Nest Resort & Golf Club | 40 Clubhouse Lane,
Campton, NH 03223 United States
Come enjoy some live music on the back lawn of Panorama Six82 with Morgan Clark!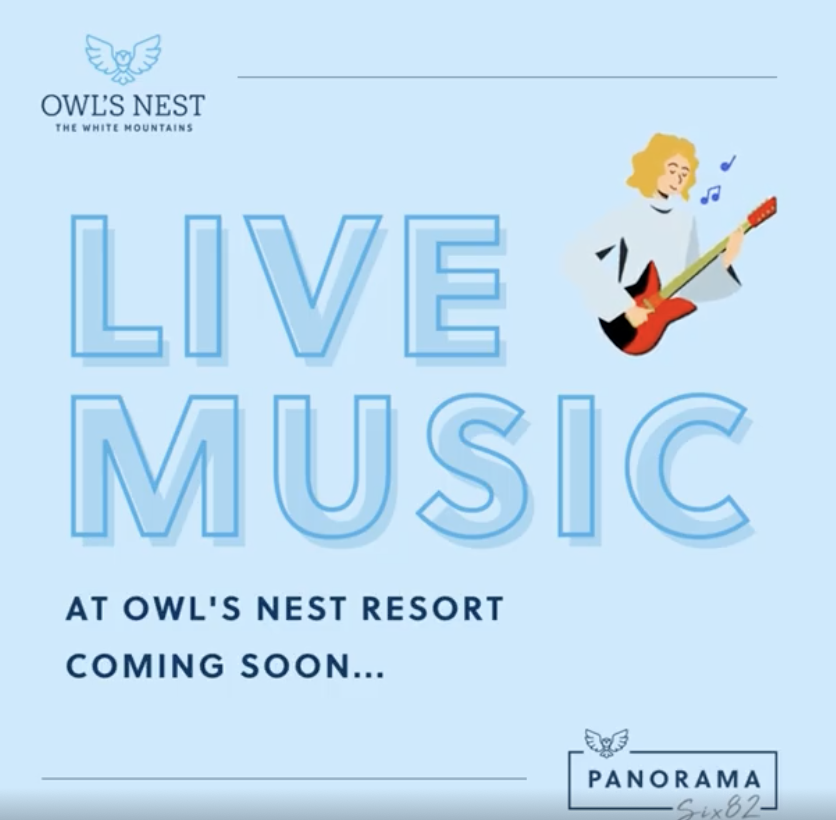 Selling Your Home?
Get your home's value - our custom reports include accurate and up to date information.
Get Home Value