Lake Life Local Events July 18th-24th
Game Time Trivia at Hobbs Tavern July 18th
Monday 7-9pm | Hobbs Tavern | 2415 White Mountain Highway, West Ossipee
Swing by Hobbs Tavern on Mondays at 7pm for Game Time Trivia. Great Prizes!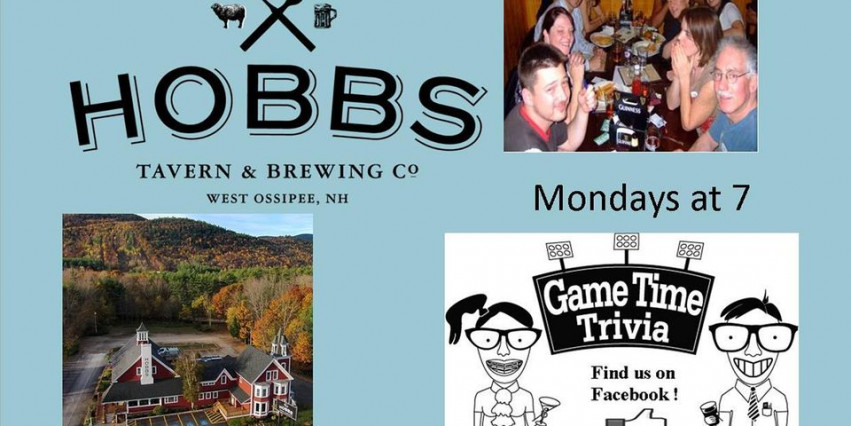 Summer Music Nights July 18th & 19th
Mondays & Tuesdays 5:30-8:30pm | Castle in The Clouds| 455 Old Mountain Road, Moultonborough NH
Join us for dinner and live music as you watch the sunset over Lake Winnipesaukee from our beautiful outdoor terrace! Come with your dinner partners and an appetite for classic American fare with unique twists. The Carriage House Restaurant was named the 2021 Editor's Pick for Mountain View Dining in Yankee Magazine's Best of NH!
Music Nights are by reservation only and require a $12 per-person cover charge paid online in advance (children ages 4 & under do not require a cover charge). Your reservation guarantees your table for the whole evening, so you can mingle on the terrace, peruse the exhibit gallery, or admire the historic carriage house and always have your seat to come back to. If you are looking to tour the Lucknow Mansion admission is open Thursday – Monday from 10 – 4 pm.
We recommend making your reservation at least 1-2 weeks in advance, as Music Nights tend to sell out quickly!
JULY
Monday, July 18th – Mark Bartram (Sold Out)
Tuesday, July 19th – Joel Cage (Sold Out)
Monday, July 25th – Eric Grant (Sold out)
Tuesday, July 26th – Jared Steer Duo (Sold Out)
AUGUST
Monday, August 1st – James Allen (Sold Out)
Tuesday, August 2nd – Cindy Duchin (Sold Out)
Monday, August 8th – Mitch Alden (Sold Out)
Tuesday, August 9th – Tim Hazelton (Sold Out)
Monday, August 15th – Joel Cage (Sold Out)
Tuesday, August 16th – Mark Bartram (Sold Out)
Monday, August 22nd – Mark Bartram
Tuesday, August 23rd – Jared Steer Trio (Sold Out)
Monday, August 29th – Eric Grant (Sold Out)
Tuesday, August 30th – Jared Steer
SEPTEMBER
Monday, September 5th – Jeff Mitchell
Tuesday, September 6th – Eric Grant
Monday, September 12th – Joel Cage
Tuesday, September 13th – Jared Steer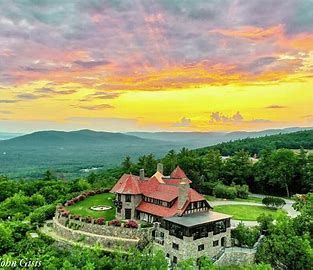 Food Truck Tuesday with Tartaglia's and Marsbar Food Trucks July 19th
Tuesdays 11am-2pm | Lake Life Realty HQ | 87 Whittier Hwy, Moultonborough
Food Truck Tuesdays are back! Stop in at Lake Life HQ for some delicious food!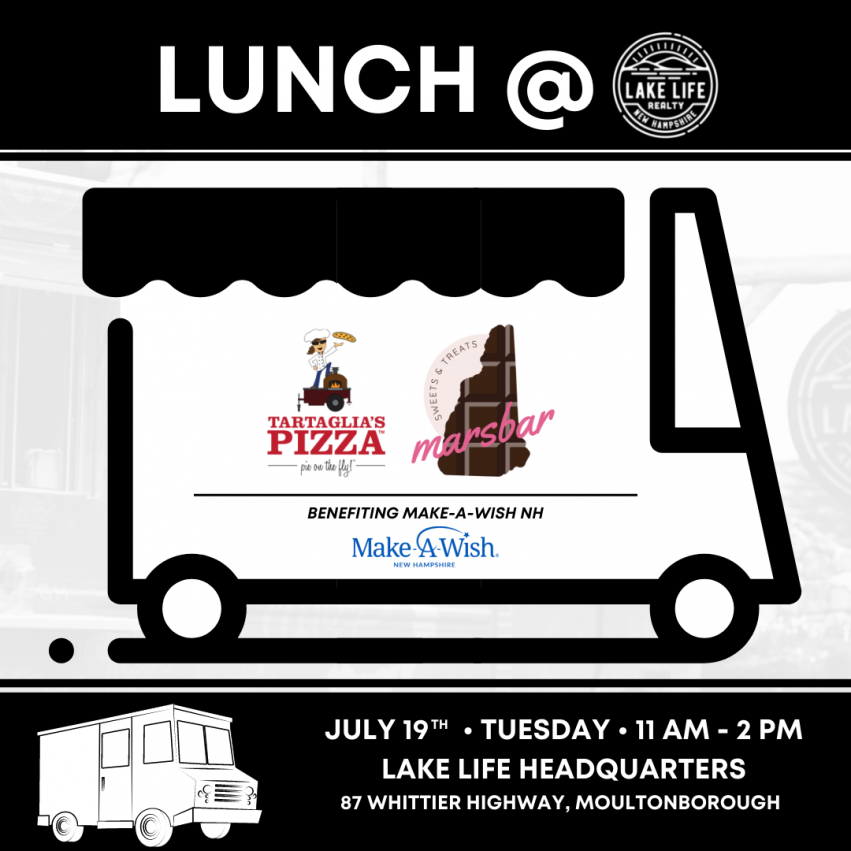 Bélla Fleck Live at the Colonial Theatre July 19th
Tuesday 7:30pm | The Colonial Theatre | 609 Main Street, Laconia NH
Over the last four decades, Béla Fleck has made a point of boldly going where no banjo player has gone before, a musical journey that has earned him 15 Grammys in nine different fields, including Country, Pop, Jazz, Instrumental, Classical and World Music. But his roots are in bluegrass, and that's where he returns with his first bluegrass tour in 24 years, My Bluegrass Heart.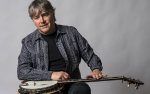 Gilford Old Home Day Community Dinner July 20th
Wednesday 6-8pm | Gilford Community Church | 19 Potter Hill Road, Gilford NH
Stop by The Gilford Community Church this Wednesday from 6-8 for a delicious dinner in support of Gilford Old Home Day. Tickets are $10
Call for more info: 603-527-4722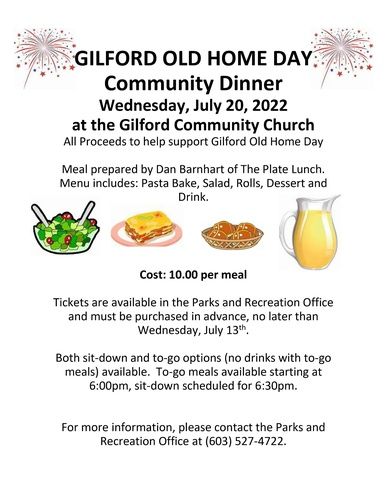 Watercolor Workshop with Pat Edsall July 20th
Wednesdays 1-3pm | Lakes Region Art Gallery | 120 Laconia Rd Suite 300 Tanger Outlets, Tilton
With Pat Edsall
Call 603-472-3733 or email [email protected] to pre-register with Pat and save yourself a spot at the table!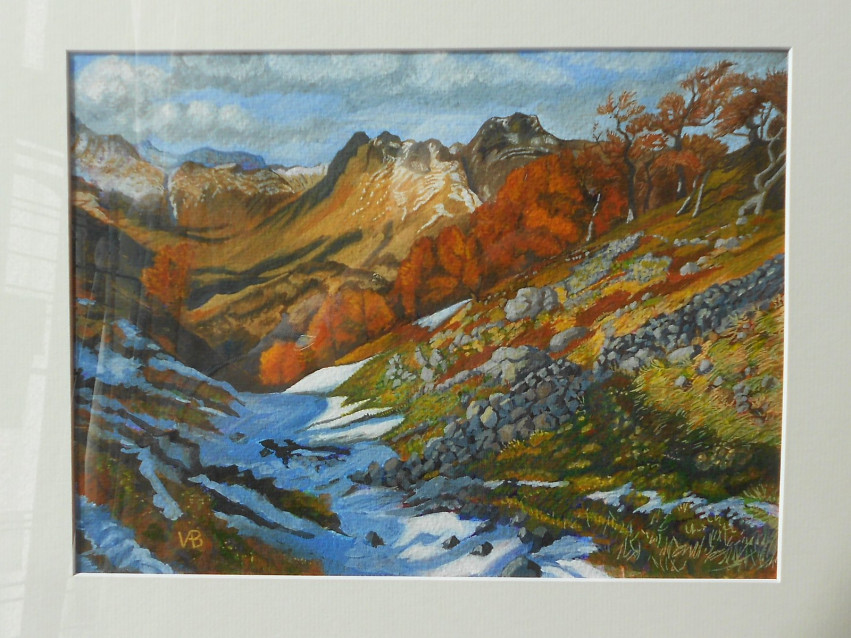 Evening Yoga on the Lawns of Lucknow at Castle in the Clouds July 20th
Wednesdays 6pm-7pm | Castle in the Clouds | Rt 171 455 Old Mountain Rd, Moultonborough NH
Wind down in the evening with yoga on the Lawns of Lucknow! An experienced local yoga instructor will lead enthusiasts of all levels in evening yoga. Relish the tranquility that comes from doing yoga in a beautiful outdoor mountain setting. Remember to bring your mat and water bottle with you! Each session is approximately one hour long. Whether you have never done yoga before or if you practice it regularly, you will find relaxation and enjoyment in this class geared to all ages and skill levels.
Please plan to arrive at 5:45 pm for check-in at the front of the Carriage House, we'll make our way up to the Lucknow Mansion as a group via the footpath.
$15 per person per class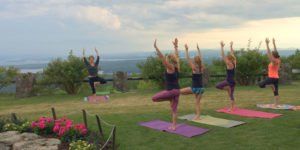 Snow & Grow Gardening at Prescott Farm July 21st
Thursday 7-9pm |Prescott Farm Environmental Education Center | 928 White Oaks Road, Laconia NH
Interested in learning more about vegetable gardening? Meet with our gardening educator, ask questions, and get organic gardening tips while we use the Learning Garden at Prescott Farm

Ages: Adults
Admissions: $6(nonmembers) Free for members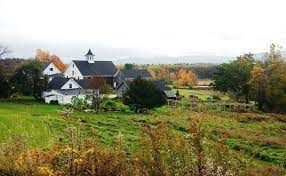 World Tavern Trivia Night at the Bob House July 21st
Thursdays at 6:00pm | The Bob House | 520 Whittier Hwy, Moultonborough
Join us every Thursday night until May!
Visit us at www.thebobhouseandreelntavern.com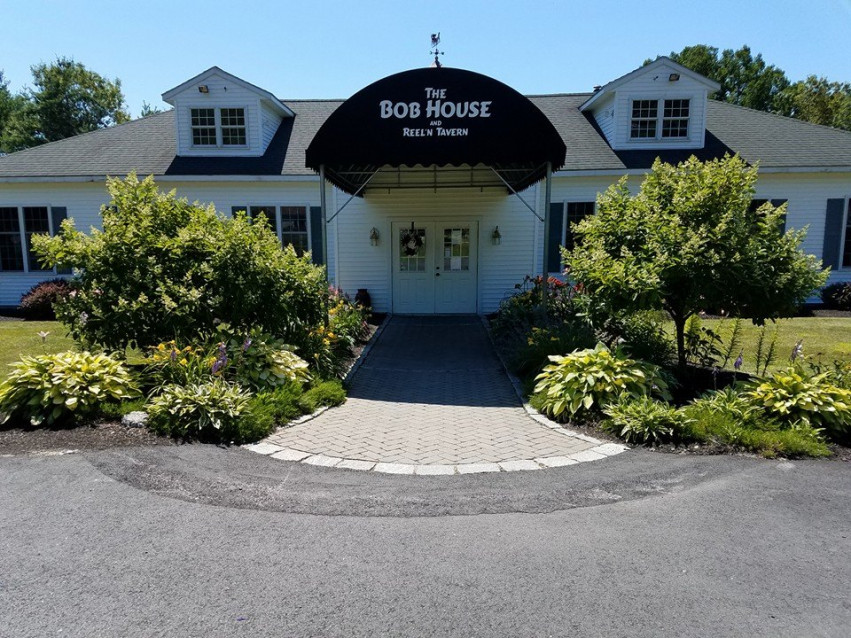 Ladies Surf Night at Goodhue Boat Company July 21st
Thursday 5:30-8pm | Goodhue Boat Company | 244 Seawall Road, Wolfeboro NH
Mark your calendars ladies because every Thursday night is ladies' night at Goodhue Boat Company! Join us for ladies-only surf nights!
While this event is free, attendees must register.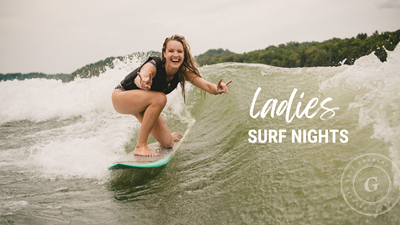 Heather Pierson trio at The Loft at Hermit Woods July 21st
Thursday 6-9:30pm | Hermit Woods Winery | 72 Main Street, Merideth NH
Based in New Hampshire's Mount Washington Valley, Heather Pierson is a pianist, singer/songwriter, and nationally touring performer whose inspiring live performances and growing catalog of releases delve into Americana, blues, New Orleans jazz, vocal chants, instrumental piano, and folk. Best known for her ease at the piano and her bell-­tone vocals, Heather's songs and musicianship embody joy, honesty, playfulness, and a desire to share from the heart. The Heather Pierson Trio —with Shawn Nadeau on bass and harmony vocals and Craig Bryan on drums, percussion, and harmony vocals—performs a rich variety of Heather's original songs and unique re-workings of familiar classics. Prior to their tour this Spring the three are best known for their annual Charlie Brown Christmas tour, wherein they present their interpretations of the work of the late great jazz pianist and composer Vince Guaraldi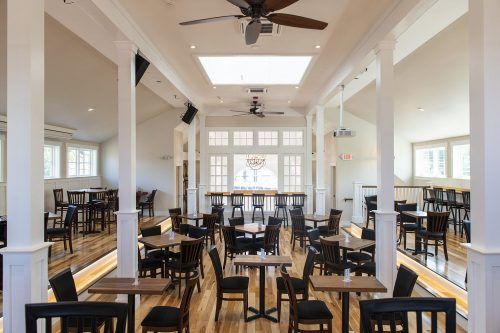 Foil Fridays at Goodhue Boat Company July 22nd
Friday 5:30-8pm | Goodhue Boat Company | 244 Seawall Road, Wolfeboro NH
Join us on Friday nights this summer and try out our new Fliteboard eFoils! There will be a special Board & Gear Workshop on 6/24 at 5:30.
While this event is free, attendees must register: wolfeborofoilfridays.eventbrite.com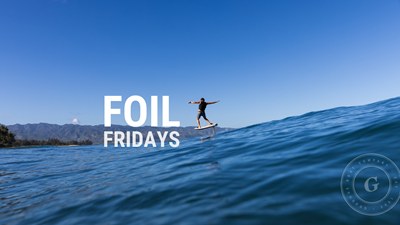 Live Music at Patrick's Pub July 22nd-24th
Fridays, Saturdays & Sundays 4-6pm|Patricks Pub and Eatery | 1 Weirs Road, Gilford NH
Summer Music Nights at Patrick's Pub & Eatery. Enjoy LIVE Music Friday, Saturday & Sunday from 4-6PM. Visit www.Patrickspub.com/events for the full schedule.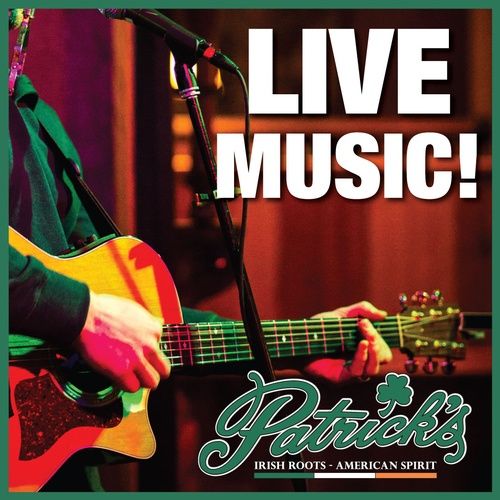 Hikers Club: Oak Ridge Interpretive Trail Hike at Castle in the Clouds July 23rd
Saturday 9:00 am - 12:30 pm | Castle in the Clouds | Rt 171 455 Old Mountain Rd
Moultonborough, NH
Led by an experienced volunteer hiker, this week's hike is along Turtleback Mt. Trail to Oak Ridge Trail. This is an easy to moderate level hike of about 2 miles, has an elevation climb of approximately 300′, and will run from 9:00 am until 10:30 am. This is a free event, though registration is required.

Live Music at Twin Barns July 22nd
Friday 6-9pm | Twin Barns Brewery | 194 Daniel Webster Hwy, Merideth NH
Come down to Twin Barns Brewery Friday July 15th to catch Tom Boisee!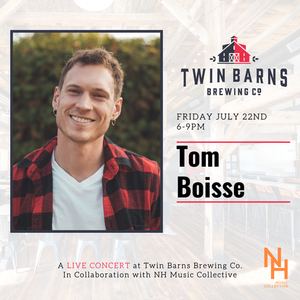 2022 Lakes Region Rotary Charity Car Show July 23rd

Saturday 10-2pm| Weirs Beach | 70 Endicott Street, Laconia NH
Join us July 23rd as we celebrate the 10 yr. anniversary of the Lakes Region Rotary Club's annual car show. Fueled by Veroff and Austin, PLLC, this event will feature cars from all over New England. Funds raised from the car show will support the Belknap House, as well as many local charities. The cost to pre-register a vehicle is $20, and $25 the day of the event. Spectator admission is $5, 16 and younger are free!
Tickets: $25 per vehicle $5 per spectator.
Visit for more Info: http://www.lakesregionrotary.org/carshow/

Saturday Afternoon Music Series on The Patio at Gunstock July 23rd
Saturday 3:00 pm - 6:00 pm | Gunstock Mountain | 719 Cherry Valley Rd, Gilford NH
*The Patio will be open until 6pm on Saturdays for the Saturday Afternoon Music Series that starts at 3pm. Please Note: the kitchen will close at 5pm.
Saturday Afternoon Music Series:
July 23- Garrett Smith

July 30- John Irish

August 6- Garrett Smith

August 13- B. Man & The Kid

August 20- Ang Stewart

August 27- John Irish

September 3- Island Mark & Jammin' Jake

September 17- Sammy Blanchette

September 24- John Irish

October 1- B. Man & The Kid

October 8- White Dog Duo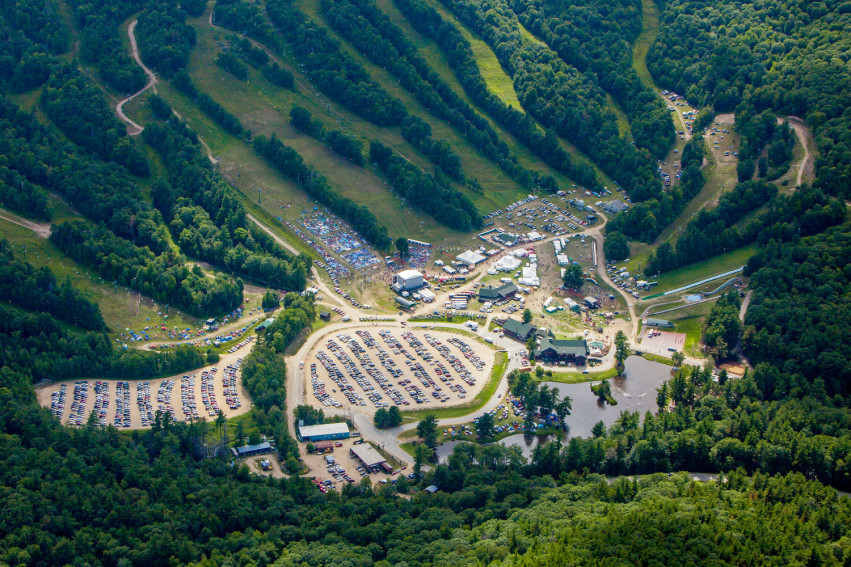 Live Music at Twin Barns July 23rd
Saturday 6-9pm | Twin Barns Brewery | 194 Daniel Webster Hwy, Merideth NH
Come down to Twin Barns Brewery Saturday and Sunday July 16th to see Colin Hart live!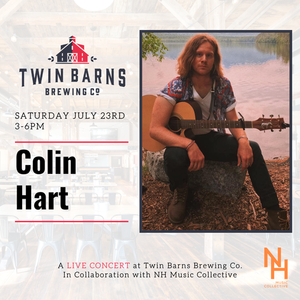 Gilmanton Community Farmers Market July 24th
Sunday 11am-2pm | Gilmanton Year-Round Library
Come and join the fun at opening day at the Gilmanton Community Farmers Market, season 2022! As always, we will have amazing farmers and vendors, and wonderful live music and food truck!

Mark your calendars friends!

Selling Your Home?
Get your home's value - our custom reports include accurate and up to date information.
Get Home Value