Lake Life Local Events July 6th-12th
Music Nights July 6th
Monday July 6th 5:30-8:30pm | Castle in the Clouds | 455 Old Mountain Rd Moultonborough
We're excited to host Music Nights, but please check back here and go to our website frequently for details, schedule changes and cancellations as we continue to respond to gathered information and regulations regarding COVID-19.

Tickets: $10 per person
(must be purchased in advance)
Music is played from 5:30pm – 8:30pm
Generously supported by The Laker

Join us for dinner and live music as you watch the sunset over Lake Winnipesaukee from our beautiful outdoor terrace! Come with your dinner partners and an appetite for classic American fare with unique twists. We were awarded "Best Music Nights in NH" in 2018 by NH Magazine!

Music Nights are by reservation only and require a $10 per-person cover charge paid online in advance. Your reservation guarantees your table for the whole evening, so you can mingle on the terrace, at the bar, peruse the exhibit gallery, or admire the historic horse stables and always have your seat to come back to. We recommend making your reservation at least 1-2 weeks in advance, as Music Nights tend to sell out quickly!

Important Details:

Live music is played from 5:30-8:30 PM, with a short break for the musician.
Upon arrival, your table is yours for the entire evening!
Payment for your dinner and any drinks will be processed via a dining check with your server before you leave.

Monday, July 6 Sweep the Leg Entertainment
PURCHASING TICKETS & ARRIVAL INFO
To make a reservation, please click the orange "Purchase Tickets" button at the top of the page or give us a call at 603-476-5900 to make a reservation over the phone.

You may arrive anytime during the evening, but please keep in mind that music is played from 5:30-8:30 PM and dinner orders must be placed by 7:45 PM.

DIRECTIONS & PARKING
Music Night is held on the terrace of the Carriage House. If joining us for Music Night only, please use the following no-fee entrance to access the Carriage House:

586 Ossipee Park Rd.
Moultonborough, NH 03254

(This entrance is located 1.8 miles north/west of the Front Gate on Route 171)

Make Your Own Sorbet July 7th
Tuesday July 7th 1-2pm | Gilford Public Library | 31 Potter Hill Rd, Gilford
Join us via zoom to make delicious sorbet! Sign up on Facebook for the link to the zoom call.
What you need:
Water
Sugar
Fresh Lemons
A Freezer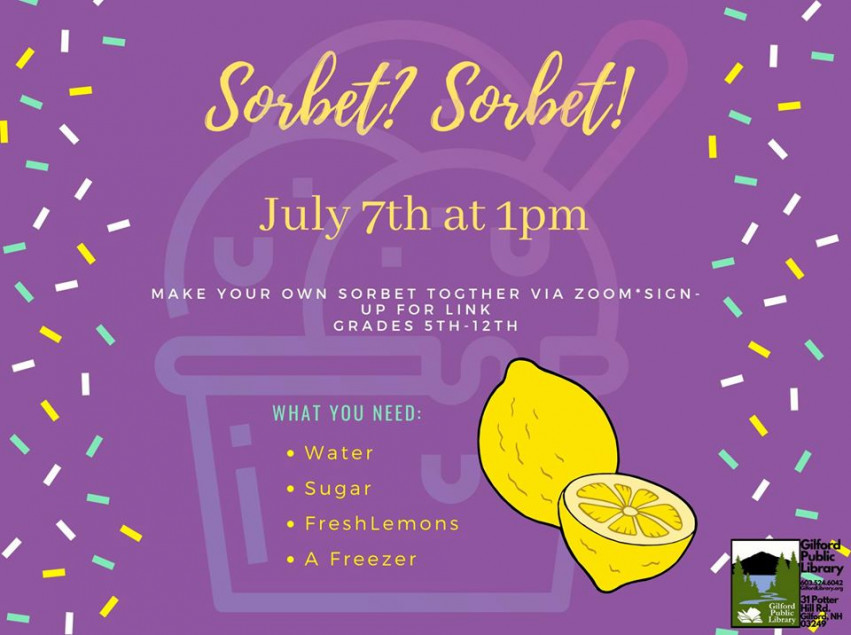 Jennifer Tefft Solo July 7th 5-8pm
Tuesday July 7th 5-8pm| Town Docks Restaurant | 289 Daniel Webster Hwy, Meredith
First time Jennifer will play at the Town Docks, head on over to hear her play!

Storytime at the Beach July 8th 12pm
Wednesday July 8th 12pm | Gilford Beach| 40 Varney Point Rd, Gilford
Grab your lunch or snack for beach fun and books at Miss Jill's storytime at the beach!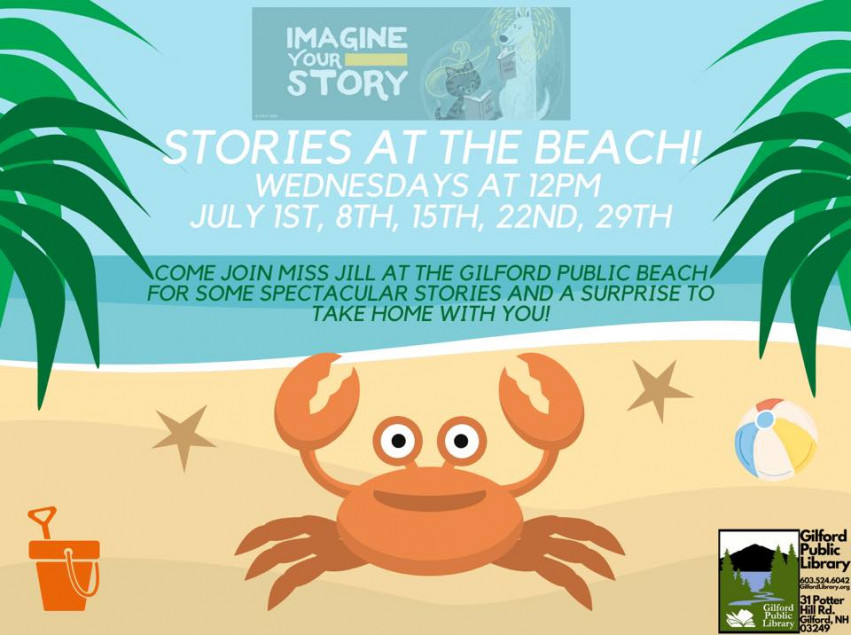 Sunset Paddle to Bowman Island July 10th 7-10pm
Friday July 10th 7-10pm | Squam Lakes Association | 534 US Route 3 Holderness
Little compares to the calm of a midsummer's night on the lake with the sun whipping its last rays off the surface of the water and a gibbous moon moving in from the curtains to keep the lake alight for a few more hours. Join LRCC member Elijah for a sunset paddle out to Bowman island on July 10th as we restart in-person Adventure Ecology programs while keeping our physical distance. We'll meet at the SLA around 7:00 pm and plan to be floating by 7:30 pm. At Bowman we can get out and enjoy sunset rock and maybe a snack before heading back in the moonlight. We're excited to start getting outside with you all again and can't wait to see you there!

Audience: This paddle is for all ages who are comfortable with kayaking for 1-2 hours in the dark. Minors must be accompanied by an adult.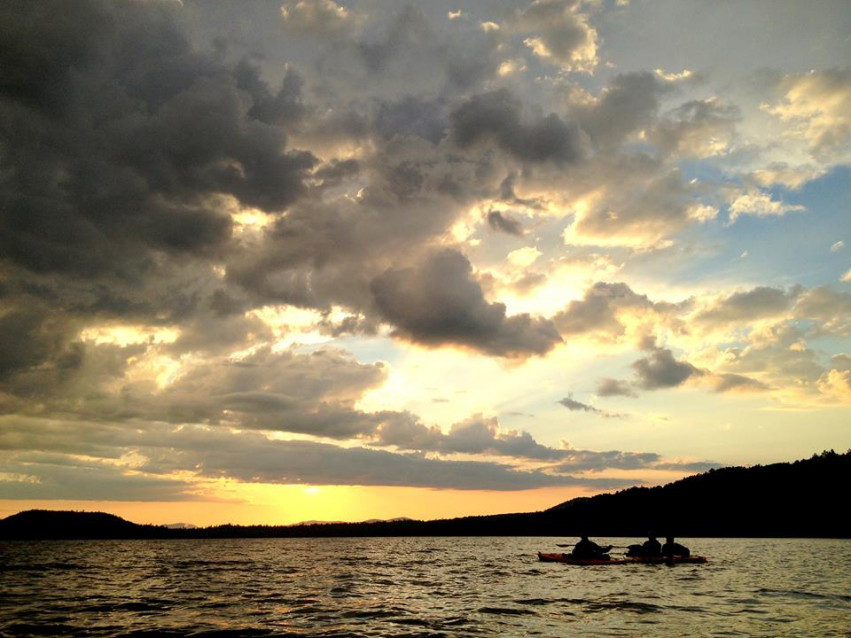 10th Annual Fairyland Festival July 10th
Friday July 10th 8am- Sunday July 11th 11am | The Children's Center | 180 S Main St, Wolfeboro
Due to COVID-19, we are unable to host the Fairyland Festival in Cate Park this year. But that won't stop us from celebrating in a new way with 2 special events!

First, The Children's Center will be hosting an online contest. Contestants are encouraged to make fairy houses and forts from the comfort of their own homes and submit pictures as entries via Facebook Messenger by Friday, July 10. There will be two different categories this year. The first category is the traditional "all natural" approach the festival has promoted for many years. Fairy houses and/or forts should be made completely out of materials found in nature. The second is an arts and crafts category which could include but not limited to building with LEGO or popsicle sticks, paper, fabric, or anything you can find around the house. To vote, visit the Center's Facebook page July 13-17 and like or comment on your favorite entry. There will be first, second, and third prize winners for each category. Winners will be announced on the Center's Facebook page Monday, July 22.

Second, The Children's Center will be organizing a "Fairy Find" on Bridge Falls Path on Saturday, July 11, 9-11am (rain or shine!). Starting at Back Bay by Foss Field and walking the path to Whitten Neck Road, families will search for hidden fairies and pirates along the way. Kid masks and prizes for all who participate!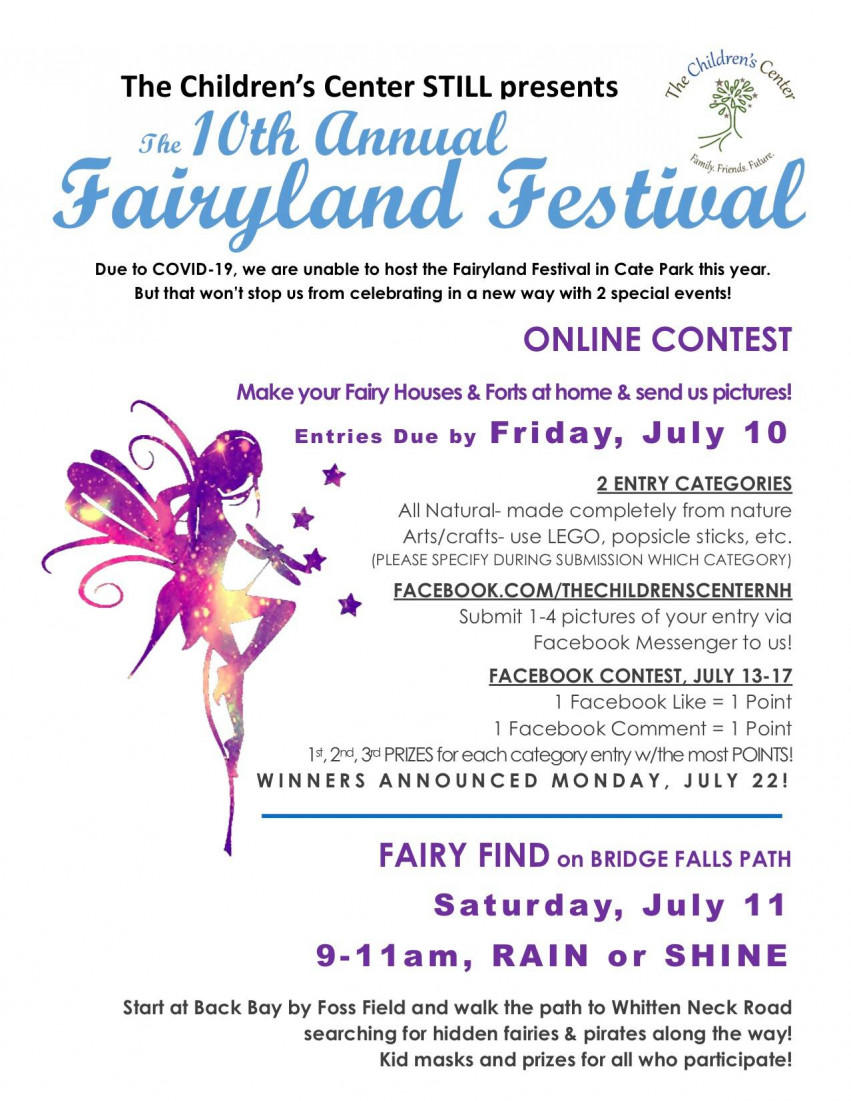 Arts & Crafts Festival July 10th-12th
Friday July 10th-12th 10am- 5pm & 10-4pm on Sunday | "The Nick" Recreation Park |
Summer crafts galore!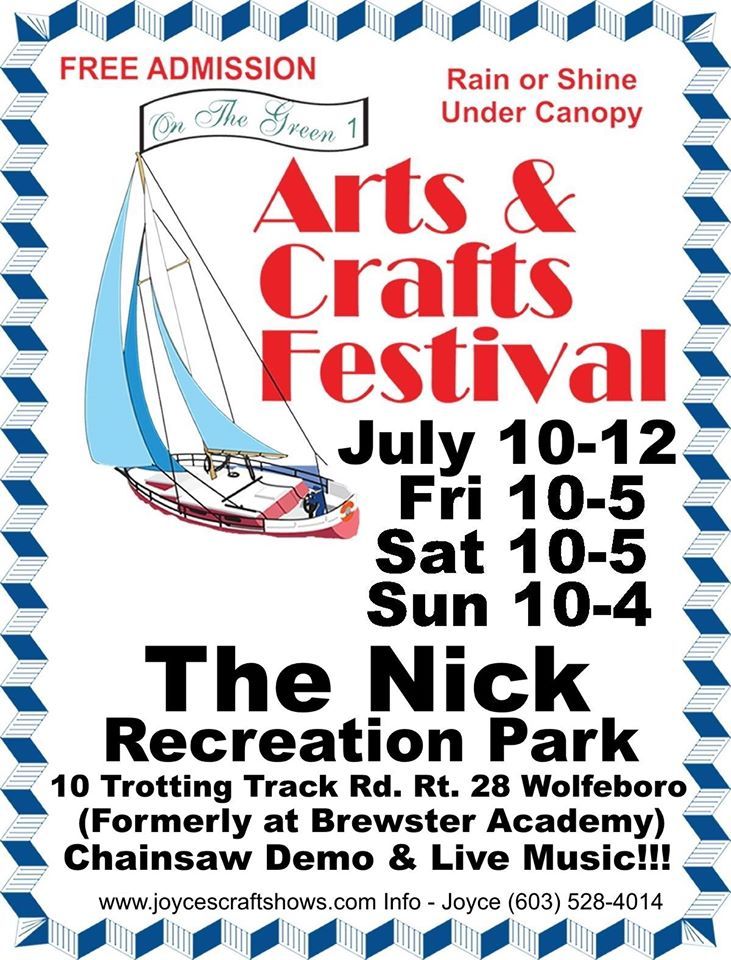 Innkeeper's Supper July 11th
Saturday July 11th 5:30-8:30pm| Pickering House Inn | 116 South Main St, Wolfeboro
Join us for a "Socially Distant" three-course barn dinner on July 11, 2020!

NEW FORMAT for Summer 2020 .
We have replaced our long farm tables with circular tables for 4, 5 or 6 guests. One person must book the table for the group, selecting 4, 5 or 6 seats.
Enjoy beverages from our bar service at 5:30 pm before sitting down to a three-course meal prepared by Executive Chef Jonathan Hudak at 6:30 p.m. His menu showcases fresh, seasonal ingredients sourced from small farms and specialty providers:
- Cucumber Salad (gf) with red onion, oil-cured olives, sheep's milk feta
- Jerk Chicken (gf) with braised collard greens, Anson Mills cheddar grits
- Strawberry Shortcake with buttermilk biscuit, vanilla bean whipped cream, basil
Please note: All tables can accommodate up to six people. If the size table you want is "sold out", please give us a call at 603-569-6948 or email [email protected] as we may be able to rearrange tables to meet your needs.
[Menu subject to change. Please note that the dinner is a set menu served in a single seating. We will be unable to prepare a different menu for individuals with food allergies.]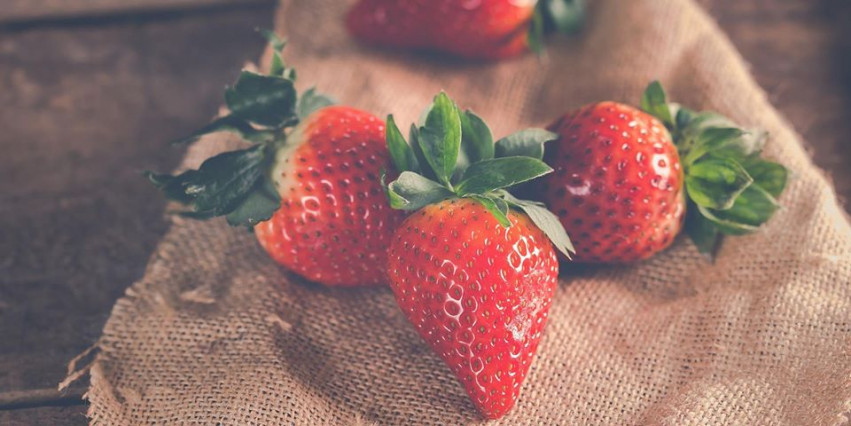 Selling Your Home?
Get your home's value - our custom reports include accurate and up to date information.
Get Home Value