Lake Life Local Events June 19th - June 25th
Wing Night at Tower Hill June 19th
Monday 5pm-11:45pm | Tower Hill Tavern | 264 Lakeside Ave Laconia
Jumbo wings with choice of sauce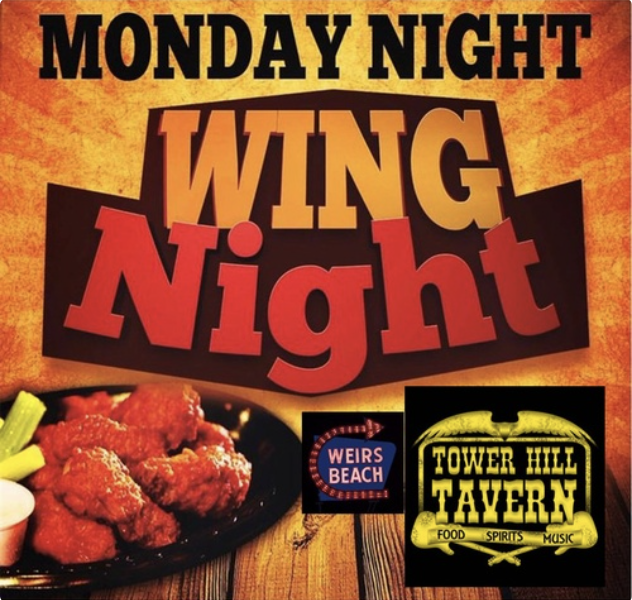 Open Mic at Patrick's June 19th
Monday 6pm-8pm | Patrick's Pub & Eatery | 18 Weirs Road Gilford
Paul Luff hosts an evening of fantastic open mic music. Please contact Paul Luff at [email protected] to reserve a spot to perform. It's a great night with many talented musicians from 6pm-8pm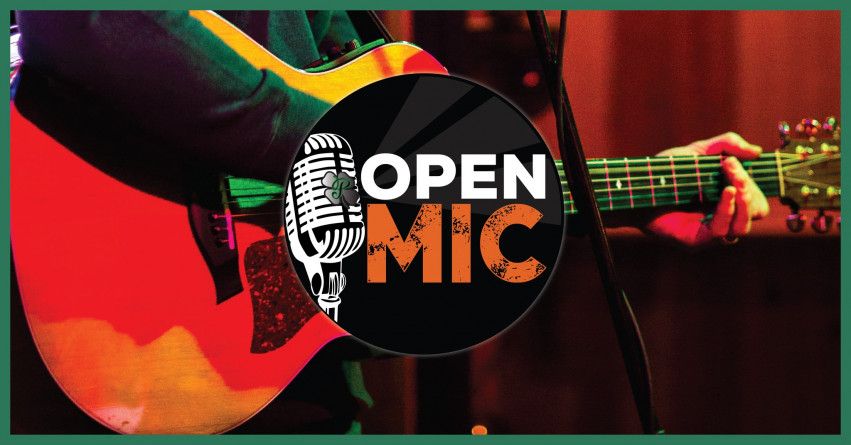 Trivia at Witches Brew June 19th
Monday 7pm-9pm | Witches Brew Pub | 59 Doe Ave. Weirs Beach, Laconia
Best Trivia on the Lakes Region - 7 Rounds: - 4 General Knowledge - Picture Round - Matching Round - Crossword Round Double-down feature - if you are feeling SMART! 1st Place - $25 Gift Cert. 2nd Place - $15 Gift Cert. 3rd Place - $10 Gift Cert.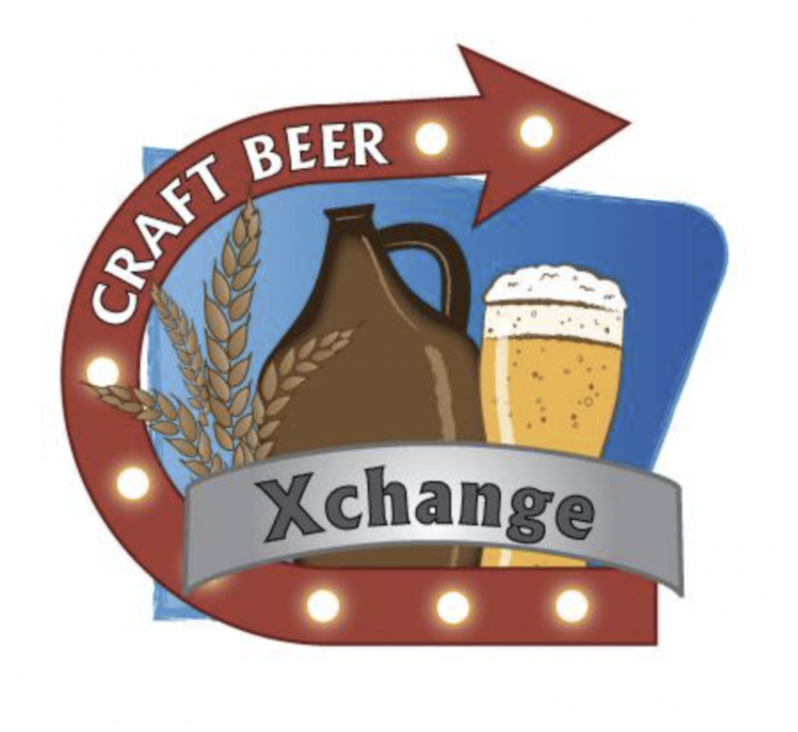 Let's Meet with Lakes Region Chamber June 20th
Tuesday 8am-10am | LAKES REGION CHAMBER | 383 South Main Street Laconia
Come see what all the buzz is about! Swing by the Lakes Region Chamber office for a coffee and a quick bite to say hello to the JMG Marketing & Business Strategy / WORK Lakes Region team.
WORK Lakes Region, a coworking and event space opens in Laconia this Fall and this is one of the first opportunities to learn more about it! Jodie Gallant and her JMG Marketing and Business Strategy team are beyond excited to be bringing WORK Lakes Region to the community.
The vision of WORK Lakes Region is to provide an impeccable workspace and a culturally elevated community environment based on the values of growth, leadership, connection, and support. WORK will not only provide a space for small business owners, remote employees, small business teams, local organizations, and remote students to work and be inspired, JMG also looks forward to hosting programming to help small business owners and leaders achieve their visions of success.
Interested in knowing more? Let's meet for coffee at the Chamber!

Registration is appreciated for planning purposes.

Tap Takeover at Defiant Records June 20th
Tuesday 5pm-8pm | Defiant Records & Craft Beer| 609 Main Street, Laconia
Join us and our friends from Mast Landing Brewery as they takeover our taps for some insanely delicious beer and swag!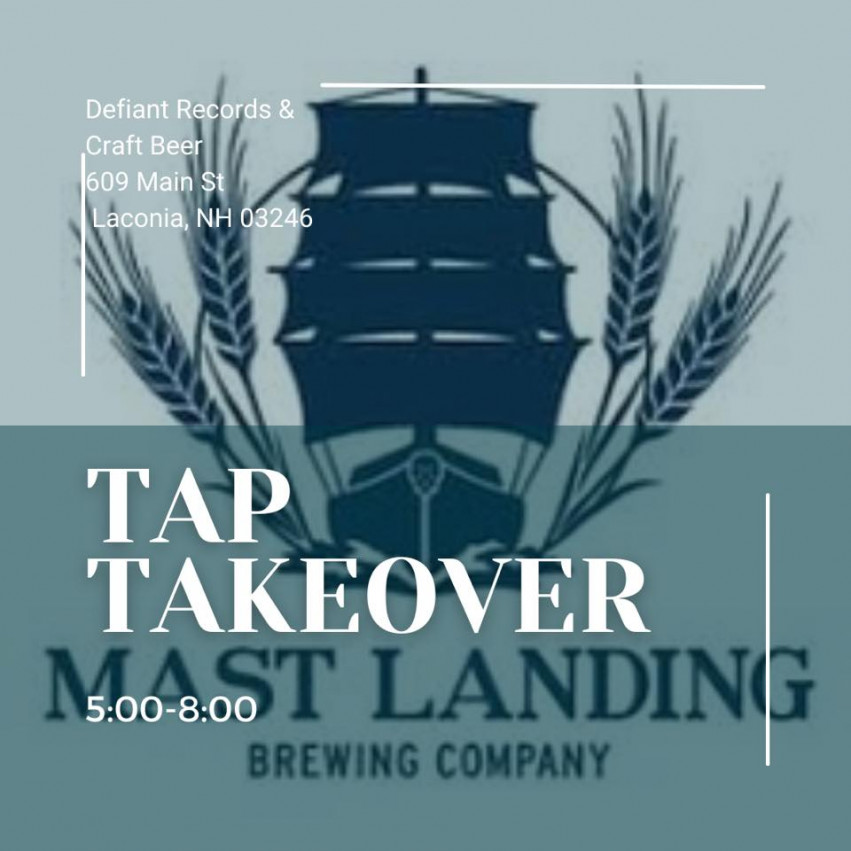 Moultonborough Public Library House Tour June 21st
Wednesday 10am-4pm | Moultonborough
Tickets Available at the Library AND Baywaters Books
$40 per person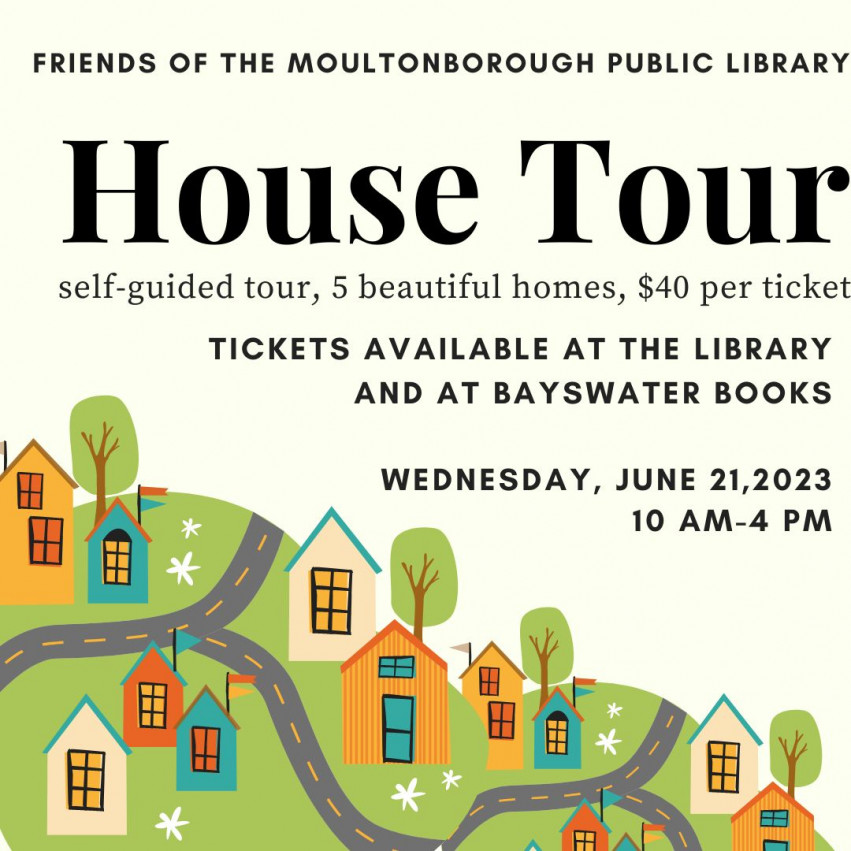 Canterbury Farmer's Market June 21st
Wednesday 4pm-6:30pm | 9 Center Rd, Canterbury NH
Some things are new:
We are now able to accept SNAP/EBT and Veterans' Market Dollars! Thanks to the Granite State Market Match program and the NH Food Bank, we also match the first $20 of a SNAP purchase. Stop at the Market Info Tent at any Wednesday market to find out how.

Note: If you are a Canterbury resident who uses the Loudon Food Pantry, ask them
about Canterbury Market Vouchers. A limited number are available each season.
Some things are always the same:
You can always find us on Wednesdays, 4-6:30pm, in the center of Canterbury next to the Elkins Public Library. The only exception is if there are big thunderstorms! Market runs until the last Wed. in September.

There will always be a great selection of vendors featuring fresh and local fruits, veggies, eggs, maple products, baked goods, crafts and more.

While the musicians change every week, there is always great live music.

Dogs are always welcome, so long as they are on their leash. Please be mindful of the heat!
Some things are a little different each week:
FIRST week of the month we?ll have a Kids' Activity.

SECOND week of the month the NH Master Gardeners will answer questions.

THIRD week of the month we?ll host our famous ?Sandwich Slam.?

FOURTH Week of the month we all help fill ?Mary Ellen's Basket.?

You never can tell when we might schedule a special guest or a demonstration, so check us out on Facebook, Instagram, or sign up for the weekly Market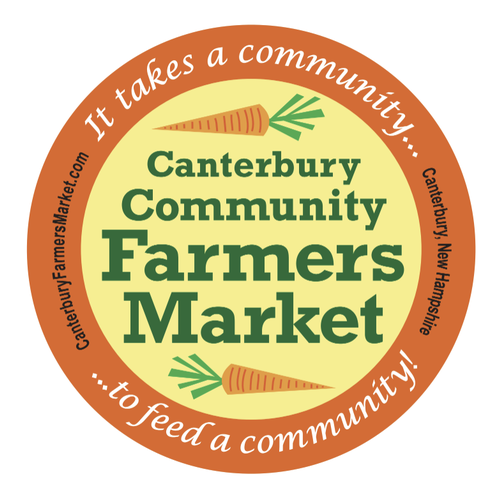 Trivia at Twin Barns June 21st
Wednesday 6pm-8pm | Twin Barns Brewing Company | 194 Daniel Webster Highway Meredith
Swing by the barn & join the fun!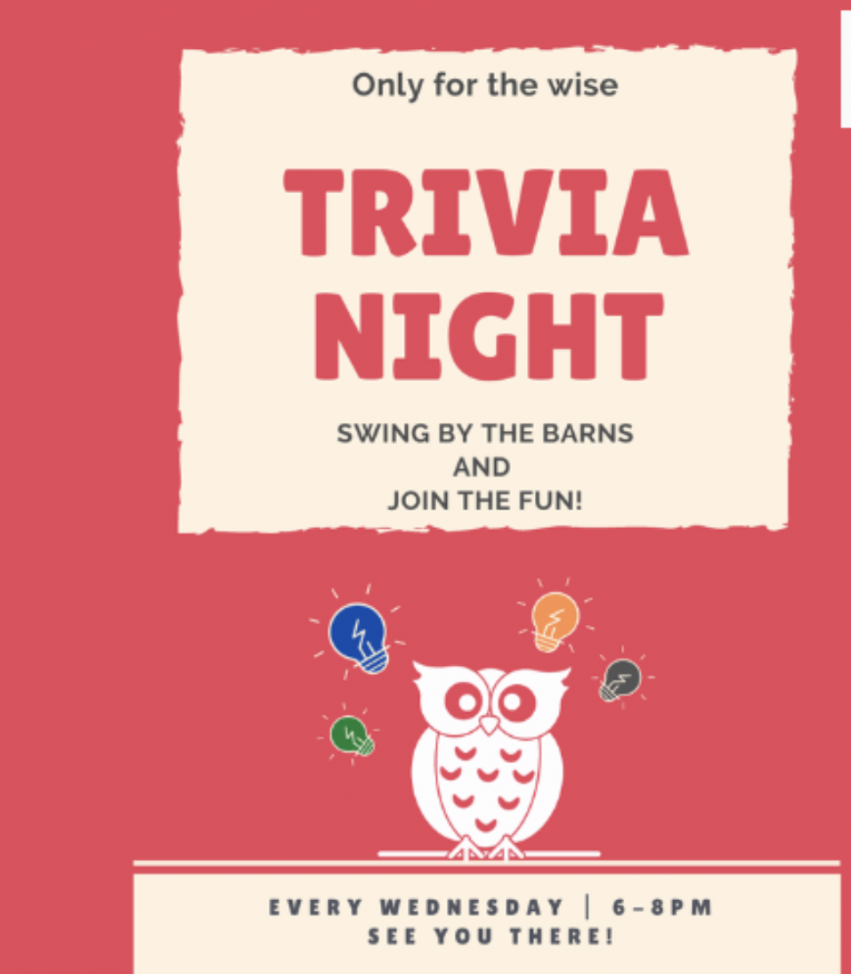 Trivia Night at Tower Hill June 21st
Wednesday 7pm-9pm | Tower Hill Tavern | 264 Lakeside Ave Weirs Beach
Team Play Trivia every Wednesday Night!
Game Time Trivia hosts a great version of general Knowledge trivia including Music and entertainment questions. Prizes for top 3 teams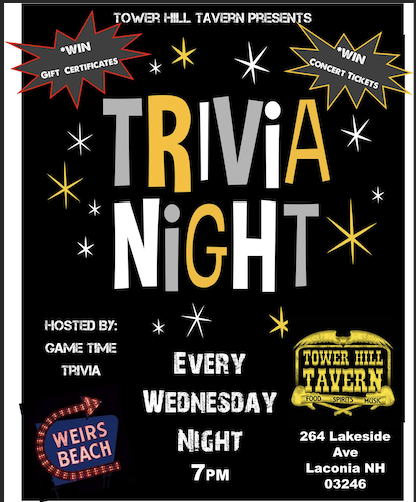 Wolfeboro Farmers Market June 22nd
Thursday 12pm-3:30pm | 10 Trotting Track Road Rt 28, Wolfeboro
Outdoor Market 2023
Thursdays 12:00-3:30pm
May-October
The Nick Recreation Park
10 Trotting Track Rd, (Rt. 28)
Wolfeboro, NH 03894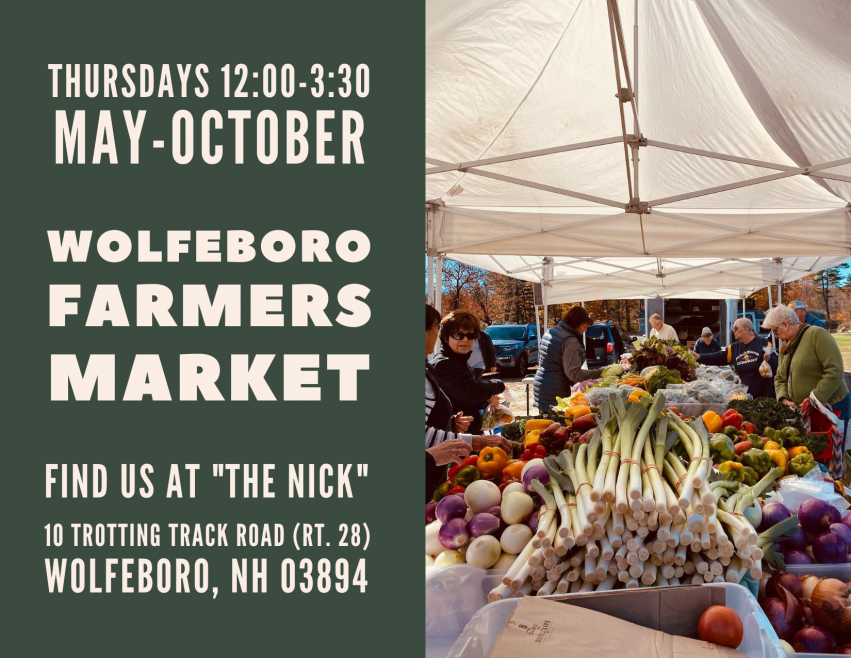 Wolfeboro Farmers Market June 22nd
Thursday 3pm-6pm | Marceau Park | Central Street, Franklin NH
Eating a variety of fruits and vegetables is a great way to stay healthy!
Make the Franklin Farmer?s Market part of your weekly routine!
Thursday afternoons
June 22nd-September 14th
3:00-6:00 pm
Marceau Park - Central Street, Franklin
We'll have:
Fresh Fruits and Vegetables
Local Meat and Eggs
Homemade Bread and Sweets
Maple Syrup
Other Local Specialties
Free children's activities and healthy recipe samples!
We Accept SNAP via EBT Card as well as Credit/Debit Purchases!
Learn how you can Double Your SNAP Dollars each week at the market.
For more information or if you have questions, please call 603-934-2118 or click here.
Visit our Facebook Page at Franklin Farmer's Market
Eating a variety of fruits and vegetables is a great way to stay healthy!Make the Franklin...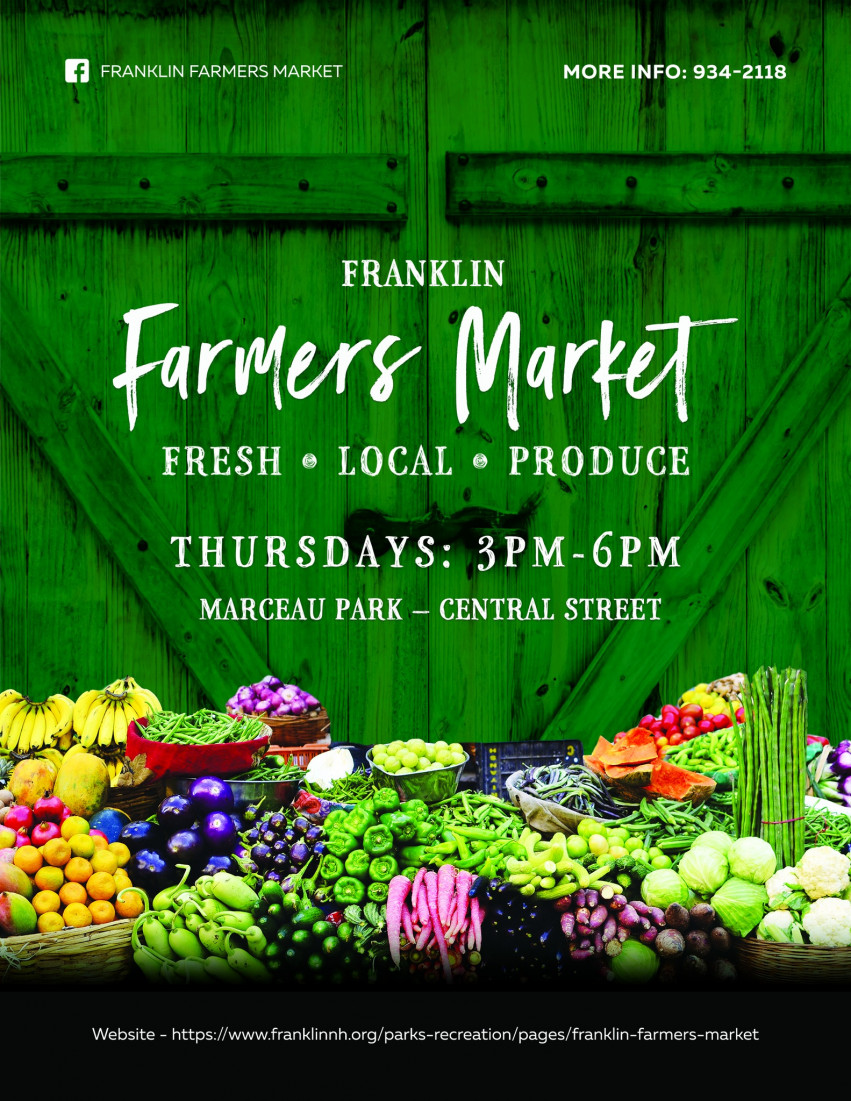 Wings & Pint Night at Twin Barns June 22nd
Thursday 4pm-9pm | Twin Barns Brewing Company | 194 Daniel Webster Highway Meredith
Come by Twin Barns Brewing Company for some wings and pints. Your choice of Garlic/Parm. Buffalo, BBQ or Nashville Hots. They all pair very well with a proper beer, raised in a barn.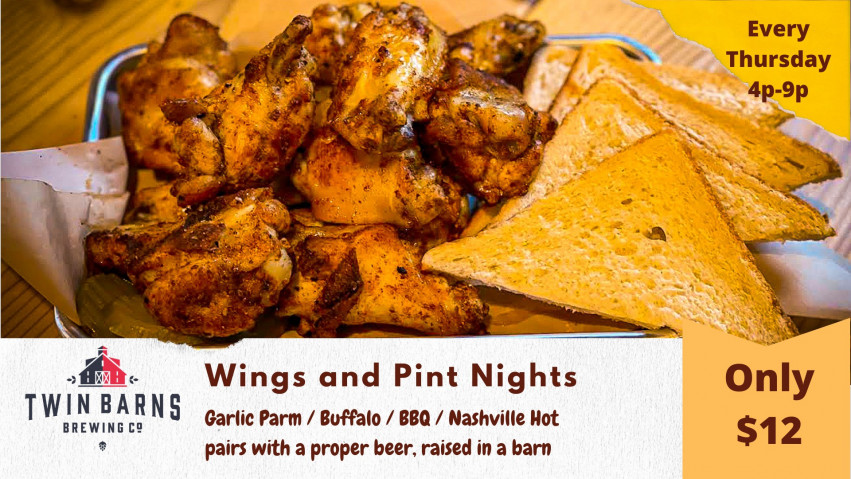 Live Music at Patrick's June

22nd
Thursday 6pm-8pm | Patrick's Pub & Eatery | 18 Weirs Road Gilford
Live music hosted by Don "Sev" Severance with weekly guest musicians, performing a mix of soft rock, reggae and smooth jazz instrumentals.
Start your weekend early with live music from Sev and COMPANY.
Visit www.patrickspub.com/events to see the featured artist!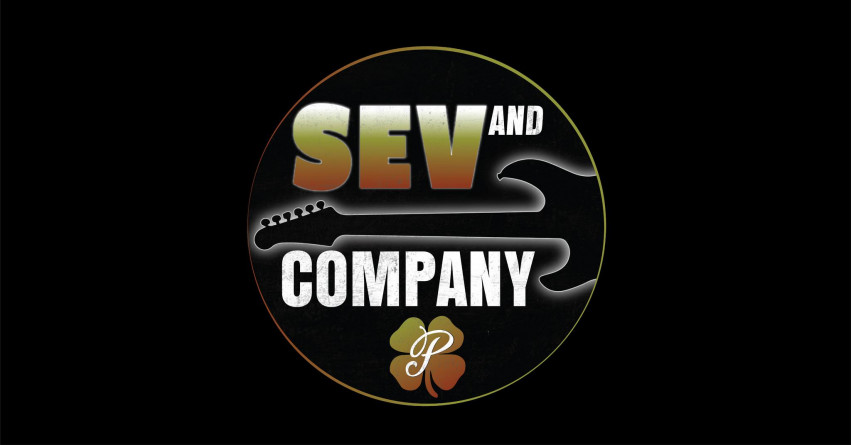 Corn Hole at Hobbs June

22nd
Thursday 6:30pm | Hobbs Brewing Company | 765 NH RT 16, Ossipee
Join Carroll County Cornhole at Hobbs Tap Room every Thursday night for a weekly cornhole tournament!
$15 per person, 3 rounds of round robin switchholio (3 qualifying games with random partners every game) into a double-elimination playoff bracket.
Weekly tournament is open to the public; register in advance via the Scoreholio app (search Carroll County Cornhole), or upon arrival. Cash prizes weekly for the top scoring teams! Limited to 40 players per week, so register early!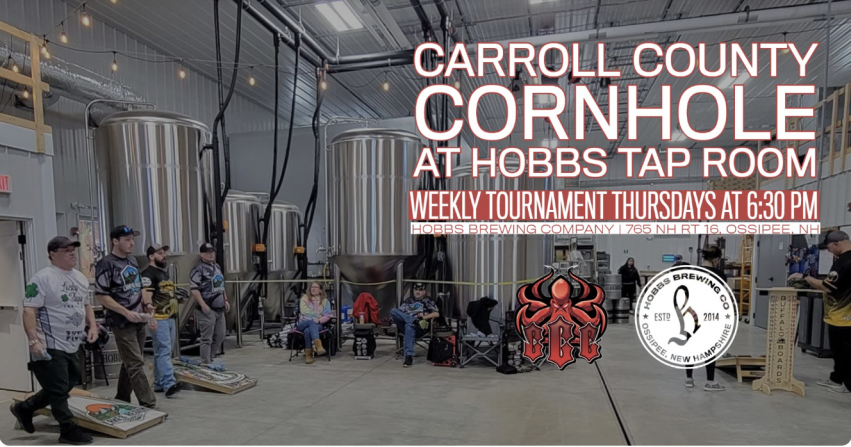 Adventure Time Trio at Hermit Woods June

22nd
Thursday 6pm-9pm | Hermit Woods Winery & Eatery| 72 Main Street, Meredith
The John Funkhouser Group's band of Musicians without Borders spans the globe in each concert, with influences from South Africa, the Great American Songbook, Appalachia, India, New Orleans, Eastern Europe and the Middle East, 1970's prog rock, and modern jazz. Along with Funkhouser on keys is Phil Sargent (guitar), Greg Loughman (bass), and Mike Connors (drums) – a group of forward-thinking jazz musicians who "play with grace and sweetness," according to Middletown Eye.
The title of their 2018 album Brothers, as Funkhouser explains, comes from his relationship with his fellow bandmates. Funkhouser has played with these musicians for close to 20 years, so the musical friendship has grown exponentially with time. 'Brothers' is the title "because that's what we feel like at this point," he says. "I think the bond that has formed between us, in all humility, shows in our spontaneity, spirit of exploration, freedom to take musical chances and say something controversial or to reveal feelings and thoughts that would remain guarded in less familiar and sympathetic company."
The John Funkhouser Group has headlined the Jazz In June festival in Oklahoma City and played at major music festivals nationwide, including the Riverbend Festival in Chattanooga, TN, the Mellon Jazz Festival in Pittsburgh, PA, and Jazz In The Sangres in Westcliffe, CO. The band has played in New York at the Knitting Factory, Small's, ShapeShifter and Cornelia St. Café, and all over the northeastern U.S.
"If you have ever seen and heard the JFG in person, you know how much energy they bring to a live show. Yes, each musician has technique to burn... is wildly inventive and great fun to watch and listen to." -Richard Kamins, Middletown Eye, Middletown, CT
"Sheer beauty.....one can't help but notice the assured individuality of the musicians' work, each member of the group complementing the others for synergistically effective results." -Bill Donaldson, Cadence Magazine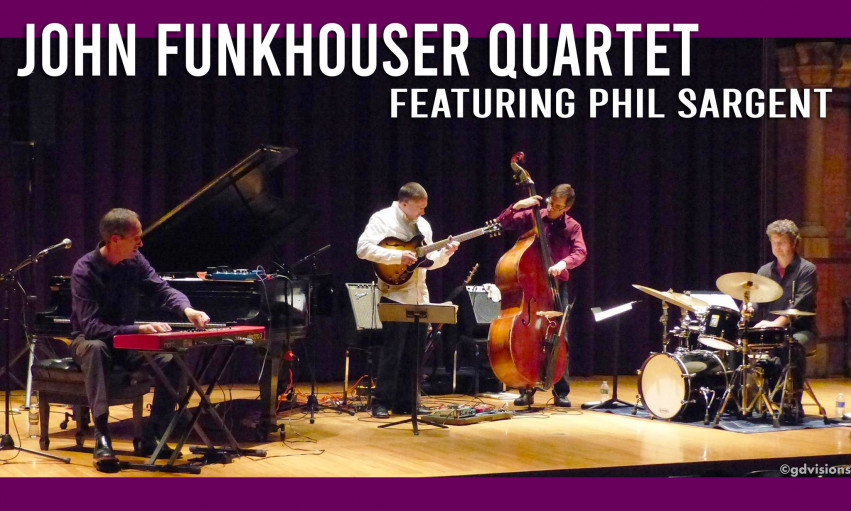 Piano Night at Hermit Woods June 23rd & 24th
Friday and Saturday 6pm-9pm | Hermit Woods Winery & Eatery| 72 Main Street, Meredith
Join us from 6:00 to 9:00 on most Friday and Saturday nights for live piano music in the Loft. Hermit Woods is proud to have acquired one of the finest instruments around for a venue of our size, a Yamaha C3 Grand Piano, and we look forward to sharing its beautiful sound with you and showcasing some of our finest local and regional pianists. Enjoy a glass of our wine or a wine flight, a beer from one of New Hampshire's finest breweries, along with a light meal from our eatery, voted Best Sandwiches in the Lakes Region in 2021.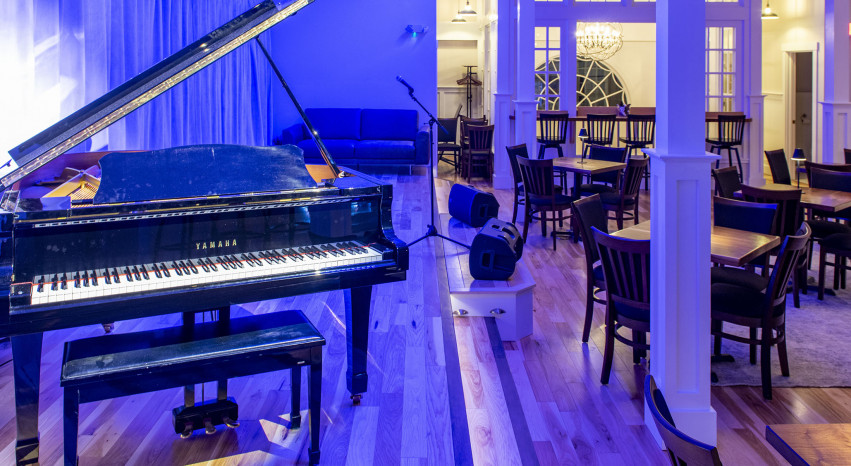 Music in the Park June 23rd
Friday 5:30pm - 8pm | Hesky Park | Meredith
Once again it's time for "Music by the Lake". Kevin and Kitty Boyle will once again be hosting Open Mic Concerts at Hesky Park in Meredith.Musicians sign up starting at 5:30 pm on Friday evenings. Music will begin at 6:00 pm and go until 8:00 pm (dusk). The music is an eclectic mix of folk, americana, pop, country. Something for everyone. Bring Chairs, picnics, snacks, beverages for a laid back, relaxing evening Lakeside.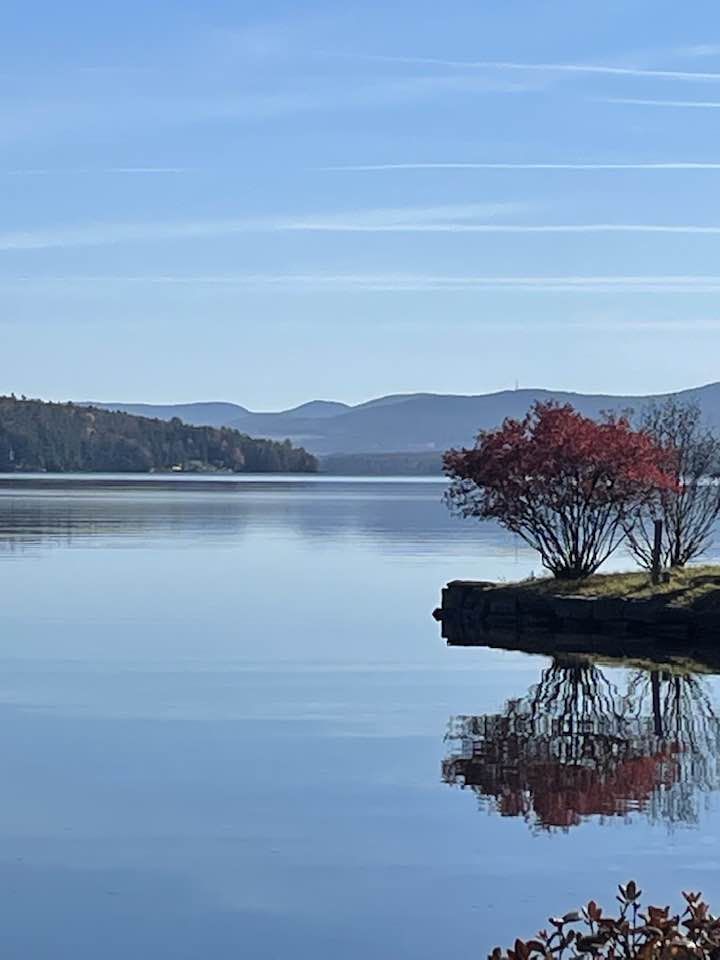 John Davidson's Club Sandwich
June 23rd & 24th
Friday & Saturday 7pm - 9pm | 12 Main St, Center Sandwich, NH
Club Sandwich season 3 will run from June 2 through October 21, 2023, Doors open at 6:30pm for the pre-show presentation. Folks are encouraged to enjoy the entertaining videos on our multimedia screen.

7pm is showtime on Fridays and Saturdays! The show includes original and cover songs and backstage stories, and surprises. John will feature songs from his twelve albums, tales from his Las Vegas shows, television variety appearances, and his roles in Walt Disney movie musicals. Each song is enhanced using our multimedia video screen. It's an evening of comedy, inspiration, and nostalgia. And each show is unique!

>>John will be supported at his shows by bass player John Petruzzelli. Here's a bit about (the other) John: John Petruzzelli is a multi-instrumentalist who has taught and performed in Carroll Country region for the last twenty years. He holds two degrees, one in recording technology and another in jazz studies. John owns and operates a recording studio in Wolfeboro where he engineers and coaches aspiring artists in all avenues of music. Growing up by the lake, under the banner of the Great Waters music festival, John witnessed some legendary musicians come through the town of Wolfeboro, stars like Chuck Mangione, John Pizzarelli and Bradford Marsalis inspired him to play and perform at any chance he could. At Club Sandwich, JP will support JD on upright bass, providing a solid foundation, and a complimentary musical voice to showcase some of America's greatest tunes.

After the show you can say hi to John, take selfies, and of course he'll be glad to autograph any merchandise purchased at our gift shop. Admission is $35 in advance and at the door (unless otherwise stated). Livestream tickets are $10. https://www.johndavidson.com/weekendshows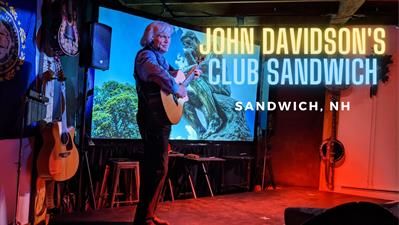 Live Music at Defiant Records June 23rd
Friday 6pm-8:30pm | Defiant Records & Craft Beer| 609 Main Street, Laconia
We're excited to welcome back the talented Lone Wolf Project to the house! Join us for fun night of great music, great beer and great friends!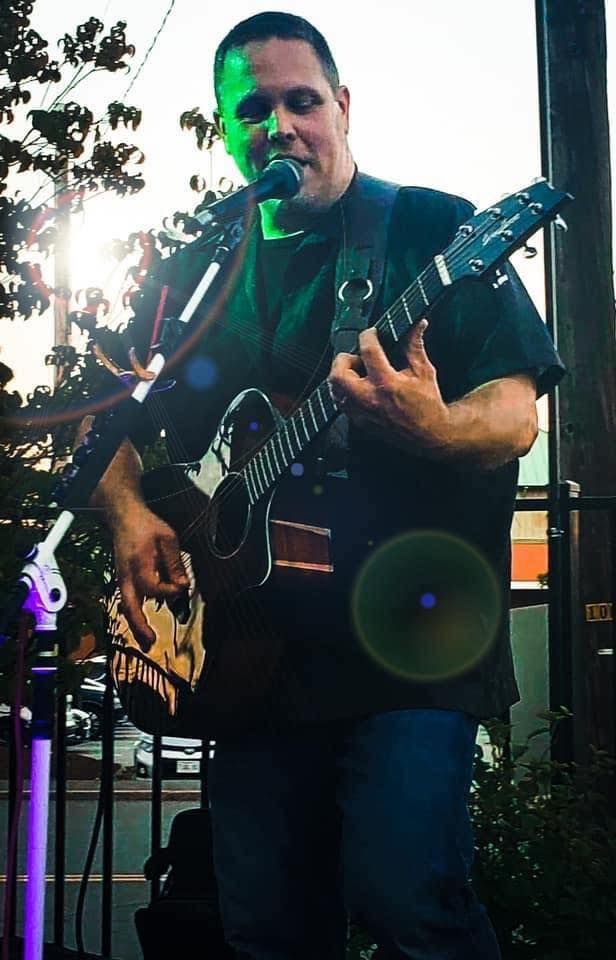 Live Music at Twin Barns June 23rd
Friday 6pm-9pm | Twin Barns Brewing Company | 194 Daniel Webster Highway Meredith
Swing by the barn & join the fun!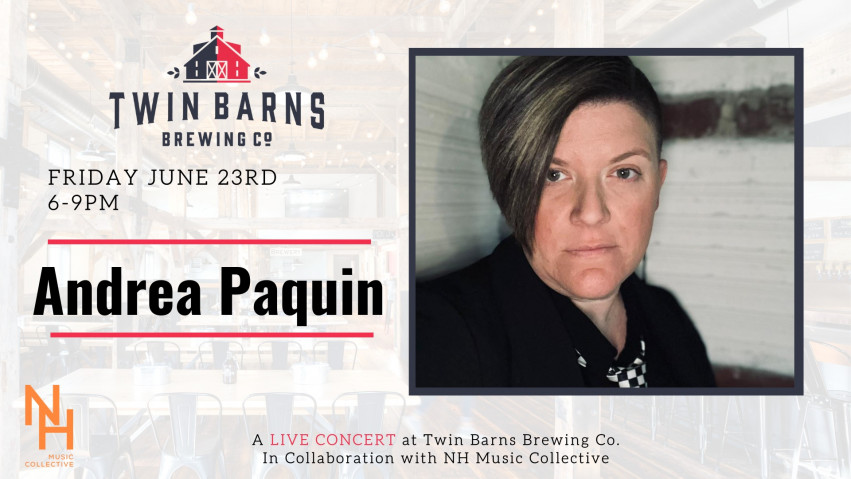 Live Music at Twin Barns June 24th
Saturday 3pm-6pm | Twin Barns Brewing Company | 194 Daniel Webster Highway Meredith
Swing by the barn & join the fun!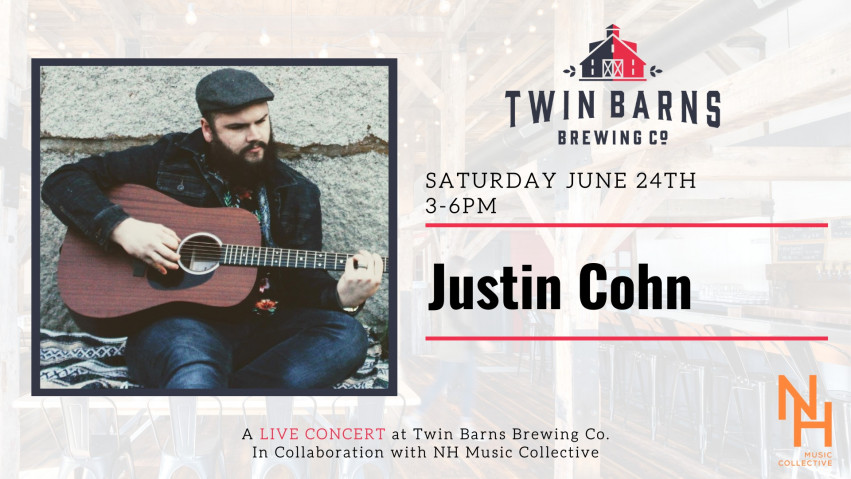 Barnstead Farmer's Market June 24th
Saturday 9am-1pm | Twin Barns Brewing Company | 194 Daniel Webster Highway Meredith
Join us every Saturday starting June 3rd, from 9AM-1PM at the Parade Church in Barnstead, just a minute off route 28.

The Barnstead Area Community Farmer's Market promotes local foods and handmade products from June through the end of September.
Promoting locally grown produce and handmade products to the area towns and communities....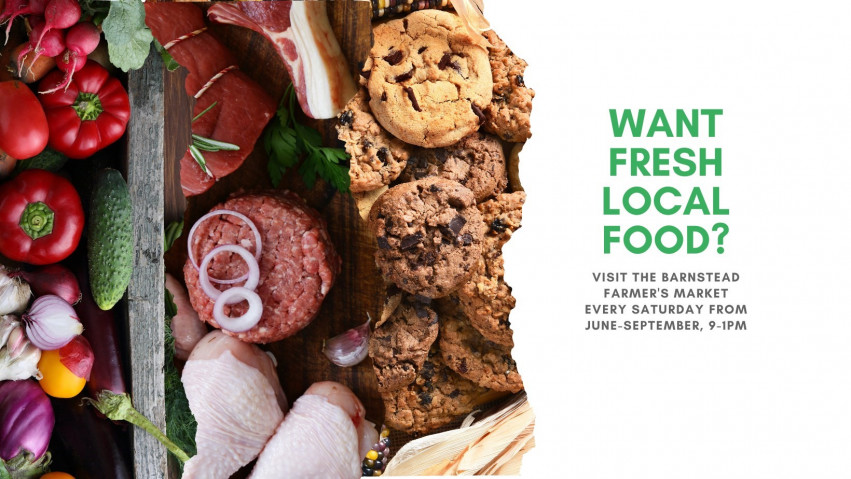 Bristol Farmer's Market June 24th
Saturday 9am-2pm | Mill Stream Park | NH Rout 3A Bristol
Vegetables - Fruits (in season) - Bacon - Chicken - Eggs - Baked Goods (quick breads, cookies, tarts, cakes, muffins, pies, breads, bagels) - Homemade Doggie & Horses Biscuits - Fly Fishing Lures - Quilts - Handmade Jewelry - Baskets - Amazing Woodworking of all kinds - Stuffed Animal Toys - Stuffed Toys with Accompanying Book - Aprons - Vera Bradley look-a-like totes - Cross body bags - Bird & Bat Houses - Accent Tables - Cutting Boards - Fresh Cut Floral Arrangements - Perennials - Garden Plant - Framed Photography - Semi-precious & Fresh Water Pearl Jewelry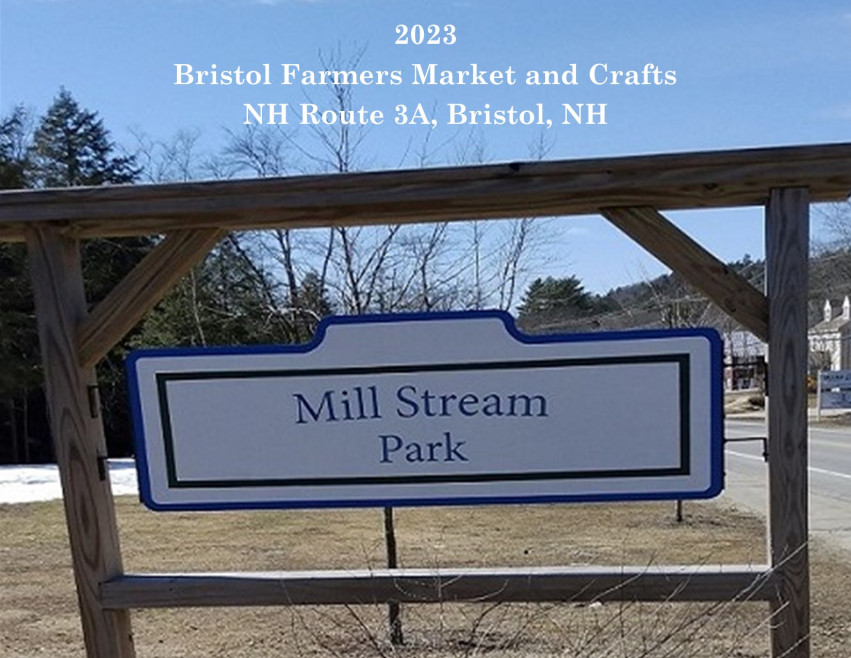 Citizen Cider Tap Takeover at Witches Brew June 24th
Saturday 2pm-4pm | Witches Brew Pub | 59 Doe Ave. Weirs Beach, Laconia
For all you Cider lovers, we have a perfect afternoon on tap for you! Several of Citizen's finest will be flowing and by a point - get a glass! Otter Swag and Raffles for cool stuff too!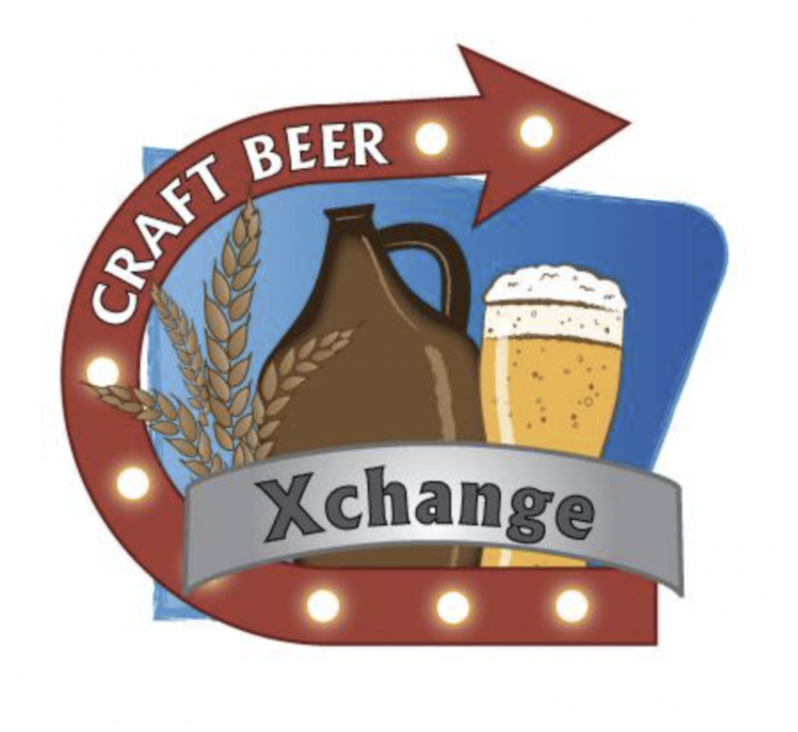 Selling Your Home?
Get your home's value - our custom reports include accurate and up to date information.
Get Home Value