Lake Life Local Events March 27th - April 2nd
Wing Night at Patrick's March 27th
Monday | Tower Hill Tavern | 264 Lakeside Ave Laconia
Jumbo wings with choice of sauce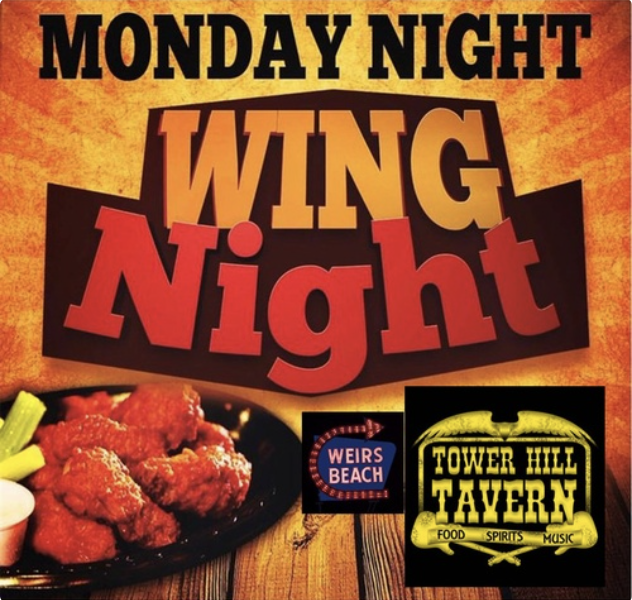 Open Mic at Patrick's March 27th
Monday 6pm-8pm | Patrick's Pub & Eatery | 18 Weirs Road Gilford
Paul Luff hosts an evening of fantastic open mic music. Please contact Paul Luff at [email protected] to reserve a spot to perform. It's a great night with many talented musicians from 6pm-8pm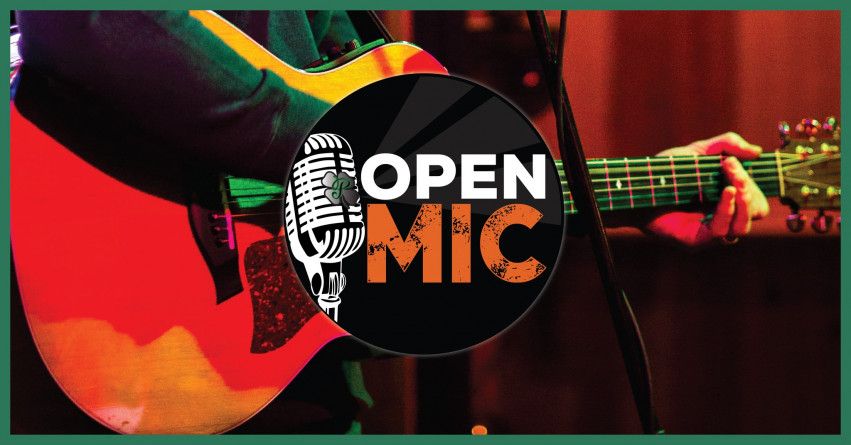 Story Time March 28th
Tuesday 10:30am-11:30am | Gilford Public Library | 31 Potter Hill Rd Gilford
Join Miss Linda in listening to stories and engaging activities with others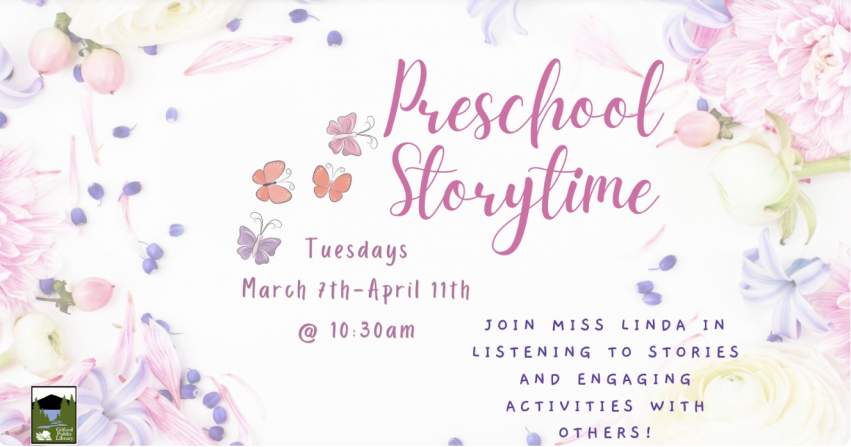 Trivia at Twin Barns March 29th
Wednesday 6pm-8pm | Twin Barns Brewing Company | 194 Daniel Webster Highway Meredith
Swing by the barn & join the fun!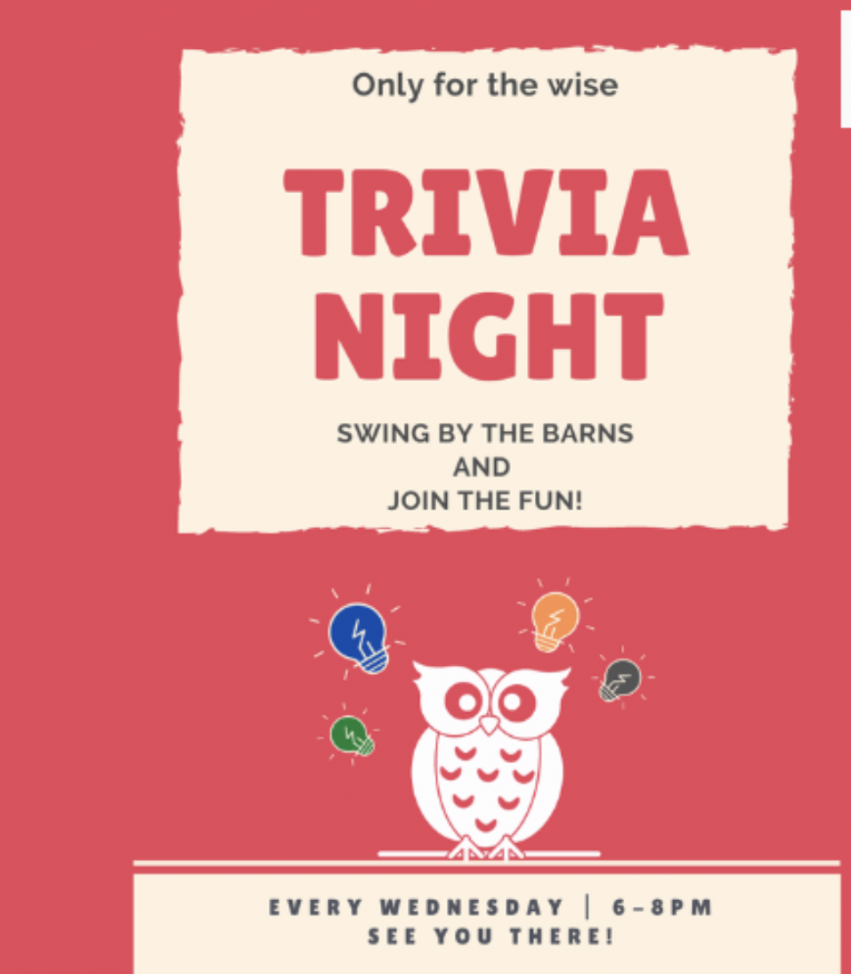 Songwriter RoundUp at Hermit Woods March 29th
Wednesday 6pm-8:30pm | Hermit Woods Winery & Eatery | 72 Main Street, Meredith
Audience members can enjoy talented singer-songwriters from the New England Area in the Lakes Region's premier listening room. Enjoy songs and stories from host Katie Dobbins and two additional guest artists as they perform acoustically in-the-round. New songwriters will be featured on the last Wednesday of every month in this intimate series!
Eventbrite - $15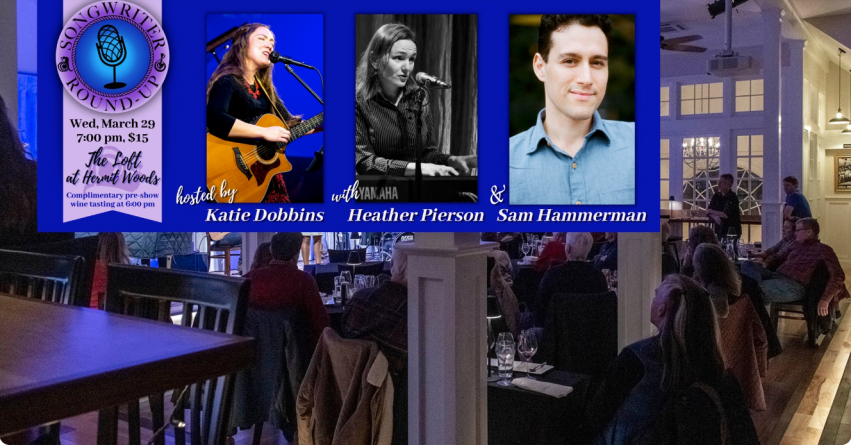 Trivia Night at Tower Hill March 29th
Wednesday 7pm-9pm | Tower Hill Tavern | 264 Lakeside Ave Weirs Beach
Team Play Trivia every Wednesday Night!
Game Time Trivia hosts a great version of general Knowledge trivia including Music and entertainment questions. Prizes for top 3 teams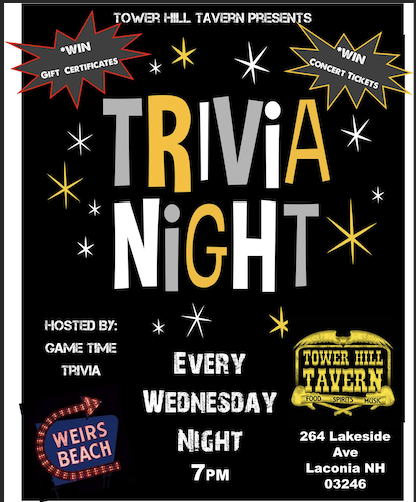 Wings & Pint Night at Twin Barns March 30th
Thursday 4pm-9pm | Twin Barns Brewing Company | 194 Daniel Webster Highway Meredith
Come by Twin Barns Brewing Company for some wings and pints. Your choice of Garlic/Parm. Buffalo, BBQ or Nashville Hots. They all pair very well with a proper beer, raised in a barn.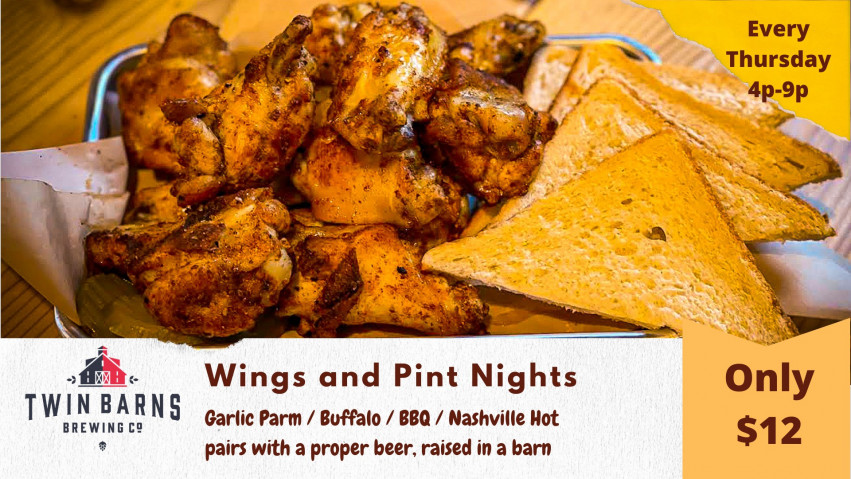 Live Music at Hermit Woods March 30th
Thursday 6:30pm-10pm | Hermit Woods Winery & Eatery| 72 Main Street, Meredith
Enjoy Dinner and a Show with our Chef's Prix Fixe Menu Ticket

Guitarist Steven Kirby combines richly textured lyrical jazz with exciting modern compositions and stellar musicianship.
This performance is a mix of Steven's albums "Illuminations" and "North Light" (on Spotify). It's both straight ahead modern jazz mixed with a strong ECM studios' influence in which melody and lyricism are still high priorities. It features a mix of original compositions, and some creative arrangements of standard tunes.
Kirby's compositions have won awards in the International Songwriting Competition, the Billboard Song Contest and Downbeat. His music has been played on over 100 radio stations in the US and internationally including features on NPR's "Here and Now", "Jazz with Bob Parlocha" and "Eric in the Evening".
Steven Kirby (guitar, compositions, arrangements)
Carl Clements (sax, flute)
Mark Shilansky (piano/keys)
Mark Poniatowski (acoustic bass)
Mike Connors (drums)
Eventbrite - $25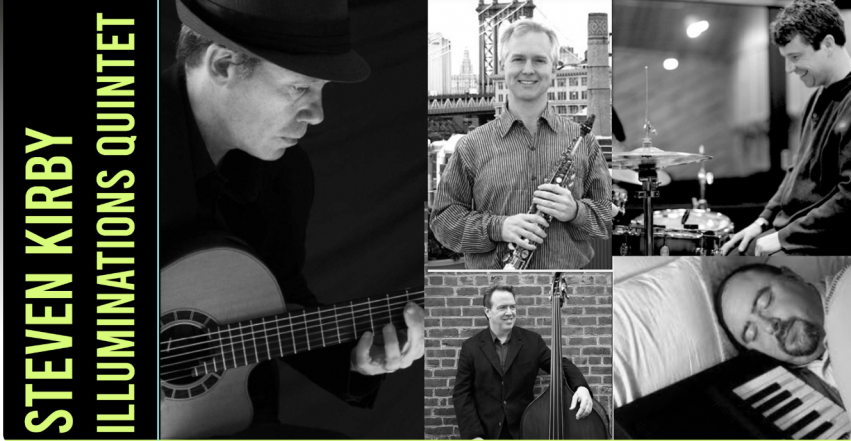 Live Music at Patrick's March 30th
Thursday 6pm-8pm | Patrick's Pub & Eatery | 18 Weirs Road Gilford
Live music hosted by Don "Sev" Severance with weekly guest musicians, performing a mix of soft rock, reggae and smooth jazz instrumentals.
Start your weekend early with live music from Sev and COMPANY.
Visit www.patrickspub.com/events to see the featured artist!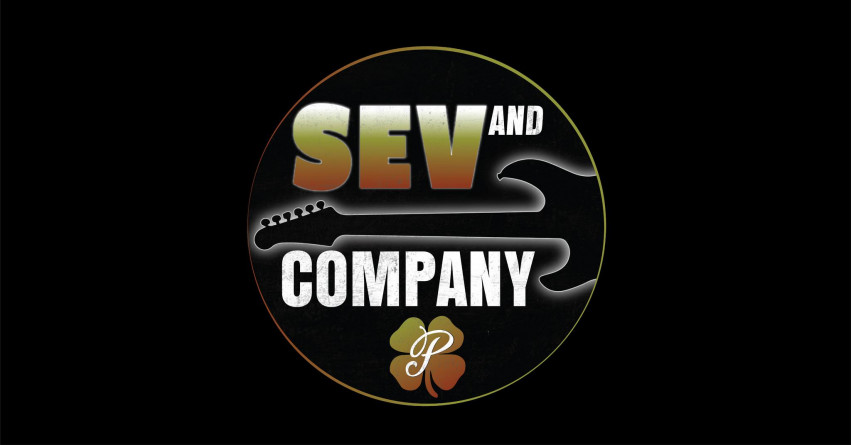 Corn Hole at Hobbs March 30th
Thursday 6:30pm | Hobbs Brewing Company | 765 NH RT 16, Ossipee
Join Carroll County Cornhole at Hobbs Tap Room every Thursday night for a weekly cornhole tournament!
$15 per person, 3 rounds of round robin switchholio (3 qualifying games with random partners every game) into a double-elimination playoff bracket.
Weekly tournament is open to the public; register in advance via the Scoreholio app (search Carroll County Cornhole), or upon arrival. Cash prizes weekly for the top scoring teams! Limited to 40 players per week, so register early!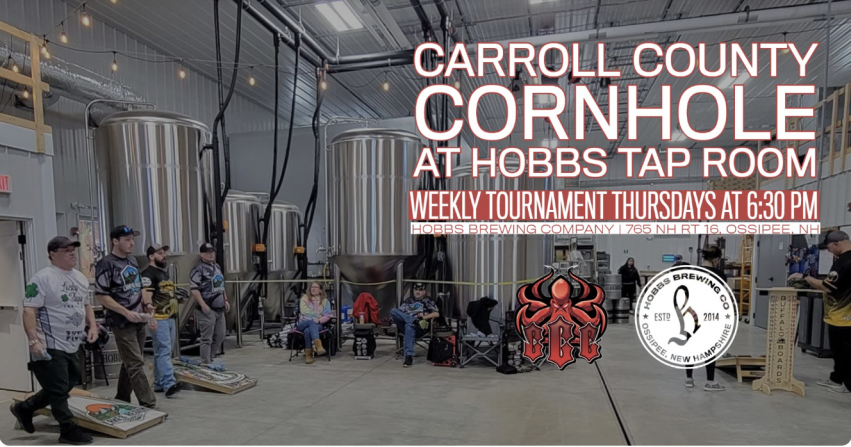 Bell & Brick at Belknap Mill March 30th
Thursday 6:30pm-8pm | Belknap Mill | 25 Beacon St East Laconia
Join us for LIVE music at the Mill for the Bell and Brick Winter Concert Series!
Tickets are $10 and can be purchased at the door.
Doors Open at 6:30pm and concert is 7pm-8pm.
Bob began his musical career in New York and Boston-Cambridge area coffee houses and college concerts. He is a songwriter, composer, guitarist, mandolinist, and vocalist. Dave has been playing drums and percussion for over 40 years in a variety of bands and music genres. Billy Martin was an original member of the James Montgomery Blues Band. As a trio, they perform an eclectic blend of original and traditional music drawing on many styles.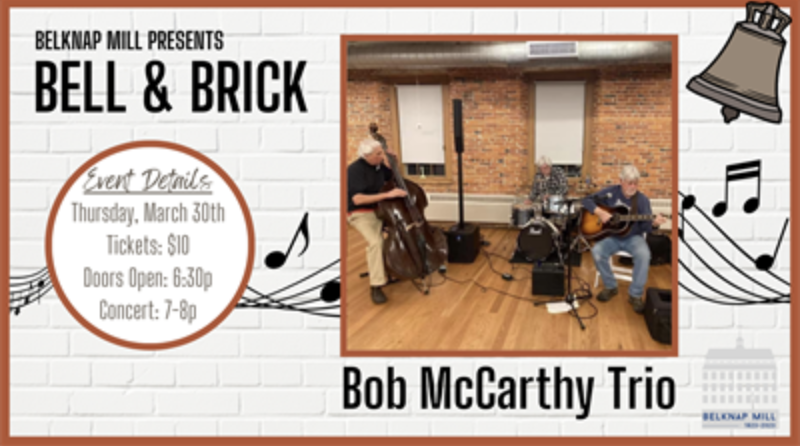 Live Music at Twin Barns March 31st
Friday 5pm-8pm | Twin Barns Brewing Company | 194 Daniel Webster Highway, Meredith
Mark your calendars and head over to Twin Barns Brewing Co. in Meredith, NH for great company, local beer, and live music with The Hart of Sound!

Brought to you by NH Music Collective.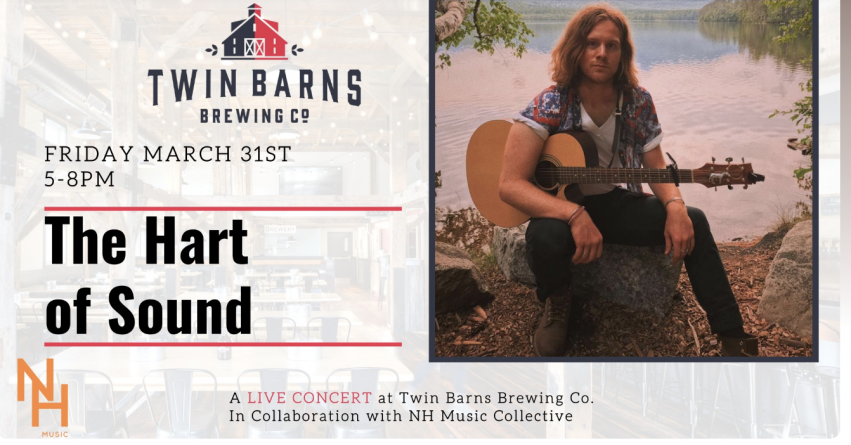 Live Music at Defiant Records March 31st
Friday 5:30pm-8:30pm | Defiant Records & Craft Beer | 609 Main Street Laconia

We're excited to welcome Mike Loughlin back to the house with great music and good times!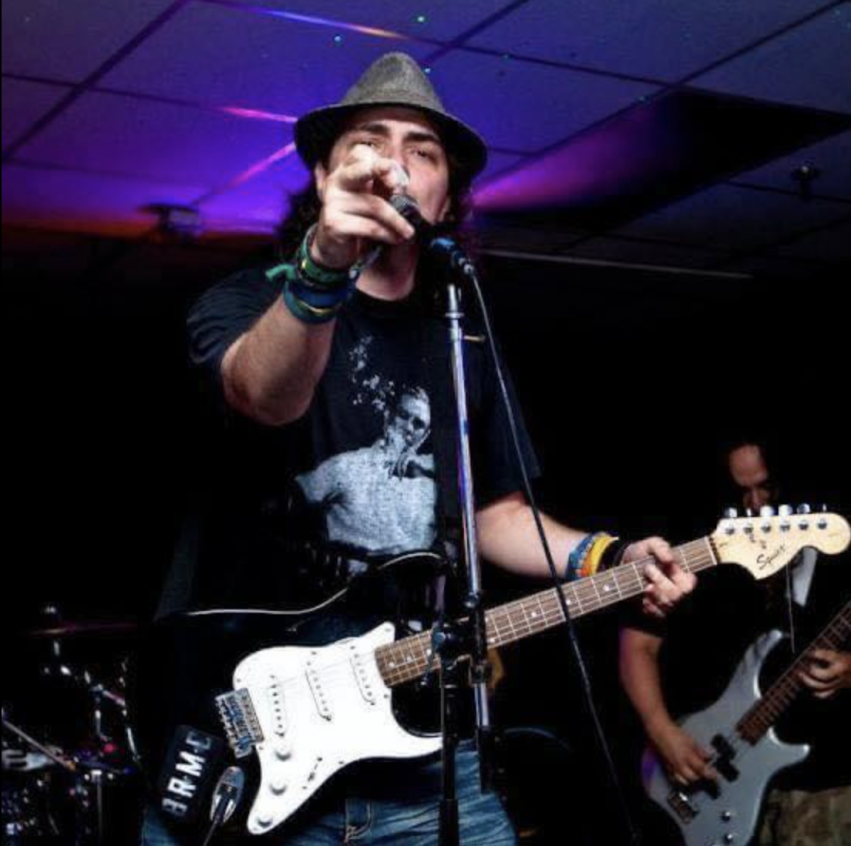 Live Music at Foster's Tavern March 31st
Friday 5:30pm-8:30pm | Foster's Tavern | 403 Main Street Alton Bay

Foster's is rooted in family and friends gathering to enjoy great food, drinks, laughter and memories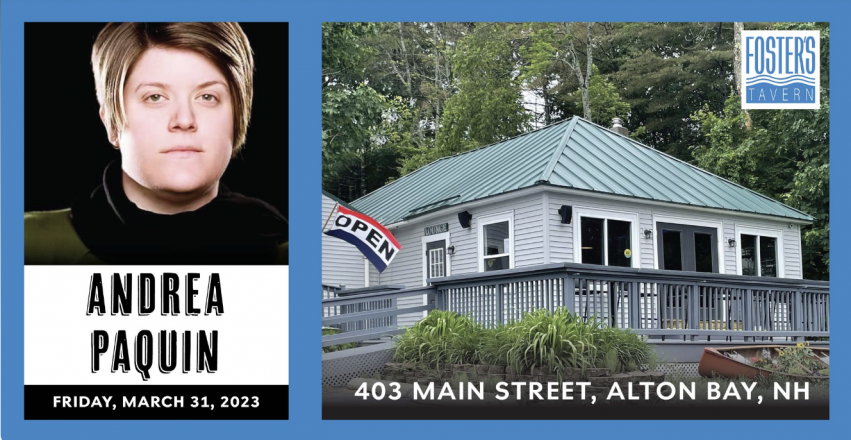 Friday Night Meltdown March 31st
Friday 7pm-8:30pm | Merrill Fay Arena | 468 Province Rd Laconia
For a skating experience you?ll never forget,
don?t miss our live DJ, Prizes and light shows for ALL AGES!

$15/person
RENTAL SKATES $6/pair
COMBO: $20
*FIRST COME, FIRST SERVE (LIMITED AVAILABILITY)
*free admission to watch or chaperone.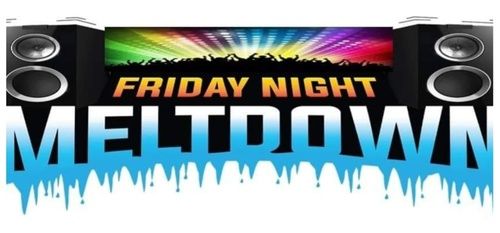 Easter Egg Extravaganza April 1st
Saturday 10am-12pm | Odell Park | 124 Memorial Street, Franklin
Over 3,000 Eggs
- Prizes
- Grand Prizes
- Games
- Board Breaking
- Hot Cocoa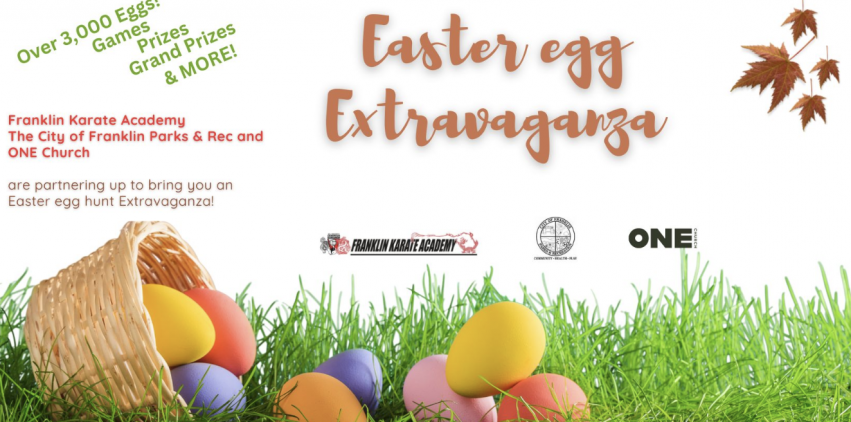 Pond Skim at Ragged Mountain April 1st
Saturday 10am-12pm | Ragged Mountain | 620 Ragged Mountain Road, Danbury
Check In/Registration: 9:00 am - 10:30 am
Upstairs in Main Lodge, in front of fireplace at Stone Hearth.
Rider's Meeting: 11:00 am
Skimmer's meeting will take place at starting area at the top entrance on VG.
Start Time: 11:15 am
Event will be an open format event, from 11:15am until 1:00pm or until contestants are finished with their runs, whichever happens first.
Awards: 3:00 pm
Outside on the "Bricks". Alternate location: Same as registration
Entry fee and estimated participant number:
Valid Lift Ticket or Current Season Pass
70 - 90 Competitors Expected 100 maximum
Trail: Village Green. Course will be roped off for competitors and event personnel only. Park staff will set up rope to close course to public, while allowing for trail to remain open and spectators to enjoy.
Sponsors: Bellavance Beverages, S&W Sports, Smith Optics, Monster Energy & Coca-Cola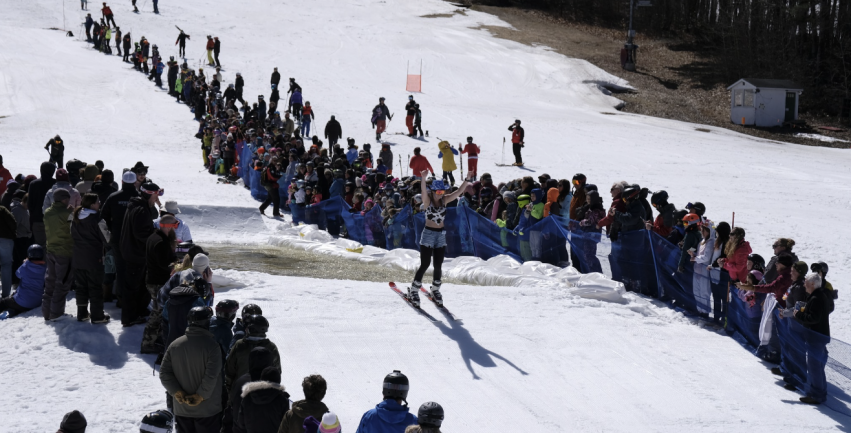 Pond Skim at Gunstock Mountain April 1st
Saturday 11am-3pm | Gunstock Mountain | 719 Cherry Valley Road, Gilford
Register HERE
B.Y.O.D.C. means Bring Your Own Dry Clothes!
End the season with a splash and come participate in our annual B.Y.O.D.C. Pond Skim on Saturday, April 1st! This fun and hilarious competition is open to all ages brave enough to attempt to cross our manmade pond at the base of the slopes. Wear your favorite costume and show us your swagger and pizzazz as you make your way across, but make sure your water skiing skills are up to snuff, or you could end up in the drink!! --that's wear the dry clothes come in! Prizes will be awarded for Best Cross, Best Splash, and Best Costume, so dress to impress!
9-11am: Bib Pick-Up in the foyer of the Historic Lodge

12-2pm: Pond Skim Competition

2:30pm: Awards
There will be a beergarten and BBQ'ing outside the Stockade Lodge beginning at 11am! See you there!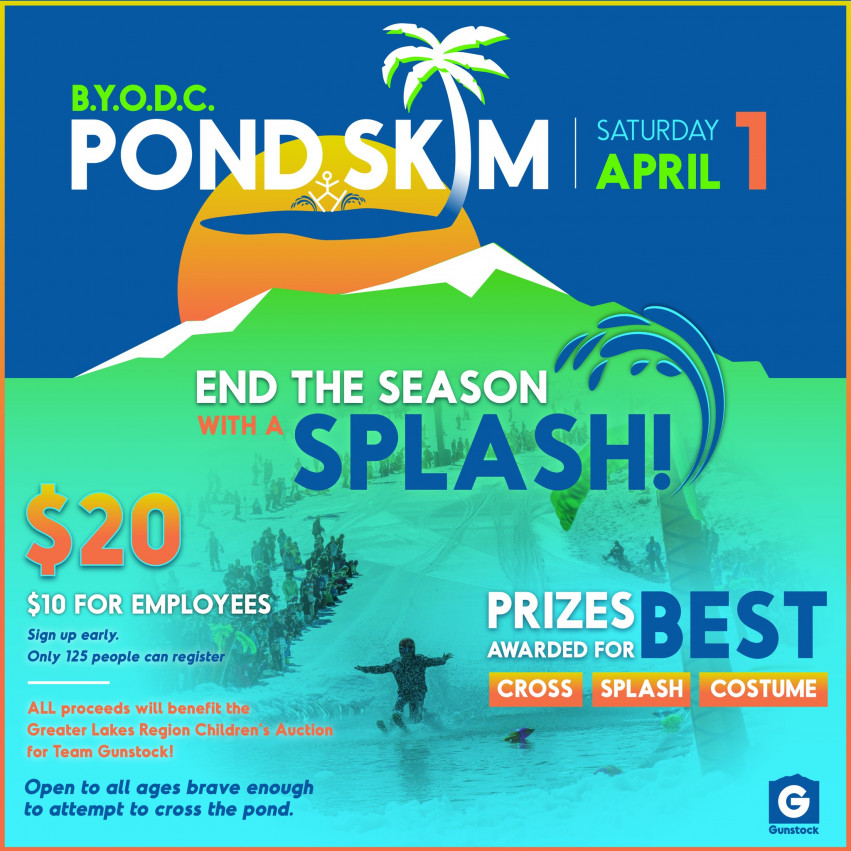 Anniversary Celebration at Inspire Cafe April 1st
Saturday 11am-1pm | Inspire Cafe | 39 Winter Street, Ashland
WOW! We can't believe it's been an entire year since we opened our doors to Inspire Cafe! We SO LOVE seeing you walk through those doors, serving you all of the magic our kitchen and barista crews create for you. Inspire Cafe is a collaborative work of
L

VE for our community, great coffee and teas, and delicious food made from scratch. Join us on Saturday, April 1 from 11-1pm for some fabulous jazz music featuring Jared Steer, Tom Robinson, and Brendan Dowd. We will have lots of great treats and fun activities to celebrate our big day! Raffle prizes, birthday cake (of course) and more! See you on Saturday!#getinspired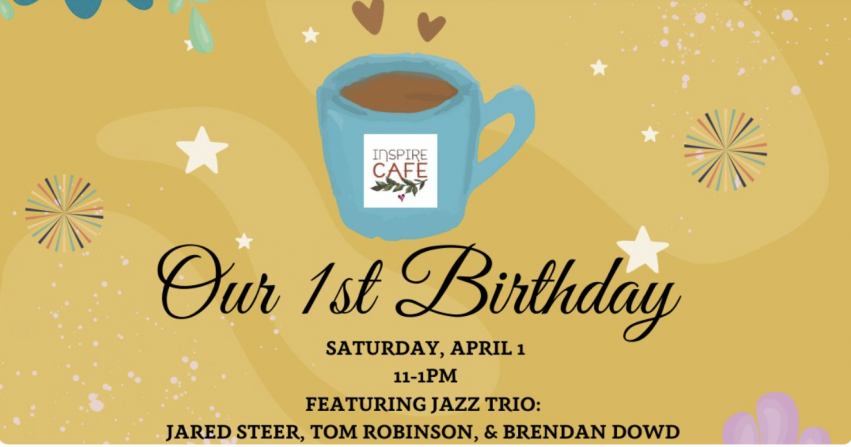 Live Music at Twin Barns April 1st
Saturday 5pm-8pm | Twin Barns Brewing Company | 194 Daniel Webster Highway, Meredith
Mark your calendars and head over to Twin Barns Brewing Co. in Meredith, NH for great company, local beer, and live music with The Sweetbloods!

Brought to you by NH Music Collective.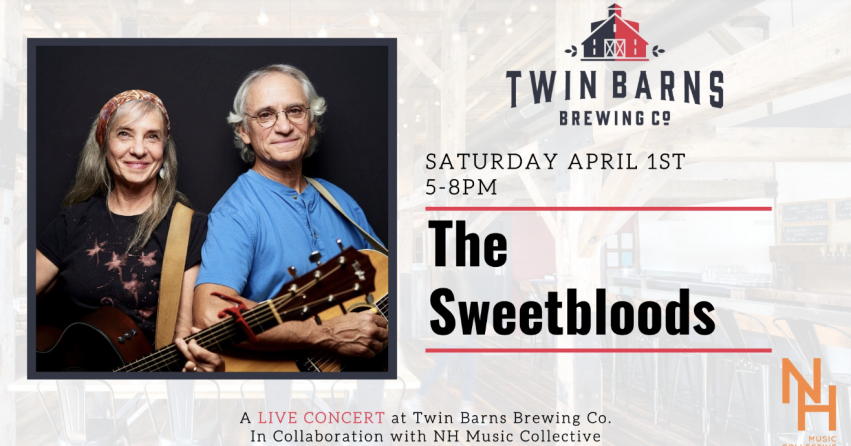 Kentucky Derby at Mills Falls April 1st
Saturday 6pm-9pm | Church Landing | 281 Daniel Webster Highway, Meredith
Enjoy an evening of Kentucky Derby fun!
Register HERE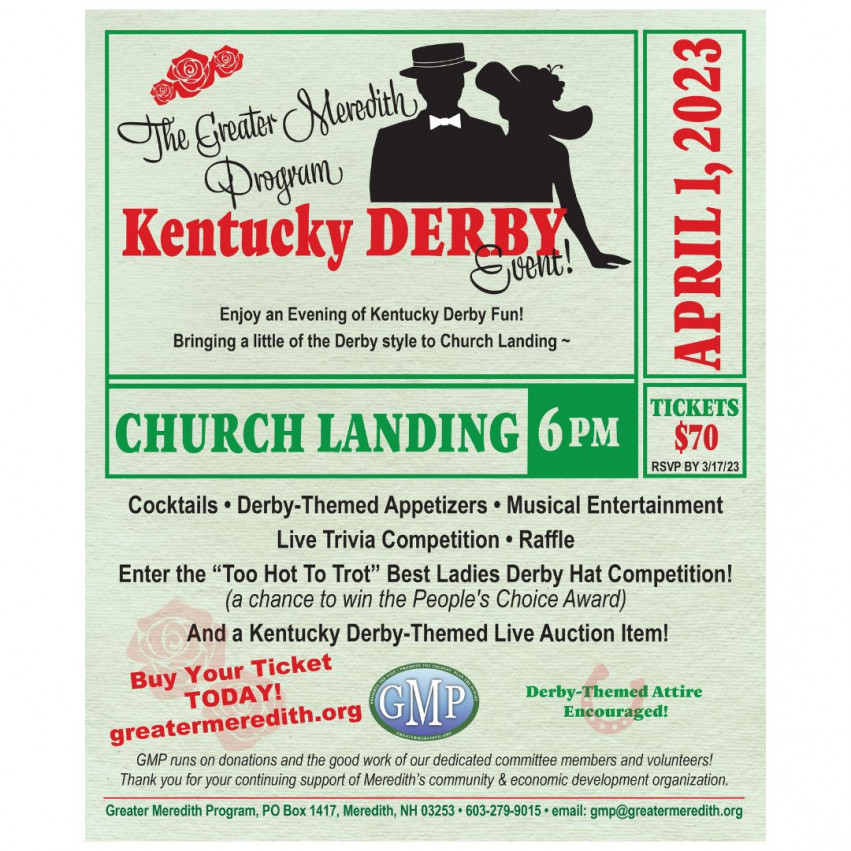 Comedy Night April 1st
Saturday 7pm-9pm | Kathleen's Irish Pub | 90 Lake Street, Bristol
Join us for a night of laughter at Cottage Comedy Night Presented by Kathleen's Irish Pub!
You wont want to miss out on this line-up of amazing comedians from all across New England Saturday April 1st!!
This months fantastic headliner is Casey McNeil!
Featuring:
Matt McArthur
Ian Rice
Sam Pelletier
Joe Flynn
Come enjoy great food, drink, and laugh along with some of the funniest people in New England, while adhering to all state and local safety guidelines!
Seating is limited so reservations are recommended, please reserve your seat with a Facebook message to Kathleen's Irish Pub.
Hosted as always by Pete Andrews

Hot Tamale Brass Band April 1st
Saturday 7:30pm-10:30pm | Franklin Opera House | 316 Central St, Franklin
The Hot Tamale Brass Band takes their audience on an exciting excursion into New Orleans jazz, festive Mardi Gras, funky second line parades, traditional Dixieland jazz and reverent New Orleans jazz funeral traditions. You may have seen them playing at Fenway Park... they have performed over 1500 pre-game shows for the Boston Red Sox since 1999.
Adults $20.00
Seniors & Students $18.00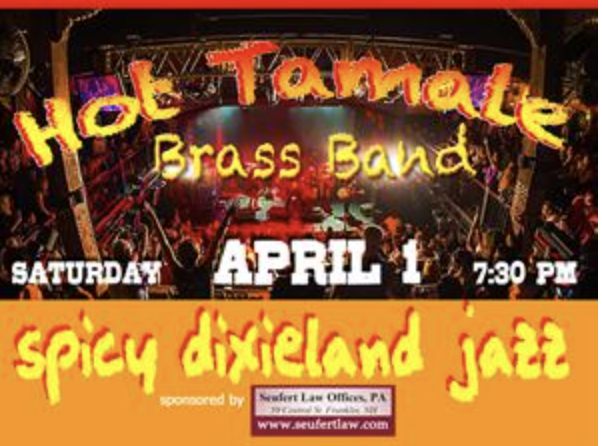 Live Music at The Grotto April 1st
Saturday 8pm | The Grotto | 5 Railroad Square, Plymouth
Come out for a fun night of music, great food and cold drinks!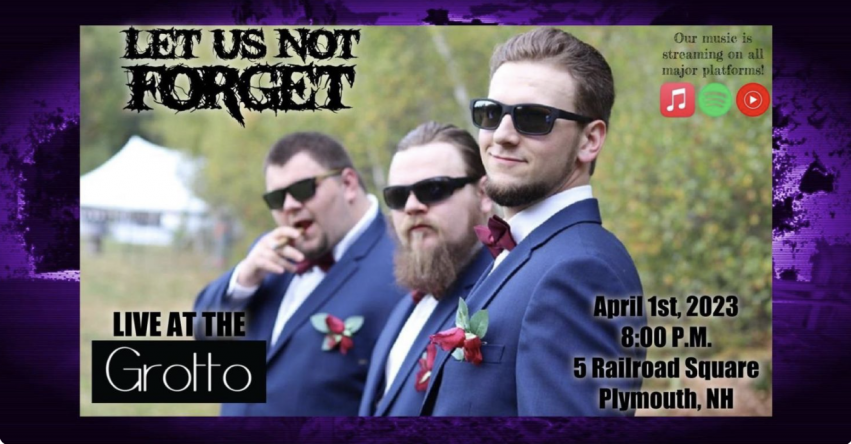 Selling Your Home?
Get your home's value - our custom reports include accurate and up to date information.
Get Home Value