Lake Life Local Events May 15th - May 21st
Wing Night at Tower Hill May 15th
Monday 5pm-11:45pm | Tower Hill Tavern | 264 Lakeside Ave Laconia
Jumbo wings with choice of sauce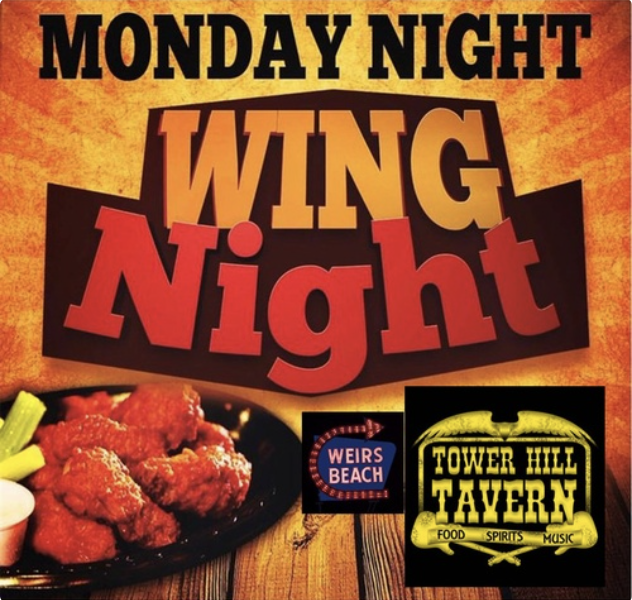 Open Mic at Patrick's May 15th
Monday 6pm-8pm | Patrick's Pub & Eatery | 18 Weirs Road Gilford
Paul Luff hosts an evening of fantastic open mic music. Please contact Paul Luff at [email protected] to reserve a spot to perform. It's a great night with many talented musicians from 6pm-8pm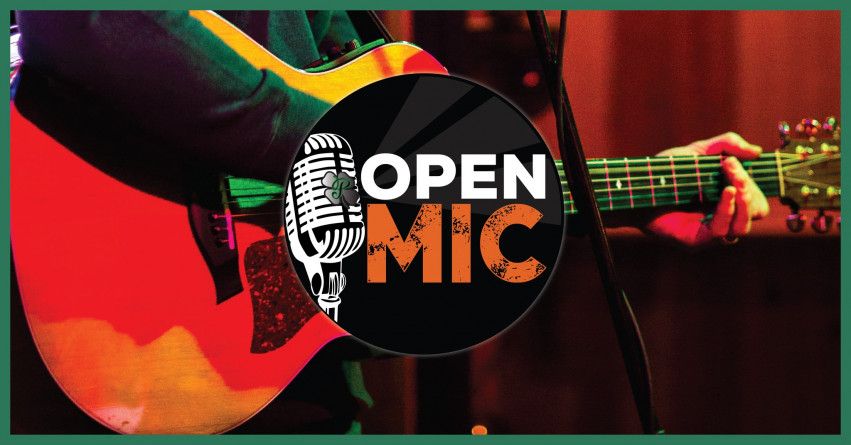 Trivia at Witches Brew May 15th
Monday 7pm-9pm | Witches Brew Pub | 59 Doe Ave. Weirs Beach, Laconia
Best Trivia on the Lakes Region - 7 Rounds: - 4 General Knowledge - Picture Round - Matching Round - Crossword Round Double-down feature - if you are feeling SMART! 1st Place - $25 Gift Cert. 2nd Place - $15 Gift Cert. 3rd Place - $10 Gift Cert.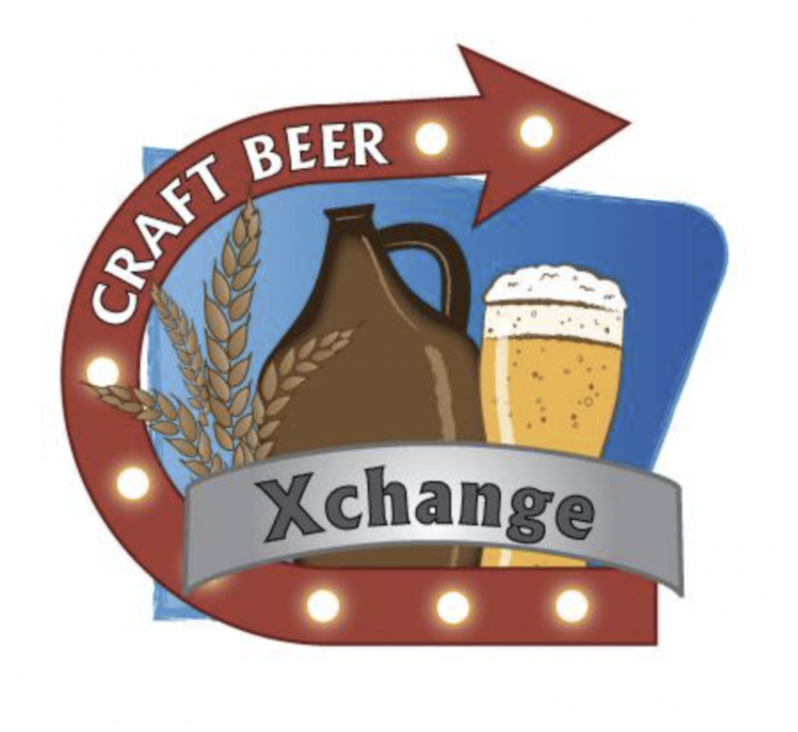 Viva Lakes Vegas May 17th
Wednesday 5pm - 8pm | Dockside Weirs Beach |
You Are Invited To....
Lakes Region Night!

Join us for an evening of fun dockside at the M/S Mount Washington. Celebrate along with the Lakes Region Businesses receiving the 2023 Annual Lakes Region Chamber's Business Inspiration Awards! The Chamber is proud to honor businesses that have completed new construction, renovations or environmental projects. These businesses have invested in their properties which results in an investment in our local economy.

Celebrate dockside aboard the M/S Mount Washington - the boat will not leave the dock!
Casino....rolls the dice - craps, roulette, maybe a little blackjack w/professional dealers

Games, 50's Music

Complimentary Welcome Drink (between 5-5:30pm)

Classic Party Hors d'oeuvres

Complimentary Chips & Chamber Funny Money

Floating Business Tradeshow

Cash Bar

There's a chance you may see some classic cars along the boardwalk!
Registration increases to $55/pp, 5/12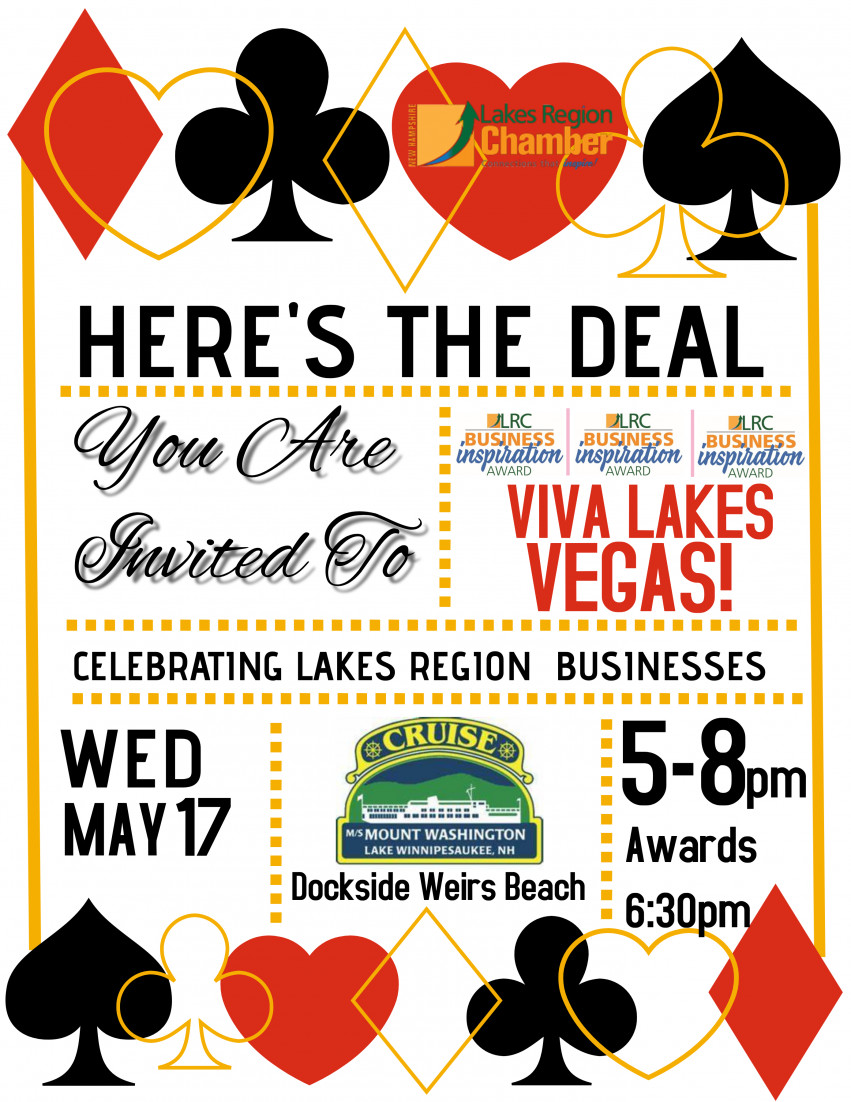 Trivia at Twin Barns May 17th
Wednesday 6pm-8pm | Twin Barns Brewing Company | 194 Daniel Webster Highway Meredith
Swing by the barn & join the fun!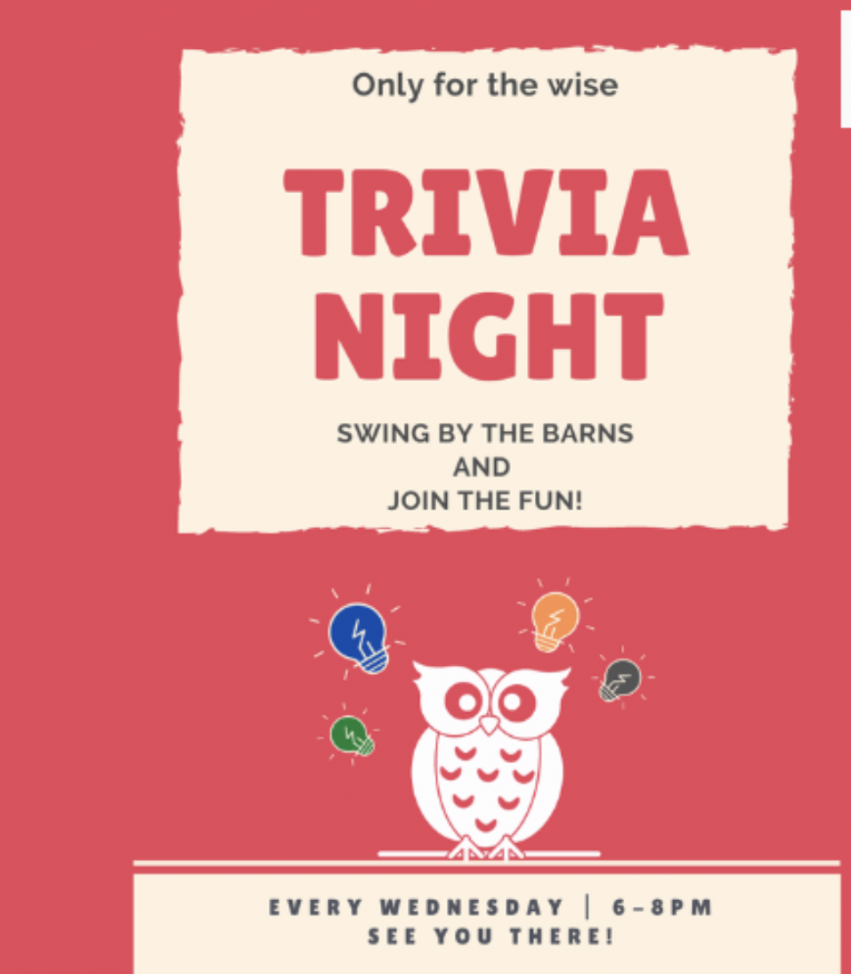 Community Challenge Shuffle at Patrick's May 17th
Wednesday 5pm | Patrick's Pub & Eatery | 18 Weirs Road, Gilford
The 2023 Community Challenge Committee and Patrick's Pub & Eatery are once again hosting a Spring Shuffle, with all proceeds going toward the Greater Lakes Region Children's Auction. Every Wednesday from April 19 through May 31, shufflers are welcome to walk or run from Patrick's to the Bank of NH Pavilion and back between 5-6pm, ending with a raffle at Patrick's at 6pm sharp. Shuffling is optional, but you must be present to win raffle prizes! Participants can register online by donating $10 per shuffle or $70 for the entire season to a Challenge Team of their choice at www.patrickspub.com/the-shuffle.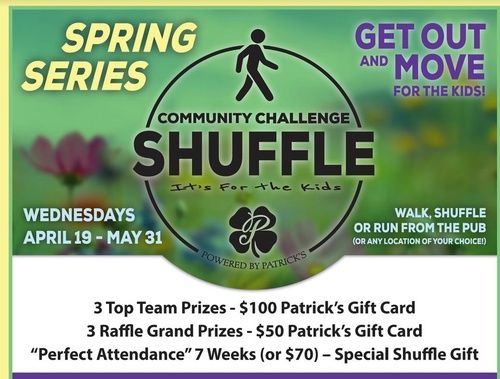 Trivia Night at Tower Hill May 17th
Wednesday 7pm-9pm | Tower Hill Tavern | 264 Lakeside Ave Weirs Beach
Team Play Trivia every Wednesday Night!
Game Time Trivia hosts a great version of general Knowledge trivia including Music and entertainment questions. Prizes for top 3 teams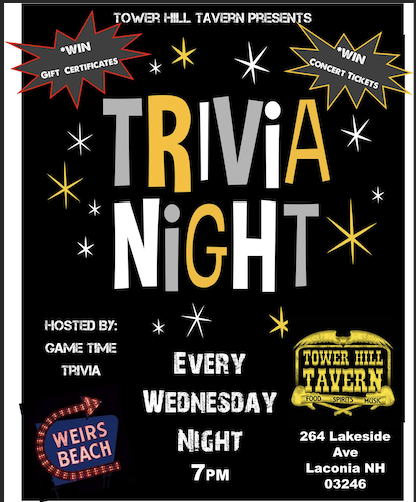 Wings & Pint Night at Twin Barns May 18th
Thursday 4pm-9pm | Twin Barns Brewing Company | 194 Daniel Webster Highway Meredith
Come by Twin Barns Brewing Company for some wings and pints. Your choice of Garlic/Parm. Buffalo, BBQ or Nashville Hots. They all pair very well with a proper beer, raised in a barn.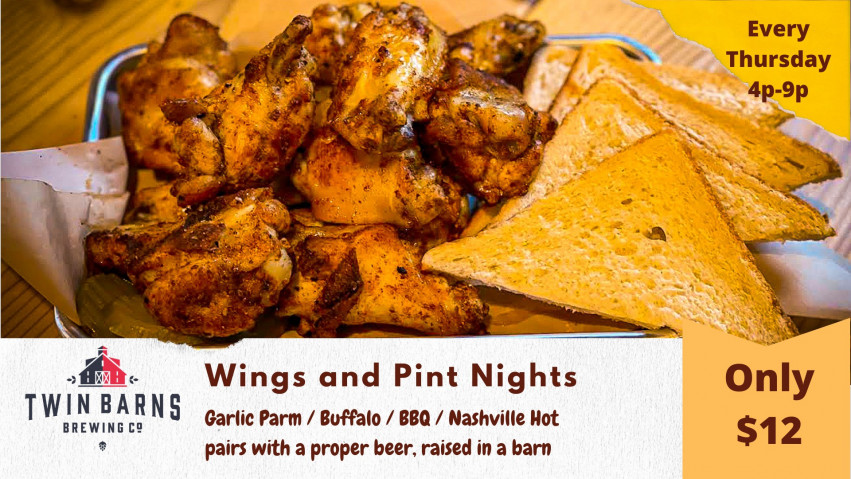 Live Music at Patrick's May 18th
Thursday 6pm-8pm | Patrick's Pub & Eatery | 18 Weirs Road Gilford
Live music hosted by Don "Sev" Severance with weekly guest musicians, performing a mix of soft rock, reggae and smooth jazz instrumentals.
Start your weekend early with live music from Sev and COMPANY.
Visit www.patrickspub.com/events to see the featured artist!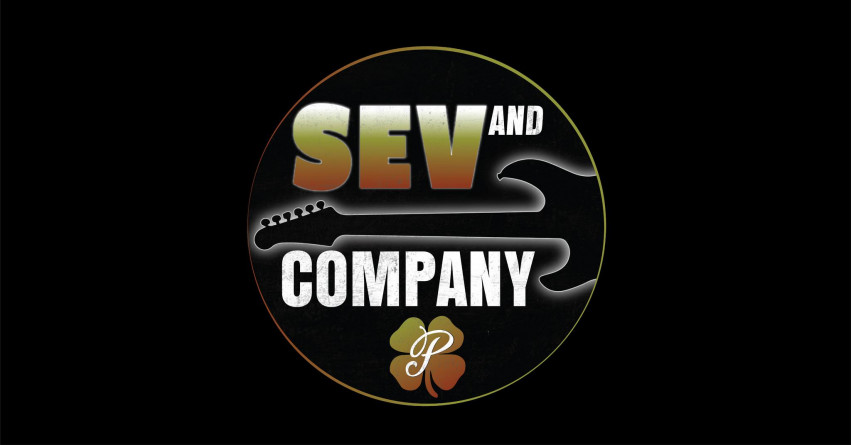 Corn Hole at Hobbs May 18th
Thursday 6:30pm | Hobbs Brewing Company | 765 NH RT 16, Ossipee
Join Carroll County Cornhole at Hobbs Tap Room every Thursday night for a weekly cornhole tournament!
$15 per person, 3 rounds of round robin switchholio (3 qualifying games with random partners every game) into a double-elimination playoff bracket.
Weekly tournament is open to the public; register in advance via the Scoreholio app (search Carroll County Cornhole), or upon arrival. Cash prizes weekly for the top scoring teams! Limited to 40 players per week, so register early!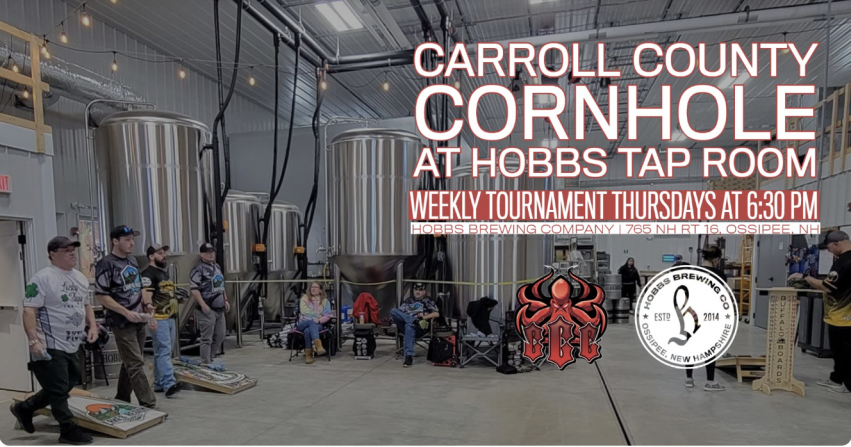 Veteran Corn Hole Tournament May 19th
Friday 5pm | Lake Life Realty | 87 Whittier Highway Moultonborough
Register your team while there is still time!

Eventbrite
The excitement is building as we approach the date for a night of fun!

Join us for a friendly competition benefiting Humble Grunt Work, with the entry fee covering delicious complimentary food and cocktails.
You'll also have a chance to win big with a 50/50 raffle, participate in the KBK Sports Silent Auction, and custom American Flag cornhole board sets for the 1st place winners, provided by Wicked Corn Hole! If you come in 2nd place, you'll receive a Yeti lunch cooler! Don't let the weather stop you from having a good time, as this event will go on rain or shine. So, bring your A-game and join us for a great cause!

Spectators are welcome! We hope to see you there!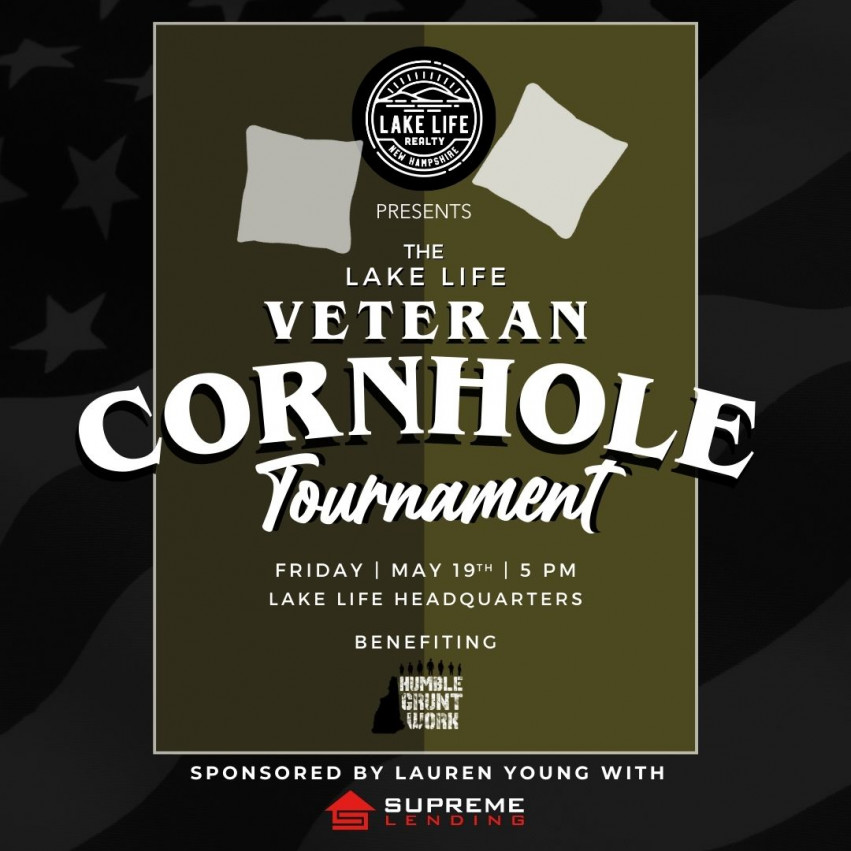 Piano Night at Hermit Woods May 19th & 20th
Friday and Saturday 6pm-9pm | Hermit Woods Winery & Eatery| 72 Main Street, Meredith
Join us from 6:00 to 9:00 on most Friday and Saturday nights for live piano music in the Loft. Hermit Woods is proud to have acquired one of the finest instruments around for a venue of our size, a Yamaha C3 Grand Piano, and we look forward to sharing its beautiful sound with you and showcasing some of our finest local and regional pianists. Enjoy a glass of our wine or a wine flight, a beer from one of New Hampshire's finest breweries, along with a light meal from our eatery, voted Best Sandwiches in the Lakes Region in 2021.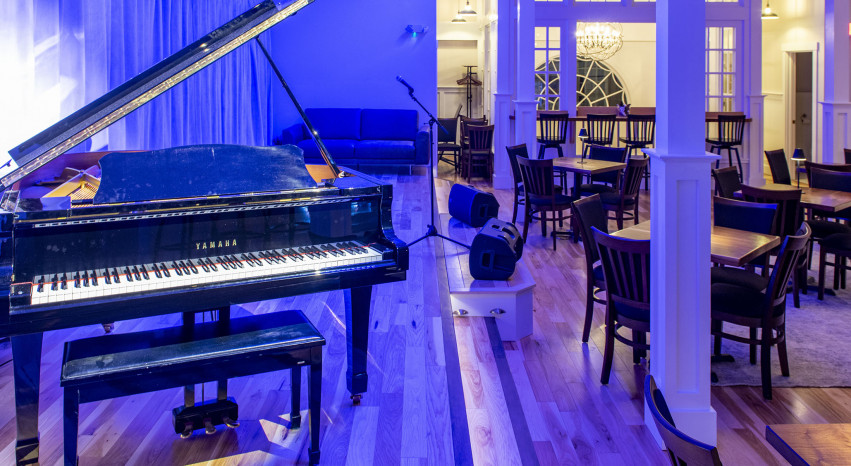 Live Music at Defiant Records May 19th
Friday 5:30pm-8:30pm | Defiant Records & Craft Beer| 609 Main Street, Laconia
Join us for a night of acoustic music with Colin Hart! Sit back with a cold pint and enjoy some original tunes by this amazing artist. You wont want to miss it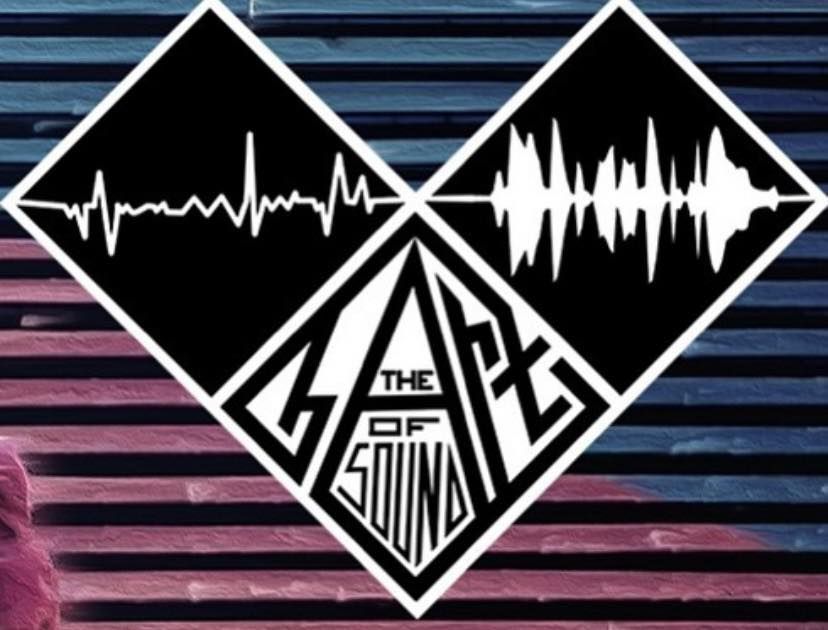 New England Coffee Festival May 19th & 20th
Friday and Saturday | Downtown Laconia
The New England Coffee Festival begins THIS Friday! Will you be joining us?!
Tickets are available at newenglandcoffeefestival.com.
There will be a lot happening on Saturday, May 20 that doesn't require a ticket! This includes visiting our Outdoor Adventure Experience in partership with UNH Extention where we'll highlight recreational organizations and businesses in the Lakes Region, visiting the Vendor Expo (where you'll find all the coffee!!) located in the Belknap Mill, The Belknap Mill, the Art Walk, access to Food Trucks, Beer Tent and Live Music in the Rotary Park Gazebo.
This will be a very family friendly event, so bring down the family and enjoy this community portion of the New England Coffee festival.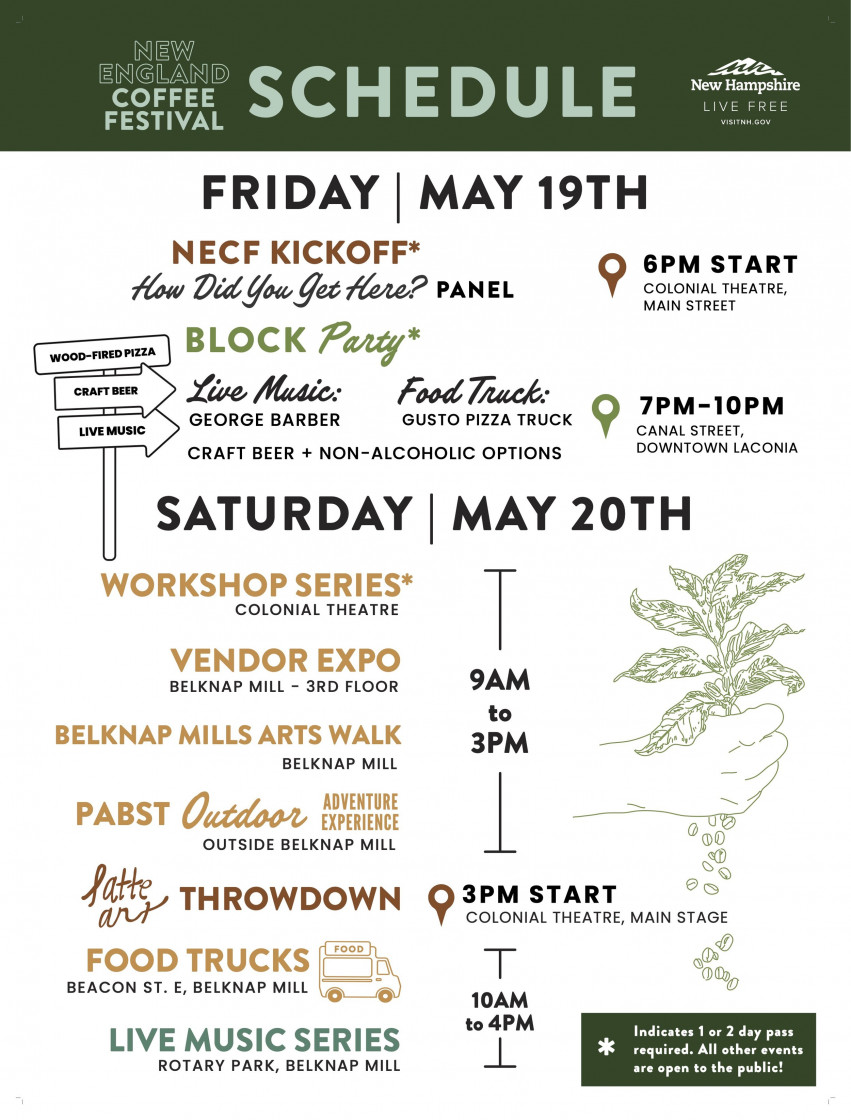 Winni Derby May 18th, 19th, 20th, 21st
Adult Division $55.00 per angler
Junior Division – Under 16 – $40.00 per angler
Grand Prize Salmon – $15,000 cash

Grand Prize Lake Trout – $7,500 cash

Youth Grand Prize – Nucanoe Kayak ($1300 value)
Our kick-off event be on Thursday, May 18, 2023, from 6pm to 8pm.
2023 Weigh Stations

Meredith Weigh Station
Goodhue Boat Company
31 LoveJoy Sands Road
Meredith, NH
Friday 8:00am – 6:00pm
Saturday 8:00am –6:00pm
Sunday 8:00am – Noon

Wolfeboro Town Docks
27 South Main Street
Wolfeboro, NH
Friday 8:00am – 6:00pm
Saturday 8:00am – 6:00pm
Sunday 8:00am – 11:00am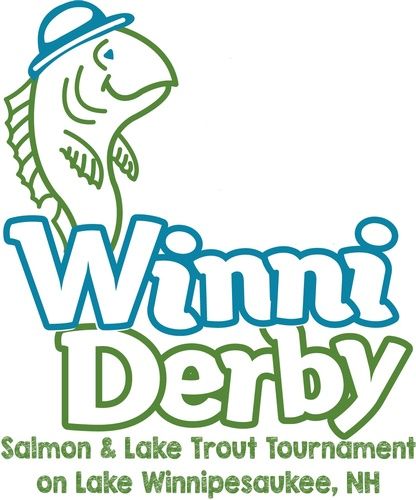 Moultonborough Town Yard Sale May 20th
Saturday 8am - 12pm | Registered Houses | Moultonborough
Don't miss out on our community yard sale event 𝐒𝐚𝐭𝐮𝐫𝐝𝐚𝐲 𝐌𝐚𝐲 𝟐𝟎𝐭𝐡!




Get a head start on planning your shopping route by checking out the approximate locations of homes that have already signed up!


Spoiler

Advent Moving Services LLC will be collecting items that don't sell to be donated to Heart and Hands Thrift Shop in Meredith!
If you have signed up already we will be in touch soon with further details!
Maps will be displayed on Lake Life Social media by 7am Saturday 5/20 and displayed at each location as well.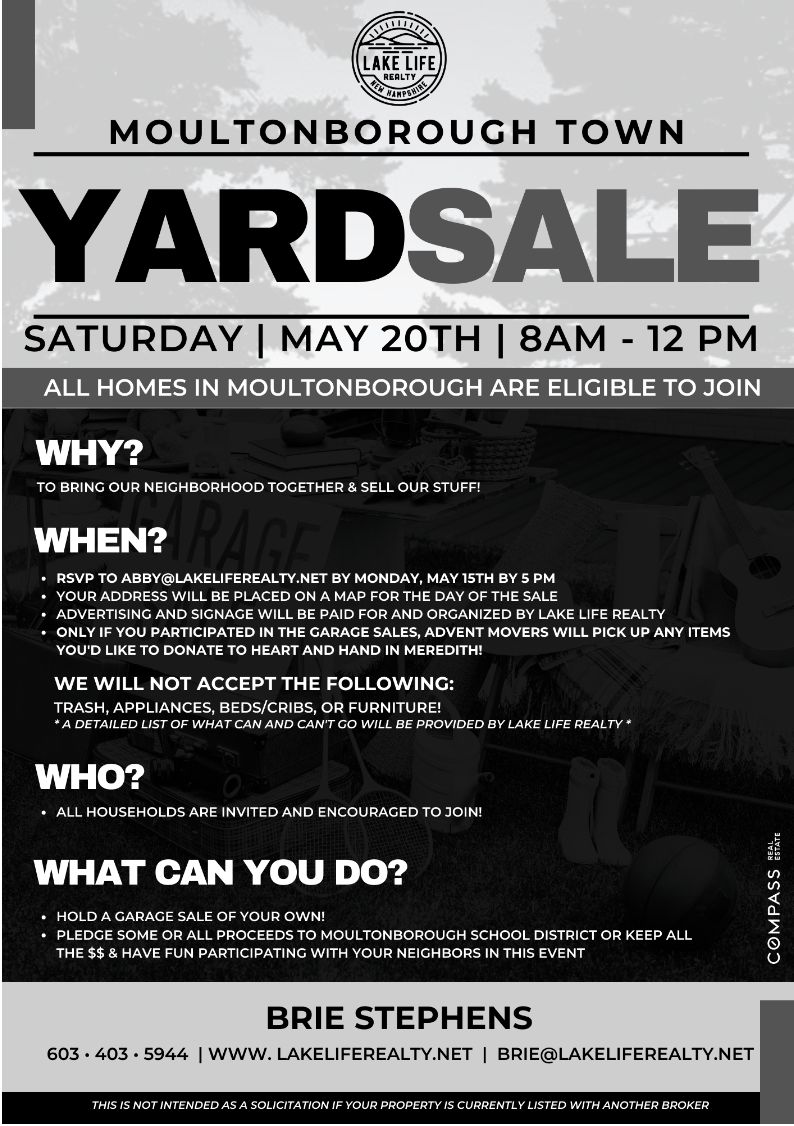 Lake City Steeplechase 5K May 20th
Saturday 10am | WOW Trail | 23 Park St, Laconia
To bring awareness to the challenges facing the two churches that begin and end this event, the Laconia Historical & Museum Society invites you to tie up your running shoes and enjoy a Saturday run or walk on the WOW Trail, a multi-use rail trail that runs through Laconia.
With help from two of Laconia's healthiest businesses, Studio 151 Fitness in Lakeport and The Downtown Gym in downtown Laconia, this 5K+ race will follow the WOW Trail and have obstacles to keep you moving and having a great time but also give you the option to stay on track to the finish line!
Round out your day with a tour of the United Baptist Church prior to the race start and take a moment to tour the magnificent Busiel House at located next door to St. Joseph Church.
Stay and enjoy refreshments provided by the St. Joseph Church Preservation Society, cheer on the other participants and take a chance on some great raffle prizes!
Then, refuel your energy levels at New England Coffee Fest, happening in downtown Laconia until 5:00pm.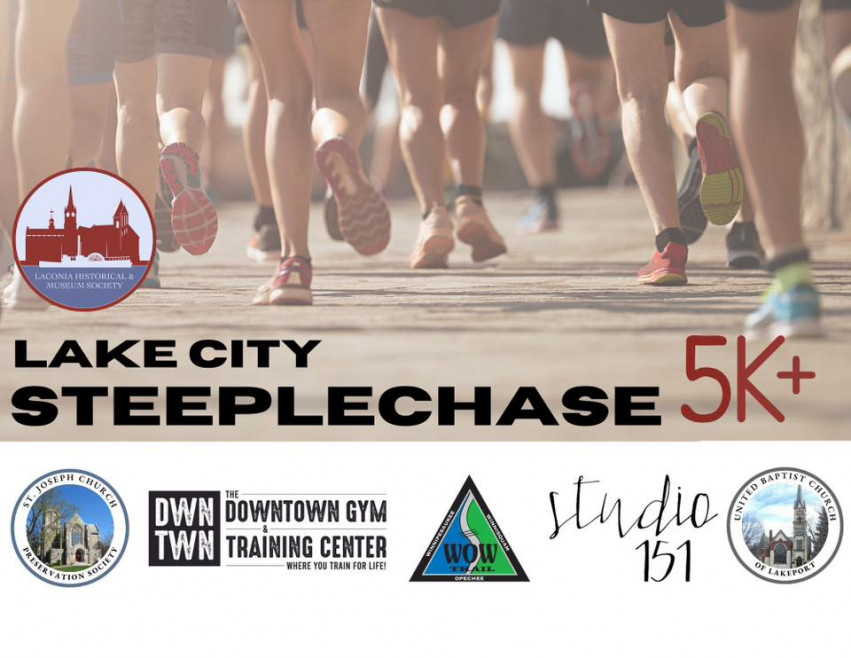 Live Music at Foster's Tavern May 20th
Saturday 7pm - 10pm | Foster's Tavern | 403 Main Street, Alton Bay
Justin Cohn takes the stage with originals and covers - yummy food and refreshing cocktails to enjoy while listening to the music!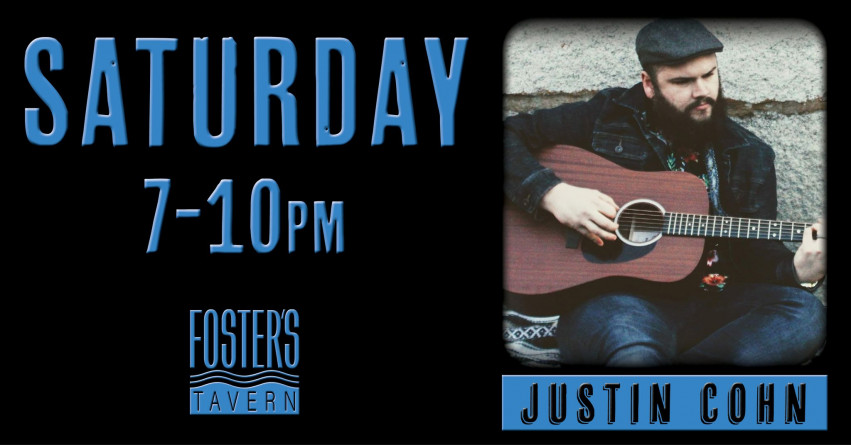 Live Music at Foster's Tavern May 21st
Sunday 4pm - 7pm | Foster's Tavern | 403 Main Street, Alton Bay
Hailing from the Upper Valley area of NH, musician Chris Powers will be here to entertain you on Sunday from 4-7pm!
Selling Your Home?
Get your home's value - our custom reports include accurate and up to date information.
Get Home Value