Lake Life Local Events May 8th - May 14th
Trivia at Witches Brew May 8th
Monday 7pm-9pm | Witches Brew Pub | 59 Doe Ave. Weirs Beach, Laconia
Best Trivia on the Lakes Region - 7 Rounds: - 4 General Knowledge - Picture Round - Matching Round - Crossword Round Double-down feature - if you are feeling SMART! 1st Place - $25 Gift Cert. 2nd Place - $15 Gift Cert. 3rd Place - $10 Gift Cert.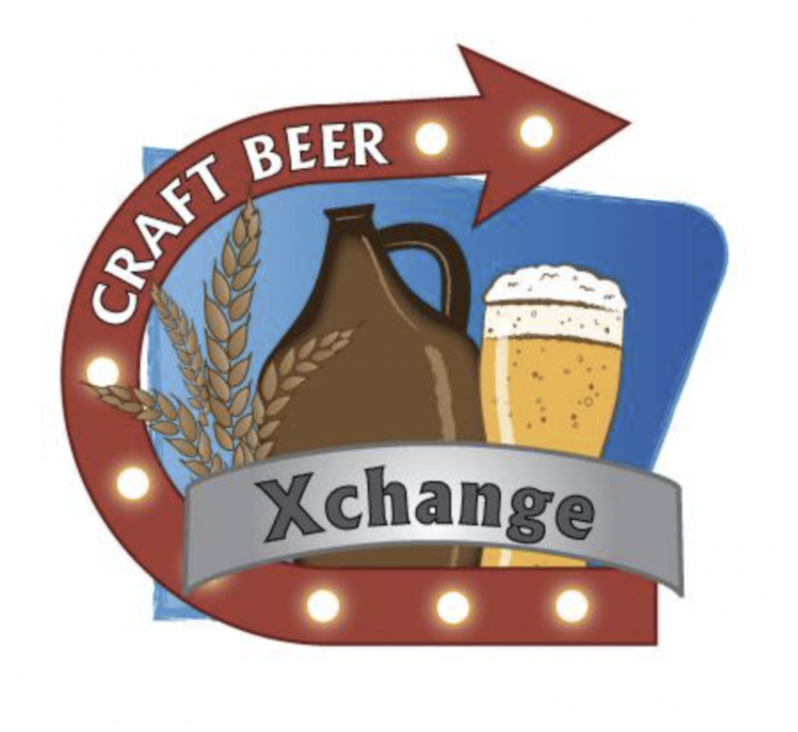 Wing Night at Tower Hill May 8th
Monday 5pm-11:45pm | Tower Hill Tavern | 264 Lakeside Ave Laconia
Jumbo wings with choice of sauce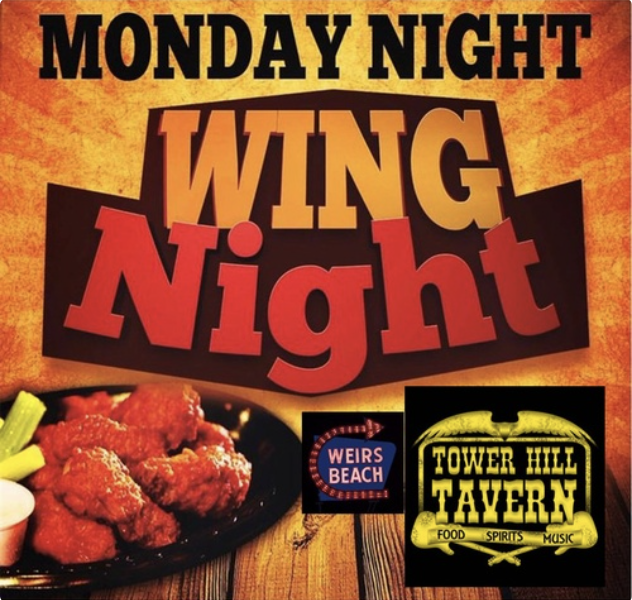 Open Mic at Patrick's May 8th
Monday 6pm-8pm | Patrick's Pub & Eatery | 18 Weirs Road Gilford
Paul Luff hosts an evening of fantastic open mic music. Please contact Paul Luff at [email protected] to reserve a spot to perform. It's a great night with many talented musicians from 6pm-8pm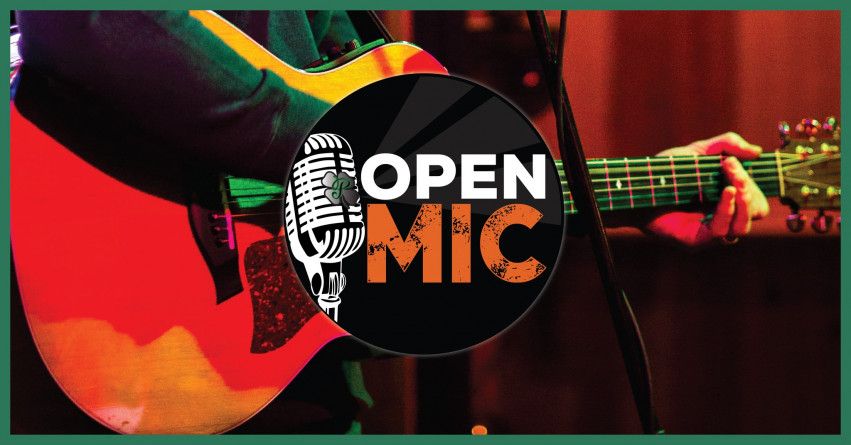 Trivia at Twin Barns May 10th
Wednesday 6pm-8pm | Twin Barns Brewing Company | 194 Daniel Webster Highway Meredith
Swing by the barn & join the fun!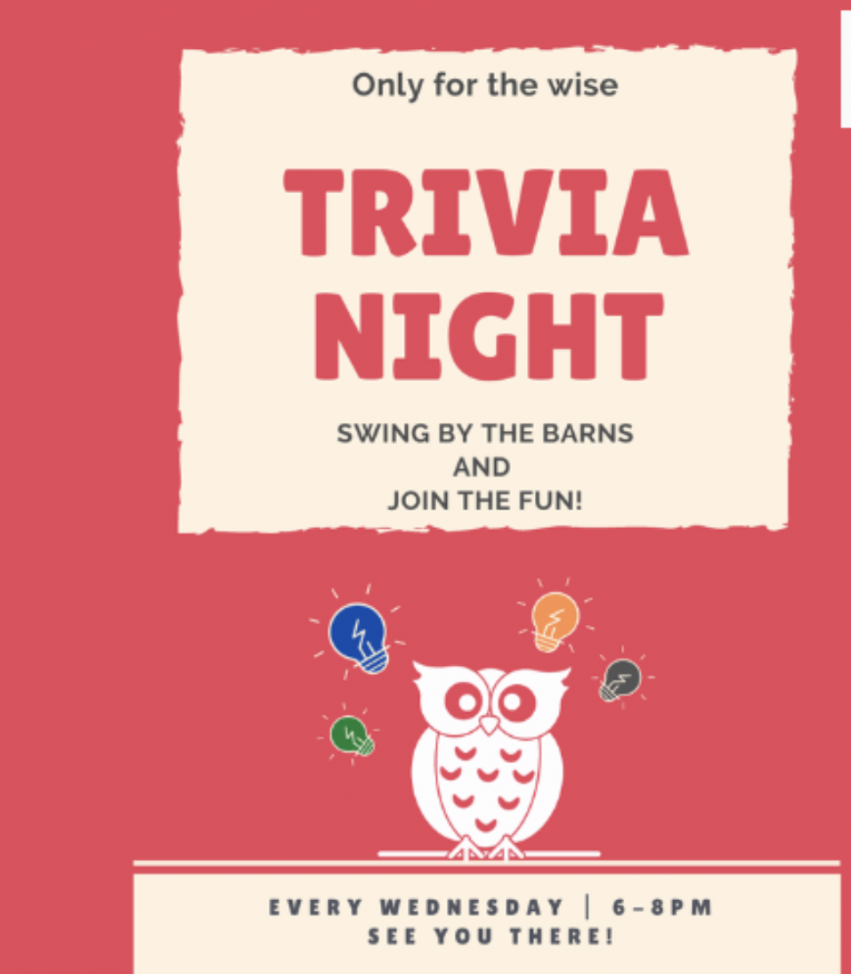 Community Challenge Shuffle at Patrick's May 10th
Wednesday 5pm | Patrick's Pub & Eatery | 18 Weirs Road, Gilford
The 2023 Community Challenge Committee and Patrick's Pub & Eatery are once again hosting a Spring Shuffle, with all proceeds going toward the Greater Lakes Region Children's Auction. Every Wednesday from April 19 through May 31, shufflers are welcome to walk or run from Patrick's to the Bank of NH Pavilion and back between 5-6pm, ending with a raffle at Patrick's at 6pm sharp. Shuffling is optional, but you must be present to win raffle prizes! Participants can register online by donating $10 per shuffle or $70 for the entire season to a Challenge Team of their choice at www.patrickspub.com/the-shuffle.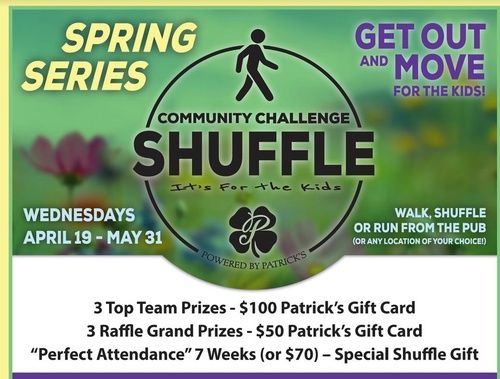 Trivia Night at Tower Hill May 10th
Wednesday 7pm-9pm | Tower Hill Tavern | 264 Lakeside Ave Weirs Beach
Team Play Trivia every Wednesday Night!
Game Time Trivia hosts a great version of general Knowledge trivia including Music and entertainment questions. Prizes for top 3 teams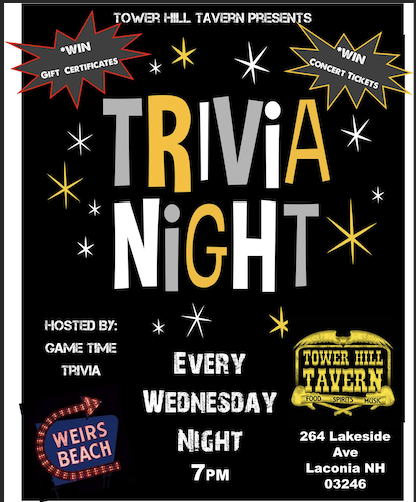 Grand Opening May 11th
Thursday 3pm-6pm | The Moose 103.3 Radio | 376 Union Avenue in Laconia
Grand Opening of the Lakes Region's newest radio station - The Moose 103.3FM!

ALL Business Owners that attend will receive 1 FREE WEEK of
ADVERTISING just by attending and can register for the grand prize of ONE YEARS FREE ADVERTISING on the MOOSE.

Tour the state of the art facilities, learn about programming and meet the team.
Refreshments will be served.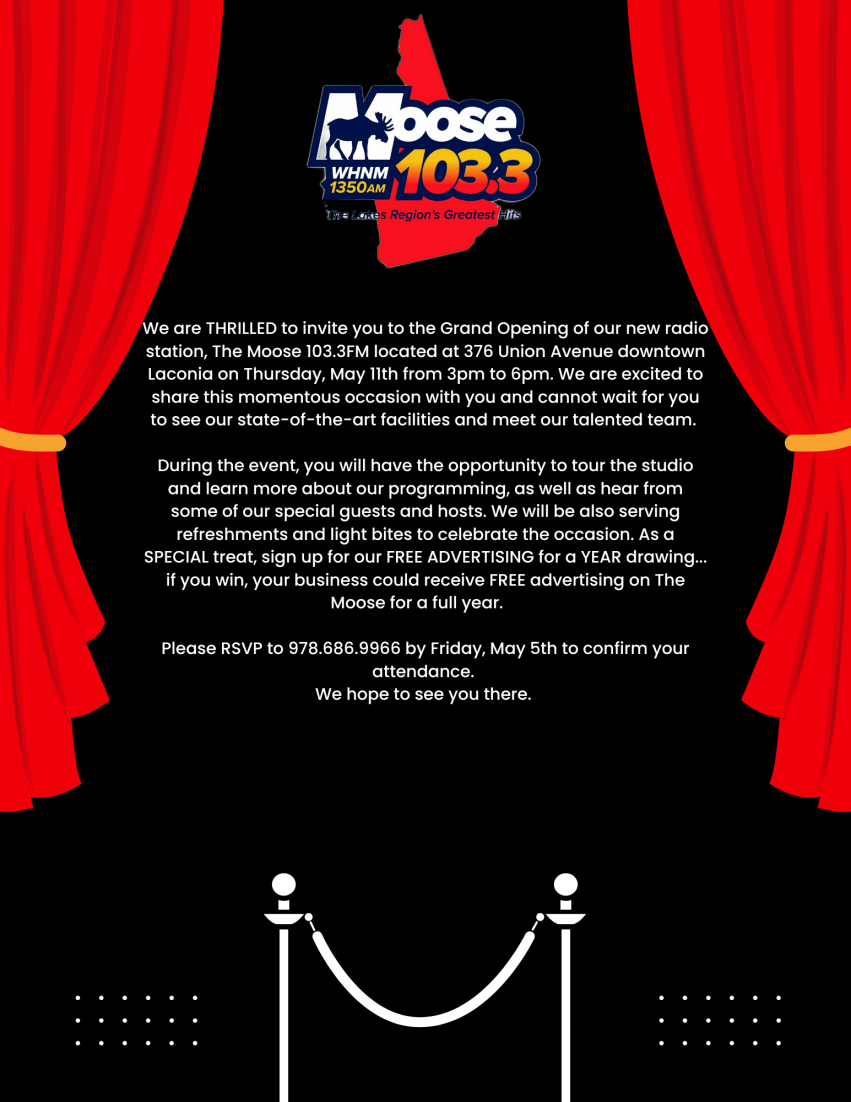 Wings & Pint Night at Twin Barns May 11th
Thursday 4pm-9pm | Twin Barns Brewing Company | 194 Daniel Webster Highway Meredith
Come by Twin Barns Brewing Company for some wings and pints. Your choice of Garlic/Parm. Buffalo, BBQ or Nashville Hots. They all pair very well with a proper beer, raised in a barn.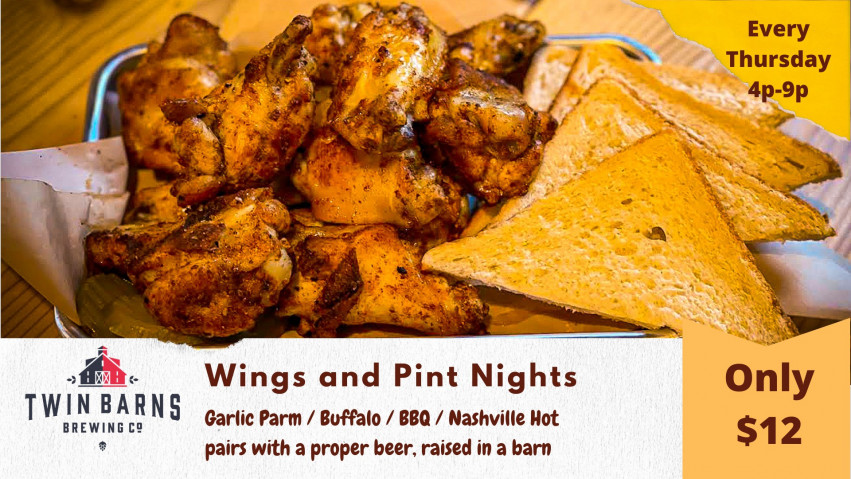 Live Music at Patrick's May 11th
Thursday 6pm-8pm | Patrick's Pub & Eatery | 18 Weirs Road Gilford
Live music hosted by Don "Sev" Severance with weekly guest musicians, performing a mix of soft rock, reggae and smooth jazz instrumentals.
Start your weekend early with live music from Sev and COMPANY.
Visit www.patrickspub.com/events to see the featured artist!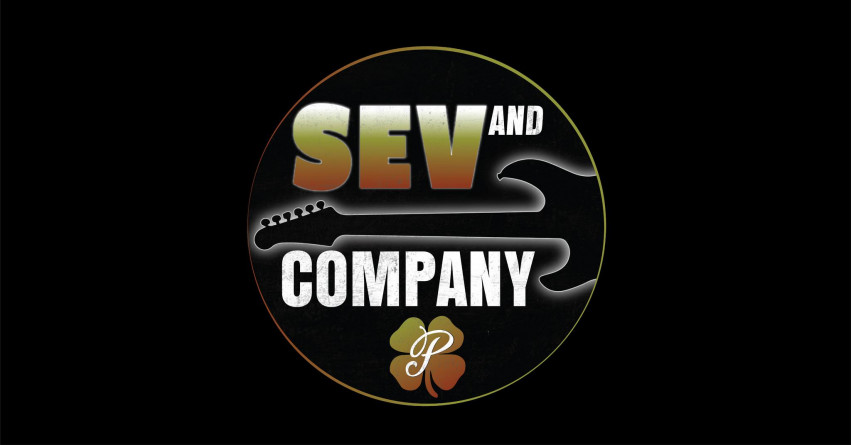 Corn Hole at Hobbs May 11th
Thursday 6:30pm | Hobbs Brewing Company | 765 NH RT 16, Ossipee
Join Carroll County Cornhole at Hobbs Tap Room every Thursday night for a weekly cornhole tournament!
$15 per person, 3 rounds of round robin switchholio (3 qualifying games with random partners every game) into a double-elimination playoff bracket.
Weekly tournament is open to the public; register in advance via the Scoreholio app (search Carroll County Cornhole), or upon arrival. Cash prizes weekly for the top scoring teams! Limited to 40 players per week, so register early!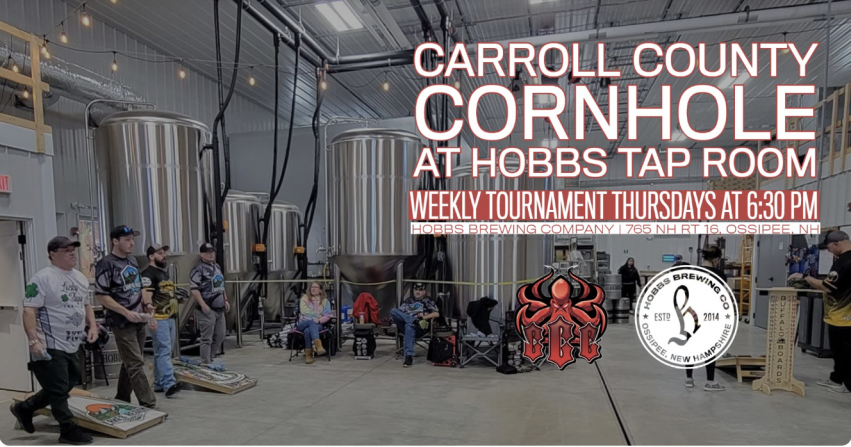 Dinner & Dance Fundraiser May 11th
Thursday 5pm-8:30pm | The Barn at Bull Meadow 63 Bogg Road | Concord
Community Action Program Belknap-Merrimack Counties, Inc. is hosting a fundraiser to support the Meals on Wheels and community meals program for older adults. There will be a silent auction, raffle items along with parting gifts. Tables seat 8 people, come for a night of fun to support your local the Meals on Wheels program. There will be a cash bar provided by the Barn at Bull Meadow.
Click on the link to purchase your tickets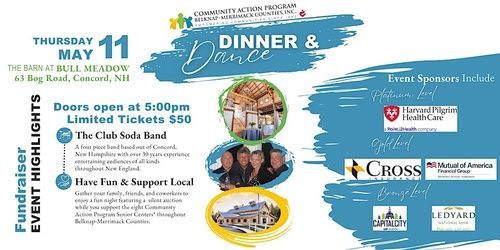 Live Music at Defiant Records May 12th
Friday 5:30pm-8:30pm | Defiant Records & Craft Beer| 609 Main Street, Laconia
We're excited to welcome White Steer Band to the house with great music and good times!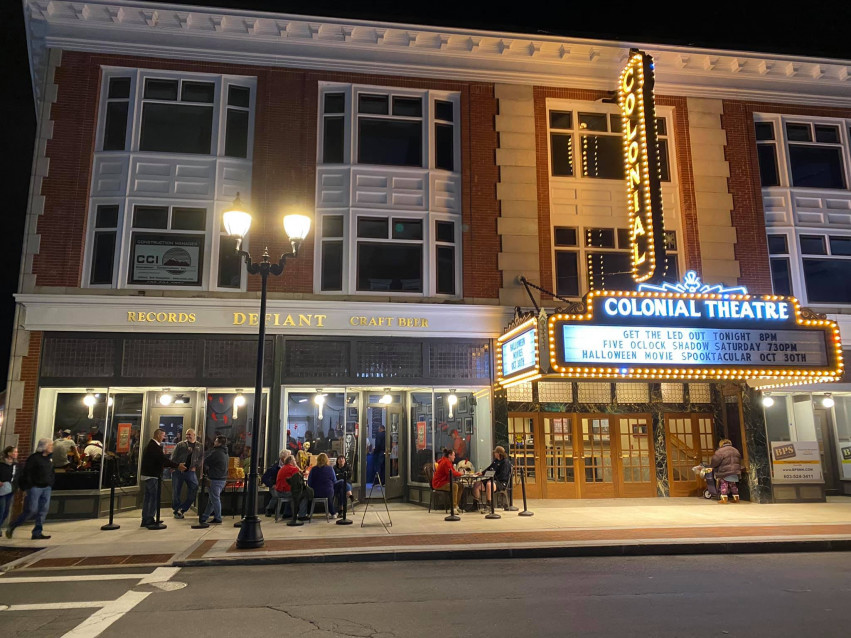 Live Music at Twin Barns May 12th
Friday 5pm-8pm | Twin Barns Brewing Company | 194 Daniel Webster Highway, Meredith
Mark your calendars and head over to Twin Barns Brewing Co. in Meredith, NH for great company, local beer, and live music with Kimayo!

Brought to you by NH Music Collective.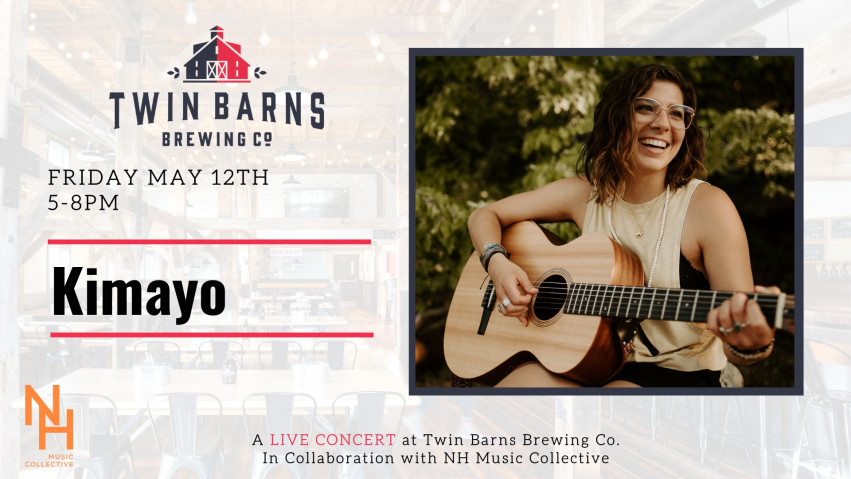 Rubbin' Butts Take Over at Twin Barns May 12th
Friday 12pm-8pm | Twin Barns Brewing Company | 194 Daniel Webster Highway, Meredith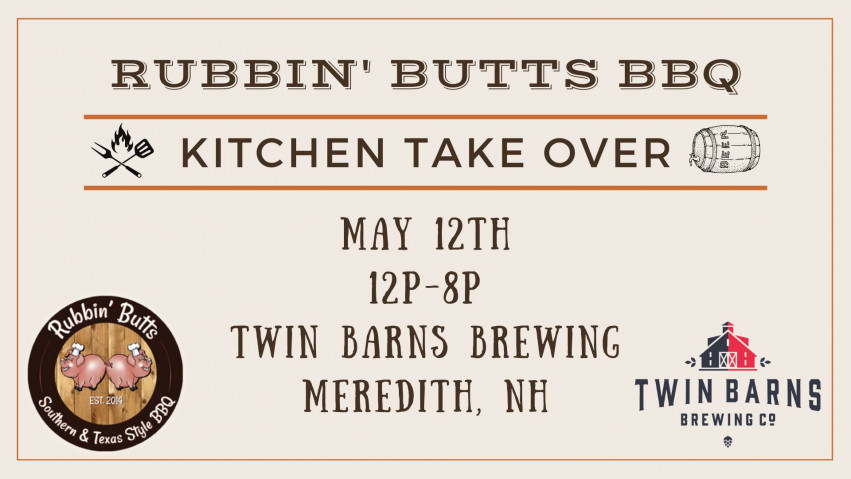 Piano Night at Hermit Woods May 12th & 13th
Friday and Saturday 6pm-9pm | Hermit Woods Winery & Eatery| 72 Main Street, Meredith
Join us from 6:00 to 9:00 on most Friday and Saturday nights for live piano music in the Loft. Hermit Woods is proud to have acquired one of the finest instruments around for a venue of our size, a Yamaha C3 Grand Piano, and we look forward to sharing its beautiful sound with you and showcasing some of our finest local and regional pianists. Enjoy a glass of our wine or a wine flight, a beer from one of New Hampshire's finest breweries, along with a light meal from our eatery, voted Best Sandwiches in the Lakes Region in 2021.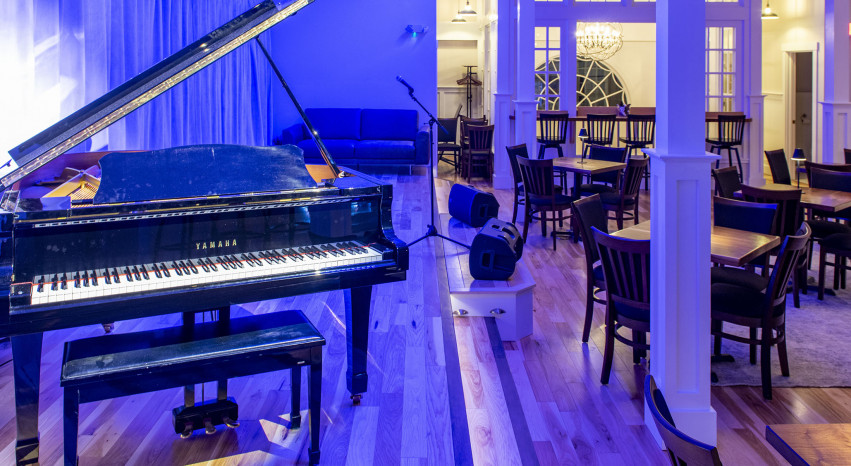 Food Truck Festival May 13th
Saturday 12pm-4pm | Tanger Outlets® | 120 Laconia Rd, Tilton
The Lakes Region Chamber, in collaboration with Tanger Outlets, will once again host thousands of Foodies enjoying the area's best food trucks! Mark your calendar
for a Spring Food Truck Festival featuring an Outdoor Beer Garden, hosted by UNO
Pizzeria & Grill, the return of Maeve's Mobile Cocktail Hour and a wicked awesome cornhole tournament with Wicked Cornhole powered by SCOREHOLIO.
10+ Food trucks | Cornhole | Music
Giant Yard Games | Tax Free Outlet Shopping

GET IN THE GAME! Pre-register your team for some Wicked Cornhole.

CLICK HERE TO PLAY!!
$60/team of 2 or $30/per person - Over $500 in prizes!!!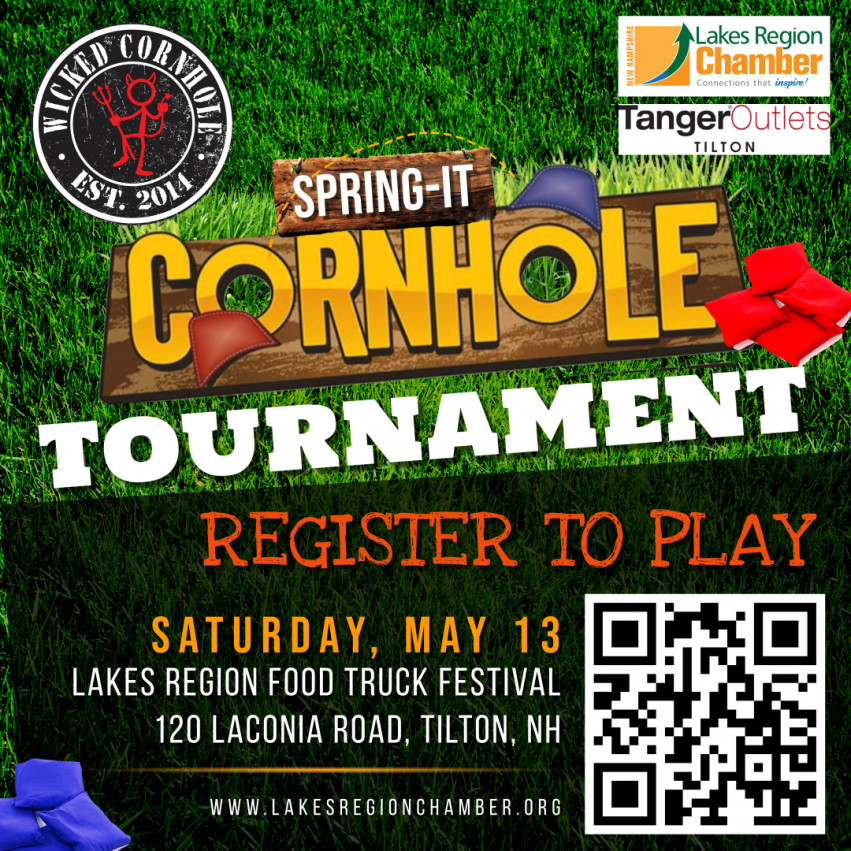 Notch Brewing at Witches Pub May 13th
Saturday 12pm-4pm | Witches Brew Pub | 59 Doe Ave. Weirs Beach, Laconia
Come check out some great crafty beer from Notch Brewing! The Witches is hosting the team from Notch with several of their craft brews, tastings, pint discounts, Swag and some surprising raffles!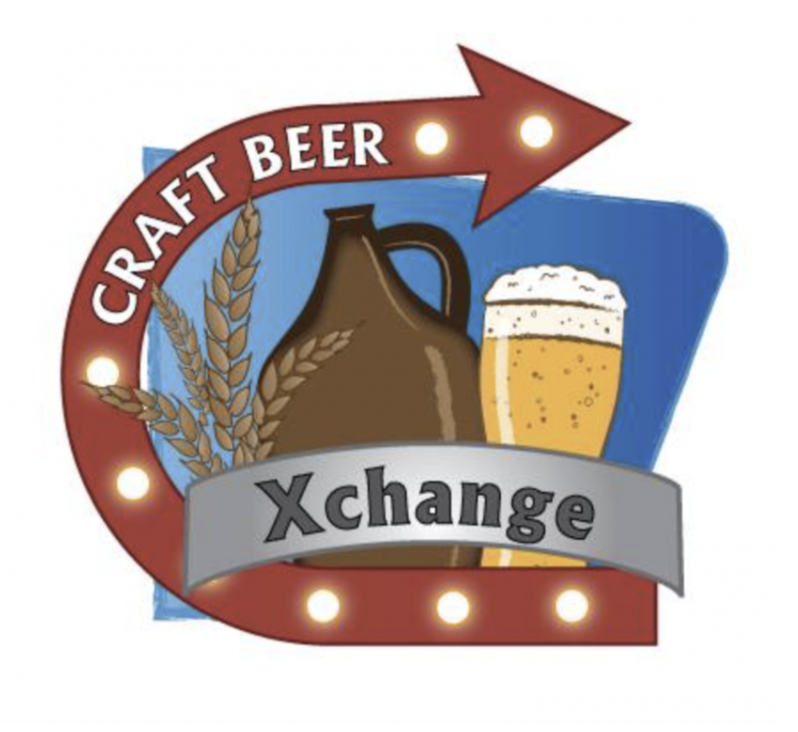 Beer and Chocolate Pairing at Twin Barns May 14th
Sunday 12pm-8pm | Twin Barns Brewing Company | 194 Daniel Webster Highway, Meredith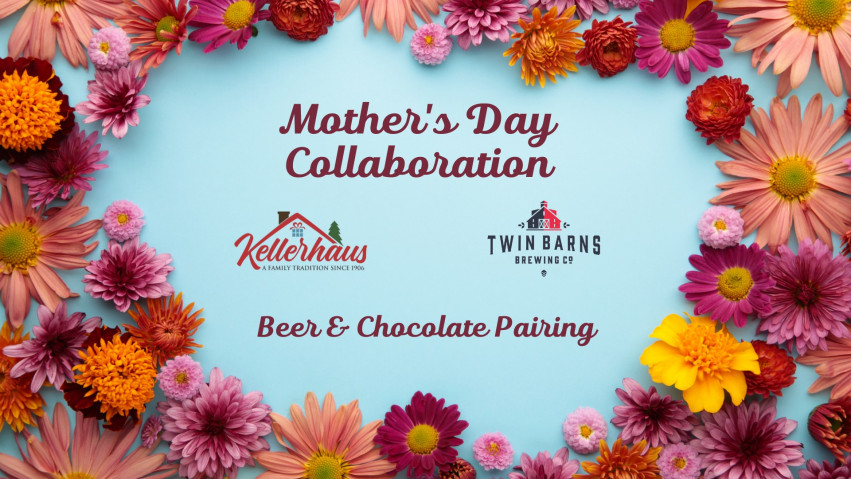 Selling Your Home?
Get your home's value - our custom reports include accurate and up to date information.
Get Home Value