Lake Life Local Events October 9th - October 15th
Fall Special Train Ride October 9th, 13th, 14th, 15th
Monday, Friday, Saturday, & Sunday 11am - 3pm | Meredith Station | 154 Main Street Meredith
Departure Time: 11:00AM
Please arrive 30 minutes prior to departure time
Advance Reservations Required | visit www.hoborr.com to purchase today
Our popular 4-hour Fall Special departs Meredith Station at 11:00AM and proceeds north where we'll travel up and over Ashland Summit. We'll then cross the Ashland High Trestle, pass through the Bonnie Brae Deer Farm and the Glove Hollow Christmas Tree Farm in Bridgewater before arriving in Plymouth, NH.
The Common Man Inn & Spa, located in Plymouth's North End is our destination. Once there, we'll step off the train and gather in the dining room to enjoy a tasty, hot buffet lunch. Following lunch, you're welcome to explore the Common Man Inn's extensive Gift Shop which is filled with NH-made products before returning to the train.
Hot Buffet Menu (items subject to change): Hot Soup, Roast Turkey, Stuffing, Mashed Potatoes, Gravy, Cranberry Sauce, Butternut Squash; Meat Lasagna; Veggie Stir Fry & Rolls & Butter. An assortment of fresh baked cookies will be on each table for dessert. A variety of chilled, bottled soft drinks & water as well as hot tea & coffee will also be available.
When lunch is over, we'll depart the Common Man Inn & Spa and proceed south through Plymouth and Bridgewater again before stopping in Ashland, NH at the restored Boston, Concord & Montreal Railroad Station. Upon arrival, members of the Ashland Historical Society, dressed in 1860's attire, will greet us and provide guided tours of their historic station.
Following the guided tours in Ashland, we'll re-board the train for the final time, then continue south over Ashland Summit, pass Lake Waukewan and make our way to Meredith Station where we'll arrive just after 3:00pm.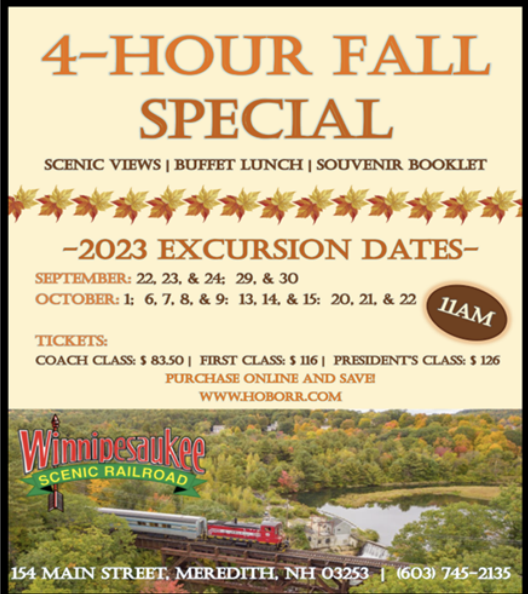 Wing Night at Tower Hill October 9th
Monday 5pm-11:45pm | Tower Hill Tavern | 264 Lakeside Ave Laconia
Jumbo wings with choice of sauce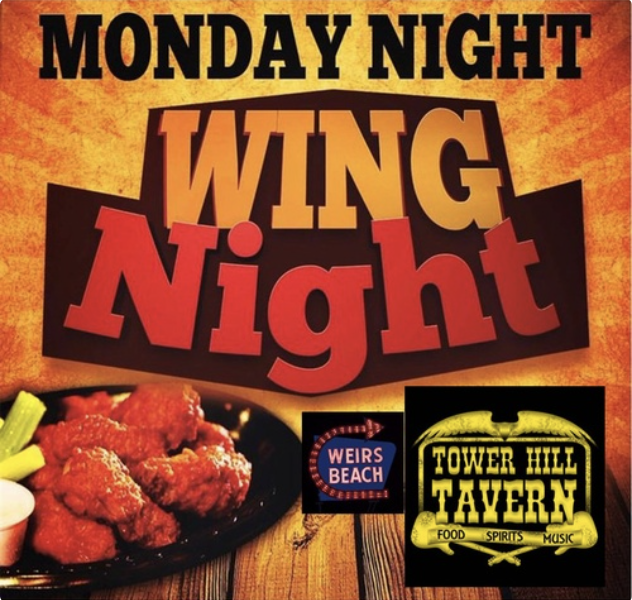 Open Mic at Patrick's October 9th
Monday 6pm-8pm | Patrick's Pub & Eatery | 18 Weirs Road Gilford
Paul Luff hosts an evening of fantastic open mic music. Please contact Paul Luff at [email protected] to reserve a spot to perform. It's a great night with many talented musicians from 6pm-8pm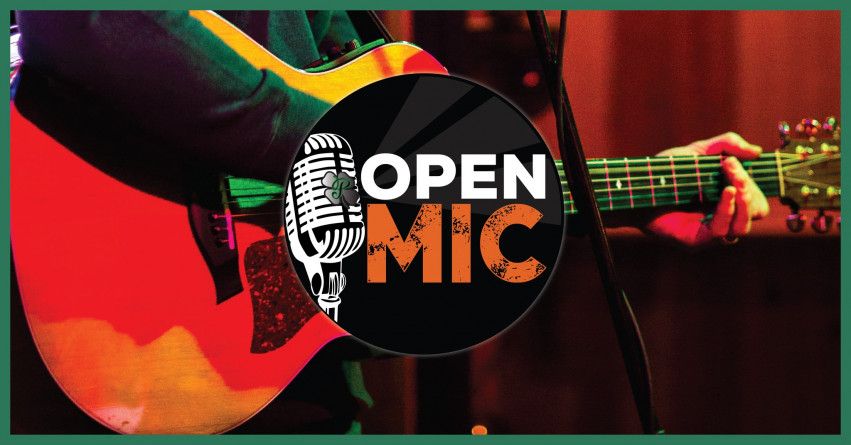 Lakes Region Chamber Meet October 10th
Tuesday 10am-12pm | Lakes Region Chamber Office | 383 South Main Street, Laconia
Membership Opportunity

Interested in learning more about member benefits?

Bring your laptop and join Joanne D Haight, Director of Membership & Community Engagement, for a conversation to learn more. Get to know other engaged members of the Chamber as you learn about the Member Information Center and the many ways to enhance your membership.


Just drop by the Lakes Region Chamber Office during Membership Opportunity on the second Tuesday of the month between 10:00 - Noon.

Trivia Night at Tower Hill October 11th
Wednesday 7pm-9pm | Tower Hill Tavern | 264 Lakeside Ave Weirs Beach
Team Play Trivia every Wednesday Night!
Game Time Trivia hosts a great version of general Knowledge trivia including Music and entertainment questions. Prizes for top 3 teams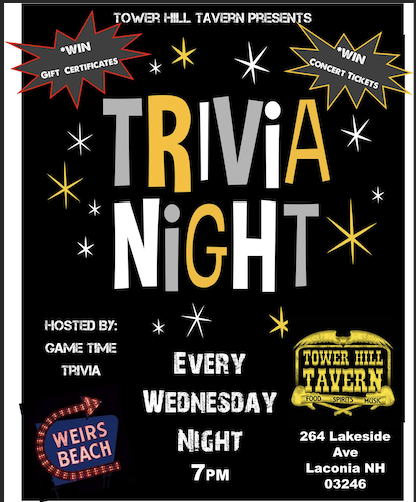 Wolfeboro Farmers Market October 12th
Thursday 12pm-3:30pm | 10 Trotting Track Road Rt 28, Wolfeboro
Outdoor Market 2023
Thursdays 12:00-3:30pm
May-October
The Nick Recreation Park
10 Trotting Track Rd, (Rt. 28)
Wolfeboro, NH 03894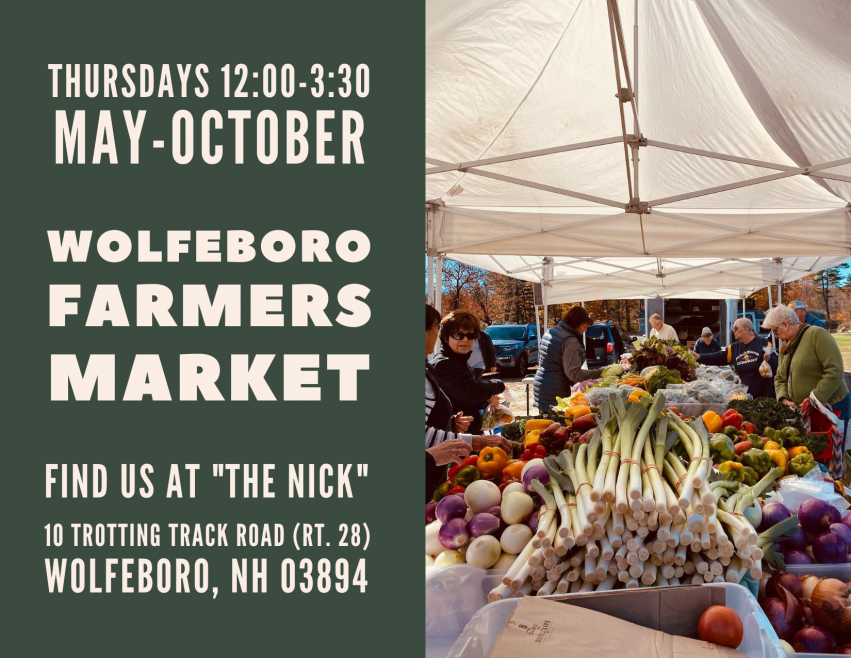 Wine Tasting at Karlins October 12 & 13th
Thursday & Friday 3pm-6pm | Karlins Wine and Cheese Provisions | 20 Main Street Meredith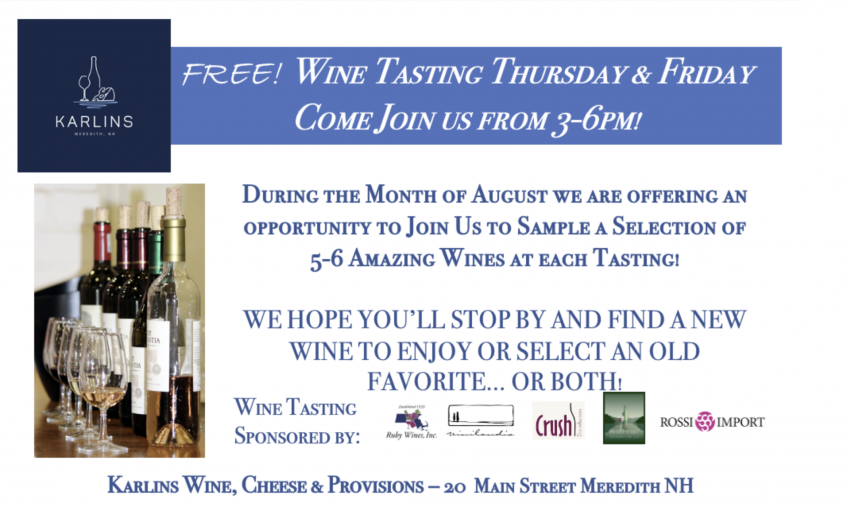 New Beer Release at Twin Barns October 12
Thursday 4pm-6pm | Twin Barns Brewing | 194 Daniel Webster Highway
CHEERS! Twin Barns Brewing has brewed our seasonal New Hampshire Pumpkin Fest Ale in support of NH Pumpkin Festival.

Join us from 4pm to 6pm at Twin Barns Brewing in Meredith to celebrate the 2023 release of the pumpkin ale! Grab a pint of the delicious seasonal ale and raise your glass. N.H. Pumpkinfest Ale is brewed with pumpkins in the mash and traditional spices. The fall flavors are layered on top of a rye-forward malt bill, which compliments the spice characteristics which traverse through every sip. Notes of cinnamon, toasted bread and caramel.

Yes! This delicious seasonal ale will also be available at area restaurants and store again this season. Look for the cans featuring our custom N.H. Pumpkinfest Ale logo. The supply will be limited, so stock up.

You might event find some NH Pumpkin Festival gear available at the event or stop by the Gilford Country Store.

This is great networking opportunity and a spectacular example of community collaboration all in support of NH Pumpkin Festival. Join us!

Live Music at Patrick's October 12th
Thursday 6pm-8pm | Patrick's Pub & Eatery | 18 Weirs Road Gilford
Live music hosted by Don "Sev" Severance with weekly guest musicians, performing a mix of soft rock, reggae and smooth jazz instrumentals.
Start your weekend early with live music from Sev and COMPANY.
Visit www.patrickspub.com/events to see the featured artist!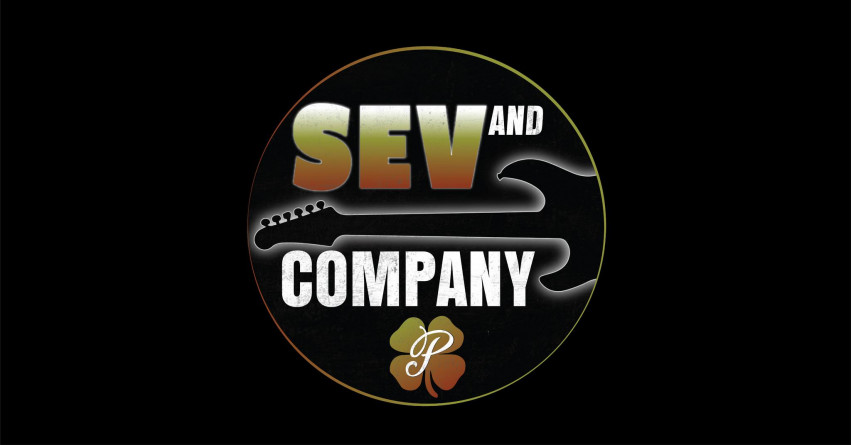 Music Bingo October 12th
Thursday 6pm-8pm | Axe & Ale Taphouse | 9 Old Lake Shore Rd Gilford
Holy cow Music Bingo and Buy One Get One 1/2 off Pizza - Thursday nights don't get any
better than this! Oh wait they do...:.it's 20% off Axe Throwing also! . Come in
early and stay until at least 8:00.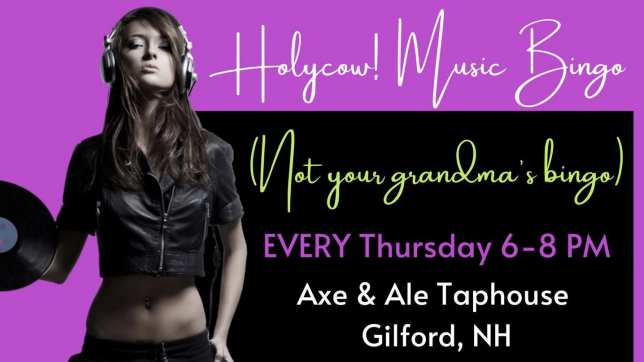 Corn Hole at Hobbs October 12th
Thursday 6:30pm | Hobbs Brewing Company | 765 NH RT 16, Ossipee
Join Carroll County Cornhole at Hobbs Tap Room every Thursday night for a weekly cornhole tournament!
$15 per person, 3 rounds of round robin switchholio (3 qualifying games with random partners every game) into a double-elimination playoff bracket.
Weekly tournament is open to the public; register in advance via the Scoreholio app (search Carroll County Cornhole), or upon arrival. Cash prizes weekly for the top scoring teams! Limited to 40 players per week, so register early!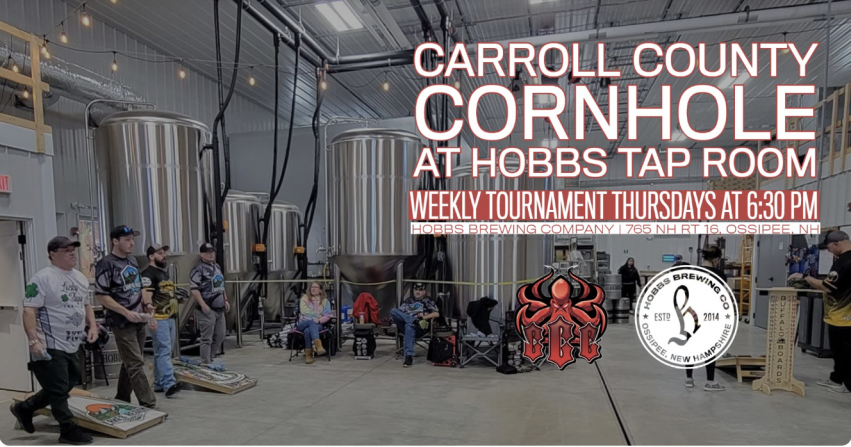 Pumpkin Figures on Display October 13th, 14th, & 15th
Friday - Sunday | Locations throughout the Lakes Region of NH - a map of locations will be published for you
Lakes Region Scholarship Foundation invites everyone to view Pumpkin Figures on display the weekend of October 13, 2023
2023 will be the 4th year for this fun filled event!
Registration opens September 1, 2023 - check our website for details as the date gets closer
[email protected]

This event is free and open to everyone!
More information found here including map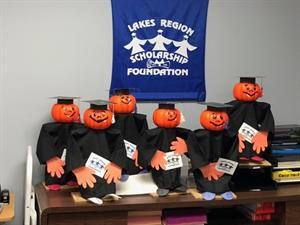 Club Sandwich October 13th
Friday 7pm - 9pm | 12 Main St, Center Sandwich, NH
Club Sandwich season 3 will run from June 2 through October 21, 2023, Doors open at 6:30pm
for the pre-show presentation. Folks are encouraged to enjoy the entertaining videos on our
multimedia screen.
7pm is showtime on Fridays and Saturdays! The show includes original and cover songs and
backstage stories, and surprises. John will feature songs from his twelve albums, tales from his
Las Vegas shows, television variety appearances, and his roles in Walt Disney movie musicals.
Each song is enhanced using our multimedia video screen. It's an evening of comedy,
inspiration, and nostalgia. And each show is unique!
>>John will be supported at his shows by bass player John Petruzzelli. Here's a bit about (the
other) John: John Petruzzelli is a multi-instrumentalist who has taught and performed in
Carroll Country region for the last twenty years. He holds two degrees, one in recording
technology and another in jazz studies. John owns and operates a recording studio in
Wolfeboro where he engineers and coaches aspiring artists in all avenues of music. Growing up
by the lake, under the banner of the Great Waters music festival, John witnessed some
legendary musicians come through the town of Wolfeboro, stars like Chuck Mangione, John
Pizzarelli and Bradford Marsalis inspired him to play and perform at any chance he could. At
Club Sandwich, JP will support JD on upright bass, providing a solid foundation, and a
complimentary musical voice to showcase some of America's greatest tunes.
After the show you can say hi to John, take selfies, and of course he'll be glad to autograph any
merchandise purchased at our gift shop. Admission is $35 in advance and at the door (unless
otherwise stated). Livestream tickets are $10. https://www.johndavidson.com/weekendshows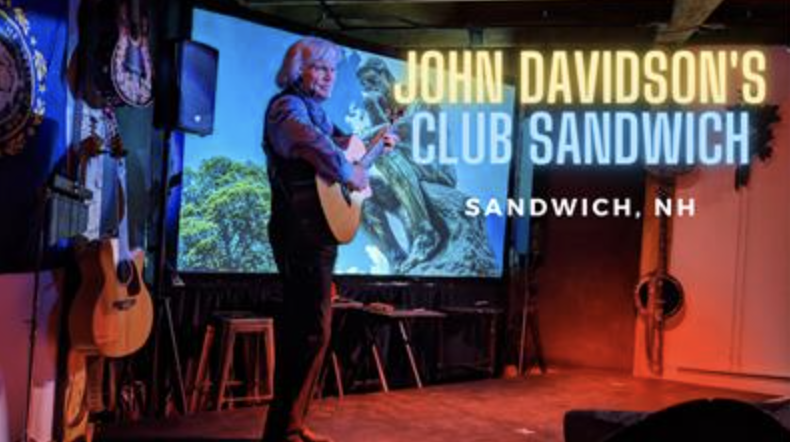 Bristol Farmer's Market October 14th
Saturday 9am-2pm | Mill Stream Park | NH Rout 3A Bristol
Vegetables - Fruits (in season) - Bacon - Chicken - Eggs - Baked Goods (quick breads, cookies, tarts, cakes, muffins, pies, breads, bagels) - Homemade Doggie & Horses Biscuits - Fly Fishing Lures - Quilts - Handmade Jewelry - Baskets - Amazing Woodworking of all kinds - Stuffed Animal Toys - Stuffed Toys with Accompanying Book - Aprons - Vera Bradley look-a-like totes - Cross body bags - Bird & Bat Houses - Accent Tables - Cutting Boards - Fresh Cut Floral Arrangements - Perennials - Garden Plant - Framed Photography - Semi-precious & Fresh Water Pearl Jewelry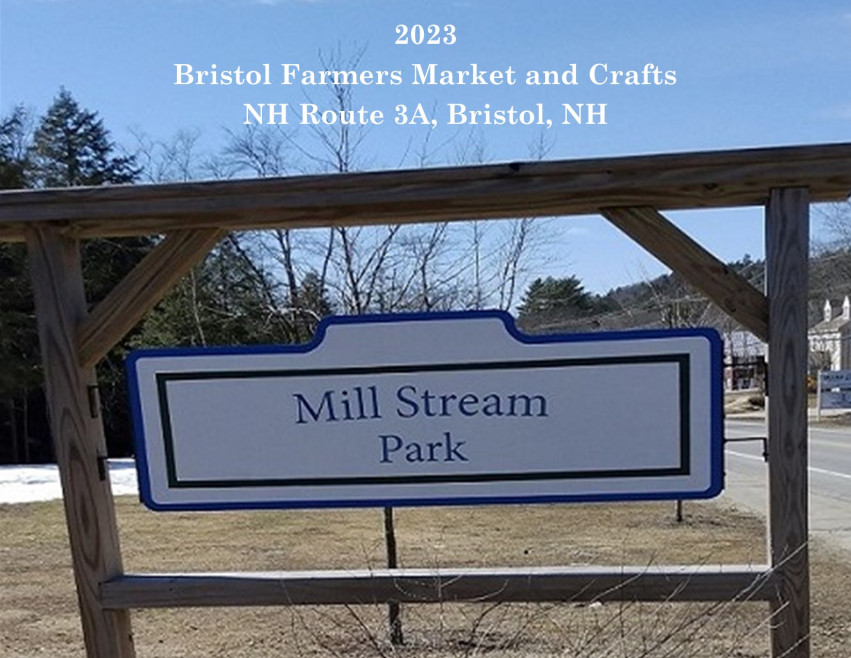 Tours at Hermit Woods October 14th
Saturday 11:30am-1pm | Hermit Woods Winery & Eatery| 72 Main Street, Meredith
Immerse yourself in the captivating narrative of Hermit Woods Winery as we offer you a truly special opportunity to hear the story firsthand from one of our esteemed Co-Founders. Prepare to be transported through time as you delve into the rich history of our winery, followed by an engaging tour of our production area and barrel room. During this captivating journey, you will gain intimate knowledge of the tools and equipment utilized in the meticulous craft of winemaking. By the end of the tour, you will possess a comprehensive understanding of the intricate process behind creating exquisite wines.
Following the tour, we extend a warm invitation to all our guests to partake in a guided wine tasting. Choose from a selection of six wines, carefully curated to showcase the diverse range of flavors and aromas that Hermit Woods has to offer. This immersive tasting experience will further deepen your appreciation for the artistry that goes into every bottle.
To fully savor this experience, we kindly ask you to set aside approximately one to one and a half hours of your time. As a token of our gratitude for joining us on this enlightening journey, all participants of the tour will be granted the esteemed title of "Club Member For The Day," entitling you to exclusive benefits and privileges.
Join us at Hermit Woods Winery and allow us to guide you through a truly unforgettable experience where wine, history, and passion converge in perfect harmony.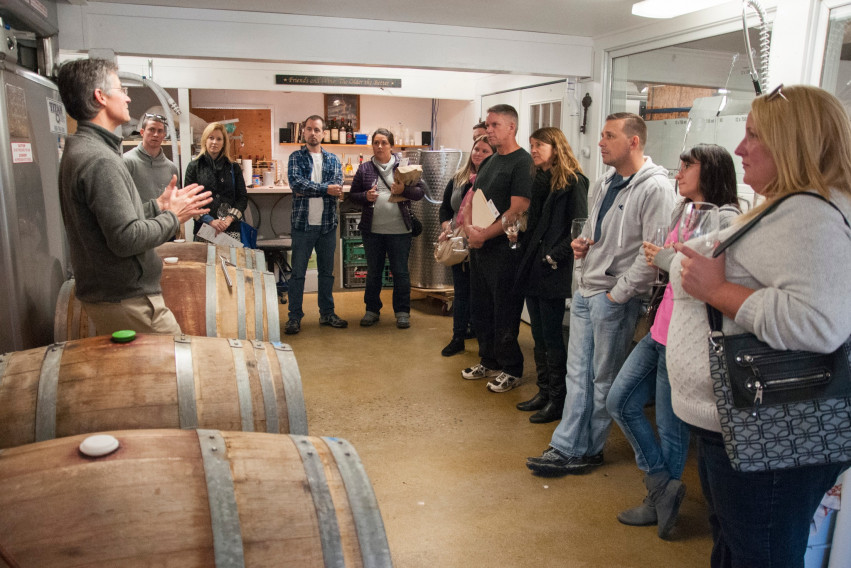 Selling Your Home?
Get your home's value - our custom reports include accurate and up to date information.
Get Home Value