Lake Life Local Events September 26th-October 2nd
Food Truck Tuesday with Good Eatz 603 Sept 27th
Tuesdays 11am-2pm | Lake Life Realty HQ | 87 Whittier Hwy, Moultonborough
Benefiting the New Hampshire Humane Society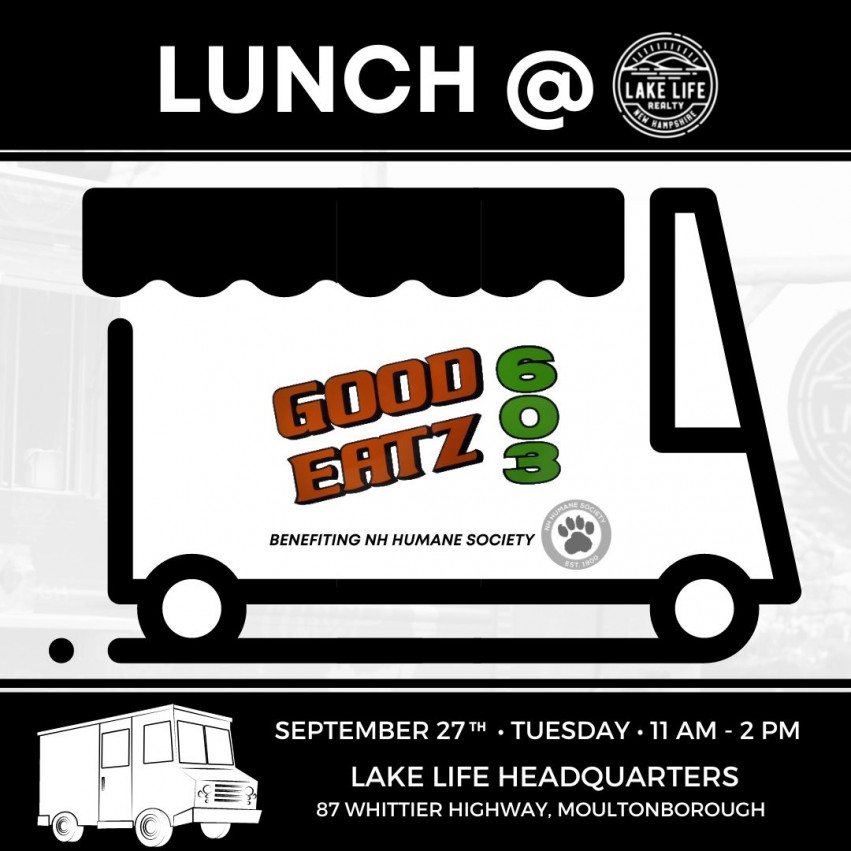 Watercolor Wednesdays September 28th
Wednesday 1-3pm| Lakes Region Art Gallery | 120 Laconia Road, Tanger Outlet Suite 300 (next to Levi) Tilton
Registration required: [email protected] or 603-472-3733
She Built This- Lakes Region September 29th
Thursday 5-9pm | Lakeport Opera House | 781 Union Ave, Laconia
A collaboration brought to you by Emily Aborn, Founder of She Built This, and Jodie Gallant, CEO of JMG Marketing & Business Strategy
Come for a transformative (and FUN) evening of relationship-building, thought leadership, and stories that will propel you towards growth!
Lakes Region CEO, Jodie Gallant, and She Built This Founder, Emily Aborn, are co-hosting and co-presenting at this stunning venue and featuring a roundtable discussion with five local NH entrepreneurs.
We invite you to soak up plenty of time to network and chat with local entrepreneurs and featured vendors, enjoy delicious hors d'oeuvres made by local restaurants, and create meaningful connections with our community of entrepreneurs and professionals from New Hampshire, Massachusetts, Rhode Island, Maine, Vermont, Connecticut, and beyond!
Hear from our carefully-curated panel of five successful and inspiring New Hampshire entrepreneurs as they share their experiences and insights. You'll laugh, learn, and walk away with a deep sense of connection and inspiration.
We're highlighting the stories and knowledge of fearless entrepreneurial women committed to shaking up the narrative and giving local leaders, business owners, and individuals permission to stand up and take action on their ideas and passions, through the power of community.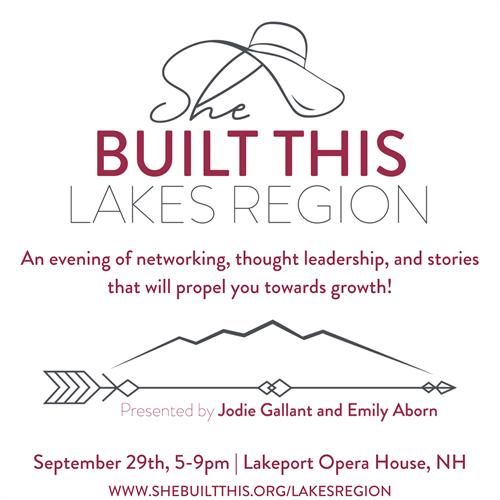 Jackie & Gary: Singing The Good Old Songs Again September 29th
Thursday 7-9pm | Club Sandwich | 12 Main St, Center Sandwich
Jackie and Gary: Singing The Good Old Songs Again return to John Davidson's venue in beautiful Sandwich, NH. A true listening room experience in a converted barn, hosted by John.
Jackie Davidson (original member of the famed Grammy award winning 'The New Christy Minstrels') and Gary Brandt (popular folk performer and accomplished songwriter) bring their energetic show 'SINGING THE GOOD OLD SONGS AGAIN' to Club Sandwich. Since 2009, Jackie and Gary have been continuing the rich tradition of American Folk Music across the country. Come join us for a memorable evening of songs, stories, laughter and fun!!
Alex Minasian Trio September 29th
Thursday 6-9:30 | Hermit Woods Winery | 72 Main St, Meredith
The Alex Minasian Trio honors the legends of jazz music, such as Charlie Parker and Thelonious Monk.
$25

Line Dancing September 30th
Friday 7-9pm | Tower Hill Tavern | 264 Lakeside Ave, Weirs
Learn how to line dance!
Upstairs Tower with Sharon Atwood.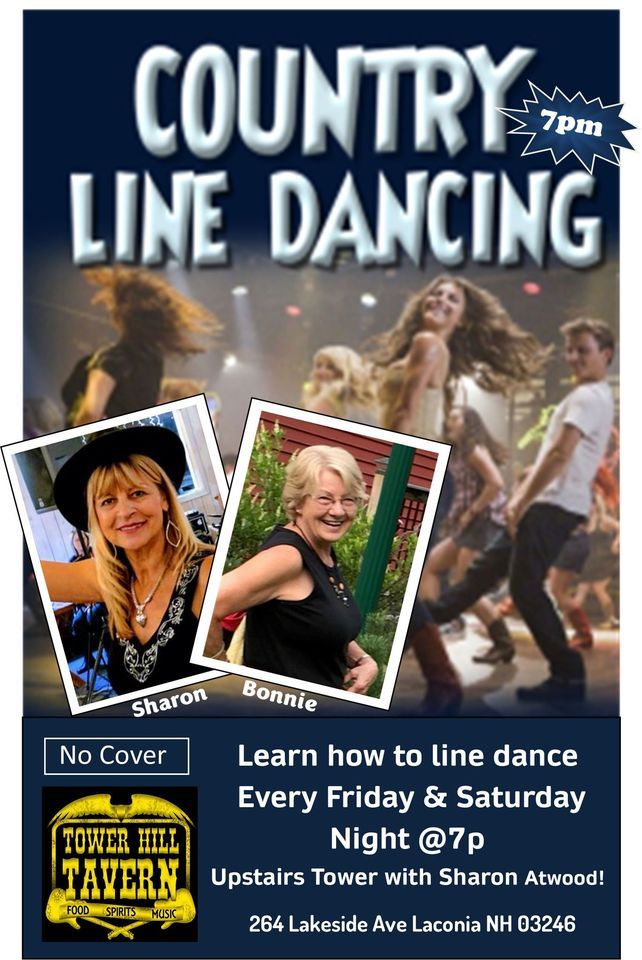 John Davidson September 30th
Friday 7-9pm | Club Sandwich | 12 Main St, Center Sandwich
Every weekend from June 24 through October 2, 2022, John is performing at CLUB SANDWICH. Doors open at 6:30pm for the pre-show presentation (1:30 on Sundays). Folks are encouraged to enjoy the entertaining videos on our multimedia screen.

7pm is showtime on Friday and Saturday; 2pm on Sundays! The show includes original country/folk songs and backstage stories, special guests and surprises. John will feature songs from his twelve albums, Las Vegas shows, television variety appearances, and his roles in Walt Disney movie musicals. Each song will be set in a different New Hampshire location using our video screen. It's an evening of comedy, inspiration, and nostalgia.

After the show you can say hi to John, take selfies, and of course he'll be glad to autograph any merchandise purchased at our gift shop. Admission is $30 in advance, $30 at the door (unless otherwise stated).

We recommend dining in the historic village of Sandwich before the show at The Corner House Restaurant, (right next door!) or the latest addition to the Sandwich food scene, The Foothills, which is right across the street.

Room capacity is 44, so we recommend getting tickets early. We only have popcorn and water at the club, but you can bring in whatever you'd like.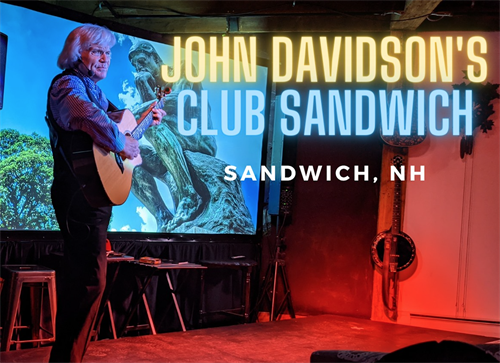 Sam Hammerman September 31st
Friday 6-9pm | Twin Barns Brewing Co | 194 Daniel Webster Hwy, Meredith
Performing live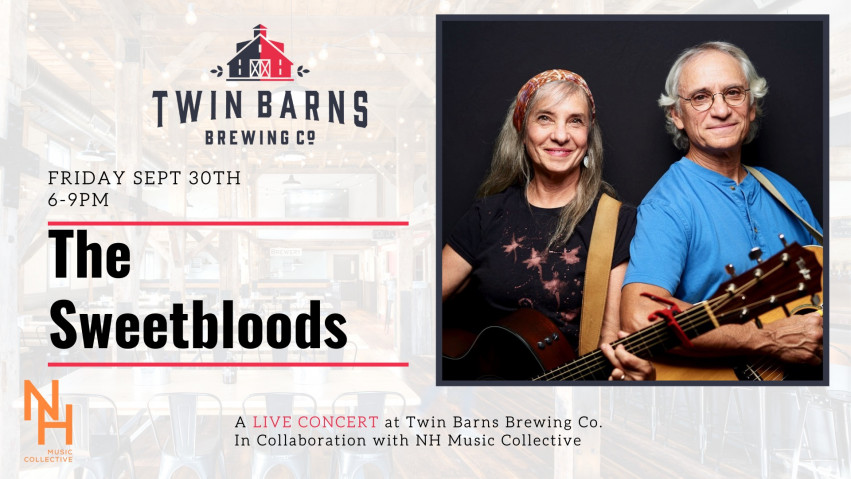 Castle Car Show October 1st
Saturday 10am-2pm | Castle in the Clouds | 586 Ossipee Park Rd, Moultonborough
Join us for our annual Castle Car Show with an incredible gathering of automobiles from the past at this classic country estate.
View stunning examples of antique cars dating from the turn of the 20th century in an equally stunning setting. Prizes will be awarded for the people's choice in the featured category (this year's featured category is the 1970s), and the people's choice outside of the featured category.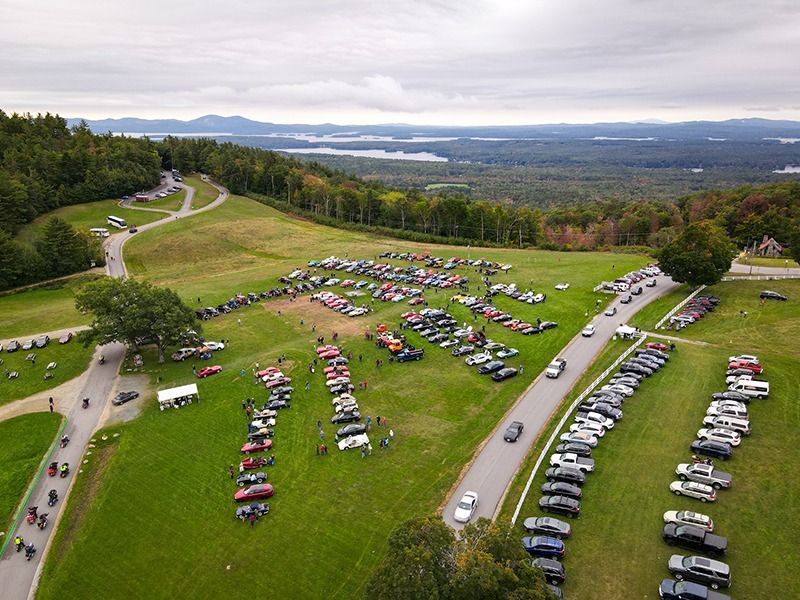 Oktoberfest with Friends October 1st
Saturday 12-9pm| Twin Barns Brewing Co | 194 Daniel Webster Hwy, Meredith
Come to Twin Barns Brewing Co's Oktoberfest with Friends. Our friends One Love Brewery, Woodstock Inn Brewery, Sole Track Brewery, Wildbloom, Muddy Road Brewery... and for the traditionalist, we got our hands on a keg of Hacker-Pschorr Martzen. We will have a special Bavarian food menu and live music.

1/2 pours and full pours, no ticket or reservation required.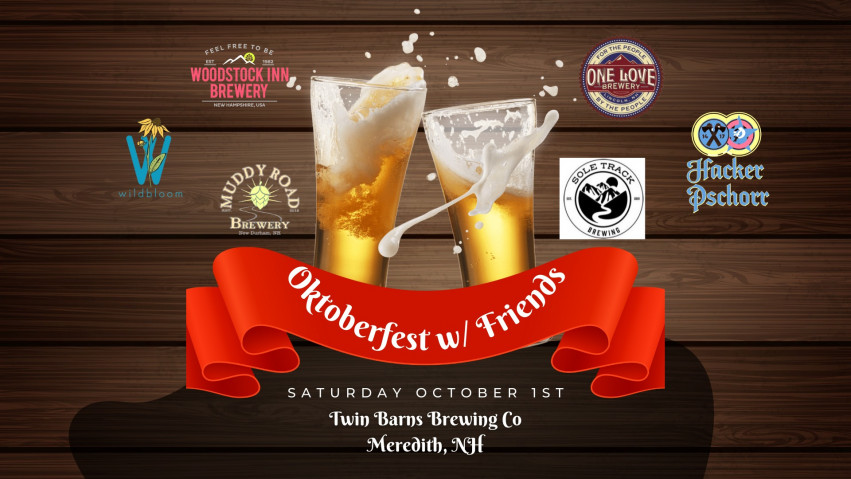 Sam Hammerman October 1st
Saturday 3-6pm | Twin Barns Brewing Co | 194 Daniel Webster Hwy, Meredith
Performing live during their Ocktoberfest event!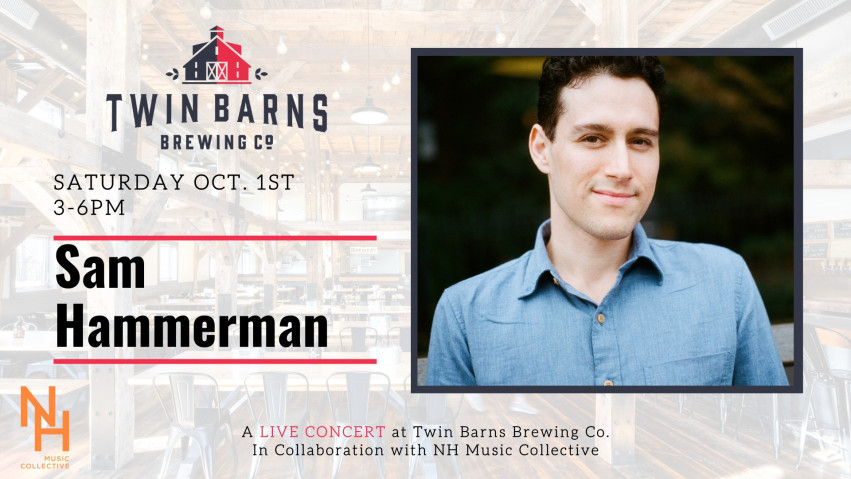 Fall Carnival October 1st
Saturday 11am-4pm | Goodhue Boat Company | 244 Swall Rd, Wolfeboro
Join us at Goodhue Boat Company in Wolfeboro for our first Fall Carnival! Enjoy a free fall foliage hay cruise (or two!) on Lake Winnipesaukee, lawn games, and activities for the kiddos. The Funky Gringo will be cooking up some delicious food, and you can enjoy some hot chocolate, coffee, and apple cider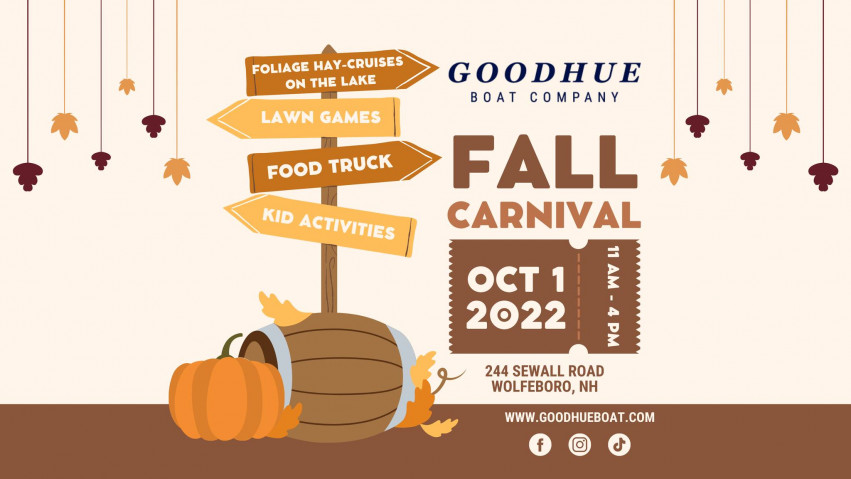 The Loft Wine Tasting Experience October 1st
Saturday 12-1pm | Hermit Woods Winery | 72 Main St, Meredith
Join us for a wine tasting experience like no other in New England in our newly renovated Loft! Bob Manley, Co-Founder at Hermit Woods Winery, will share with you his wealth of knowledge and experience in the crafting of Hermit Woods wines and wine appreciation. There is a story in every bottle, and Bob will share those stories with you along with the many adventures the Hermit Woods team has experienced bringing their winery to life over the past ten years. Bob and his partners have traveled the world in their ever-growing quest to understand better wine and the craft of producing it. Bob will bring this experience to light during this 45 minute to an hour-long presentation.
Included in the presentation will be the opportunity to sample seven of Hermit Woods' finest wines, a slide show of imagery, and video depicting the winemaking process from fruit to bottle.
Guests will each be seated at their own table, and our team will share each of the seven wines with you as the tasting progresses.
All participants will get 10% off any wine bottle purchases made that day (discounts are not stackable).

Selling Your Home?
Get your home's value - our custom reports include accurate and up to date information.
Get Home Value