Lake Life Local Events September 5th-11th
Game Time Trivia at Hobbs Tavern Sept 5th
Monday 7-9pm | Hobbs Tavern | 2415 White Mountain Highway, West Ossipee
Swing by Hobbs Tavern on Mondays at 7pm for Game Time Trivia. Great Prizes!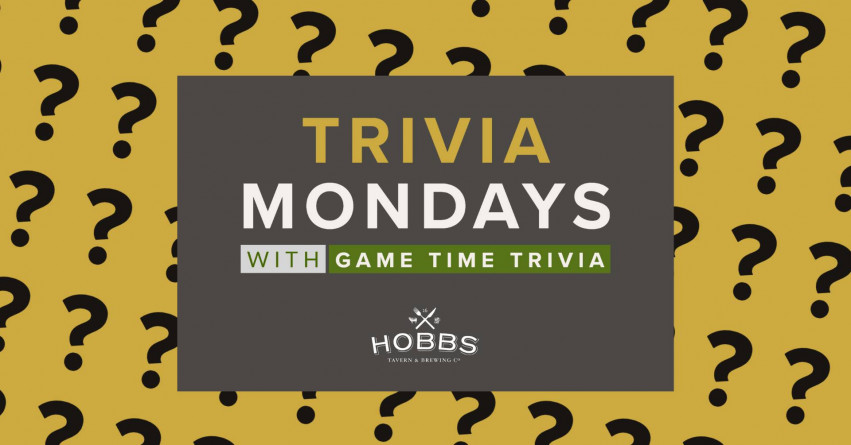 Food Truck Tuesday with Winni Wagon Sept 6th
Tuesdays 11am-2pm | Lake Life Realty HQ | 87 Whittier Hwy, Moultonborough
Benefiting the New Hampshire Humane Society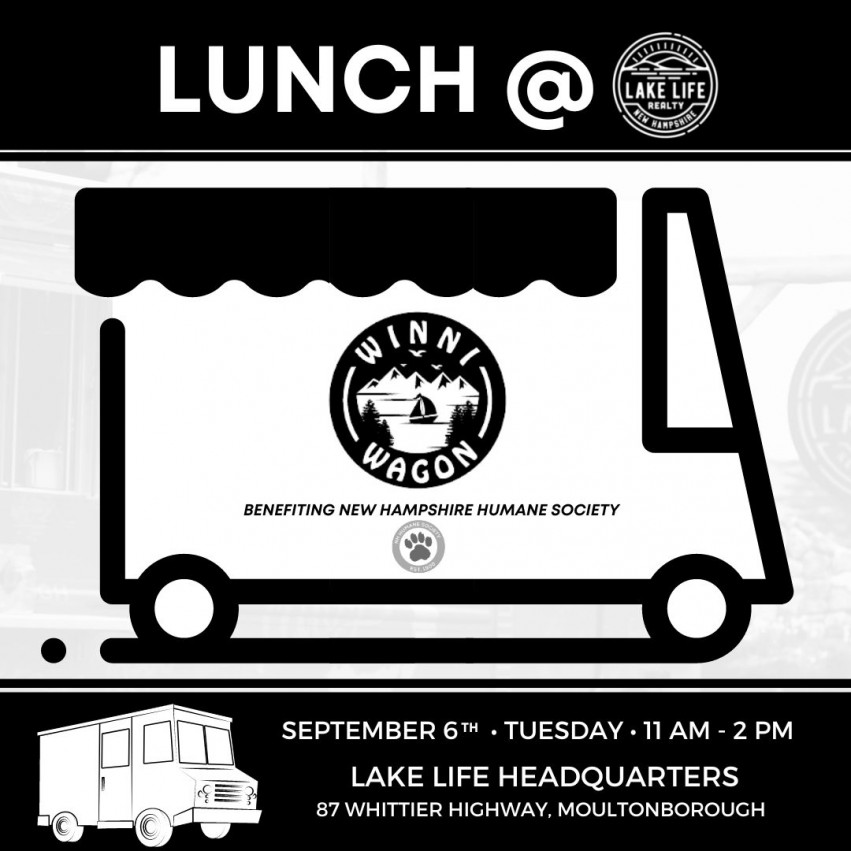 BINGO September 7th
Wednesdays 2-3pm| Gilford Public Library | 31 Potter Hill Rd, Gilford
B-I-N-G-O join us the first Wednesday of every month for good old fashioned Bingo. Bring your own supplies, or we will have some to share. There will be prizes and surprises to go along with this afternoon of fun.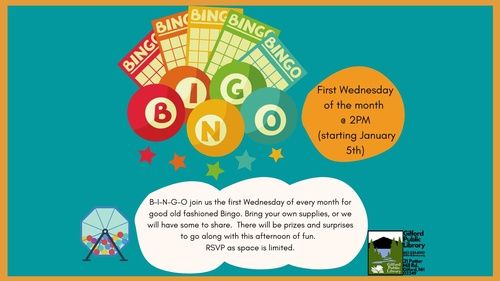 John Davidson September 9th
Friday 7-9pm | Club Sandwich | 12 Main St, Sandwich
Every weekend from June 24 through October 2, 2022, John is performing at CLUB SANDWICH. Doors open at 6:30pm for the pre-show presentation (1:30 on Sundays). Folks are encouraged to enjoy the entertaining videos on our multimedia screen.

7pm is showtime on Friday and Saturday; 2pm on Sundays! The show includes original country/folk songs and backstage stories, special guests and surprises. John will feature songs from his twelve albums, Las Vegas shows, television variety appearances, and his roles in Walt Disney movie musicals. Each song will be set in a different New Hampshire location using our video screen. It's an evening of comedy, inspiration, and nostalgia.

After the show you can say hi to John, take selfies, and of course he'll be glad to autograph any merchandise purchased at our gift shop. Admission is $30 in advance, $30 at the door (unless otherwise stated).

We recommend dining in the historic village of Sandwich before the show at The Corner House Restaurant, (right next door!) or the latest addition to the Sandwich food scene, The Foothills, which is right across the street.

Room capacity is 44, so we recommend getting tickets early. We only have popcorn and water at the club, but you can bring in whatever you'd like.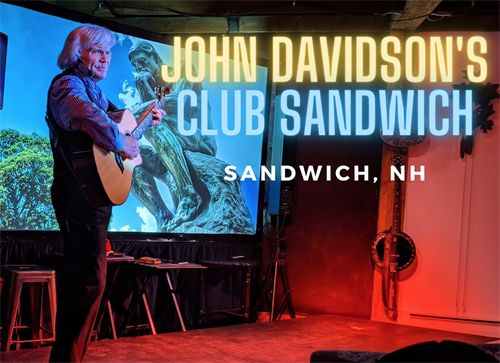 Line Dancing September 9th
Friday 7-9pm | Tower Hill Tavern | 264 Lakeside Ave, Weirs
Learn how to line dance!
Upstairs Tower with Sharon Atwood.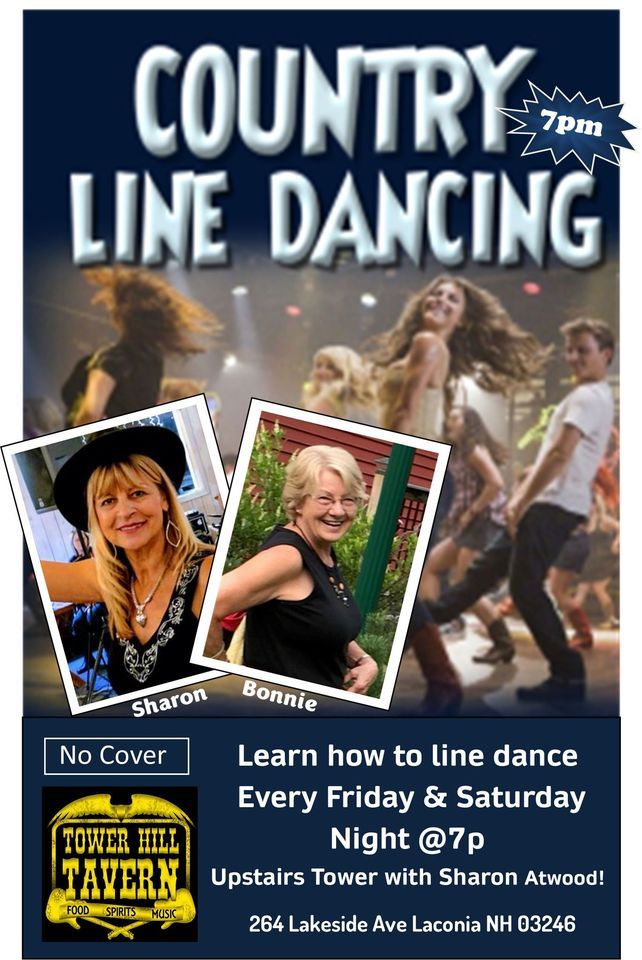 The Loft Wine Tasting Experience September 10th
Saturday 12-1pm | Hermit Woods Winery | 72 Main St, Meredith
Join us for a wine tasting experience like no other in New England in our newly renovated Loft! Bob Manley, Co-Founder at Hermit Woods Winery, will share with you his wealth of knowledge and experience in the crafting of Hermit Woods wines and wine appreciation. There is a story in every bottle, and Bob will share those stories with you along with the many adventures the Hermit Woods team has experienced bringing their winery to life over the past ten years. Bob and his partners have traveled the world in their ever-growing quest to understand better wine and the craft of producing it. Bob will bring this experience to light during this 45 minute to an hour-long presentation.
Included in the presentation will be the opportunity to sample seven of Hermit Woods' finest wines, a slide show of imagery, and video depicting the winemaking process from fruit to bottle.
Guests will each be seated at their own table, and our team will share each of the seven wines with you as the tasting progresses.
All participants will get 10% off any wine bottle purchases made that day (discounts are not stackable).

Labor Day Weekend Craft Fair at the Bay September 5th
Monday | Alton Bay Bandstand
The Lake Winnipesaukee waterfront along Alton Bay, New Hampshire will overflow with American made arts, crafts and specialty foods on Saturday September 3, Sunday September 4
and Monday (Labor Day) September 5, 2022.
Over 75 Juried Craftspeople from all over New England will display and sell their American made arts and crafts; including Ornaments, Fine Art Photography, Cutting Boards, Ladies Apparel, Fine Jewelry, Hand Crafted Soaps, Mixed Media, Lake Theme Decor, Nightlights, Up-Cycled Mittens, New England Sports Team Apparel, Aprons, Toys, Soy Candles, Folk Art, Organic Personal Care Products, Wildlife and Nature Photography, Cork Leather Accessories, Placemats, Beaded Watches, Clutches, Decorative Painting, Gemstone Jewelry, Sea-glass Art, Functional Stoneware, Aerial Photography, Painted Stemware, Wooden Wall Art, Pillow Quilts, Leather Accessories, Quilted Handbags, Stained Glass, Plush Dolls, Ceramic Food Grater, Tile, Short Stories, Tablecloths, Tumblers, Flame Colorant, Wood Turned Bowls, Puzzles, Growth Charts and more.
Come and enjoy a variety of Specialty Foods such as of Kettle Corn, Savory Herbal Dips, Roasted Nuts, Jams and Jellies, Infused Oils, Balsamic Vinegars, Scottish Style Fudge, Gourmet Finishing Sauces, Cannoli, Honey, Chocolate, Spice Blends, Cannoli and more.
The fair is free admission and free parking. Held rain or shine.
Friendly Pets, on a leash, are welcome.
Festival Hours are Saturday 10am to 6pm, Sunday 10am to 5pm, and Monday (Labor Day) 10am to 4pm.
For more visit us at castleberryfairs.com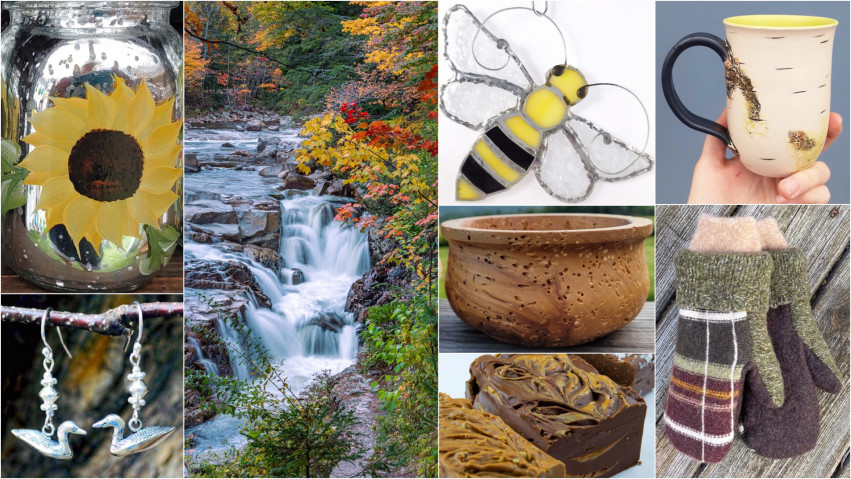 Selling Your Home?
Get your home's value - our custom reports include accurate and up to date information.
Get Home Value