Lake Life Local Events June 27th-July 3rd
Game Time Trivia at Hobbs Tavern June 27th
Monday 7-9pm | Hobbs Tavern | 2415 White Mountain Highway, West Ossipee
Swing by Hobbs Tavern on Mondays at 7pm for Game Time Trivia. Great Prizes!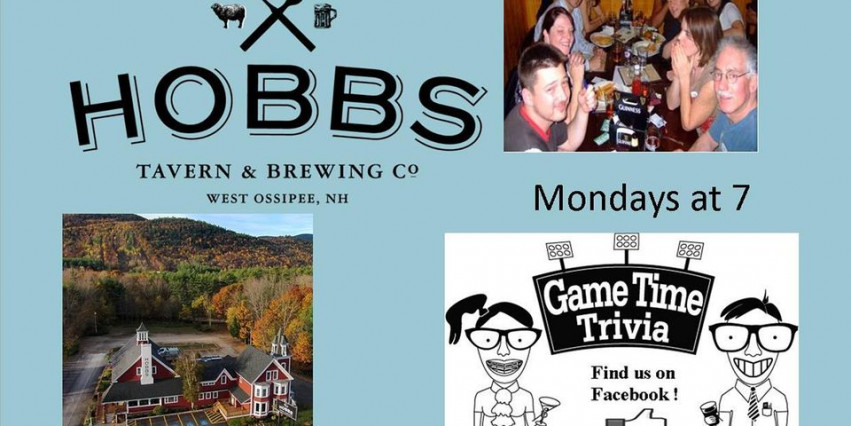 Summer Music Nights June 27th & 28th
Mondays & Tuesdays 5:30-8:30pm | Castle in The Clouds| 455 Old Mountain Road, Moultonborough NH
Join us for dinner and live music as you watch the sunset over Lake Winnipesaukee from our beautiful outdoor terrace! Come with your dinner partners and an appetite for classic American fare with unique twists. The Carriage House Restaurant was named the 2021 Editor's Pick for Mountain View Dining in Yankee Magazine's Best of NH!
Music Nights are by reservation only and require a $12 per-person cover charge paid online in advance (children ages 4 & under do not require a cover charge). Your reservation guarantees your table for the whole evening, so you can mingle on the terrace, peruse the exhibit gallery, or admire the historic carriage house and always have your seat to come back to. If you are looking to tour the Lucknow Mansion admission is open Thursday – Monday from 10 – 4 pm.
We recommend making your reservation at least 1-2 weeks in advance, as Music Nights tend to sell out quickly!
JUNE
Monday, June 27th – Mitch Alden (Sold Out)
Tuesday, June 28th – Eric Grant (Sold Out)
JULY
Monday, July 4th – James Allen (Sold Out)
Tuesday, July 5th – Cindy Duchin (sold Out)
Monday, July 11th – Jonathan Sarty (Sold Out)
Tuesday, July 12th – Mitch Alden (Sold Out)
Monday, July 18th – Mark Bartram (Sold Out)
Tuesday, July 19th – Joel Cage (Sold Out)
Monday, July 25th – Eric Grant (Sold out)
Tuesday, July 26th – Jared Steer Duo (Sold Out)
AUGUST
Monday, August 1st – James Allen (Sold Out)
Tuesday, August 2nd – Cindy Duchin (Sold Out)
Monday, August 8th – Mitch Alden (Sold Out)
Tuesday, August 9th – Tim Hazelton (Sold Out)
Monday, August 15th – Joel Cage (Sold Out)
Tuesday, August 16th – Mark Bartram (Sold Out)
Monday, August 22nd – Mark Bartram
Tuesday, August 23rd – Jared Steer Trio (Sold Out)
Monday, August 29th – Eric Grant (Sold Out)
Tuesday, August 30th – Jared Steer
SEPTEMBER
Monday, September 5th – Jeff Mitchell
Tuesday, September 6th – Eric Grant
Monday, September 12th – Joel Cage
Tuesday, September 13th – Jared Steer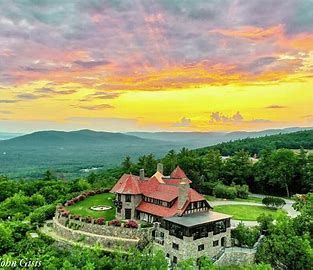 Food Truck Tuesday with Pours and Petals along with Tartaglia's June 28th
Tuesdays 11am-2pm | Lake Life Realty HQ | 87 Whittier Hwy, Moultonborough
Food Truck Tuesdays are back! Stop in at Lake Life HQ for some delicious food!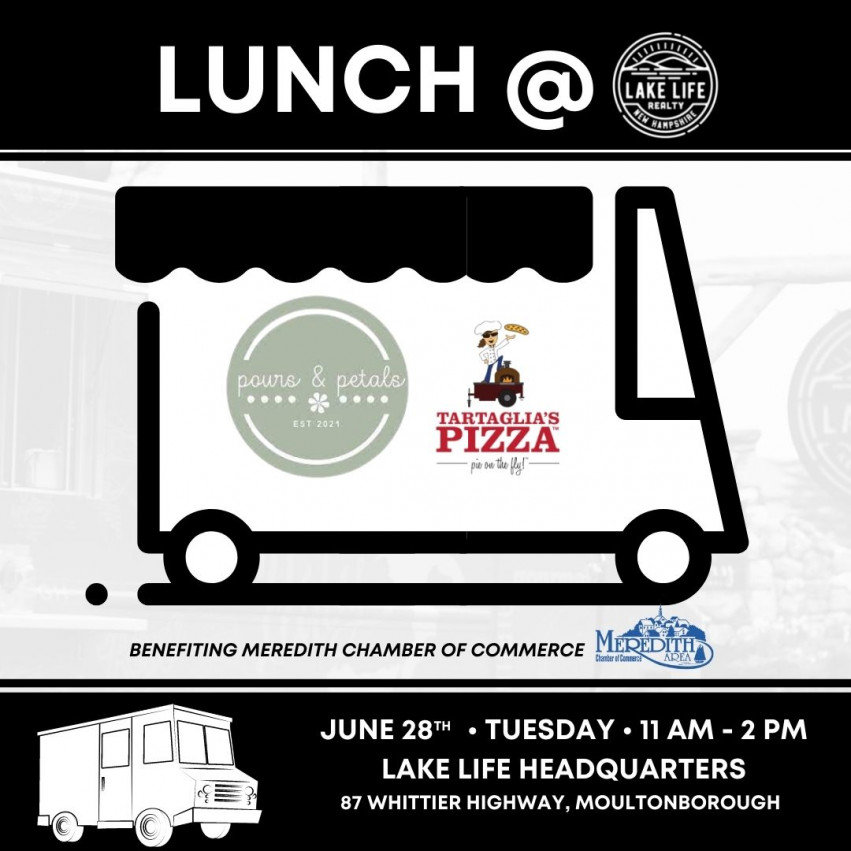 The New Hampshire Jewish Food Festival June 29th
Wednesday | Temple B'nai Israel| 210 Court Street, Laconia NH
Temple B'nai Israel has been at it for 25 years-creating delicious, homemade traditional Jewish foods that have been enjoyed by thousands. This year many of the familiar family recipes have been perfected to enhance the flavors and consistency. Our kitchen "mavens" have performed their magic for rugelach, chicken soup with matzo balls and knishes. New menu items added this year are freshly prepared Israeli salad and creamy halvah imported from Israel as well as an assortment of baked goods from Blacker's Bakeshop in Newton, MA.
Visit Us to place your order! https://tbinh.org/product-category/food-festival/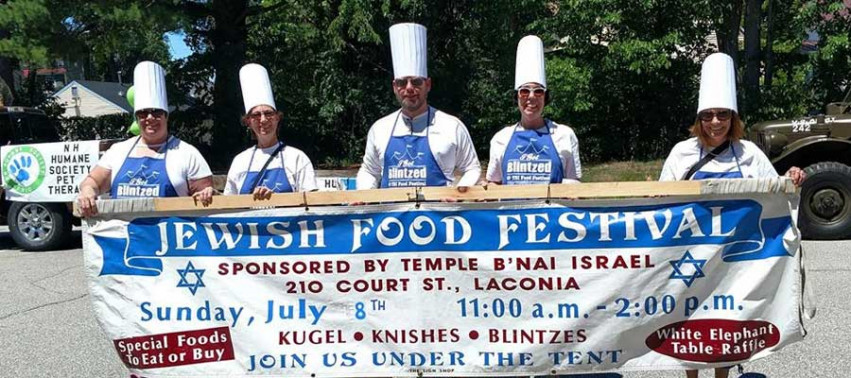 Watercolor Workshop with Pat Edsall June 29th
Wednesdays 1-3pm | Lakes Region Art Gallery | 120 Laconia Rd Suite 300 Tanger Outlets, Tilton
With Pat Edsall
Call 603-472-3733 or email [email protected] to pre-register with Pat and save yourself a spot at the table!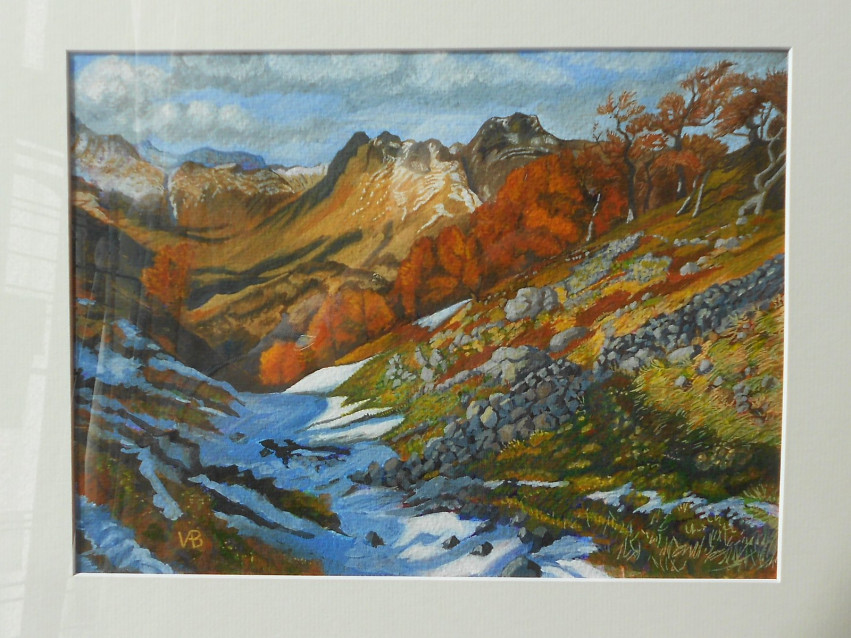 Annual Naswa Day June 29th
Wednesday | The Naswa| 1086 Weirs Blvd, Laconia NH
In 2010, former Governor John Lynch named June 29th "NASWA Day" in New Hampshire for our 75th anniversary. Not only is it an honor, but it's also a wonderful excuse to celebrate, so join us for NASWA Day! This year, we are celebrating 87 years, and you won't want to miss the party for live music on the beach!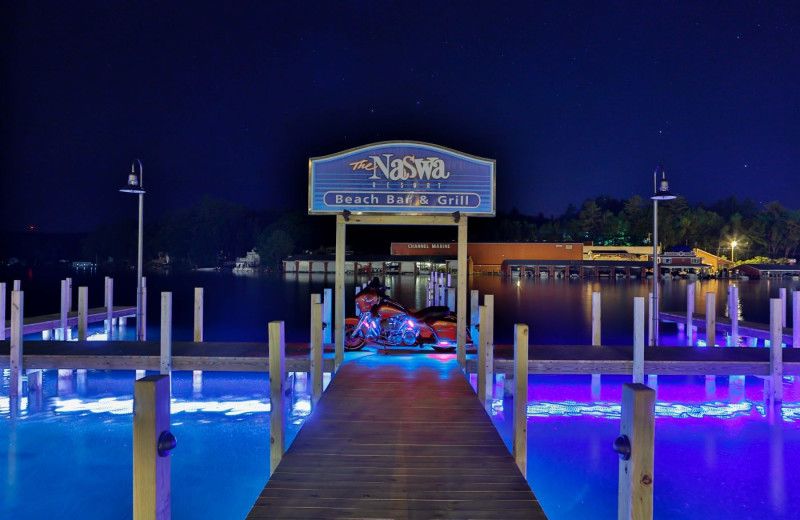 World Tavern Trivia Night at the Bob House June 30th
Thursdays at 6:00pm | The Bob House | 520 Whittier Hwy, Moultonborough
Join us every Thursday night until May!
Visit us at www.thebobhouseandreelntavern.com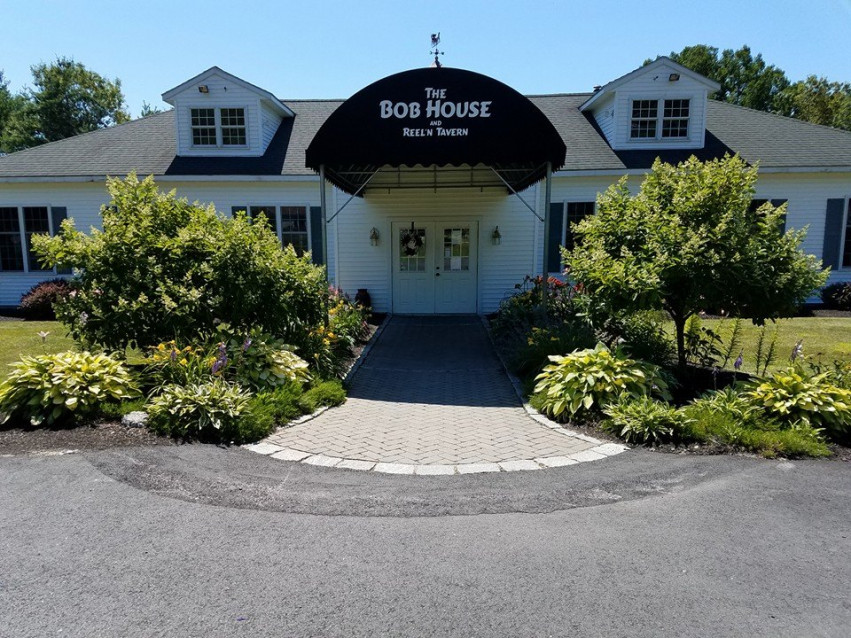 Chris Humphrey Quartet at Hermit Woods June 30th
Thursday 6:30-9:30pm | Hermit Woods Winery & Deli | 72 Main St, Meredith
Jazz singer/pianist Chris Humphrey has been working with drummer Les Harris, Jr. on a labor of love in tribute to the great jazz trumpeter Clark Terry. Joining Chris and Les are the fabulous Keala Kaumeheiwa on bass and Thomas Palance on trumpet. This concert provides a rare early look at the ensemble's work-in-progress for their forthcoming recording.
Tickets: $35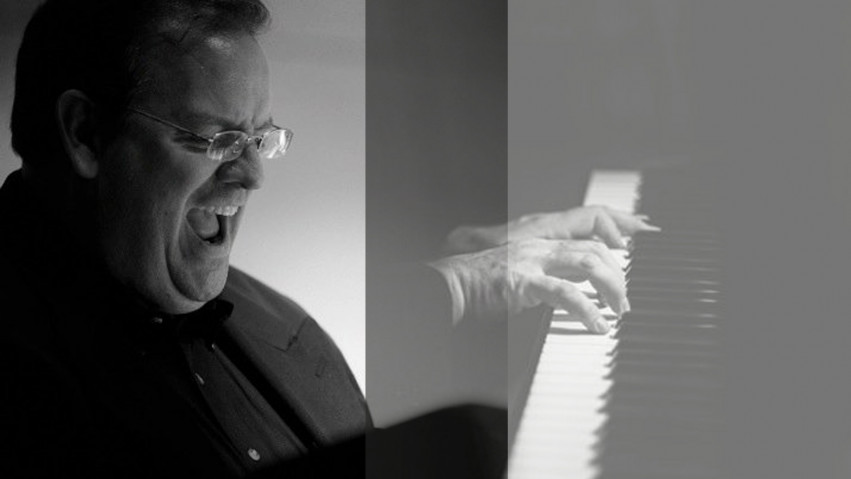 Garden Tour at Castle in The Clouds July 1st
Friday 9:30-10:30 am | Castle in The Clouds | 455 Old Mountain Road, Moultonborough NH
Join Castle in The Clouds Gardener, Gretchen Large in touring both Lucknow's historic and modern garden landscapes and leave with some general gardening tips and tricks for you to use at home! Gretchen is excited to share her passion for gardening – displayed in the beautiful and thoughtfully designed outdoor spaces around the Castle – with you. She even has her own business called The Random Gardener!
Visit Castle in The Clouds website for more details!

Village Pizza Cruise Nights in Bristol July 1st
Fridays 6-8pm | Village Pizza | 825 Lake Street, Bristol NH
Village Pizza Cruise Night Friday evenings at Village Pizza of Bristol hosted by Newfound Cruzers.

Raffles
Door Prizes
Parade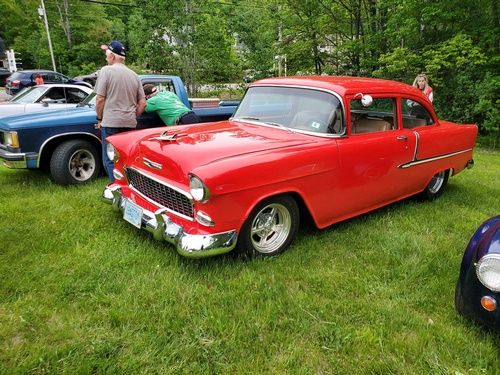 Hikers Club: Settlement Loop Hike July 2nd
Saturday 9-11am | Castle in The Clouds | 455 Old Mountain Road, Moultonborough NH
Led by an experienced volunteer hiker, enjoy this week's hike along Cold Spring Road to Settlement Trail. This easy to moderate hike is about 2 miles, has an elevation climb of approximately 200′, and will run from 9:00 am until 10:30 am. This is a free event, though registration is required.
Please meet for this guided hike at the picnic pavilions by Shannon Pond. Hiker parking is available at the top of Ossipee Park Road just past Maple Lodge, and also in the unpaved areas across from the pond and Café in the Clouds.
To access the property, please use the following address:
586 Ossipee Park Rd., Route 171
Moultonborough, NH 03254

The Loft Wine Tasting Experience at Hermit Woods July 2nd
Saturday 12-1pm | Hermit Woods Winery & Deli | 72 Main St, Meredith
Join us for a wine tasting experience like no other in New England in our newly renovated Loft! Bob Manley, Co-Founder at Hermit Woods Winery, will share with you his wealth of knowledge and experience in the crafting of Hermit Woods wines and wine appreciation. There is a story in every bottle, and Bob will share those stories with you along with the many adventures the Hermit Woods team has experienced bringing their winery to life over the past ten years.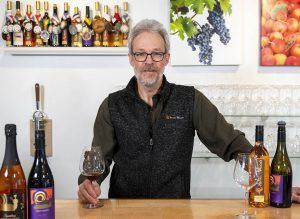 Wolfeboro
Lions Club Car Show July 2nd
Saturday 11am-2pm| The Nick Recreation Park| 10 Trotting Track Rd, Wolfeboro NH
Fun for the Whole Family at the Wolfeboro Lions Club Car Show The Second annual Wolfeboro Lions Club Car Show Drives into Wolfeboro on Saturday, July 2, from 11am-2pm at The Nick Recreation Park, 10 Trotting Track Road, Wolfeboro. The event is free and open to the public, the Lions Club invites car & motorcycle owners to showcase their vehicles in a fun, non-judged, no classes show. This is a show and shine event, and pre-registration is not required. The Lions club will be holding a 50/50 raffle and have a concession stand with all proceeds to benefit the Wolfeboro Lions Charitable Fund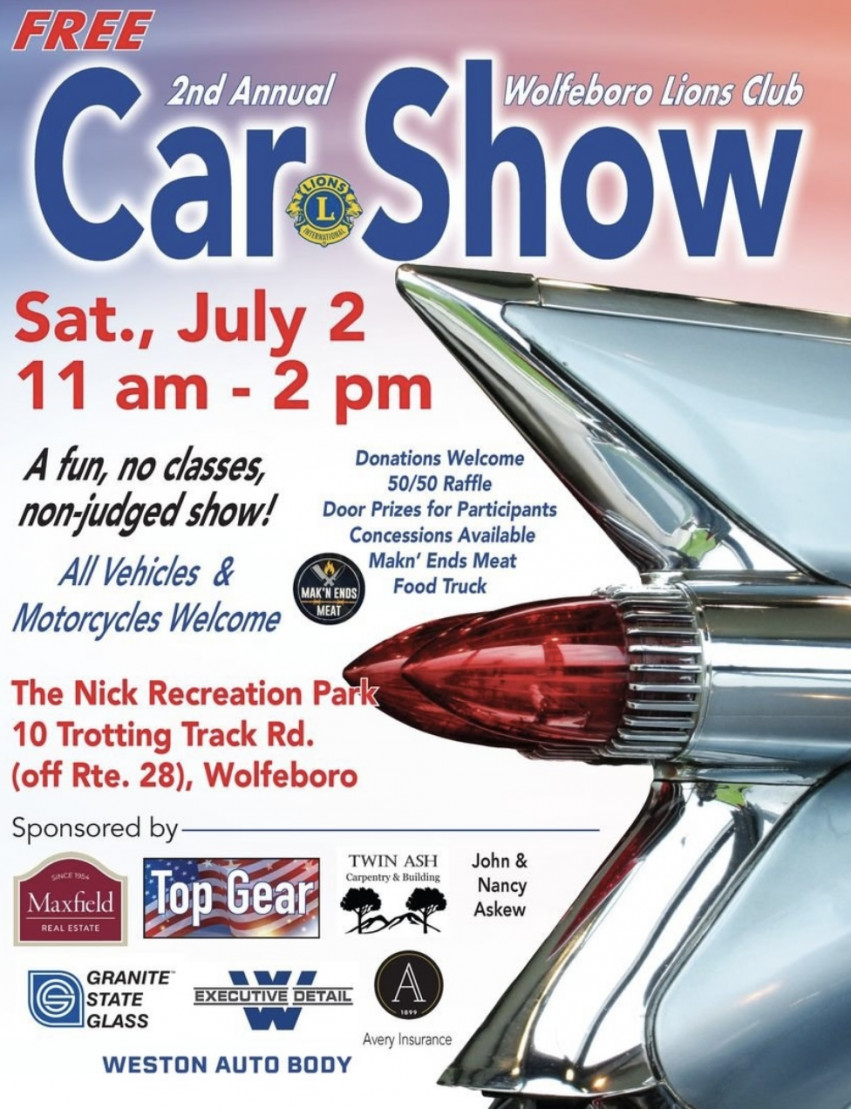 4th of July Craft Fair at Gunstock Mtn July 3rd
Sunday | Gunstock Mountain | 719 Cherry Valley Rd, Gilford NH
Don't miss the 4th of July Craft Fair here at Gunstock on July 2-3, from 10am-5pm. A special feature will be chainsaw wood carving demos! Some of the exhibits will include cedar wood furniture, gourmet herbal dips, sublimation tiles/coasters, wildlife photography, cutting boards/butcher blocks, CBD wellness products, felted items, wood burned signs, amazing quilts, gourmet cannoli, knits, artwork, personal care products, kettle corn, stained glass, and lots more!
Rain or shine under canopies, friendly, leashed pets welcome. Always free parking & free admission!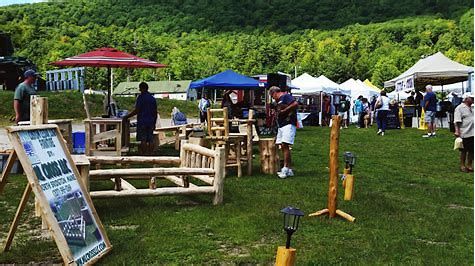 Live Music at Patrick's Pub July 1st-3rd
Fridays, Saturdays & Sundays 4-6pm|Patricks Pub and Eatery | 1 Weirs Road, Gilford NH
Summer Music Nights at Patrick's Pub & Eatery. Enjoy LIVE Music Friday, Saturday & Sunday from 4-6PM. Visit www.Patrickspub.com/events for the full schedule.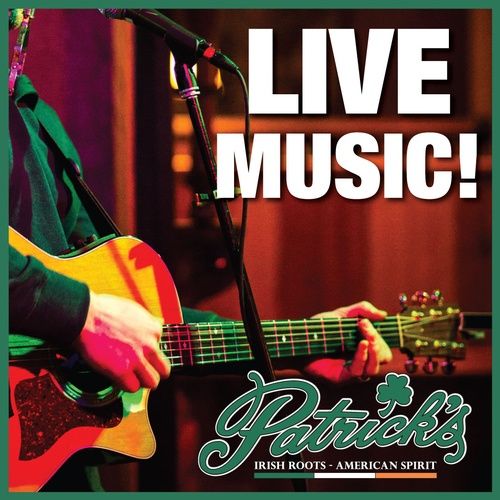 Gilmanton Community Farmers Market July 3rd
Sunday 11am-2pm| | Gilmanton Year Round Library
Come and join the fun at opening day at the Gilmanton Community Farmers Market, season 2022! As always we will have amazing farmers and vendors, and wonderful live music and food truck!

Mark your calendars friends!

Selling Your Home?
Get your home's value - our custom reports include accurate and up to date information.
Get Home Value