November 2020 Lakes Region Statistical Report
Alton
Last month, Alton saw 21 listings close and 12 new listings hit the market. Only 3 went under agreement ending the month with 49 days on market. For both the volume sold and median sales price, Alton saw an increase in stats with a 18.74% increase in median sales price and a 46.64% increase in volume sold!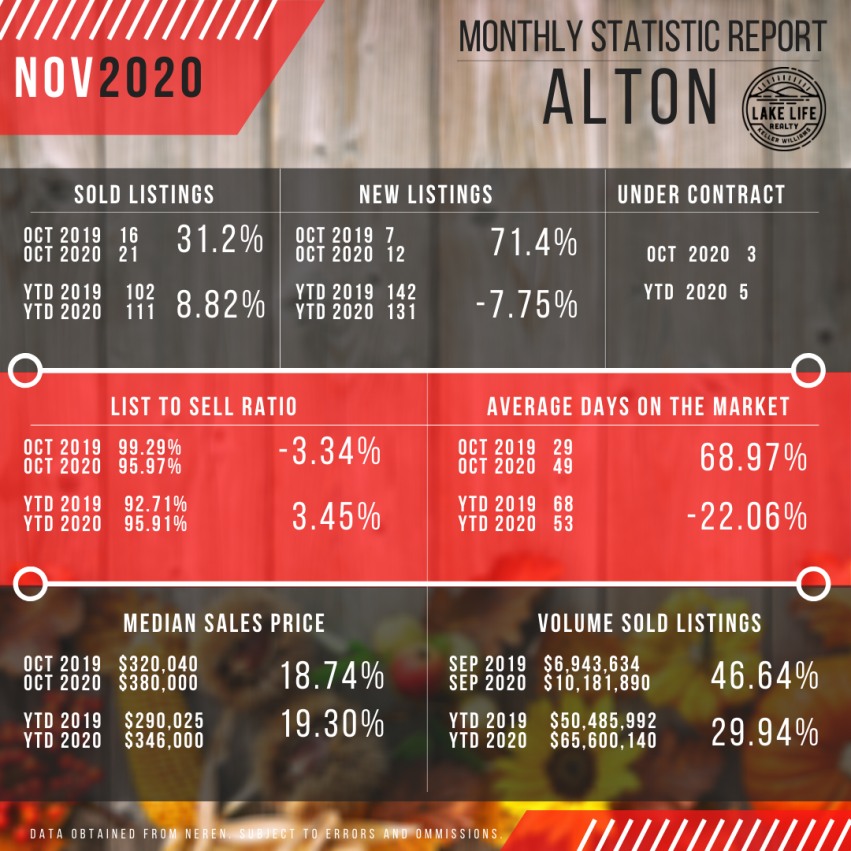 Center Harbor
Center Harbor had the lowest days on market averages of all the towns that border Lake Winnipesaukee with just 5 days. That has a lot to do with the fact that only 4 properties closed in Center Harbor last month. 1 of the 4 homes to close was our listing at 173 Dane Rd that went under agreement in just 8 days and closed for $455,000! 2 new properties came on the market and 3 went under agreement, one of which is our buyers who are expecting to close in the beginning of December.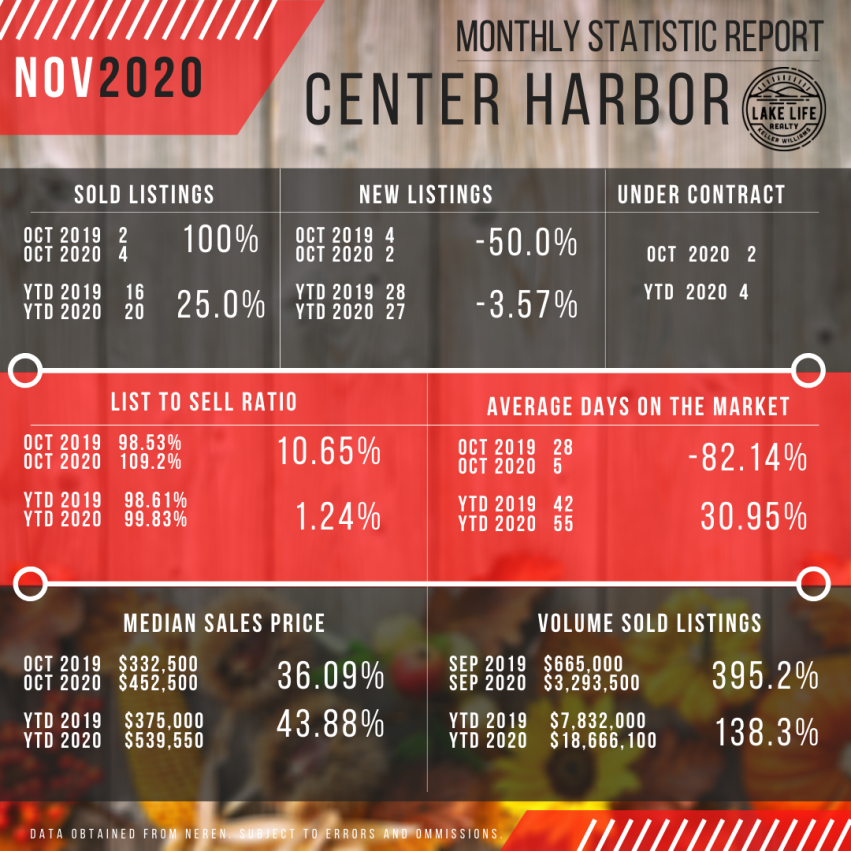 Gilford
Along with Laconia and Meredith, Gilford had one of the highest amount of listings close in October ending the month with a total of 25 closed. Gilford also had one of the most new listings to hit the market and properties to go under agreement! It was a great month for the market in Gilford!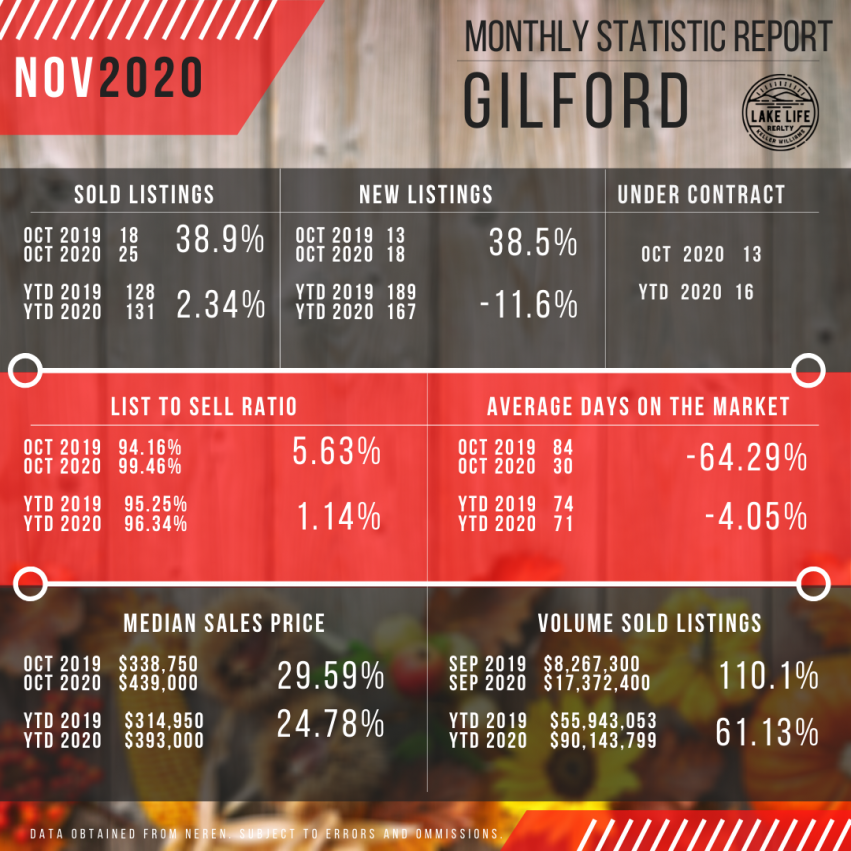 Meredith
Last month, Meredith had the MOST properties close for all the towns surrounding Lake Winnipesaukee with a total of 27! Aside from Center Harbor's 5 days on market average, Meredith also had one of the lowest days on market averages with just 23 days.
Of the 27 listings to close last month in Meredith, we represented clients on 5 of those including:
24 Hillrise Lane: closed for over ask and was under agreement in just 5 days!
43 Pleasant St #2: closed for over ask and was under agreement in just 5 days!
Our buyers are loving their new homes at 33 Hawk Ridge Rd and 102 Pleasant St!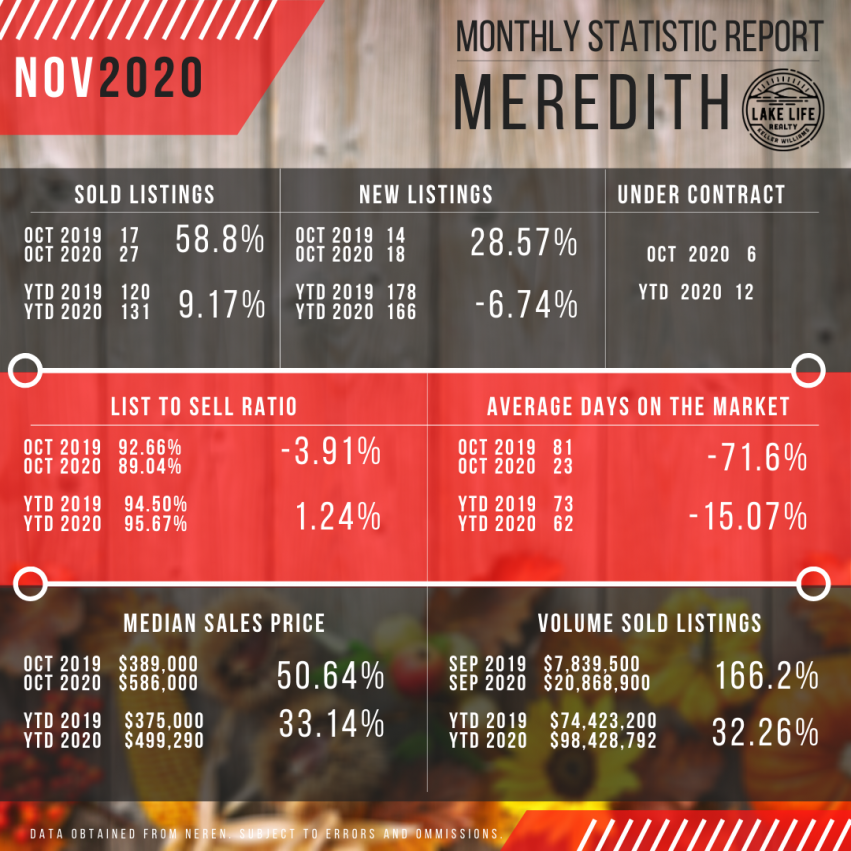 Moultonborough
Moultonborough had a total of 16 listings close last month, one of which was our listing at 141 Swallow Point Rd which closed for over asking price and went under agreement in just one day!
10 new listings hit the market last month in Moultonborough and 11 went under agreement with an averages days on market of 41.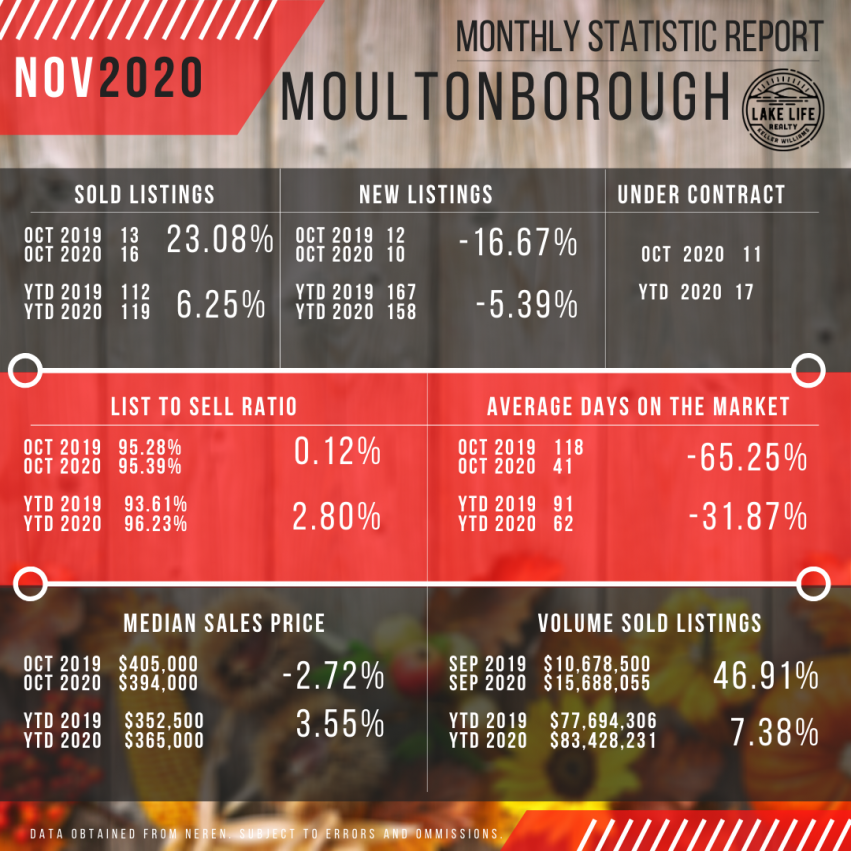 Tuftonboro
Tuftonboro had the highest days on market averages with a total of 158 days, a 187.3% increase from October 2019 which was only 55 days.
14 new listings came on the market while 13 closed and 9 went under agreement. One of the closed properties were our buyers at 112 Cow Island that closed for $570,000!
Our Current Tuftonboro Inventory: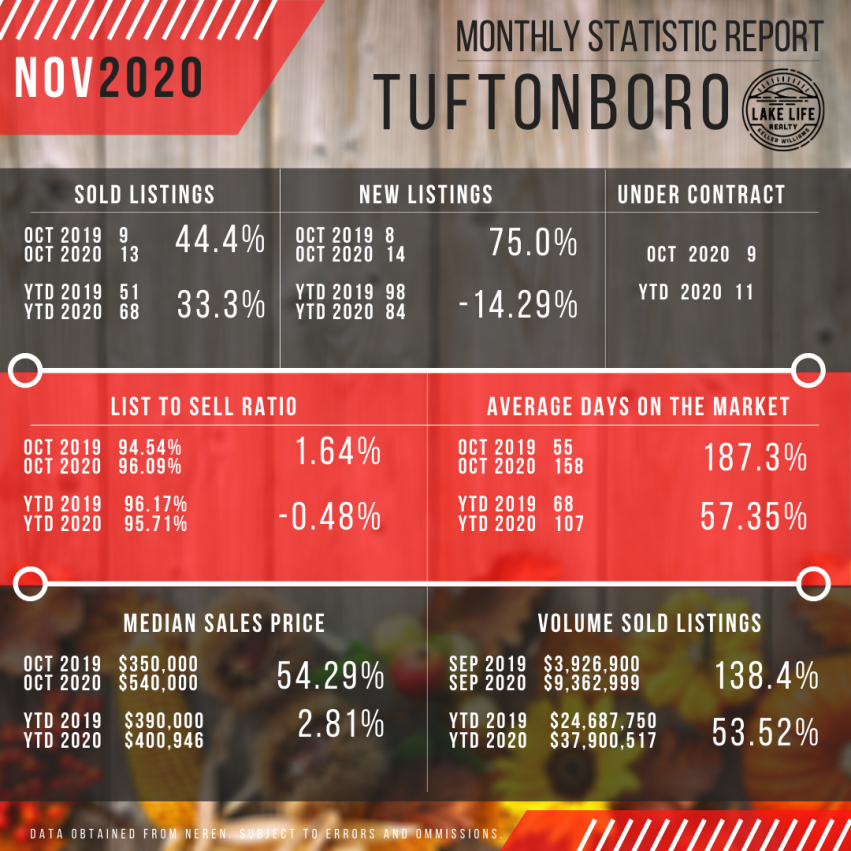 Wolfeboro
Wolfeboro had the 2nd most new listings come on the market falling short of Laconia and only one more listing than Gilford and Meredith. Wolfeboro also saw the 2nd most listings go under agreement last month, just a few shy on Laconia ending the month with 12 while Laconia had 19.
Our Current Wolfeboro Inventory:
Lot 13 Jennifer CIR, Wolfeboro, NH 03894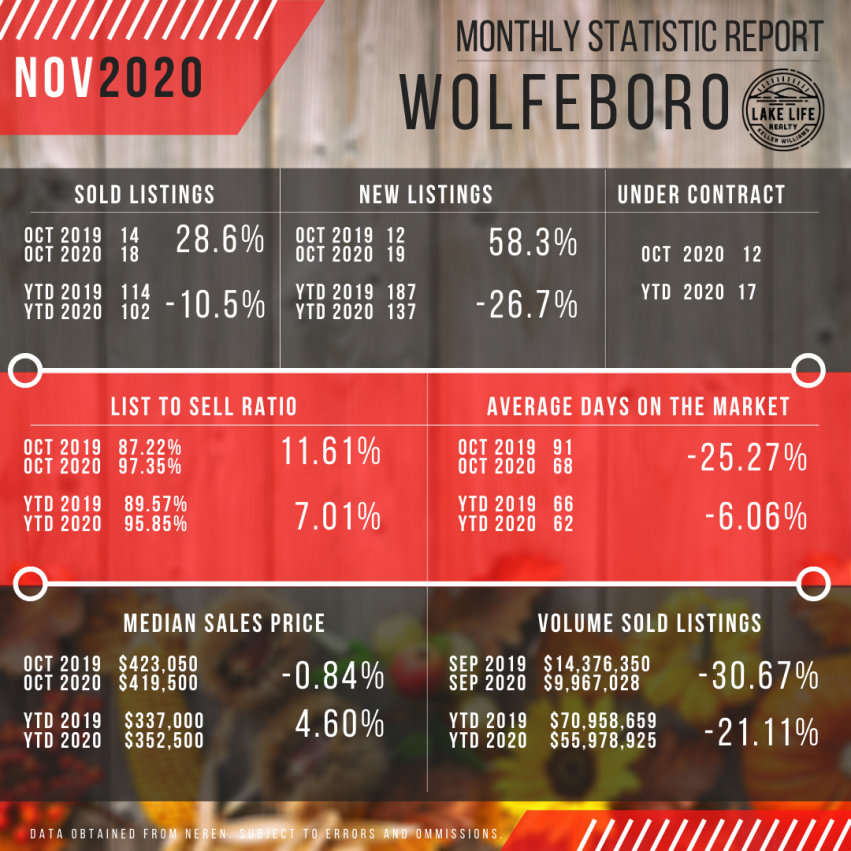 Selling Your Home?
Get your home's value - our custom reports include accurate and up to date information.
Get Home Value