October 2020 Lakes Region Statistical Report
Alton
In September, Alton saw a total of 21 listings close ending the month with an average of 70 days on market. Along with Gilford and Laconia, this was one of the town to have the most properties to close!
14 new listings came on the market, a 7.69% increase from September 2019. 12 properties went under agreement this year in Alton, 6 of those occurred last month!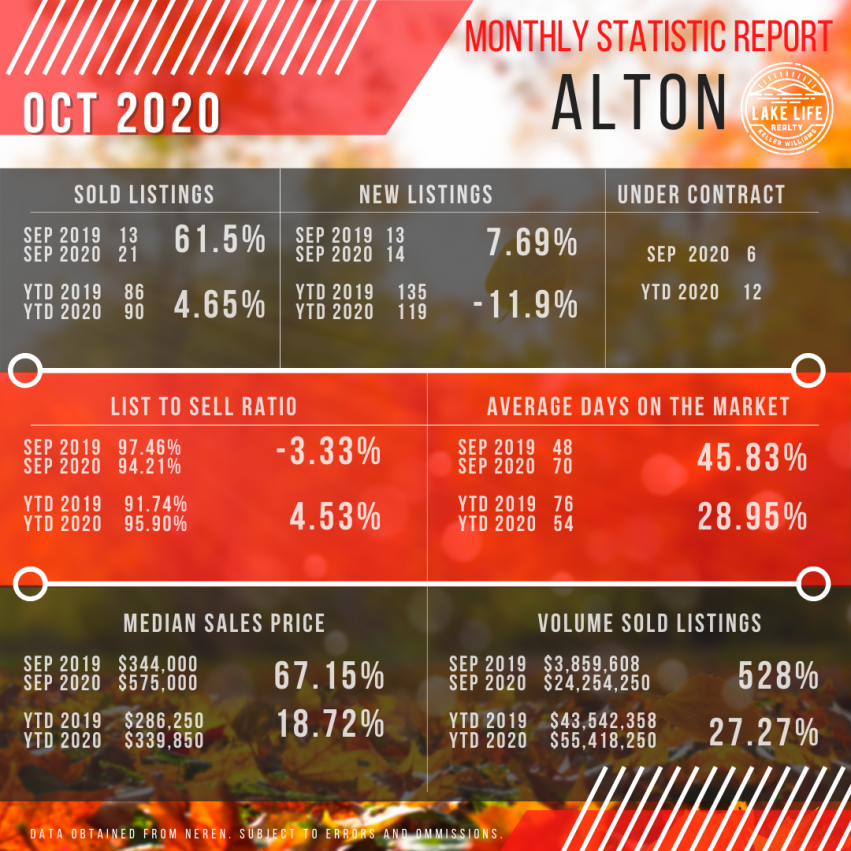 Center Harbor
Center Harbor saw significant improvement when comparing September 2019 and 2020 numbers. For instance, there was a 700% increase in sold listings when comparing the two; September 2019 there were no sold listings compared to 7 this past month. Similar stats for new listings! There were no new listings in September of last year while there were 2 this past month making for a 200% increase!
One of the properties to close was our listing at 224 Dane Rd which sold for $1,875,000! One of the new listings to come on the market was also our listing at 173 Dane Rd which just sold for $455,000 in just 8 days!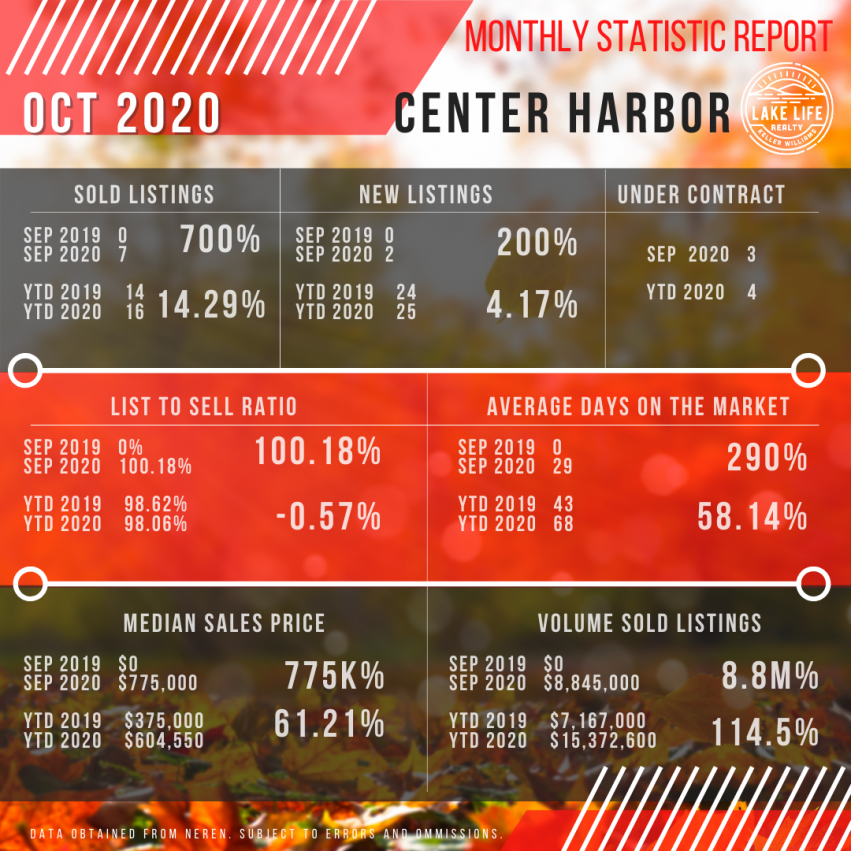 Gilford
Gilford had significant growth in stats when comparing September 2019 and 2020 more than doubling their numbers for both sold and new listings. Three of the properties to close last month were represented by our team including 8 Flower Dr, 86 Cumberland Rd and 94 Belknap Mountain!
Gilford had the most sold and new listings out of all the towns that border Lake Winnipesaukee ending the month with 29 sold and 30 new.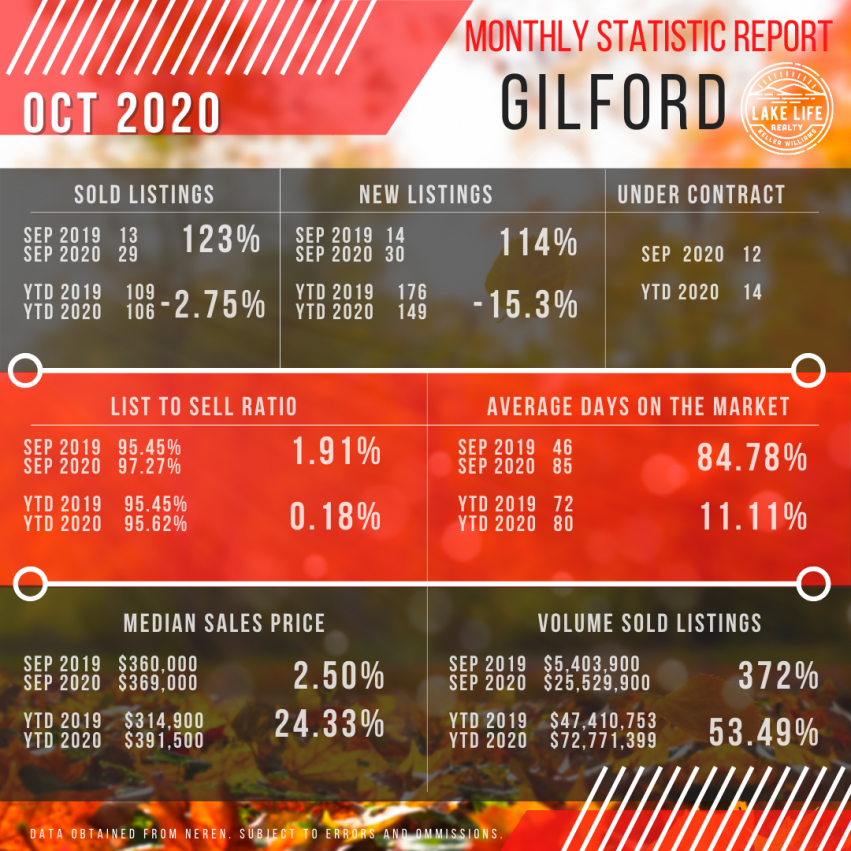 Laconia
Along with many other towns in the area, Laconia saw an increase in sold and new listings from 2019 to 2020. Laconia ended the month in the top 3 for the most sold listings, the most new listings, the most under contract, and the lowest days on market average!
Two of the properties to close last month were represented by our team one of which was our listing at 172 Washington St that closed for $16,000 over asking price in just FIVE days!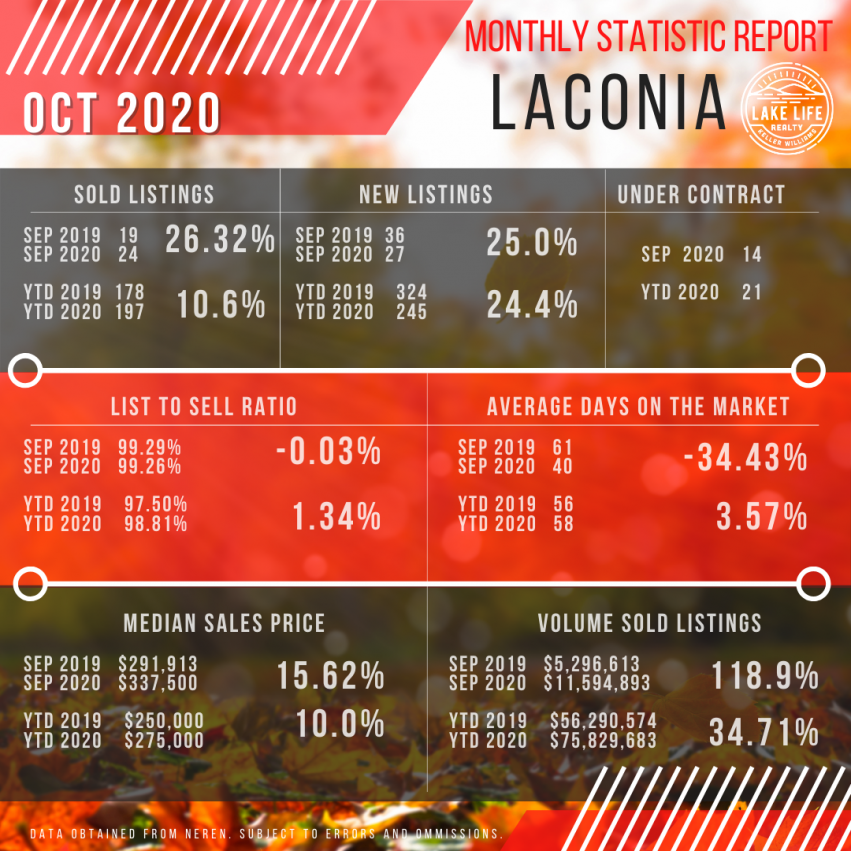 Meredith
Meredith ended September with a total of 17 sold listings and a 52 days on market average. In the top 3 with Laconia and Gilford, Meredith had one of the higher stats for new listings to come on the market last month with a total of 24. One of the 17 was our buyers who purchased 45 Happy Homes for $935,000!
9 properties went under agreement bringing their year to date total to 14! More than half came from last month!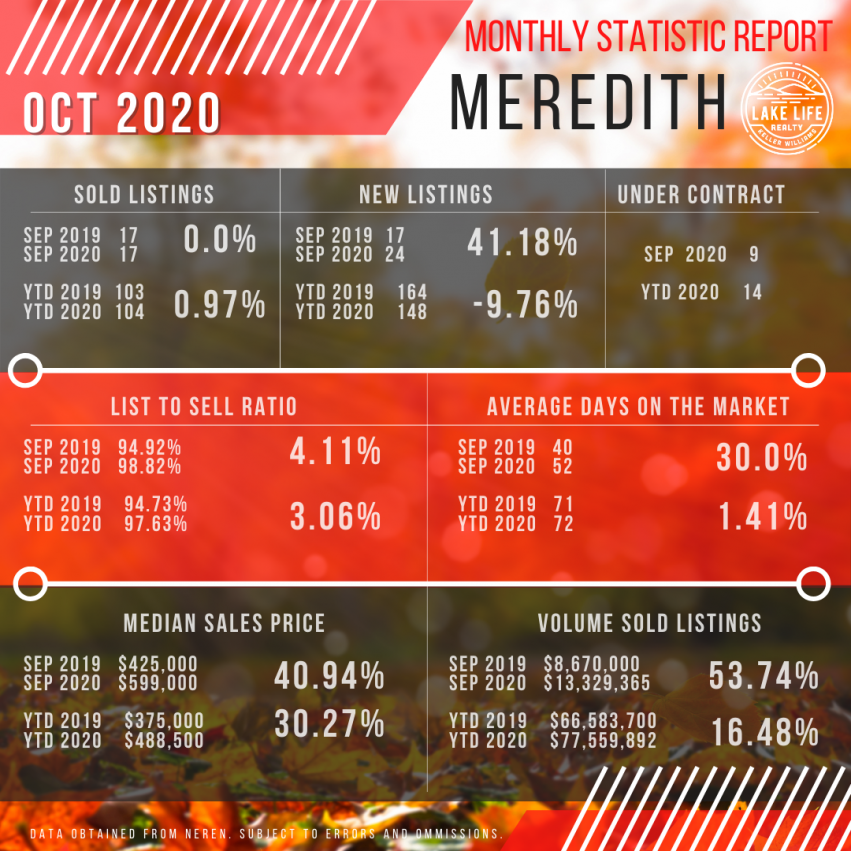 Moultonborough
There was an increase in numbers for sold listings, new listings and list to sell ratio when comparing September 2019 to 2020. 17 listings closed last month, 3 of which where our sellers and another 1 for our buyer.
17 Blueberry Lane: Sold for $930,000 in just 5 days a total of $31k over asking price!
16 Long Island Rd Unit 31: This boat slip closed for $10k over asking price at $115,000 in just 4 days!
19 Buckingham Terrace: Sold for $10k over asking price at $370,000 in just 18 days!
Our Current Inventory: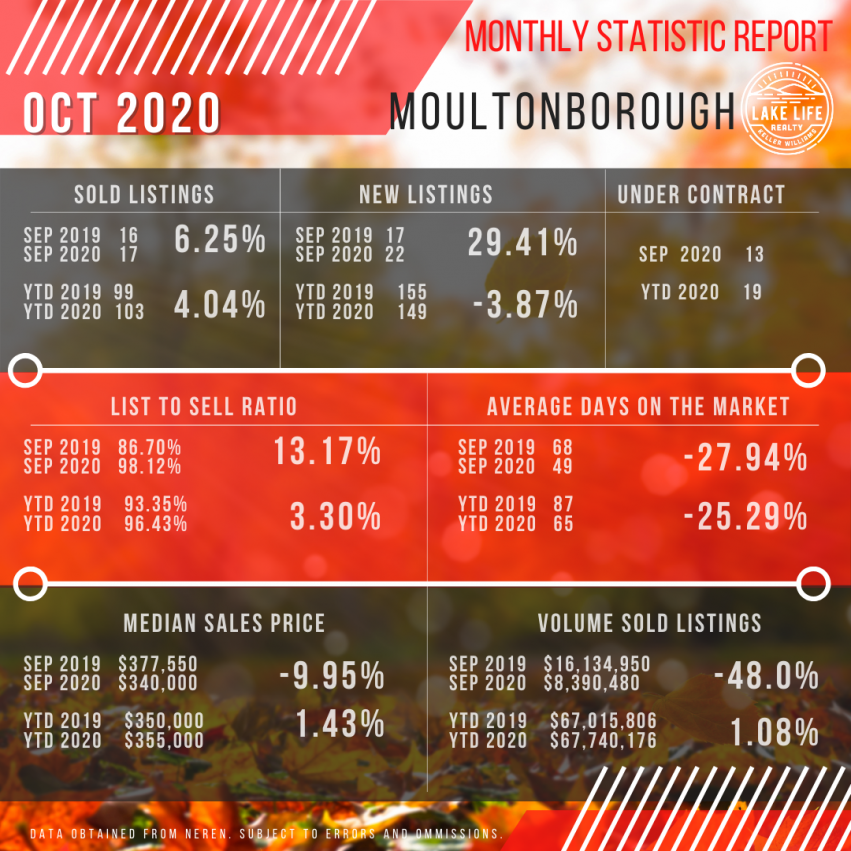 Tuftonboro
A total of 12 listings sold last month in Tuftonboro while 11 new listings hit the market, both an increase from 2019. Only 3 properties went under agreement, half of the year to date total for 2020!
The average days on market is quite high in Tuftonboro with a total of 220 days, the highest out of all the towns boarding Lake Winnipesaukee.
Our Current Tuftonboro Inventory: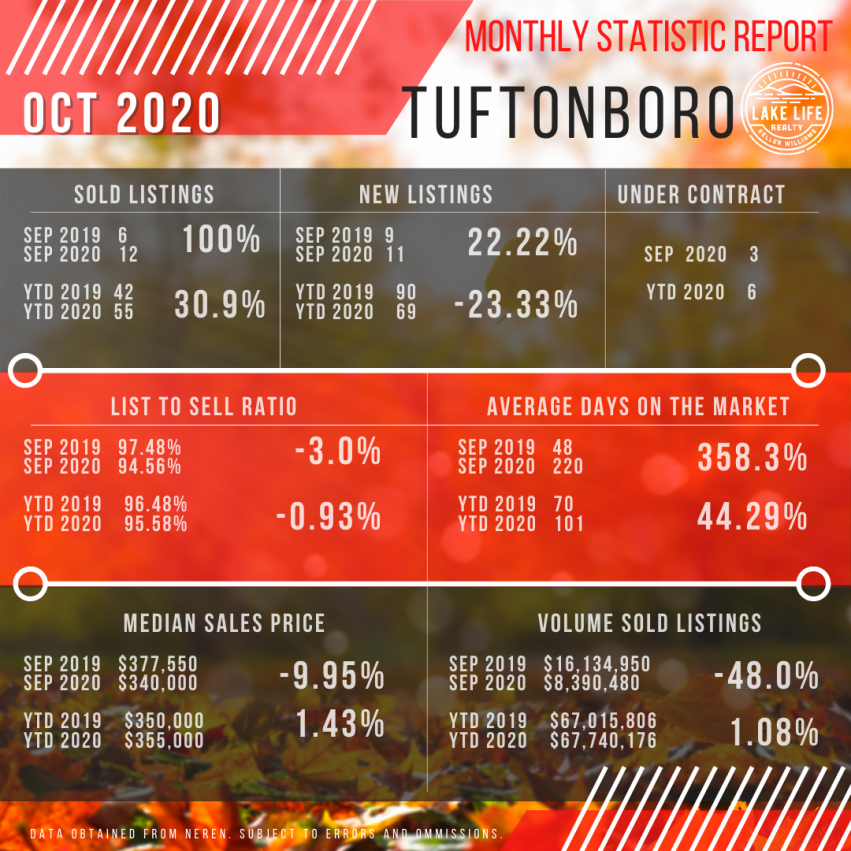 Wolfeboro
10 new listings came on the market in Wolfeboro last month while 13 sold ending the month with a 73 days on market average. Unlike many of the other Lake Winnipesaukee towns, Wolfeboro actually saw a decrease in their sold and new listings stats for 2019 to 2020 with a decrease of 27.8% for sold listings and 44.4% for new listings.
Our Current Wolfeboro Inventory:
Lot 13 Jennifer CIR, Wolfeboro, NH 03894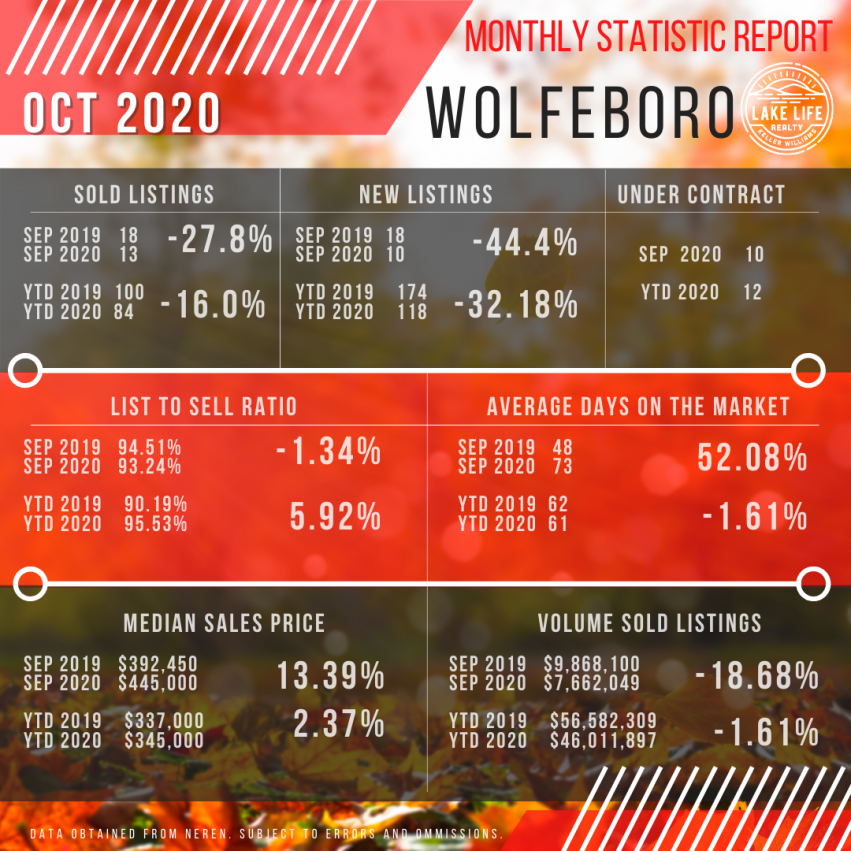 Selling Your Home?
Get your home's value - our custom reports include accurate and up to date information.
Get Home Value