October 2021 Lakes Region Statistical Report
Alton
Alton had the highest list to sale price ratio ending September with a 103.75% total! 16 new listings came on the marketing and 16 closed creating a 18 days on market average.
Both the media sales price and volume sold for September 2021 was significantly less than it was in 2020. BUT the year to date totals in both of those categories was actually higher!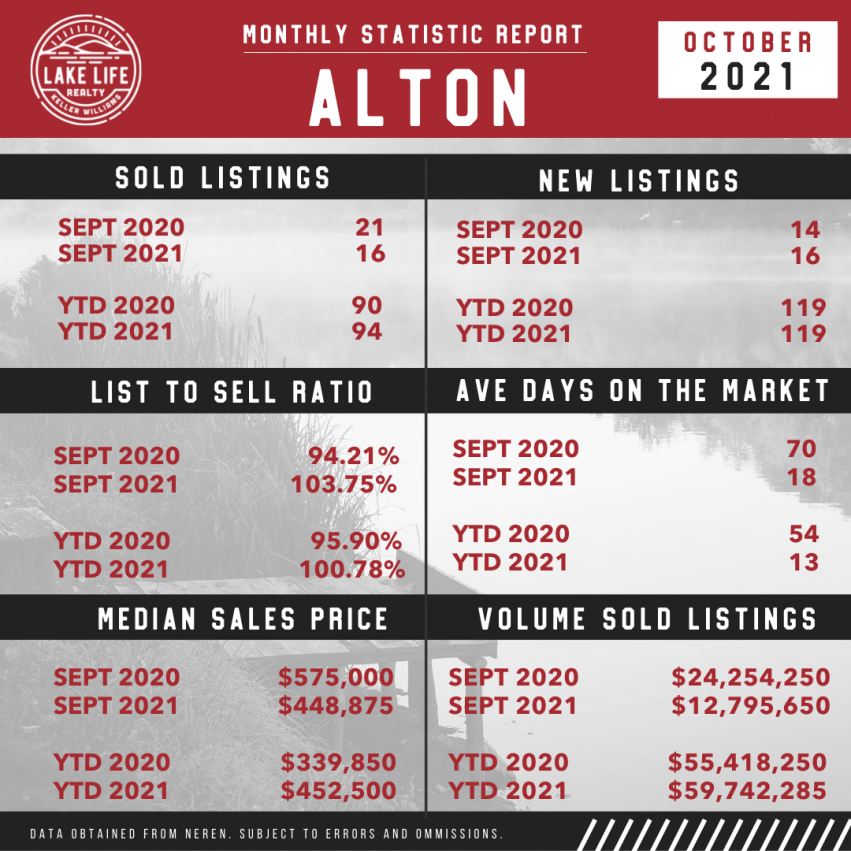 Center Harbor
A total of 4 properties closed in Center Harbor last month while just 2 new listings came on the market. The list to sale price ratio is near perfect ending September with 99.12%.
The days on market average was one of the lowest with just 20 days, 2 days more than Alton.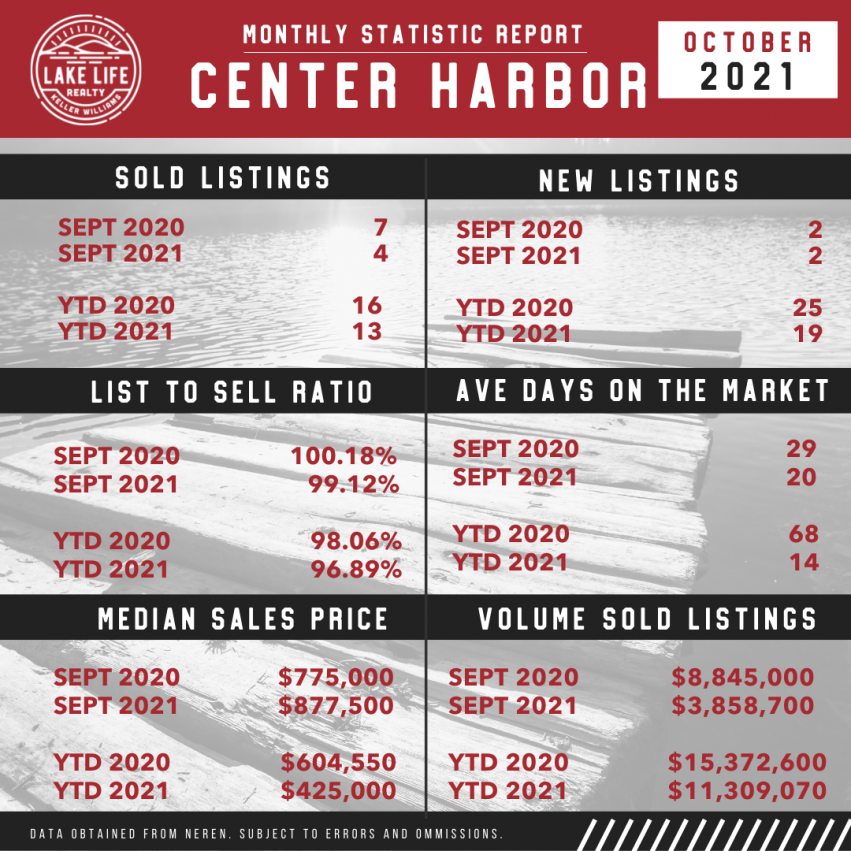 Gilford
A total of 14 listings closed in Gilford last month bringing the year to date total to 112. When comparing September 2020 to 2021 sold listings, there were 15 more listings closed last year than this year. There was also a significant decrease in new listings coming on the market in September of last year to this year.
Our Current Gilford Inventory:
26 Checkerberry Ln: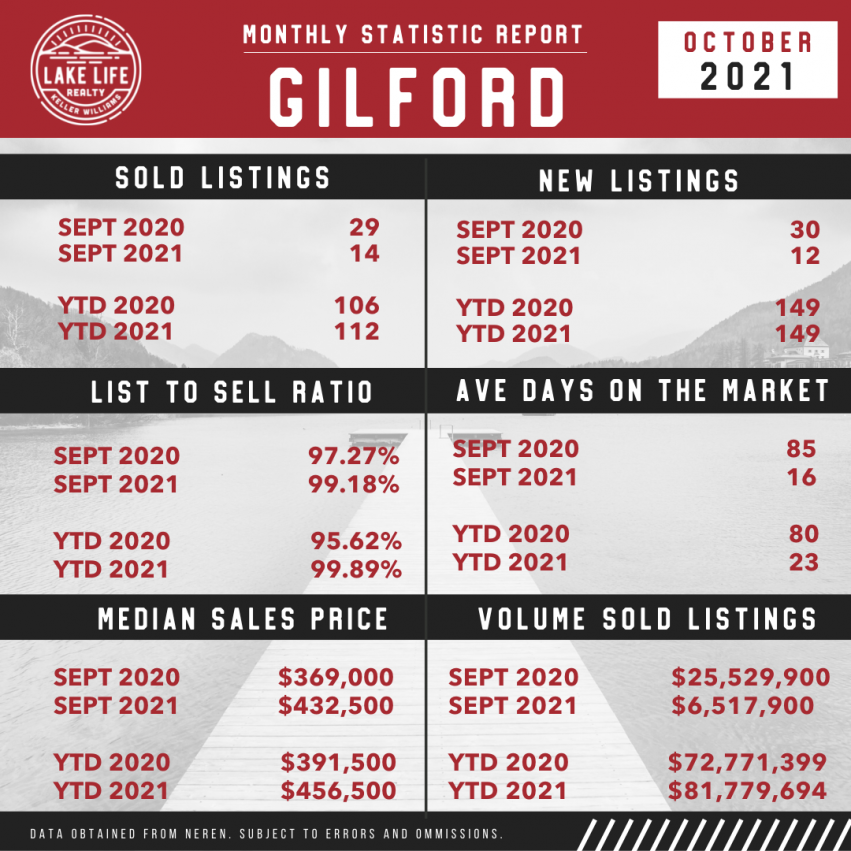 Laconia
Unlike several of the other towns in this report, Laconia saw an increase in sold and new listings close in September 2021 then 2020. A total of 32 sold while 29 new came on the market.
One of the properties to close was our listing at 13 Pear St that closed for FULL asking price at $250k and was under contract in just 10 days!
The average days on market significantly decreased from 40 September 2020 to just 14 days in September 2021.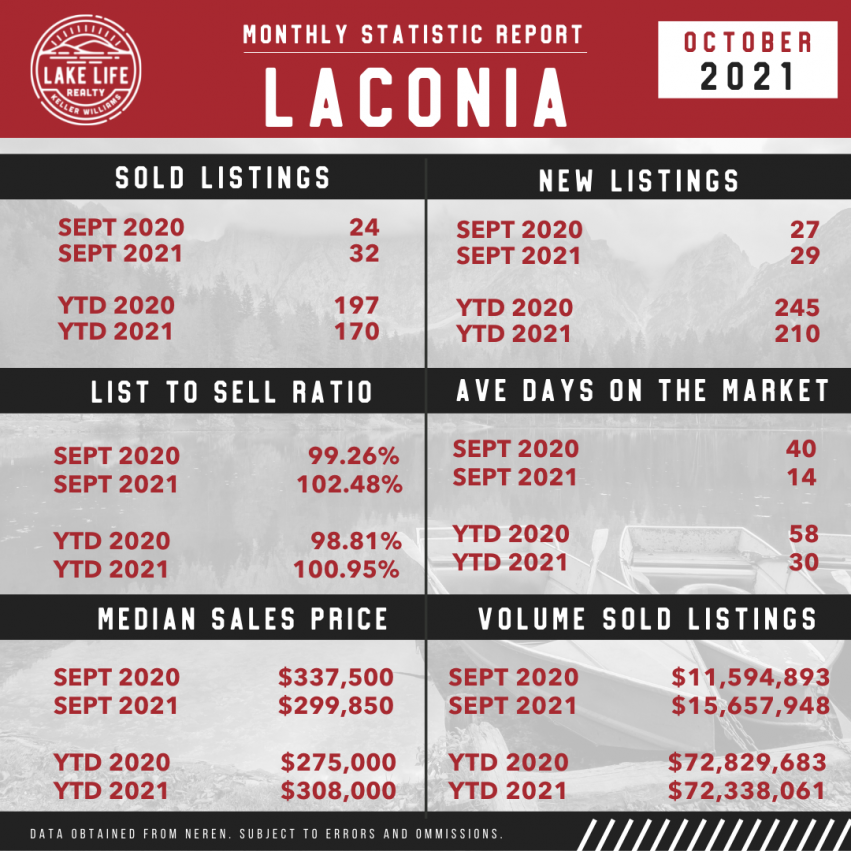 Meredith
Meredith saw an almost identical sales volume in September of last year and this year, though the media sales price was a $189,000 difference. A total of 11 listings closed last month while 12 new came on the market.
2 of the properties to close were purchased by our buyer: 8 Mountain Ridge Dr for $875k and Lot 10 Bay Ridge Dr for $260k.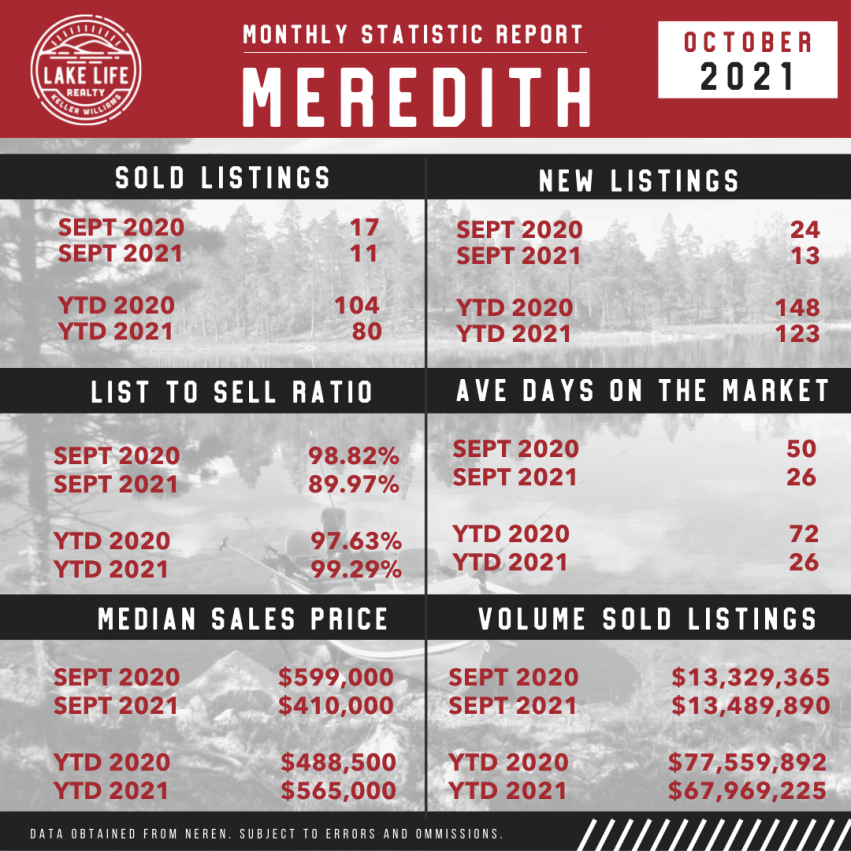 Moultonborough
Our team had the luxury of helping buyers and sellers in 5 transactions in Moultonborough in September! 69 Cloudview Dr sold for $1.3 million and 16 North Winds Dr sold for $2.3 million, to name a few.
Moultonborough was one of the towns to have the most sold and new listings and ended the month with a days on market average of 23 days.
Our Current Moultonborough Inventory: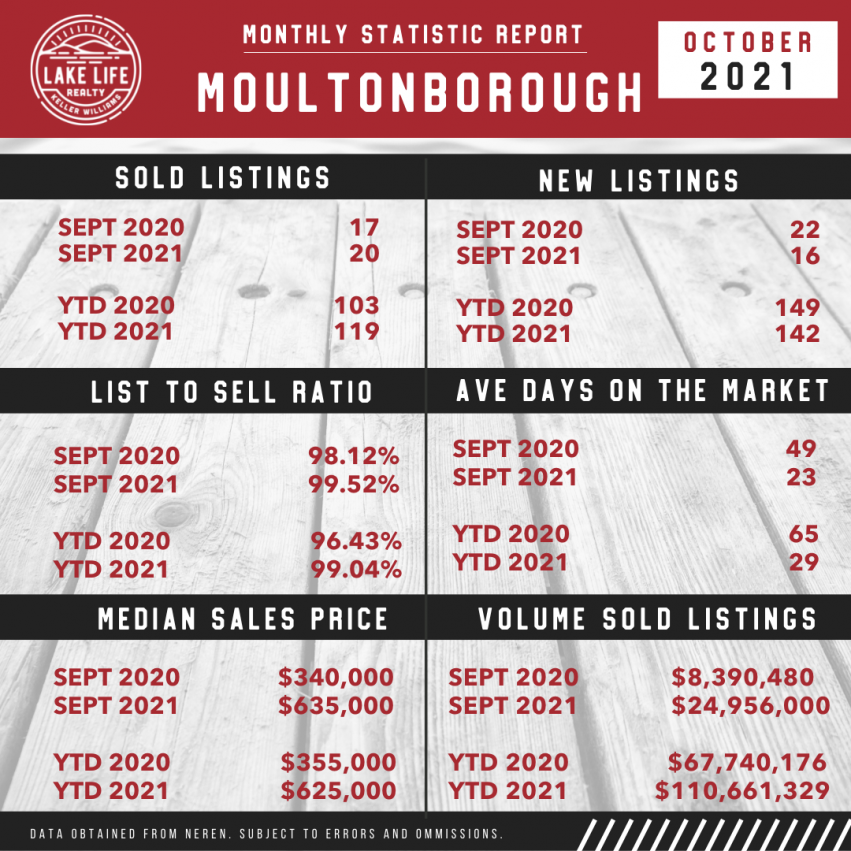 Tuftonboro
10 new listings came on the market in September, one was our listing at 136 Ledge Hill Rd- a to-be-built home in a new development called Ridge Field Corner!
14 properties closed ending the month with 97.11% list to sale price ratio and 28 days on market average.
Our Current Tuftonboro Inventory:
Lot 3 Ridge Field Rd
Lot 16 Sedgewood Dr
Lot 10 Sedgewood Dr
Lot 29 Sedgewood Dr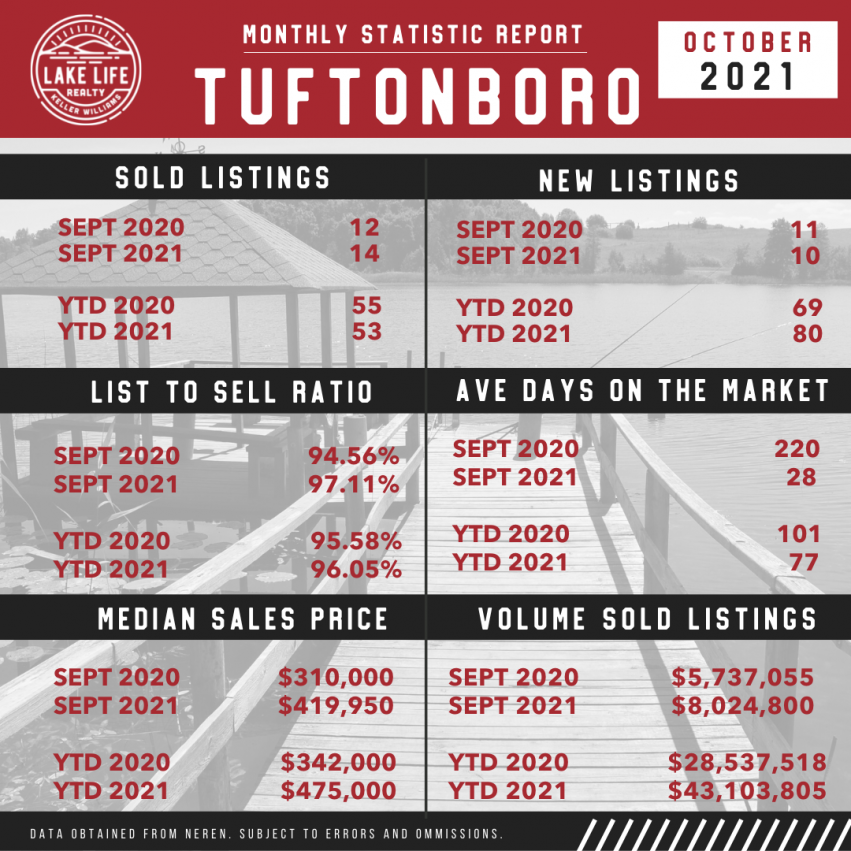 Wolfeboro
Wolfeboro had one of the highest amounts of new listings come on the market in September with a total of 19. Nine more than September 2020!
The list to sale price ratio saw a 5.41% increase from September 2020 to 2021 and the averages days on market decreased from 73 days to 33!
Our Current Wolfeboro Inventory: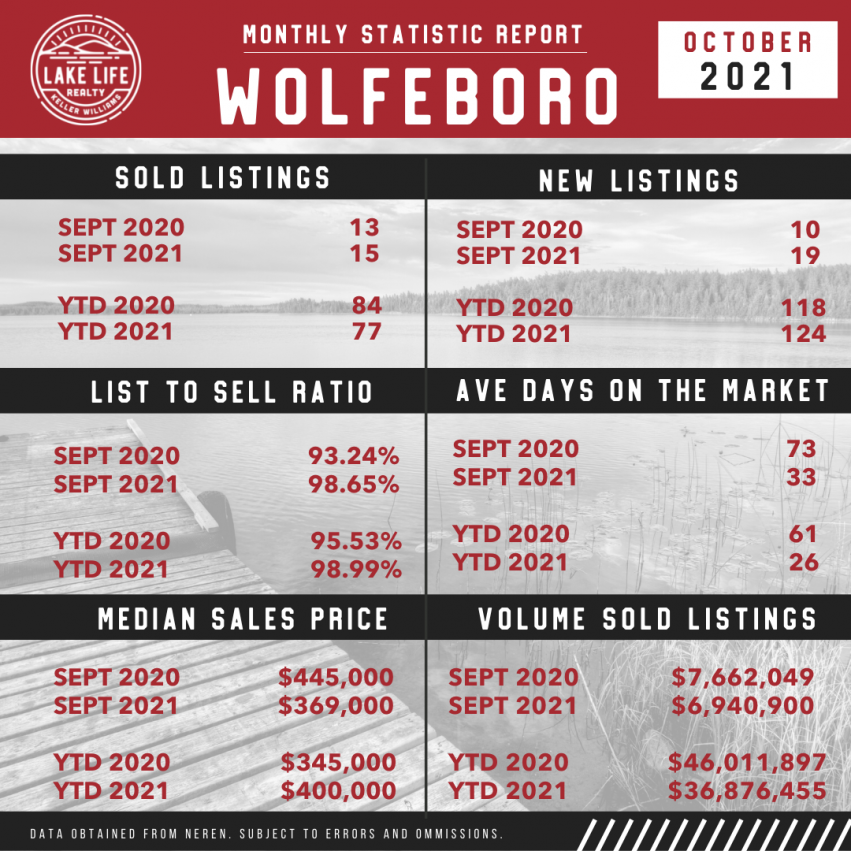 Selling Your Home?
Get your home's value - our custom reports include accurate and up to date information.
Get Home Value