October 2022 Lakes Region Statistical Report
Alton
In September, Alton saw 13 sold listings and only 5 new come on the market. When comparing September of 2022 to 2021, there were significantly less new listings this year than last. With that being said, the median sales price did increase over $101k ending the month with a median sales price of $550,000.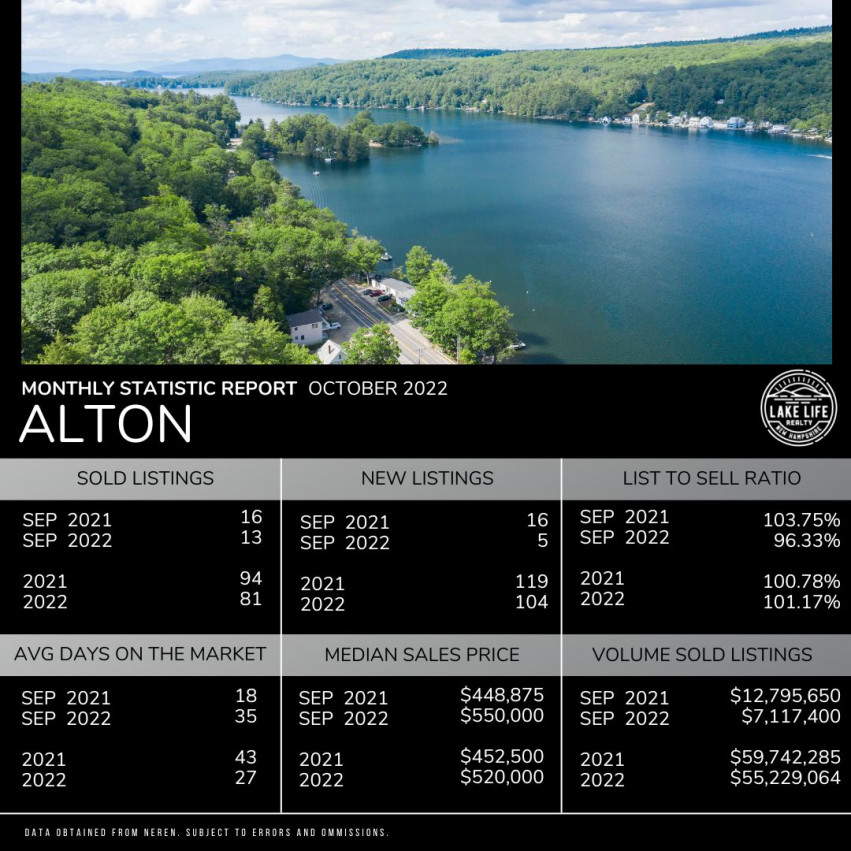 Center Harbor
There were a total of 2 new listings and 4 sold listings in Center Harbor last month. Comparatively, this was actually the same amount of sold and new listings for the month of September in both 2022 and 2021.
The median sales price decreased by almost half of the price it was in 2021 to a total of $450,000 from $877,500. In addition, the total sales volume decreased $1.5M+.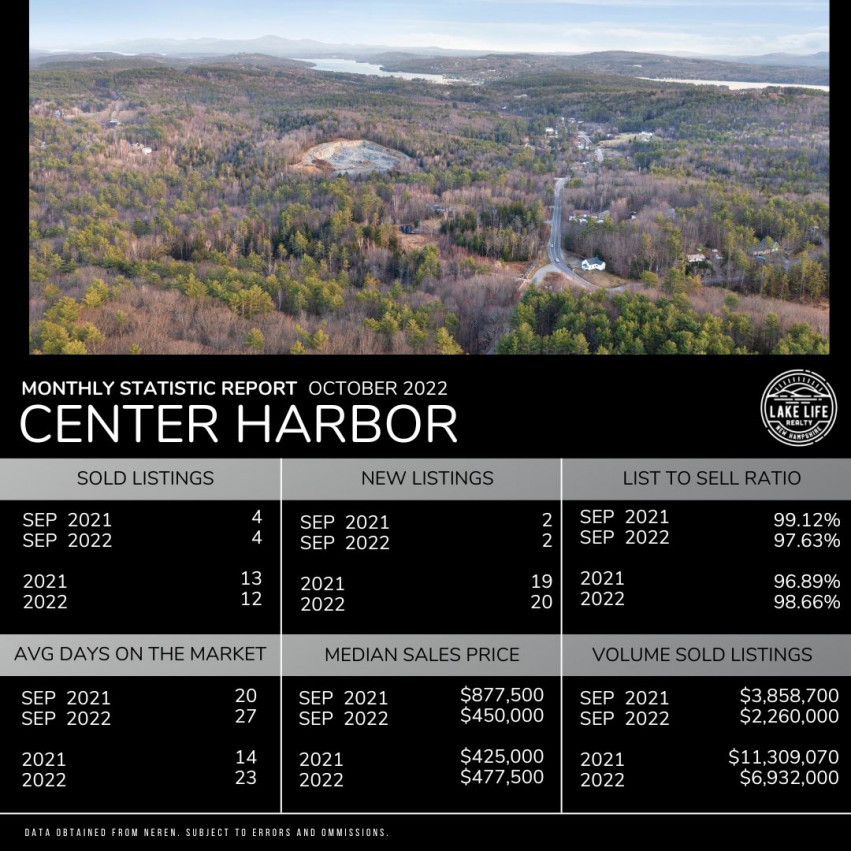 Gilford
Behind Laconia, Gilford saw the 2nd most sold listings in September out of all the towns in this report with a total of 18. Gilford was also one of only 2 towns to see a list to sale price ratio over 100% ending the month with 100.27%.
You'll see that the sold volume tripled when comparing September of last year to this year!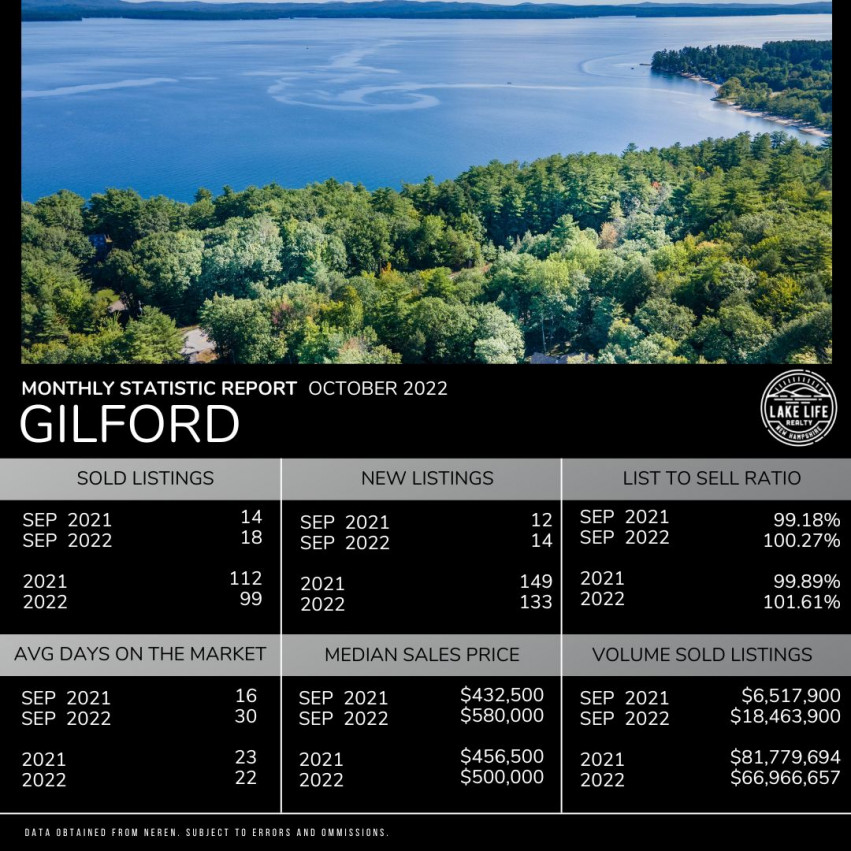 Laconia
In this report, Laconia was leading in sold and new listings with a total of 28 in each category. Compared to September of 2021 there was a decrease for both sold and new listings. Laconia also had the third lowest days on the market for the month of September in 2022 averaging 22 days. The median sales price increased by $64K + from September of 2021 to September of 2022.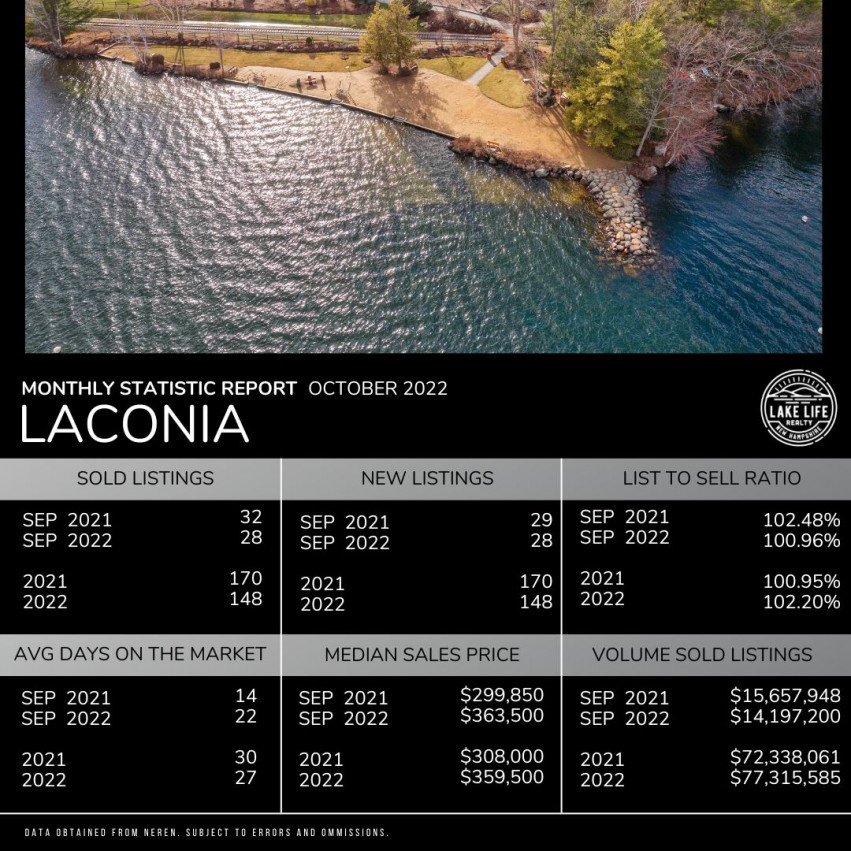 Meredith
Meredith saw an increase in sold listings of 14 in September of 2022 compared to 11 in September of 2021. The list to sell ratio increased by just under 10% from last year. Meredith has seen an increase in median sales price, from $410,000 in September of 2021 to $770,000 this year. The volume sold in Meredith has increased by just over $3 million in 2022.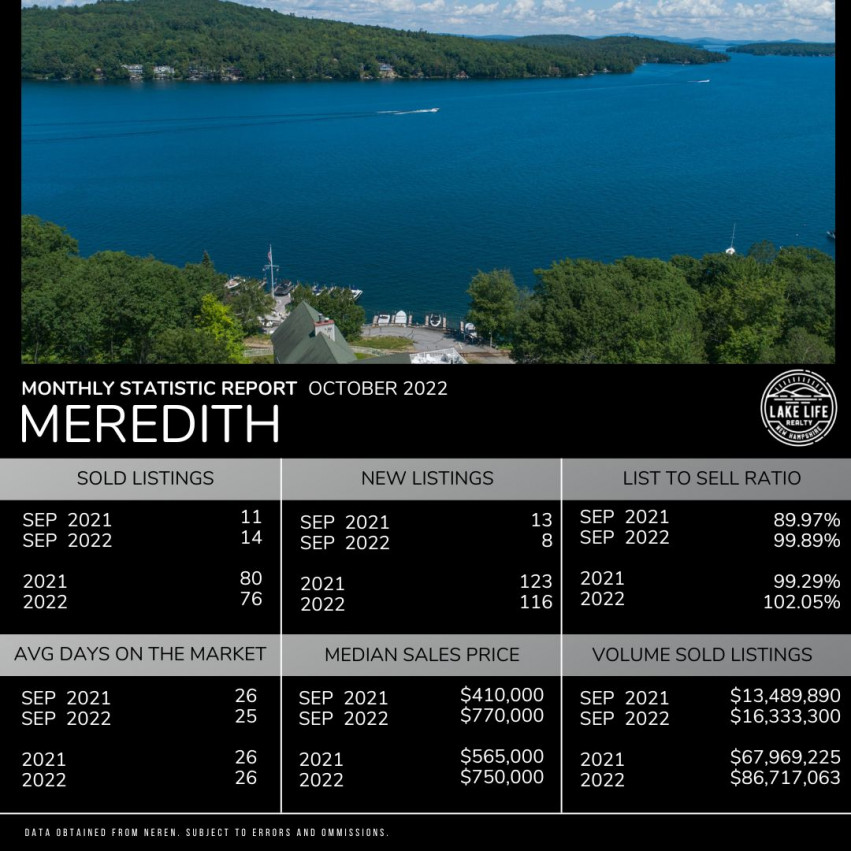 Moultonborough
Of the 13 sold listings in Moultonborough in September of 2022, Lake Life Realty represented 4 of them. One of the properties was 475 Shaker Jerry Rd which was under agreement in just 4 days.
The average days on the market has decreased since September of 2021, from 23 to 17. Moultonborough saw a significant decrease in volume sold compared to last year, going from $24 million + to just under $11 million.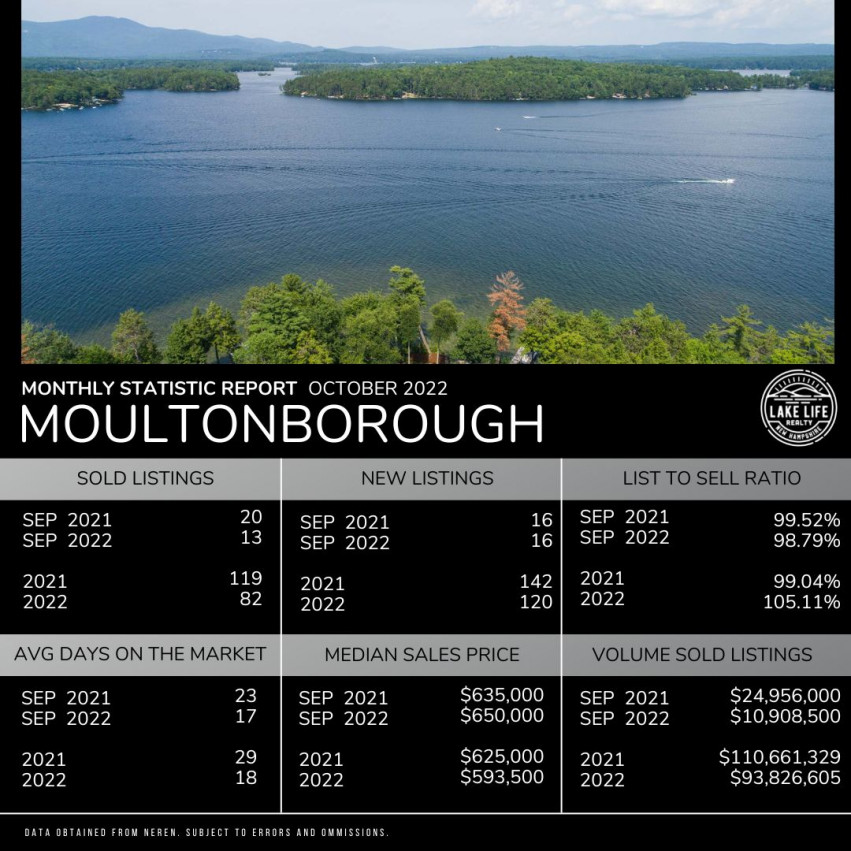 Tuftonboro
Tuftonboro saw the sold listings double in September of 2022 compared to September of 2021. One of the houses sold was represented by Lake Life Realty which was our highest sold listing to date at $9.4 million.
The median sales price also almost doubled going from $419,950 in 2021 to $815,000 in 2022. Tuftonboro had a large jump in volume sold comparatively to September of last year, reaching $14 million in September of this year.
Our Current Tuftonboro Inventory: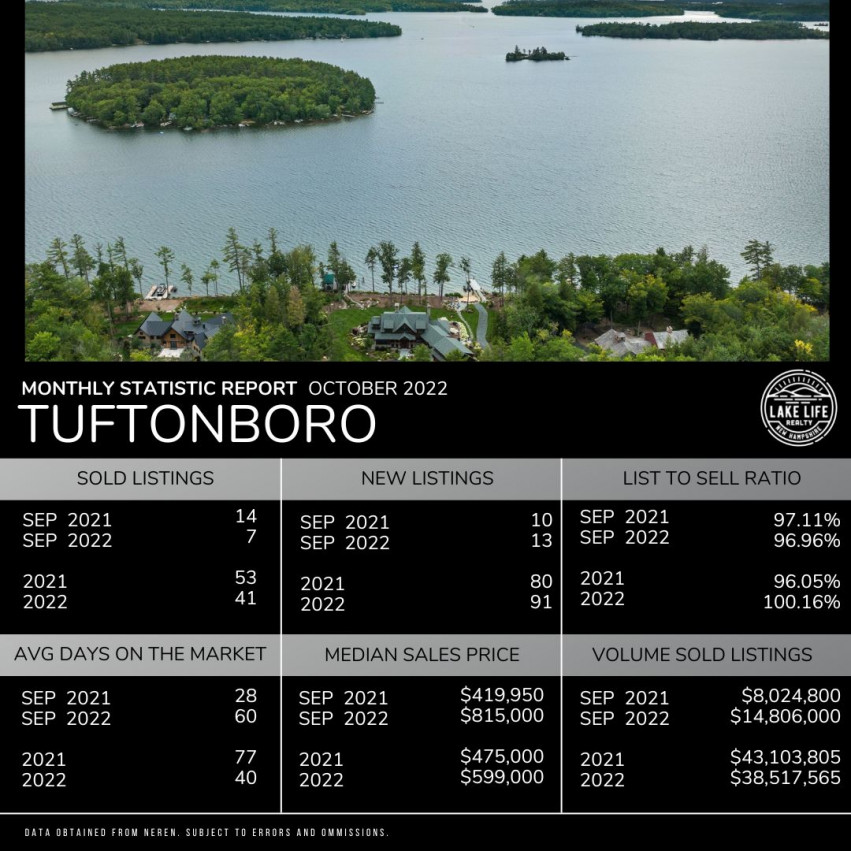 Wolfeboro
Lake Life Realty represented 1 of the 17 sold listings in September of 2022 which sold before it ever went to the market.
The average days on marketing in Wolfeboro decreased by about half, going from 33 days last year to 16 days in September of this year. Median sale prices have increased for the month of September comparatively to September of 2021, going from $369,000 to $482,000. Wolfeboro's volume sold was $13 million this September, which is an increase of double from last year at $6,940,900.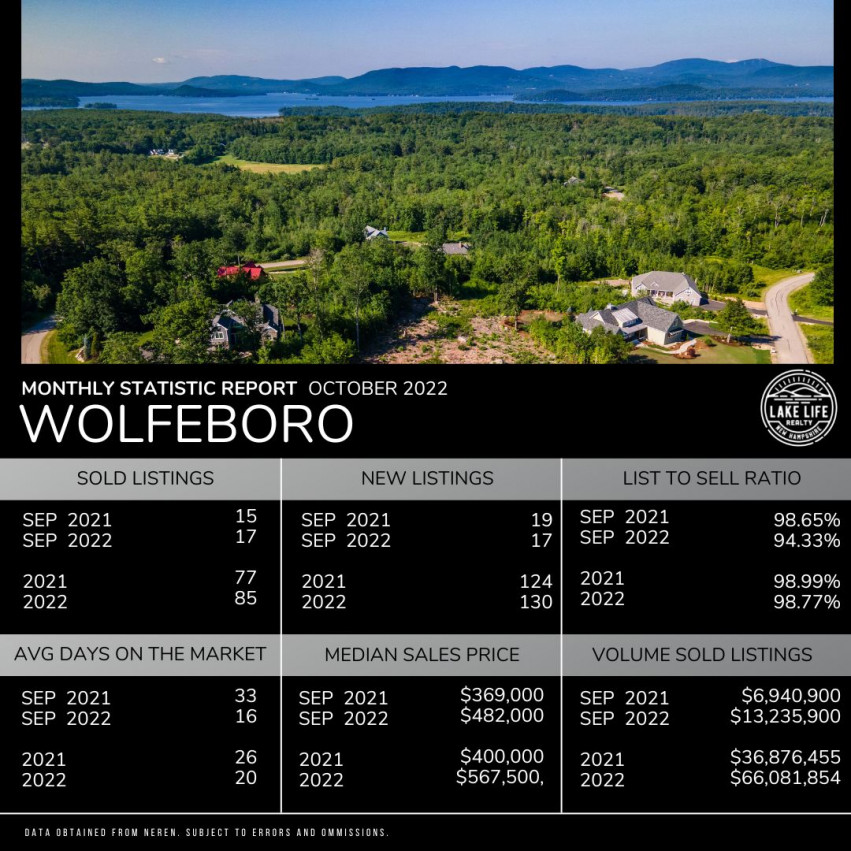 Selling Your Home?
Get your home's value - our custom reports include accurate and up to date information.
Get Home Value